Former President Theodore Roosevelt once said that play is a fundamental need, so much so that playgrounds should be provided for every child, just as schools are.
In countries around the world, architects are becoming increasingly innovative to create environments where children can explore their imaginations.
Today, playgrounds can float entirely on the ocean, or take the shape of an enormous, colorful crocodile.
Keep scrolling to see some of the best playground designs around the world that will make you want to be a kid again.
The playtower and playground at Swarovski Kristallwelten (Swarovski Crystal Worlds), located in Tirol, Austria, were created by Snøhetta architecture.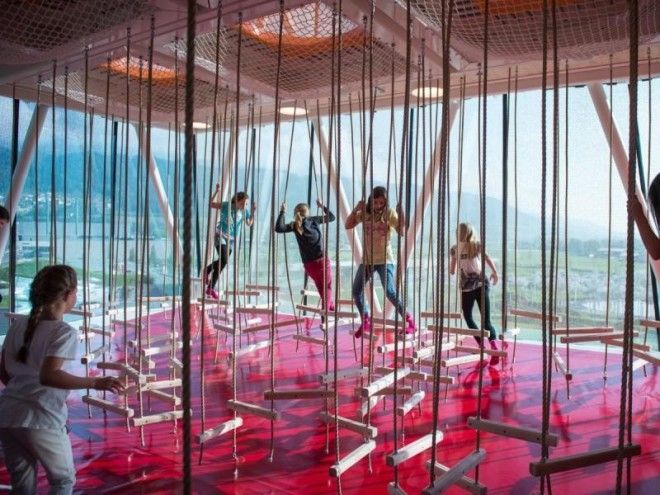 Four different levels make up the play tower, where children can climb to the highest point of the net at 45 feet.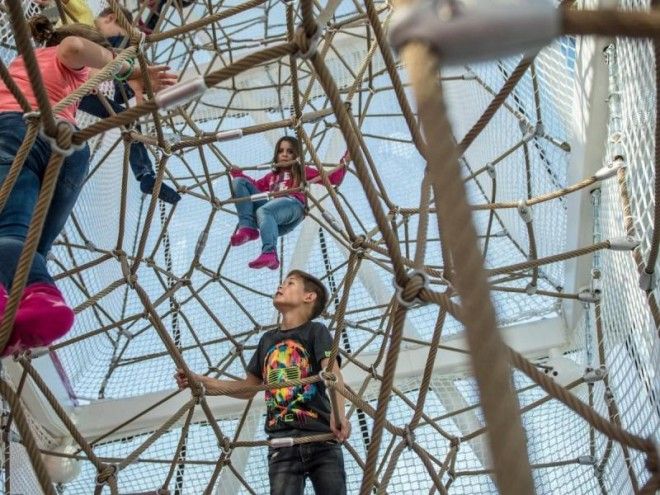 Wibit Sports GmbH is a German water sports company that produces innovative, water-based playgrounds created by architect Robert Cirjak. This one is located near Zlatni Rat in Bol, Croatia, and features swings, slides, and climbing structures. It's one of 60 playgrounds the company has designed in waters across Croatia.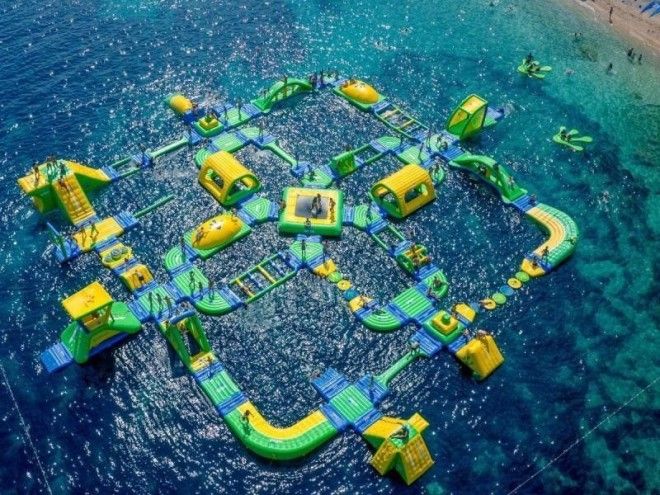 Tezuka Architects brings fantasies to life with its Woods of Net playground in Hakone, Japan. Japanese net artist Toshiko Horiuchi Macadam knitted this rainbow nest by hand for children to crawl, jump, and roll around in.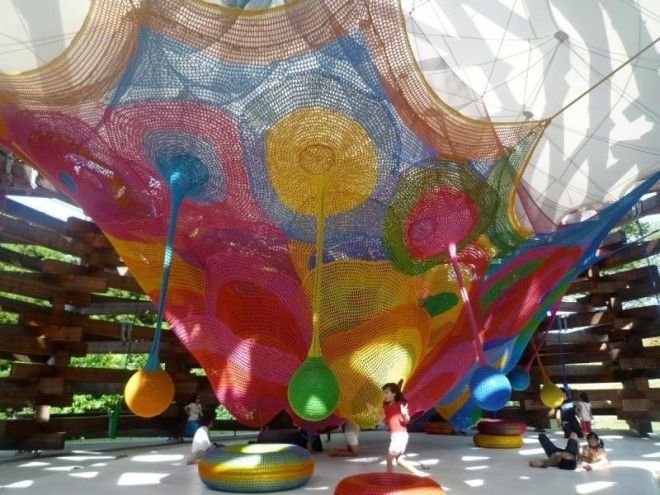 Brooklyn-based artist Tom Otterness created the Silver Towers Playground in New York City. The playground features 27 of the artist's whimsical bronze figures and a 24.5 foot tall and 30 foot long sculpture whose legs double as slides.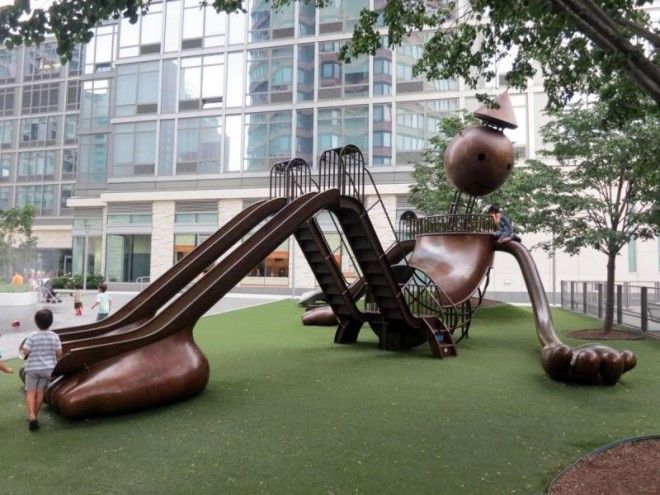 In 1990, architect Rafael Rivera, artist Manolo Martin, and designer Josep Vincent "Sento" Llobell Bisbal created Parque Gulliver — inspired by Jonathan Swift's "Gulliver's Travels" — in Valencia, Spain.
To the absolute delight of children in the area, architecture company MLRP transformed this existing playground in Copenhagen, Denmark, by adding funhouse mirrors to its pavilion.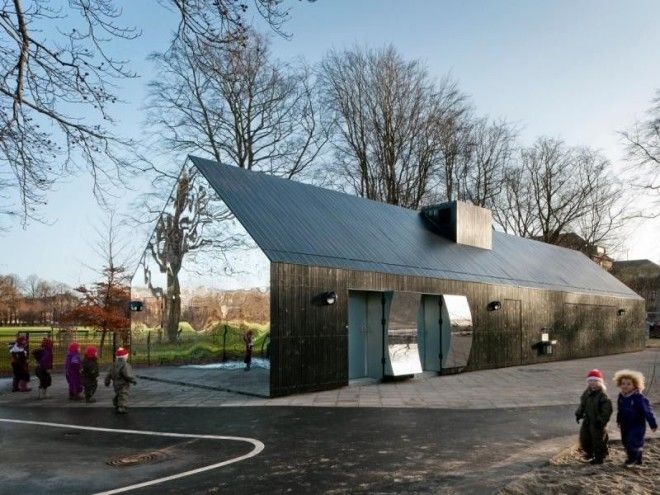 Located in Lima, Peru, and known as the "Ghost Train Park," this colorful obstacle course was created by the architecture collective Basurama, which used the city's abandoned railroad tracks as building materials.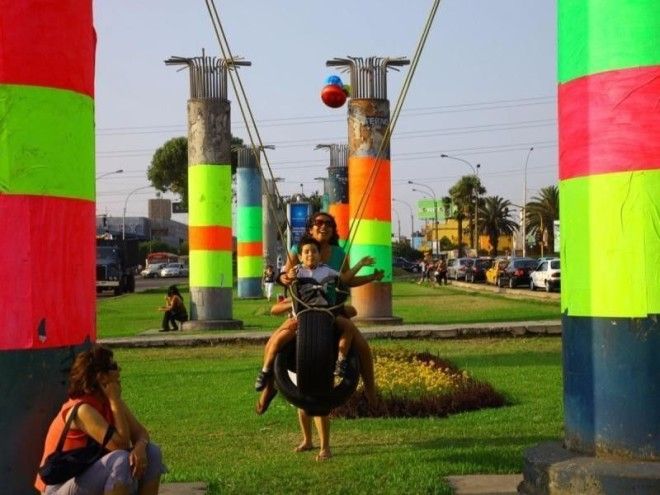 In fact, almost all of the playground is built using recycled materials, including car parts and tires.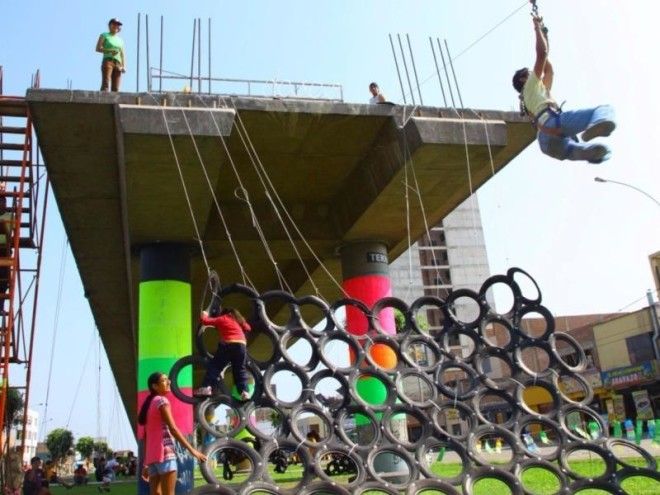 In 2012, Poland-born, Brooklyn-based artist Olek created this crocheted alligator installation on a São Paulo, Brazil, playground designed by Brazilian architect Márcia Maria Benevento.
The National Arboretum, located in Canberra, Australia, is home to around 100 forests filled with rare and endangered trees. The Pod Playground and its giant acorns, created by T.C.L. (Taylor Cullity Lethlean), sit on top of the Arboretum's hill.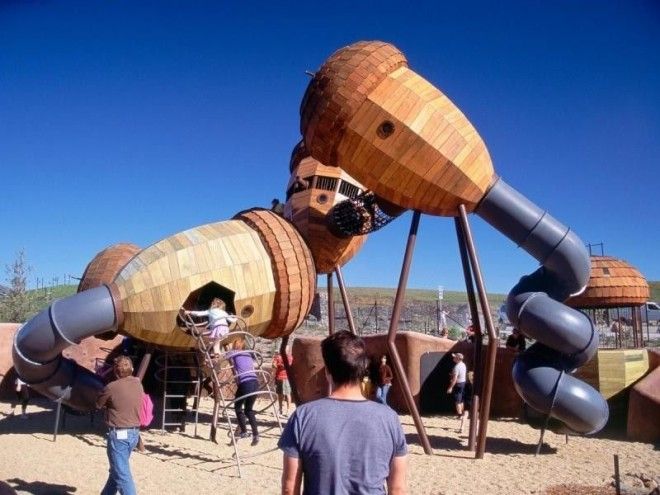 The City Museum, located in St. Louis, Missouri, was originally created by sculptor Bob Cassilly and continued to undergo additions after his death through a group of 20 artists known as the Cassilly Crew. The 600,000-square-foot museum includes a jungle gym made of repurposed airplanes, two 10-story slides, a number of multi-floor slides, and a rooftop Ferris wheel.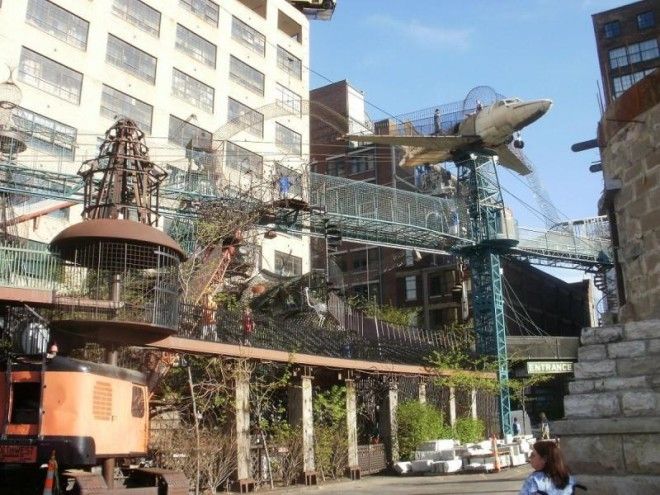 The Danish studio MONSTRUM is known for its creative playground designs. Pictured here is the Kristineberg Slottspark in Stockholm, Sweden. The playground is made of owl sculptures — two of which are the 18 foot high owl king and queen — and playful wooden figures.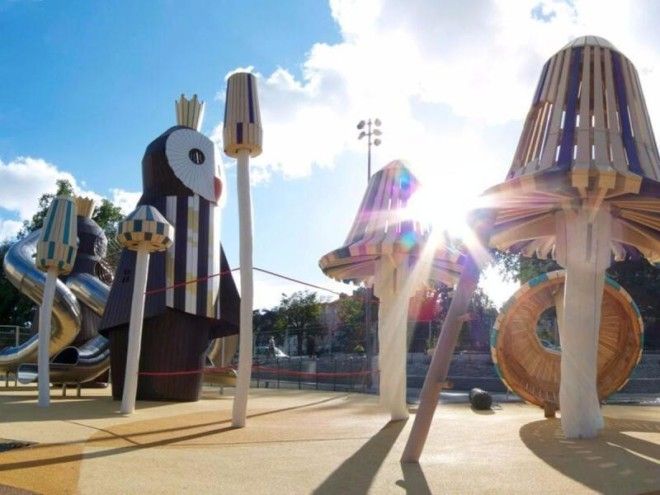 The design minds at MONSTRUM modeled this Brumlebyen area playground in Copenhagen, Denmark, after the terraced houses that populate the neighborhood. Playhouses feature climbing grips, slides, and balance lanes that connect the structures.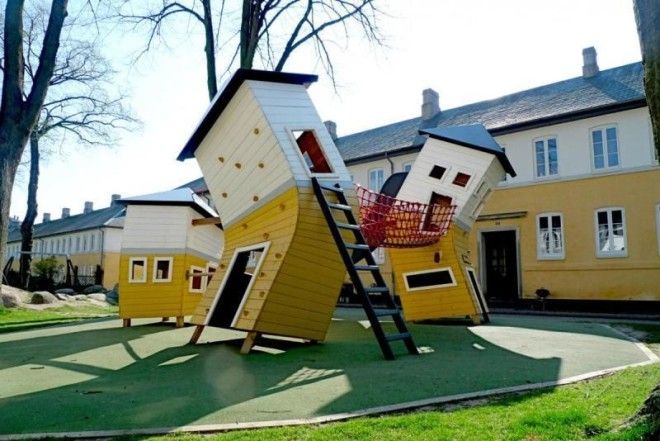 MONSTRUM also constructed this 50 foot long blue whale in Gothenburg, Sweden. Children can climb into its stomach and slide down its back.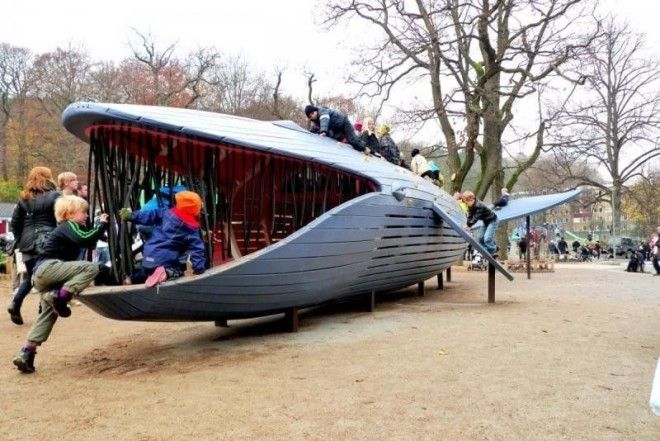 MONSTRUM was originally founded by two set design builders, which explains the theatrical element of their playgrounds. Their Tower playground is modeled after some of the most popular towers in Copenhagen, Denmark, and even includes a star observatory.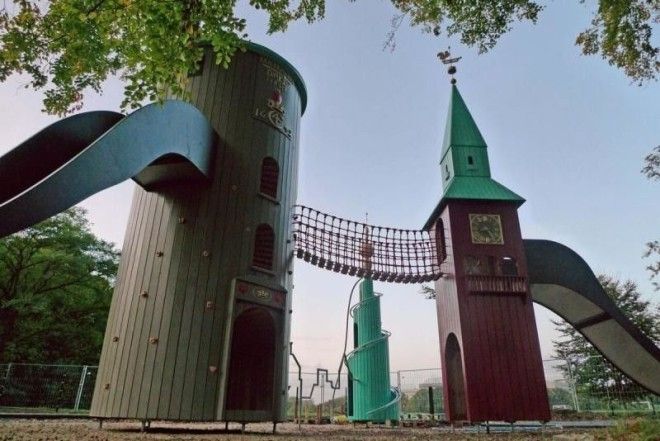 Our last pick from MONSTRUM is the Children Station, an indoor playground located in the Danish Railway Museum in Odense, Denmark.
Inspired by the design of the Odense Central Station of the 1960s, the playground has a moving train and a control room where machine parts and pipes teach children how a locomotive functions.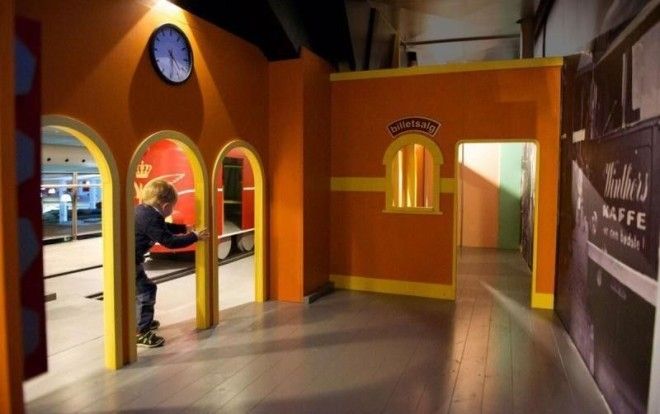 The Vail Nests — officially known as Sun Bird Park — are located in Vail, Colorado, and were built by Tres Birds Workshop during an artist-commissioned park series. Surrounded by bird habitats, the playground is made of wooden nests connected by ropes and bridges.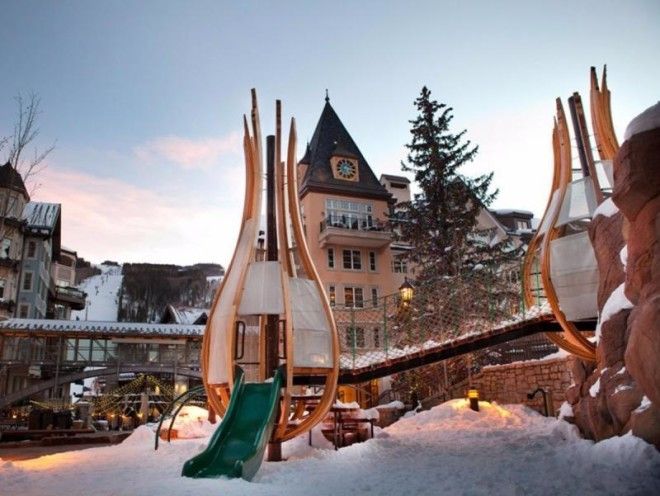 The Blaxland Riverside Park in Sydney, Australia, is the brainchild of JMD Design. The sleek playground is almost 1,000 feet in size and is equipped with tunnels, a large climbing net, a water play area, swings, and slides.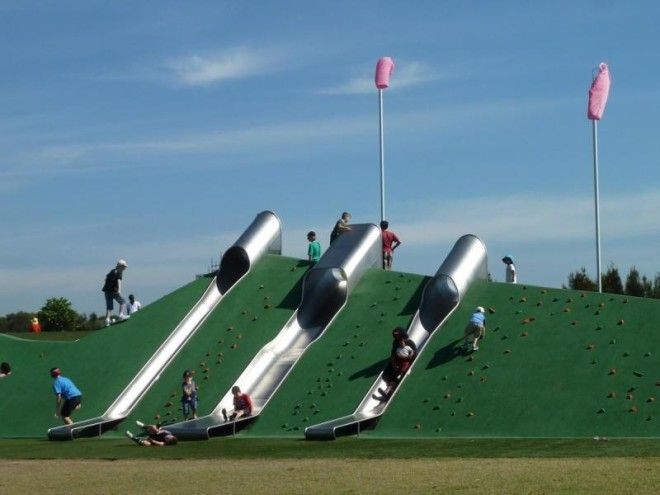 Swing Time is an interactive playground set up in a temporary park near the Boston Convention and Exhibition Center. Created by Höweler + Yoon Architecture, the play area features 20 illuminated swings that switch from white to purple when they're in use.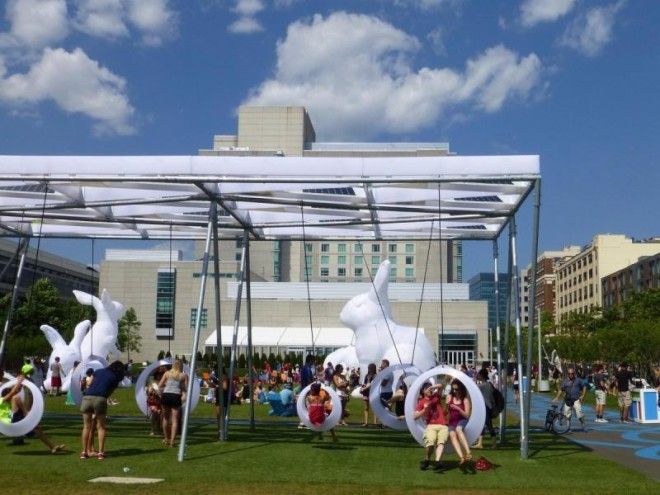 Bounce Below is a set of three giant trampolines nestled inside the Llechwedd Slate Caverns — a former Victorian Slate mine in Blaenau Ffestiniog, North Wales. Created by Zip World, a company specializing in adventure activities, the subterranean wonderland is a playground for both kids and adults.