Taking their talents from the silver screen to the service industry, many actors have been investing their fame and fortune into hotels.
And why not? As frequent travelers, they know just what makes a good hotel.
Here are 13 of the most stylish celebrity-owned hotels around the world.
Andy Murray's Cromlix Hotel in Perthshire, Scotland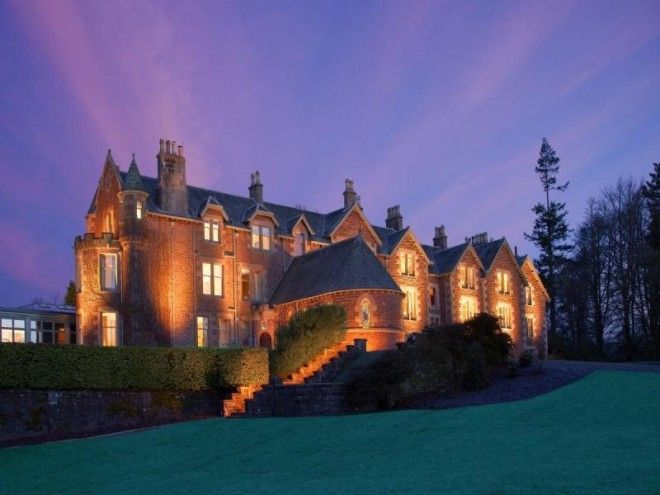 It comes as no surprise that a hotel owned by a professional tennis player is home to one of the world's most scenic tennis courts. But on top of that personal touch, the 19th-century brick mansion is also a stone's throw from where the tennis great grew up: In fact, his family used to go there for special occasions when he was younger, and both Andy and his brother got married on its grounds.
Its 34 acres, in stereotypical Scottish fashion, include a loch, as well as an herb and vegetable garden and a croquet lawn, and the hotel offers classes in falconry and archery.
Rooms from $250 per night
Robert De Niro's The Greenwich Hotel in New York City, New York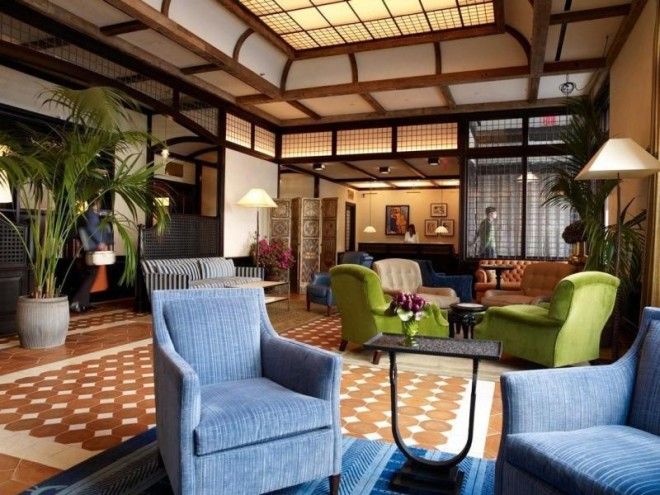 Robert De Niro is credited with turning TriBeCa from run-down to upscale. His super stylish, 88-room The Greenwich Hotel, which is designed with hand-made bricks, reclaimed wood, and custom mirrors, helped with the speedy gentrification. The luxe hotel has an indoor pool, a Japanese-inspired spa, and one of the city's best Italian restaurants, Locanda Verde.
Rooms from $575 per night
Hugh Jackman's Gwinganna Lifestyle Retreat in Tallebudgera Valley, Australia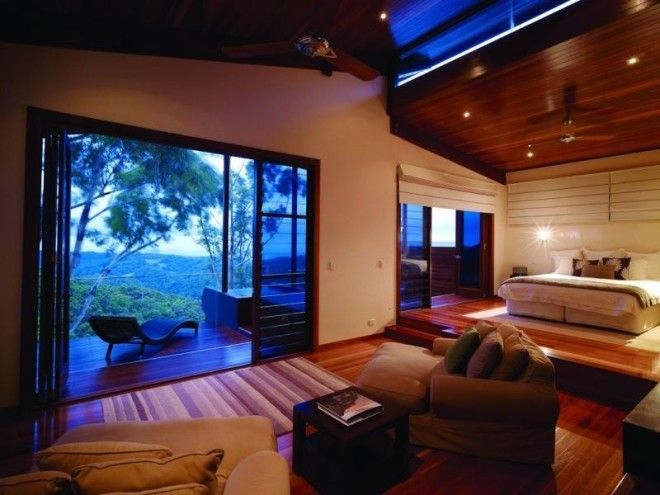 Gwinganna Lifestyle Retreat, which translates to "lookout," has a focus on health and wellness, and features a spa, two infinity pools, a yoga deck and a state of the art gym, as well as gym classes, private trainers, nutritionists and holistic counseling.
All meals are organic, many ingredients even picked from the resort's very own garden, and Hugh Jackman is a common sight.
Rooms from $721 for two nights (two night minimum)
Olivia Newton-John's Gaia Retreat & Spa in Brooklet, Australia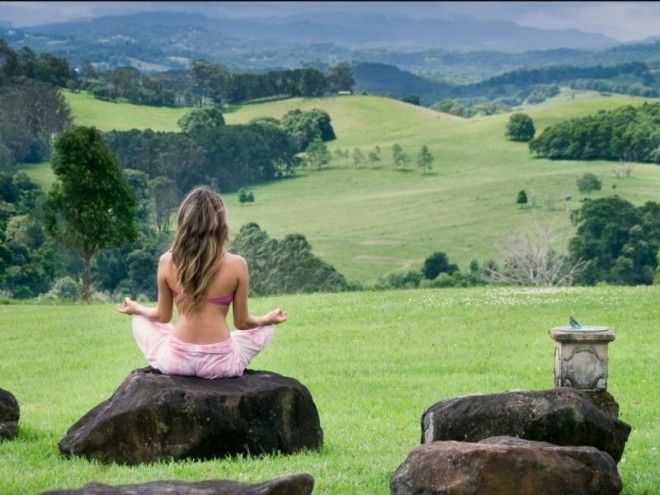 Olivia Newton-John's 23-room, 25-acre Gaia Retreat & Spa (which means spirit of Mother Earth
) is
probably the world's most luxurious hippie digs, and offers various packages for weight loss, meditation, destressing, and fitness.
The resort features a gym, yoga classes, a holistic spa with its own organic skincare line, and a garden that supplies its restaurant.
Rooms from $852 for two nights (two night minimum)
Francis Ford Coppola's Palazzo Margherita in Bernalda, Italy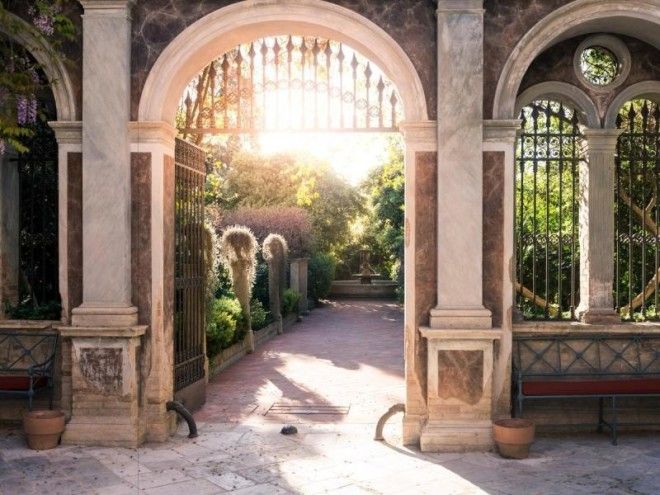 Palazzo Margherita is Coppola's fifth hotel, but he was as involved in its design as the first, likening it to making a movie, thanks to the attention to detail hotel design requires. Six years in the making, the hotel is Coppola's most luxurious; his daughter, Sofia, even got married here. Inspired by a family home, each suite is named after a family member.
Rooms from $980 for two nights (two night minimum)
Michael Douglas and Catherine Zeta-Jones' Ariel Sands in Devonshire, Bermuda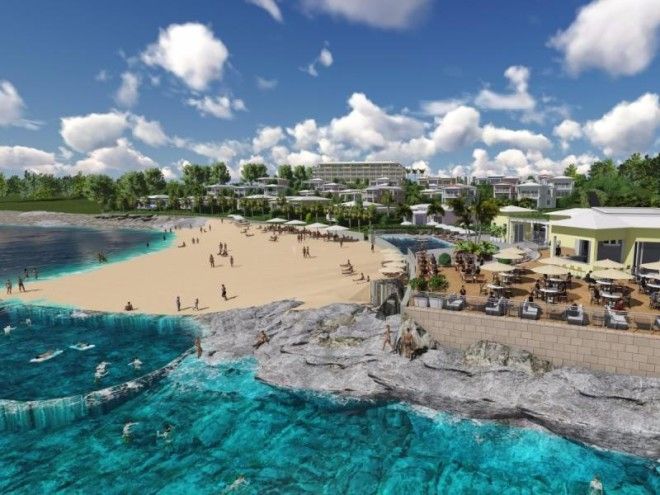 A family affair, the Ariel Sands property has been in Michael Douglas' family since the 1840s, as his mother was from Bermuda.
However, it wasn't until a relatively recent trip to the island had the couple so smitten with the resort that they bought shares and became involved. Now, the 14-acre slice of paradise is undergoing extensive renovations, to emerge even more decadent than before in 2017.
It will feature 84 rooms, 28 luxury suites, and 26 two- and three-bedroom cottages, as well as a golf course, tennis courts, spa, salon, and gym.
Rooms will be avilable in 2017
John Malkovich's The Big Sleep Hotel has various locations across the UK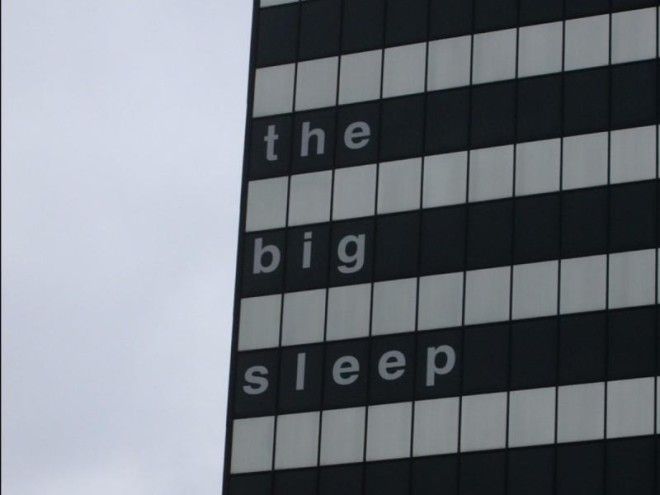 How a wealthy American actor came to co-own a British budget hotel chain is beyond us, but is oddly befitting of an idiosyncratic actor like Malkovich. The Big Sleep Hotel has hotels in Cheltenham and Eastbourne in England, as well as in Cardiff, Wales. Each hotel is colorful and trendy, modern but affordable, and features a free breakfast.
Rooms from $50 per night
Richard Gere's The Bedford Post Inn in Bedford, New York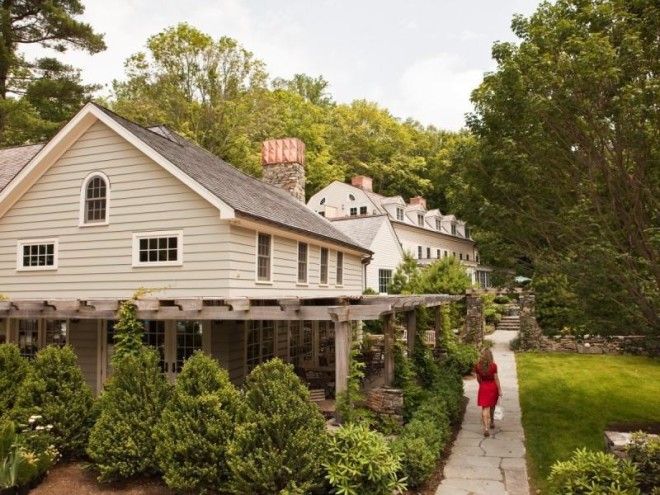 The classic 18th-century farmhouse in the heart of Westchester has eight cozy rooms, two excellent restaurants, and one yoga loft with daily classes (Gere's a devout Buddhist, remember).
One of the restaurants is run by Chef Michael White, who owns the Altamarea Restaurant Group, which oversees famous restaurants like Michelin-starred Marea, Osteria Morini and Ai Fiori.
Rooms from $390 per night
Wladimir Klitschko's 11 Mirrors Design Hotel in Kiev, Ukraine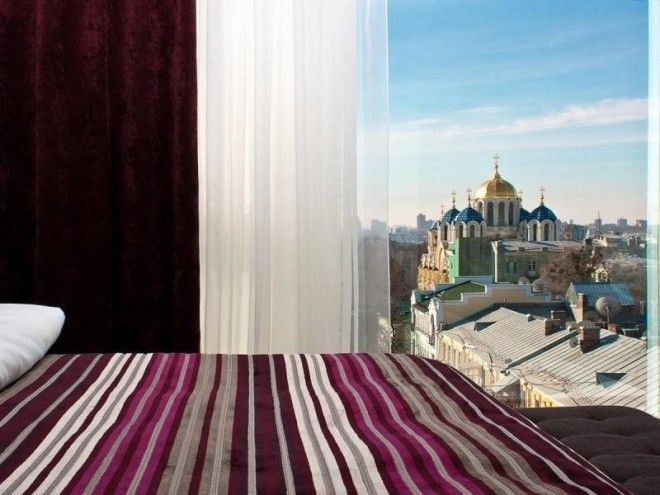 The boxing heavyweight helped conceive this super stylish hotel, the first design hotel in the Ukraine. In the heart of Old Kiev, the sleek and stylish boutique hotel is indeed full of mirrors (by famous designer Philippe Starck), as well as lots of plate glass and wood, and exudes a masculine elegance. Each of its 49 rooms has a slightly different design, though all have the same floor-to-ceiling windows with knockout views of the city.
Rooms from $211 per night
Robert Redford's Sundance Mountain Resort in Timphaven, Utah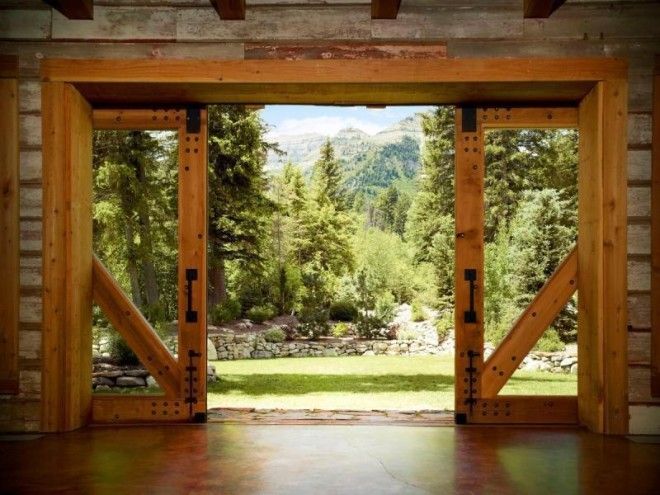 Robert Redford has spent the better part of the last 46 years creating this luxury ski resort outside of Park City, which he bought in 1969 and now spans over 5,000 acres. The name Sundance is no coincidence, as the Sundance Kid himself founded the famous film festival almost a decade after acquiring the hotel.
The rustic hotel, which sits at the base of Mount Timpanogos, has 92 rooms, as well as mountain homes with private chefs and butlers. It prides itself on its focus on art and nature, featuring outdoor plays, film screenings and concerts, and an art studio with classes ranging from pottery to oil painting and printmaking, as well as hiking, biking, skiing and rafting.
Rooms from $309 per night
Jason Priestley's Terrace Beach Resort in Ucluelet, Canada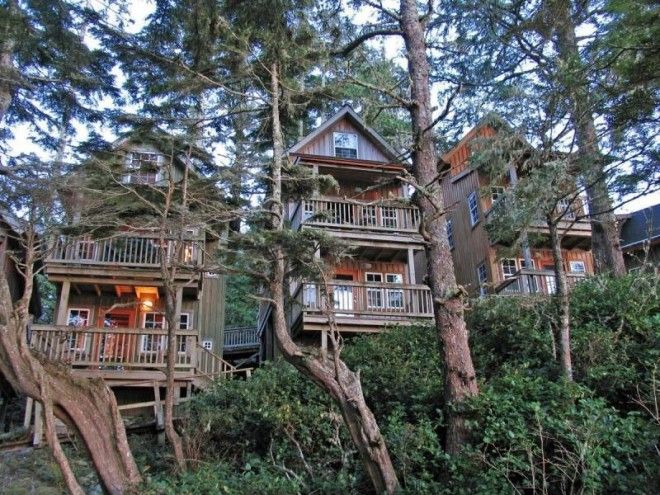 Keeping it close to home, the former
Beverly Hills, 90210
star opened a resort with his parents, near where he grew up on the southwestern coast of Vancouver Island. Laid out like an old fashioned fishing village, the outdoorsy resort is made of rustic cabins, many of which feature BBQ grills and hot tubs.
Rooms from $99 per night
Clint Eastwood's Mission Ranch Hotel in Carmel, California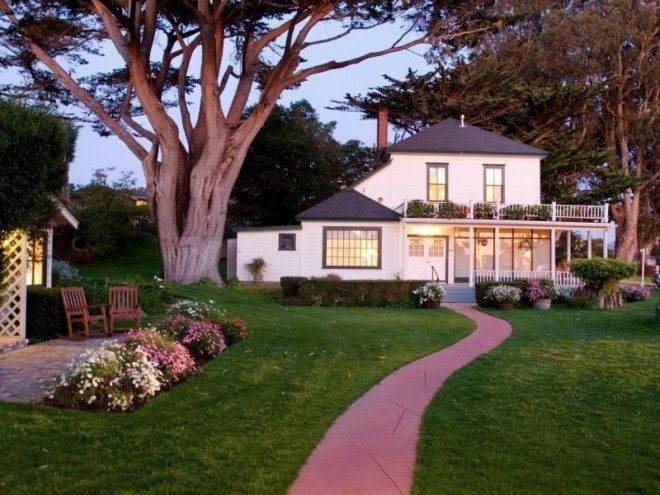 This hotel's got history, having been one of the first dairy farms in California. In 1986, Clint Eastwood, a former Carmel mayor, bought the historic ranch in order to stop it from being converted into condos. He then turned it into a chic 32-room boutique hotel that has its own Mission Ranch Tennis & Fitness Club with six tennis courts and a gym.
Rooms from $125 per night
Kate Pierson's Kate's Lazy Meadow in Mount Tremper, New York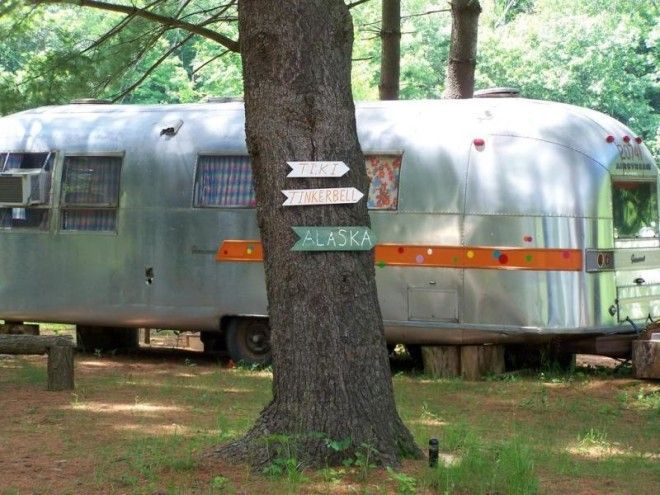 This quirky spot is more upscale trailer park than hotel. Kate Pierson was a singer with The B-52's (of Love Shack fame), and dreamt up this retro resort in the Catskills, which features vintage cabins and refurbished airstreams that all have a kitschy '50s vibe.
But don't worry, this doesn't mean forgoing luxury, as each room has WiFi and DVD players, a private bathroom, full kitchen, and designer bedding and towels, and there's a 20-person salt Jacuzzi with underwater light show on the grounds.
Rooms from $155 per night.