Whether you are eating them alone or mixing them in with other ingredients, when you think about it eggs are a pretty incredible food.
You can fry, scramble, poach, or boil them, and then turn these into wonderful egg sandwich recipes that you can dine on in several different ways. Turn your eggs into a meal with these 7 great egg sandwich recipes to enjoy for breakfast, lunch, and dinner...
1. Egg and Pepper Breakfast Burrito...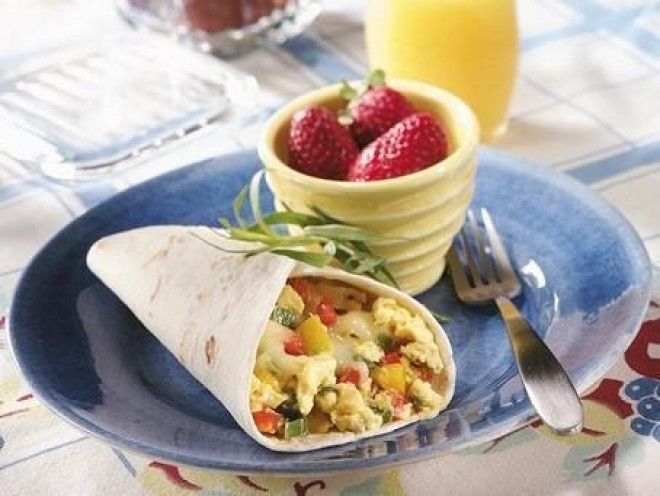 Are you looking for a breakfast that will jump start your early morning run? Eggs are a wonderful source of protein, which is helpful for your exercise recovery time as well as building your muscle strength. With this egg sandwich recipe you can feel confident that you are eating a healthy meal that will benefit your exercise routine and weight loss goal.
Recipe Ingredients:
1 tablespoon margarine or butter
1/4 cup sliced green onions
1/2 medium green bell pepper, chopped
1/2 medium red bell pepper, chopped
1/2 medium yellow bell pepper, chopped
6 eggs
2 tablespoons milk
1/2 teaspoon salt
1/8 teaspoon pepper
4 (7 or 8-inch) flour tortillas, heated
2 oz. (1/2 cup) shredded hot pepper Monterey Jack cheese
Directions:
"Melt margarine in medium nonstick skillet over medium-high heat. Add onions and bell peppers; cook 2 to 3 minutes or until vegetables are crisp-tender, stirring occasionally.
Meanwhile, in medium bowl, combine eggs, milk, salt and pepper; beat well.
Pour egg mixture over vegetables in skillet. Reduce heat to medium; cook 4 to 6 minutes or until eggs are set but still moist, stirring
frequently.
To serve, spoon egg mixture onto warm tortillas; sprinkle with cheese. Roll up."
2. Egg-Stuffed Breakfast Calzone...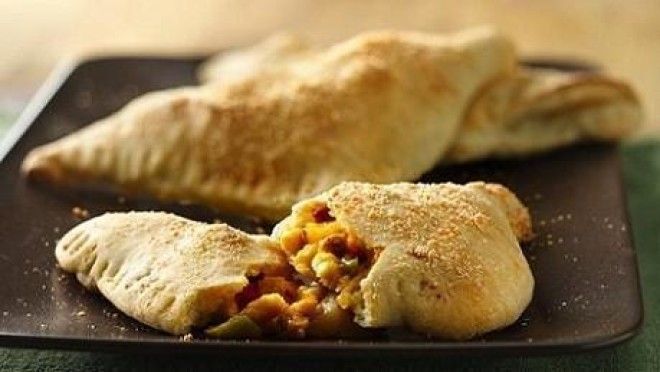 This egg sandwich recipe is quick and simple when you use Pillsbury Egg Scrambles, which are a variety of frozen breakfast dishes that include microwavable eggs, bacon or sausage, and veggies all in one entree. It may sound like a pretty heavy meal, but one bag of Pillsbury Egg Scrambles is only 280 calories and this recipe divides that one bag into six servings. What I love most about this recipe is the Pillsbury pizza crust that is used as a calzone to stuff your ingredients into. This recipe sounds like a breakfast that can be enjoyed at dinner time as well!
Recipe Ingredients:
A bag (7.7 or 8 oz) of Pillsbury® Egg Scrambles™ frozen egg scramble (any flavor)
1 can (13.8 oz) Pillsbury® refrigerated classic pizza crust
4 teaspoons of grated Parmesan cheese
Directions:
"Heat oven to 400°F. Spray large cookie sheet with cooking spray.
Heat Egg Scrambles according to directions on bag.
Meanwhile, on work surface, unroll dough; starting at center, press out dough into 15x10-inch rectangle. Cut rectangle into six (5-inch) squares.
Divide hot Egg Scrambles evenly between dough squares. For each calzone, arrange filling diagonally over half of dough square to within 1/2 inch of edges. Carefully fold dough over filling, forming a triangle; press edges of dough with a fork to seal securely. Place on cookie sheet; sprinkle tops with cheese.
Bake 11 to 13 minutes or until golden brown. Cool 5 minutes on pan before serving."
3. Ham and Egg Salad Sandwich...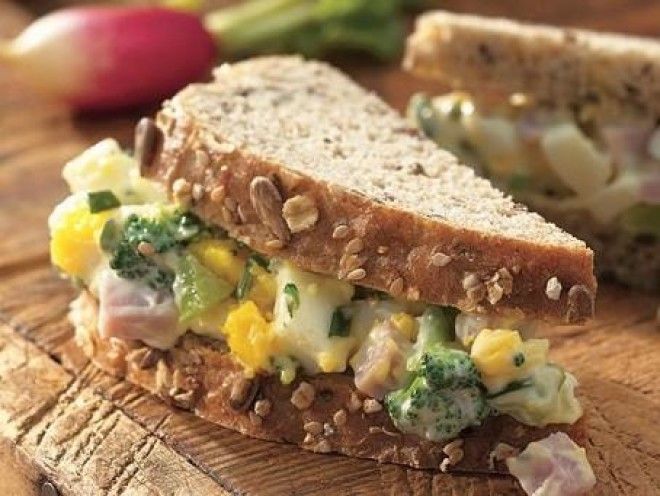 I love egg salad sandwiches, but you can only eat so much egg salad. So when I found this recipe that mixed in cooked ham, broccoli, and chives among a few other ingredients, I knew it had to be included in today's post. I never would have thought to add cooked ham and broccoli into my egg salad to make it more interesting the second time around. This egg sandwich recipe looks like quite a meal!
Recipe Ingredients:
1/2 cup chopped fully cooked ham
1/2 cup chopped broccoli florets
1/2 cup chopped celery
1/2 cup mayonnaise or salad dressing
1 tablespoon chopped fresh chives
2 teaspoons chopped fresh or 3/4 teaspoon dried marjoram leaves
1/4 teaspoon onion salt
3 hard-cooked eggs, chopped
Lettuce leaves
8 slices herb or whole wheat bread
Directions:
"In medium bowl, mix all ingredients except lettuce and bread.
Place lettuce leaf on 4 of the bread slices. Spoon egg mixture onto lettuce. Top with remaining bread."
4. A Lazy Fried Egg and Cheese Sandwich...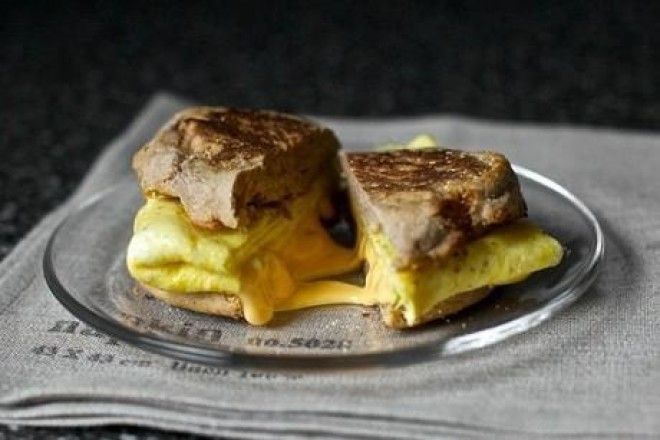 Are you drooling on your keyboard yet?! Does this not look like the most amazing fried egg sandwich ever; who wouldn't love a warm, gooey, cheesy lunch like this one! Well perhaps those who don't love cheese as much as I do...like my daughter, I still cannot believe it myself! This recipe is called, "A Lazy Fried Egg and Cheese Sandwich" because it's so easy to make that even a lazy cook could make it!
Recipe Ingredients:
An English muffin or two slices bread of your choice
1 to 2 teaspoons butter or oil
1 egg
Salt and pepper
1 slice of cheese or a tiny pile of grated or crumbled cheese
Spoonful of sliced scallions, chives, crumbled bacon, or whatever else you want in your eggs
Directions:
"Put the bread in a toaster. Heat a 9-inch skillet, preferably nonstick, on medium.
Beat one egg with ½ teaspoon water (or two eggs, with 1 teaspoon water), a couple pinches of salt and a few grinds of black pepper until just blended. I always use a fork for this.
Melt butter in your pan or brush it with oil, to thinly coat it. Pour in the eggs and roll them around so they cover the pan, as a thin crepe would.
Immediately plop a square of cheese (for we people with unfancy tastes in cheese) or a small pile of grated cheese (for everyone else) in the middle. Toss whatever fixings you wish on top of the cheese, though I never bother. This meal is all about immediacy for
me.
A single egg will cook in 1 to 1½ minutes; two eggs in 2 minutes. You'll know its cooked when poking into it with a corner of your spatula won't cause any loose egg to slip through to the skillet.
Fold the part of the egg closest to you over the cheese, like the first part of a business letter fold. Repeat this on the three remaining "sides," forming a small square. You can also have fun (yes, I just said "fun") here and fold it into a shape that matches your bread, i.e. larger for sandwich bread, long-ish for rye. Leave the folded egg-and-cheese in the center of the skillet to cook for another 30 seconds, then slide onto you muffin or toast. Top the sandwich with the other half and eat it at once."
5. Smoked Salmon and Egg Sandwich...
I love eggs and I love salmon; put them together and you have a beautiful combination! The gorgeous color of this egg sandwich is enough to entice me to want to learn more about this sexy looking recipe! I have never poached an egg before, but I am willing to learn how to for this delicious looking sandwich.
Recipe Ingredients:
4 cups water
1 tablespoon white vinegar
4 large eggs
1/4 cup (2 ounces) 1/3-less-fat cream cheese
2 tablespoons minced red onion
1 tablespoon chopped dill
3/8 teaspoon kosher salt
4 (1-ounce) slices whole-grain bread, toasted
1 cup fresh arugula
4 ounces smoked wild salmon
1/4 teaspoon black pepper
Directions:
"Bring water and vinegar to a simmer in a 12-inch skillet over medium heat. Add eggs, 1 at a time; simmer 3 minutes or until desired degree of doneness.
Combine cheese, onion, dill, and 1/8 teaspoon salt; spread 1 tablespoon cheese mixture over each bread slice. Top each serving with 1/4 cup arugula and 1 ounce salmon. Remove eggs from pan with a slotted spoon; top each sandwich with 1 egg. Sprinkle with 1/4 teaspoon salt and pepper.
Sustainable Choice: Look for salmon that's labeled "wild Alaskan salmon," and you can be sure you're getting sustainable seafood."
6. Avocado Spinach Egg Salad...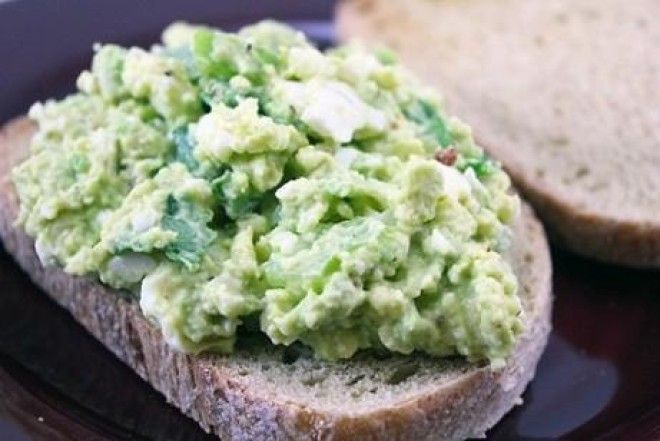 I may have already mentioned egg salad and how you could make it more interesting, well now I am biting my tongue! I'm pretty sure adding in avocado and spinach takes the cake on how to make egg salad more interesting! Every time I get the chance to put avocado on a sandwich I go for it, but I have yet to make my own avocado recipes at home. Gasp, I know! So now that I have found yet another intriguing egg salad sandwich recipe, I will push myself to buy some avocado to cook with.
Recipe Ingredients:
7 eggs, hardboiled
4 oz. plain greek yogurt
2 avocados
1 stalk celery, chopped
1 C baby spinach
Hot pepper flakes to taste
Good bread, toasted if you want
Directions:
"Once your eggs are cooled, peel them and mash them up with the Greek yogurt. Sprinkle some salt and pepper on top, too.
Peel and pit your avocados and mash those up, too. Add a little salt and pepper to this, too, if you'd like
Combine the egg with the avocado.
Mix in the cup of spinach and the celery.
Add hot pepper flakes for an extra punch.
Serve on good, crusty bread."
7. Egg Sandwich with Asparagus and Prosciutto...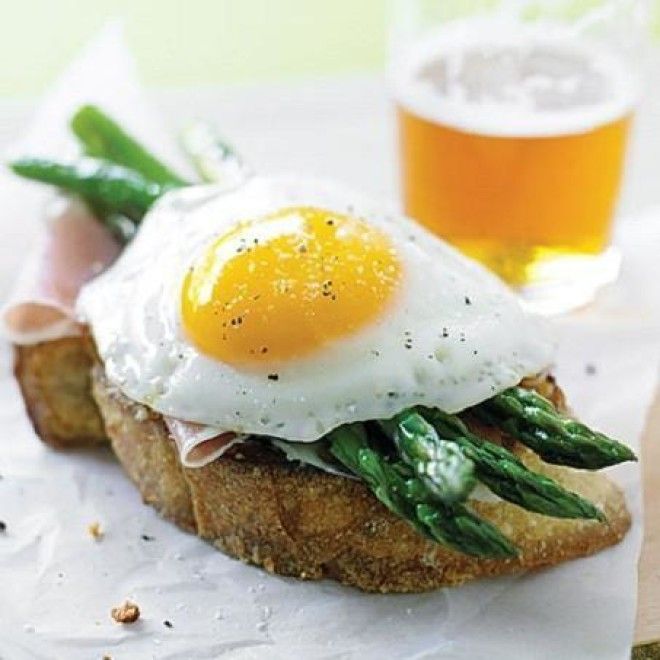 If you are looking for an elegant egg sandwich recipe to serve during a dinner party, consider this open faced fried egg, asparagus, and prosciutto sandwich. It looks like the egg in the photo is cooked sunny side up, but the recipe states that you can fry the egg however you
like.
Recipe Ingredients:
2 tablespoons extra-virgin olive oil, divided
8 asparagus spears, ends trimmed
1 fresh rosemary sprig, about 3 in. long
2 slices crusty bread such as ciabatta, sliced 1 in. thick
1/4 cup grated parmesan cheese
2 large eggs
4 thin slices (2 oz.) prosciutto
1/4 teaspoon salt
1/4 teaspoon freshly ground black pepper
Directions:
Heat 1 tbsp. oil in a large frying pan over high heat. Add asparagus and sauté until tender when pierced, about 5 minutes. Transfer asparagus to a plate. Add remaining oil and rosemary to pan. Cook rosemary until oil is hot, about 2 minutes, then discard the herb.
Put bread slices in pan and toast in oil, turning once, about 1 minute. Sprinkle about 2 tbsp. parmesan onto each piece of bread and
cook until cheese starts to melt and bread starts to brown slightly, about 2 minutes. Transfer bread to plates.
Reduce heat to medium and in the same pan, gently fry both eggs to your liking. Top each piece of bread with 2 prosciutto slices and half the asparagus. Set an egg on top of each and sprinkle servings with salt and pepper."