Ah, the big day is coming up. You've got the outfit, the shoes, the maid of honor on your side, everything you need for a beautiful, country wedding, but what is a girl to do with her nails? The latest trend in wedding manicure style is the nail accent finger.
It's a way of keeping things elegant, while also giving the bride a chance to express her personal style. The accent finger can be everything from flirty to edgy; there's even room for the minimalist and the maximalist.
Like everything in life, the best choices start with a good foundation. WiseGeek, recommends getting a wedding manicure at a trusted salon. That means going to your regular nail technician or getting a recommendation from a friend.
Next, color is everything. You'll want a neutral tone that compliments your skin color and the dress. Usually that means nudes, light pinks or beiges. Ideally, your manicure will compliment your look, not be a distraction from it.
It's never a bad idea to get a wedding manicure test run to make sure it's exactly what you want.
Now it's time to choose your accent. Fortunately, we've come up with this handy dandy look book for accent finger inspiration.
Feel free to take one of the images to your nail technician so that they can replicate it for you!
1. The Stamp'cent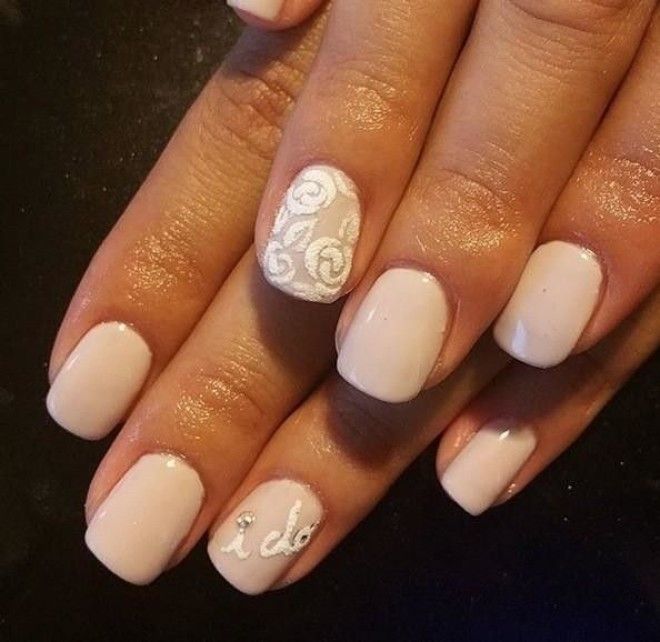 This lacy floral nail stamp adds a tiny touch of flirty to an otherwise understated look.
2. Something old, something new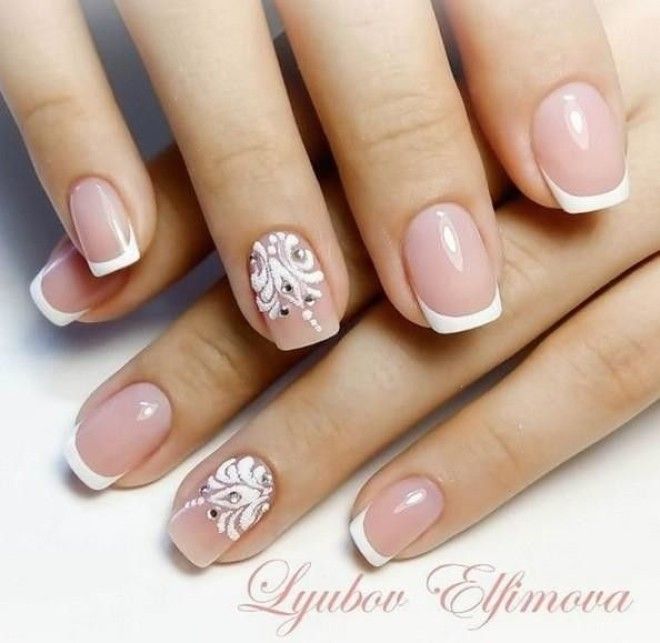 A new twist on an old classic elevates the everyday French manicure into something fit for a special occasion.
3. The flower girl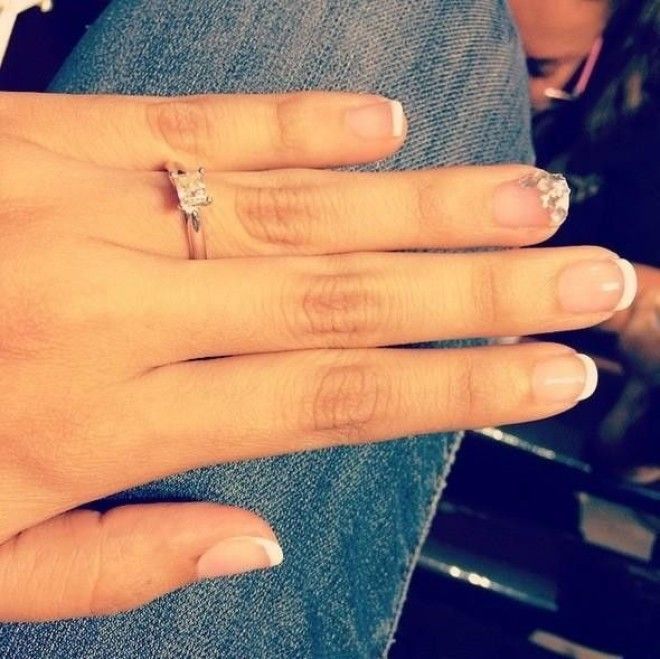 No need to toss this bouquet, the simplicity of this floral accent won't clash with a thing.
4. In case you forget your lines...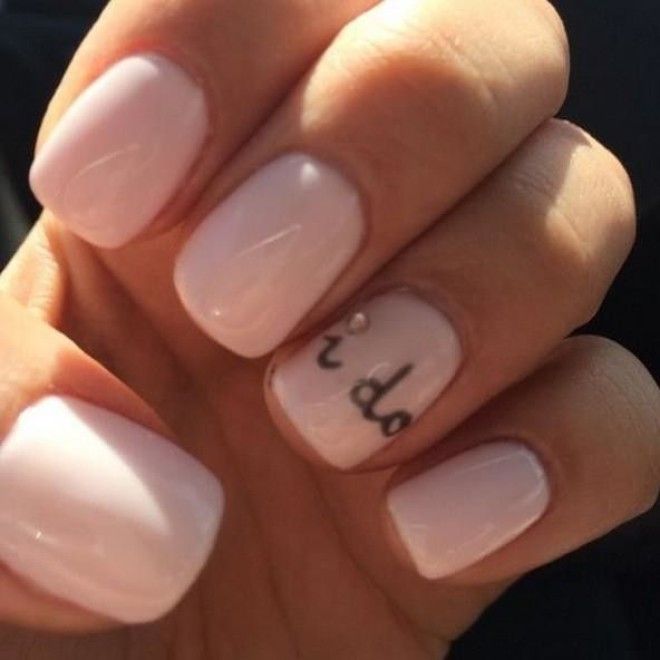 While you're gazing into your lover's eyes, as your mom sobs in the front row, you might've forgotten why you're actually there. This accent will help.
5. A nice wedding in the country, but you're a little bit rock 'n' roll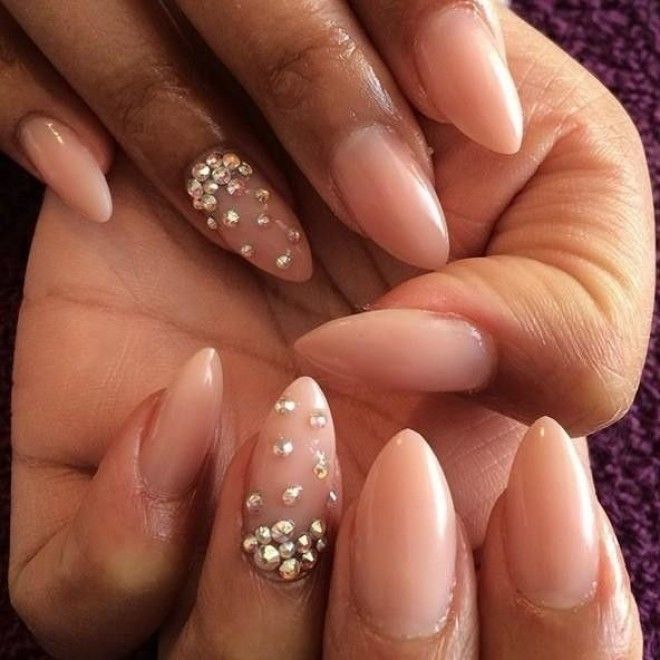 There's no need to abandon your edgy style just because the big day calls for a big white dress. Keep your unique sense of style on point with metallic embellishments and of course, some spikes.
6. Ah, the minimalist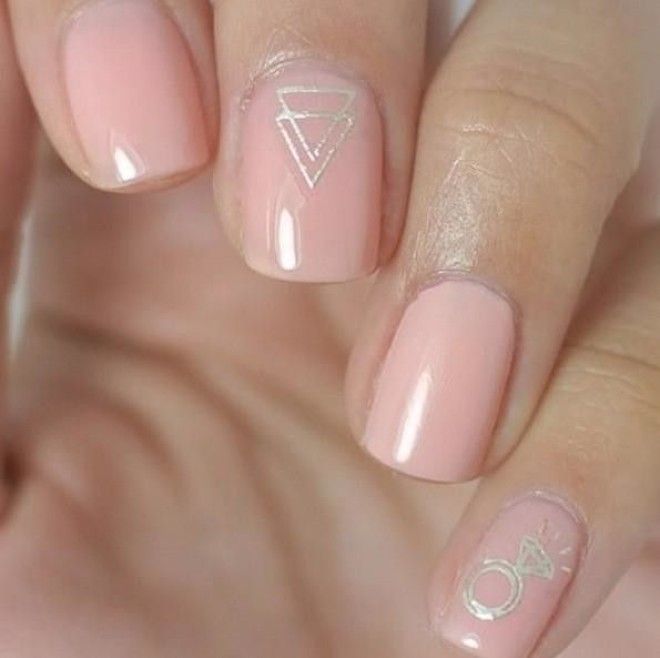 Just because you think less is more doesn't mean you should have to make do with less. These subtle geometric decals will give your nails a nice pop without overwhelming the minimalist in you.
7. They call it tying the knot...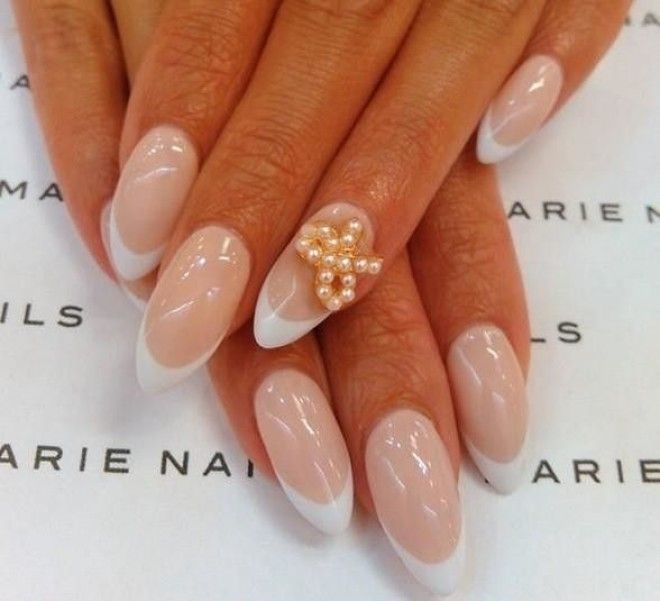 These cute nails riff on the French manicure with their almost-spike, almost-oval shape. But it's really the "on the nose" bow that takes them to the next level.