In Copenhagen right now a company called Amager Bakke is working on what is expected to become the world's cleanest power plant, the Amagerforbraendingen Energy Plant, which will open in 2017 and is part renewable energy technology and part art project. Currently, Europe has a huge waste disposal problem in that it has run out of space for landfill sites and the rate of recycling just isn't enough. Therefore, waste is increasingly being considered as a viable solution.
The new facility will be a waste-to-energy generator covering 95,000 square meters of ground and serving a dual use as a 1,500 meter green-walled ski slope. The plant will incinerate rubbish collected from households and turn it into energy which will be fed back to the city.
Another novel feature will be a 'steam ring generator' which is being developed by architectural firm the Bjarke Ingels Group (BIG). This will emit a ring of steam over Copenhagen every time one tonne of carbon dioxide is released, thereby emphasizing the scale of our current contribution to man-made climate change. It will essentially be an informative art piece which will be developed in collaboration with Berlin art group realities: united, Rumlaboratorium and the Danish Technical University. The piece will incorporate a chimney utilizing three steam lines with different pressures. Two smaller-scale prototypes of the chimney have already been built, both successfully producing the desired effect at one-tenth the size of the full-scale chimney. Access to the ski-slope will be via an elevator running alongside the chimney. The smoke rings emanating from the chimney will be illuminated at night with green lasers.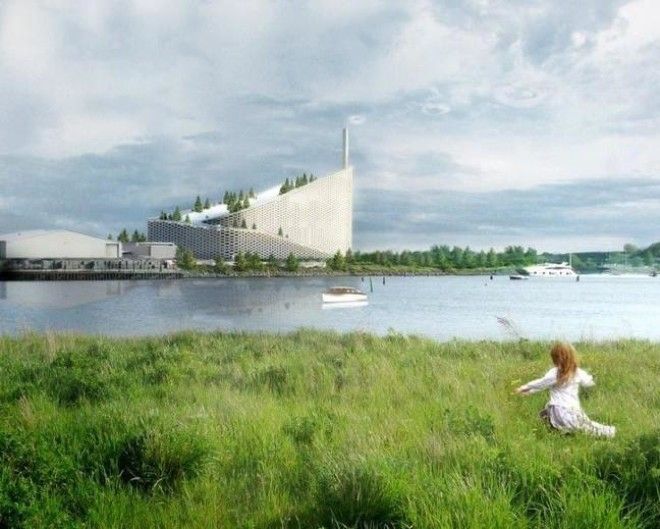 With a budget of 3.5 billion DKK, this development is the largest environmental project in Denmark. It will embrace the latest waste to energy and environmental technologies and is intended as an example of what BIG calls 'Hedonistic Sustainability' – promoting the idea that
large sustainable energy infrastructure doesn't have to be a burden or an eyesore but can serve a useful purpose in a variety of ways.
Five Danish municipalities own the company developing the waste to energy generator, Amager Bakke, which also operates thirteen recycling stations in addition to incineration plants. The facility will be located in an industrial plant, replacing the existing Amagerforbraending plant which is now obsolete.