Here are ten amazing water bridges that have been engineered around the world spanning from the late 1700's to the early 2000's.
Lune Aqueduct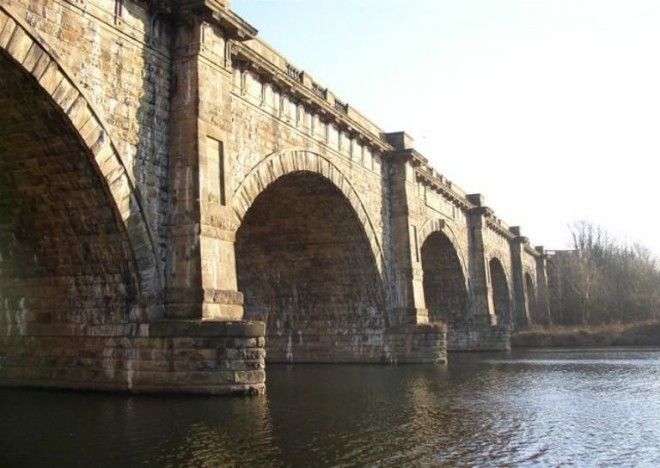 Built at three times the estimated cost the British government had for the Lune Aqueduct constructed in 1797 for over £48,000! It's 664ft. long, 20ft. wide, 61ft. high and carries the Lancaster Canal. It's located over the River Lune in Lancaster, United Kingdom.
Edstone Aqueduct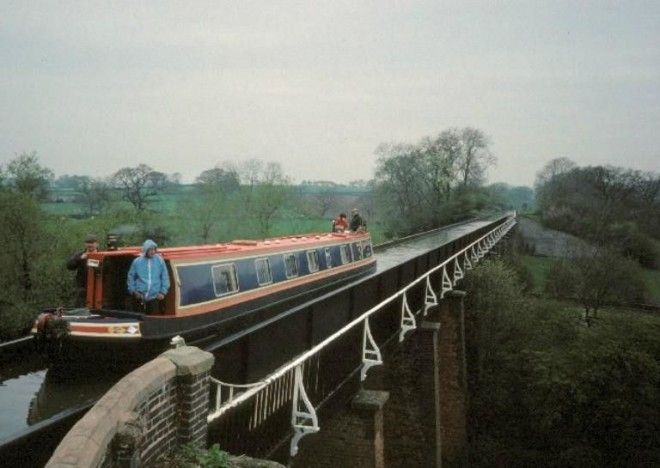 The Edstone is the longest aqueduct in England and is one of 3 that run along The Stratford-upon-Avon Canal located in Warwickshire. This aqueduct was completed in 1799 and is 475 ft. long.
Pontcysyllte Aqueduct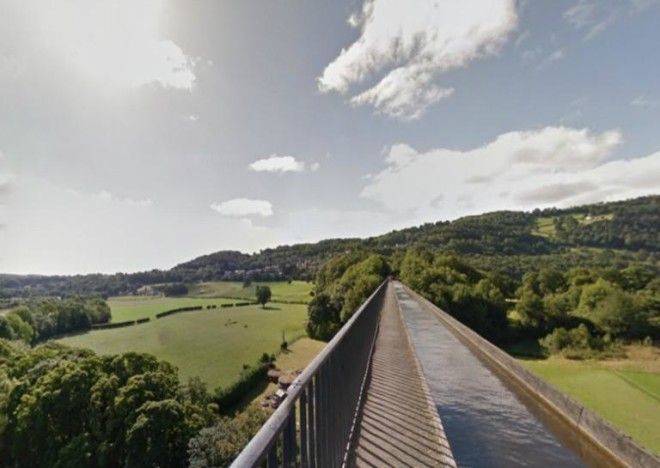 Located in Wrexham County Wales the Pontcysyllte Aqueduct connects the Llongollen canal to the valley of the River Dee. It was completed in 1805 and is the longest and highest water bridge in Britain. It's 1000ft. long, 11ft. wide and 5.5ft. deep. The Pontcysyllte is 126ft. above the river using 53ft. support pillars and is an architectural Heritage site.
Avon Aqueduct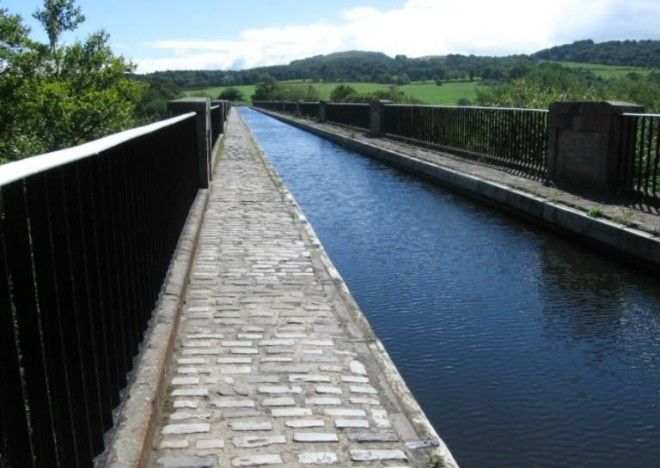 Completed in 1821 the Avon Aqueduct is the longest of its kind in Scotland and the second longest in the UK. It's 810ft. long, 50ft. wide and 86ft. high. Located in Linlithgow, Scotland this bridge crosses the River Avon and carries the Union canal.
Barton Road Swing Bridge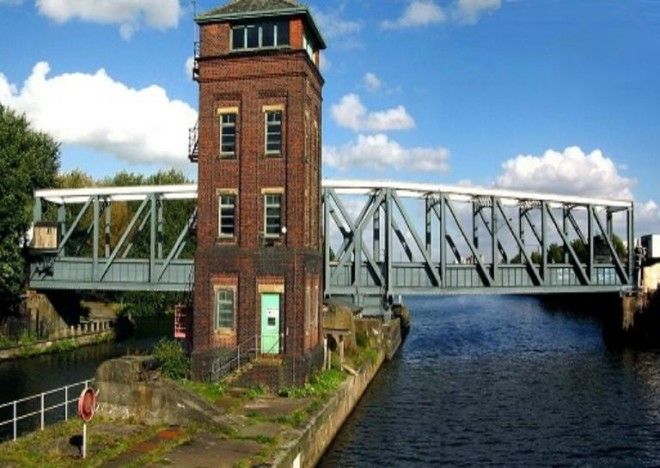 Built in 1894 the Barton Swing Aqueduct is the only swing truss bridge in the world. It is located in Greater Manchester England and connects the Bridgewater canal to the Manchester ship canal. Large boats can pass under and small boats can pass over because of its innovative design. Its length is 195 ft. and it's with is 18 ft.
Briare Aqueduct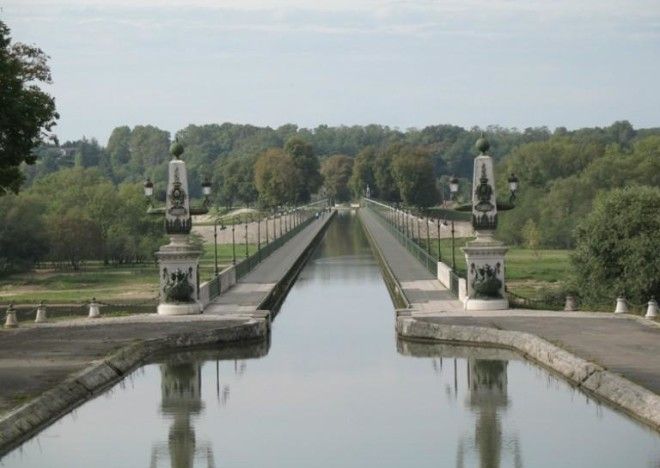 This aqueduct located in Briare France crosses the Loire River and carries the Canal Latéral à la Loire. It's the second longest aqueduct in the world and was opened in 1896. This bridge is 2172ft. long, 18ft. wide and 7ft. deep.
Ringvaart Aqueduct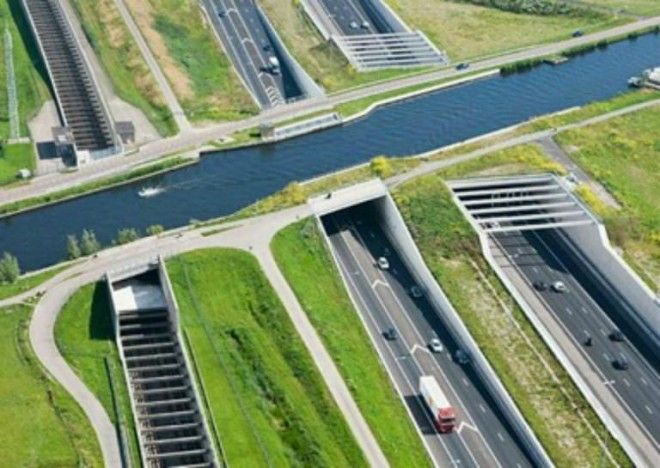 Located in the Municipality of Haarlemmermeer Ringvaart Aqueduct is the oldest in the Netherlands. It was built in 1961 however two new portions were completed in 2006 making the new length 5905ft.
Veluwemeer Aqueduct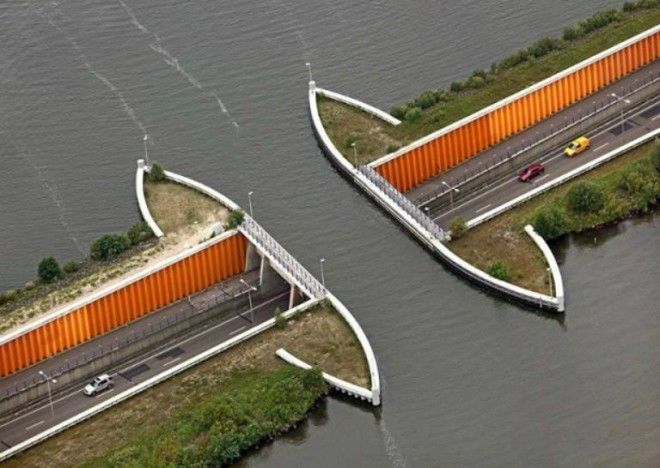 The Veluwemeer Aqueduct connects the mainland of Hardeerwijk with Flevoland, the largest artificial island in the word. It's 82ft. long, 62ft.wide, 9ft. deep and was completed in 2002. Small boats can pass through it and there are footpaths located on either side for pedestrians.
Krabbersgat Naviduct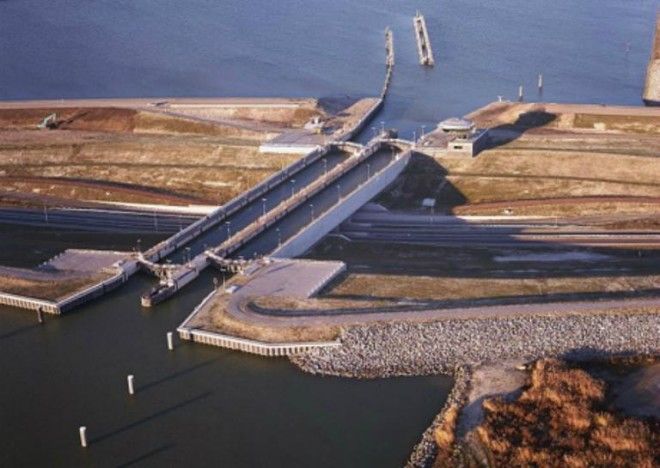 The Krabbersgat is a naviduct waterway with a lock and has a 1640ft. long polder, is 525ft. wide and is 20ft. off the ground on a raised embankment. It opened in 2003 and cost €55 million before taxes to construct.
Magdeburg Water Bridge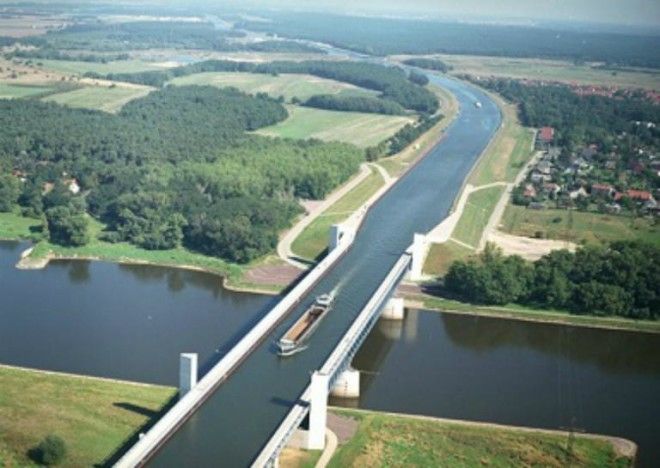 The Magdeburg Water Bridge is the longest waterway in the world and is 3012ft. long, 112ft. wide, 14ft. deep, and 2264ft. over land. It opened in 2003 and connects the Elbe-Havel Canal to the Mittelland Canal.