Apparently there's more than one way to earn a doctorate.
While institutions of higher education have been criticized for awarding honorary doctorates to non-graduates, it hasn't stopped them from honoring accomplished musicians, artists, athletes, and actors for years.
Many celebrities on our list hold not one, but two or even three honorary doctorates from some of the most prestigious universities in the world.
Keep reading to find out which universities bestowed "Dr." upon the likes of Kanye West, Magic Johnson, and Jon Bon Jovi.
Meryl Streep has three Ivy League honorary doctorates.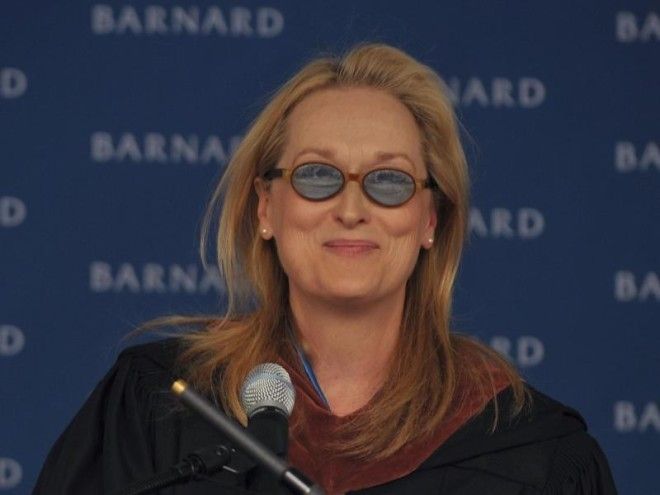 Meryl Streep is the recipient of four honorary doctorates, three of which come from the most prestigious universities in the country: Harvard, Yale, and Princeton.
Most recently, the Academy-Award winning actress, who earned her own degree from Vassar College, received a Doctorate of Fine Arts from Indiana University at Bloomington for her cinematic talents and advocacy for women.
Ben Affleck was honored for his work in the arts.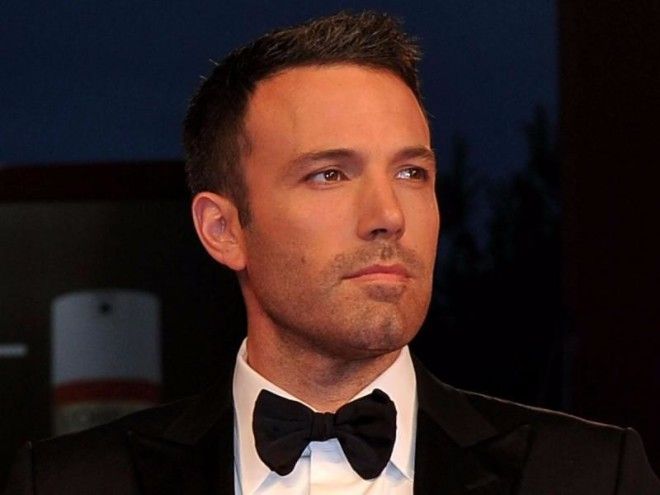 The two-time Academy Award winner was honored with a Doctorate of Fine Arts at Brown University's 2013 commencement on the heels of immense success for his film "Argo," which he starred in and directed. Since then, he's settled into the role of Batman in the upcoming "Suicide Squad" and "The Justice League" series.
P. Diddy received an honorary doctorate from the college he dropped out of.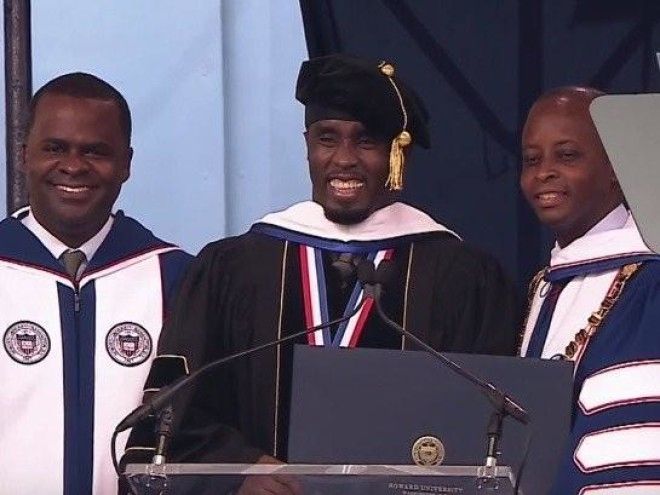 Sean "P. Diddy" Combs became Dr. Combs when he was honored with a Doctorate in Humanities during his commencement address at Howard University in 2014. Diddy enrolled in the university back in 1990 but dropped out shortly after to pursue a music career. Still, he said Howard University changed his life and he was humbled to receive a degree.
Oprah Winfrey has four honorary doctorates.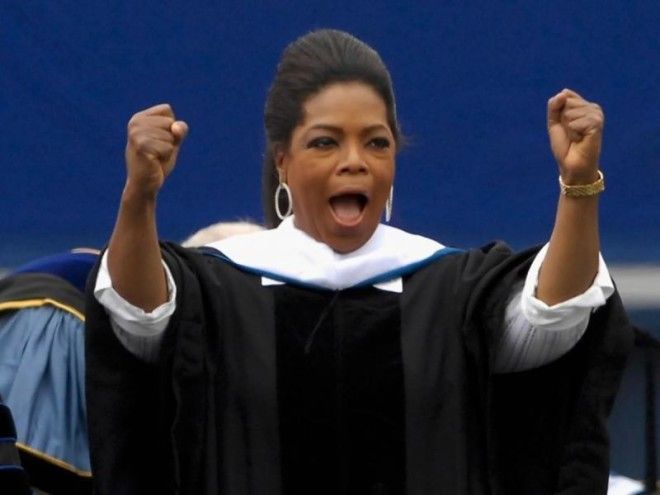 Oprah has been named to more "most powerful people" lists than we can count, so it's only natural that she's also the recipient of four honorary doctorates for her work in philanthropy and business. The media mogul holds doctorates from Princeton, Howard University, Duke University, and Harvard.
J.K. Rowling has earned honorary doctorates on two continents.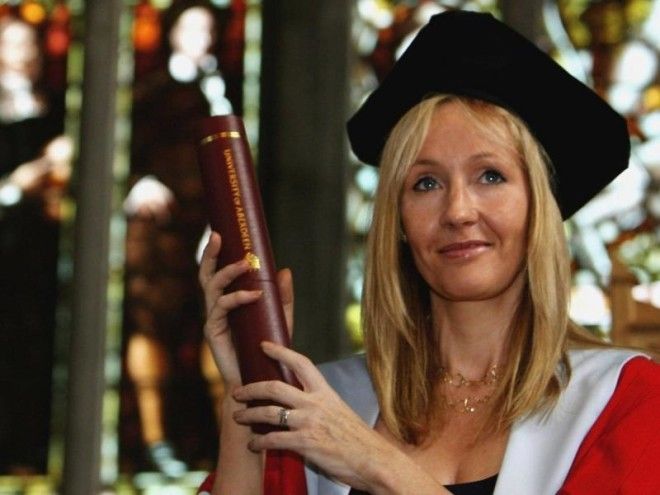 Perhaps one of the most famed authors of all time, J.K. Rowling is also likely one of the most decorated — with honorary degrees, that is. In the last 15 years, Rowling has amassed seven honorary doctorates from the University of Exeter, University of St. Andrews, Napier University, University of Edinburgh, Dartmouth College, Harvard University, and the University of Aberdeen.
Alec Baldwin earned an honorary doctorate from his alma mater.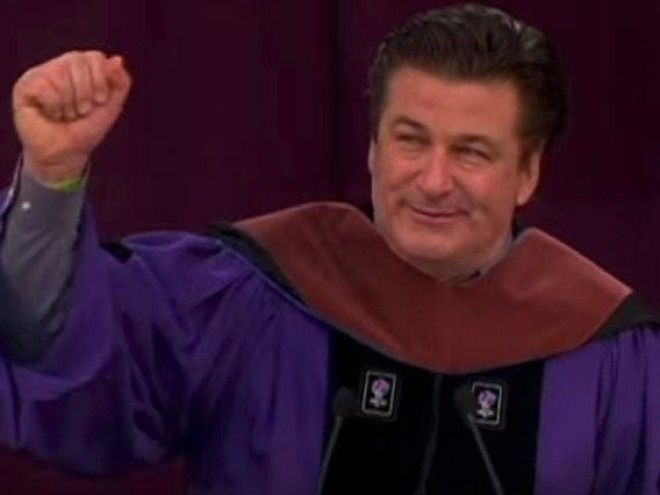 Baldwin earned a bachelor's in 1994 (he started his degree in 1979 but never finished) from NYU's Tisch School of the Arts and returned in 2010 to receive an honorary Doctorate of Fine Arts. The actor began a scholarship fund in 2010 called the Alec Baldwin Drama Scholarship Fund that helps students afford an NYU Tisch education.
Robert De Niro was honored during his commencement speech at Bates College.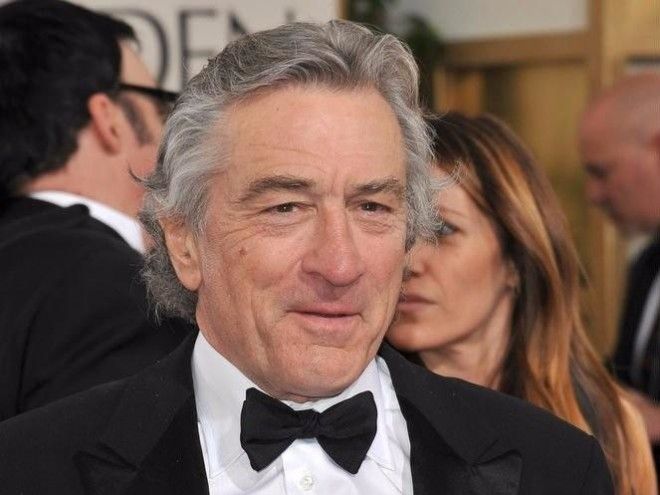 The legendary film star was awarded an honorary Doctorate of Fine Arts from Bates College during his 2012 commencement speech.
Despite De Niro's controversial remarks about higher education — he told students that he made a good decision and saved money by not attending college — he left students with this wisdom: "If you're an actor, always be true to your character ... If you're not an actor, have character and always be true to yourself."
John Legend has two honorary doctorates for his musical talents.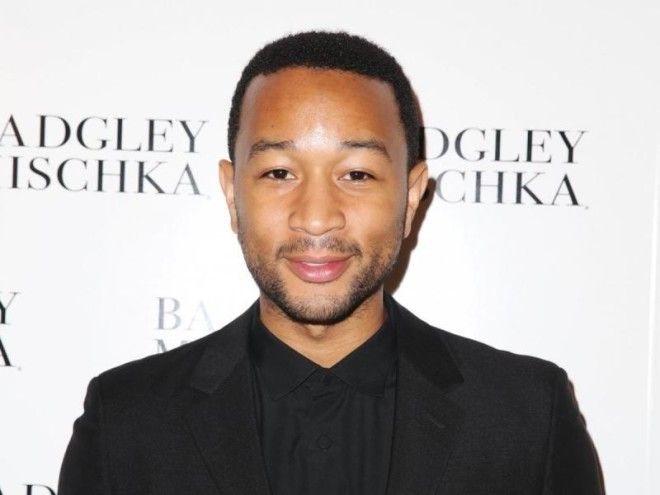 Nine-time Grammy award winner John Legend returned to his alma mater, University of Pennsylvania, last year to accept an honorary Doctorate of Music and deliver the 2014 commencement address. Legend also has an honorary degree from Howard Universityfor his musical talent and humanitarian work.
Aretha Franklin performed at Harvard last year after receiving an honorary doctorate.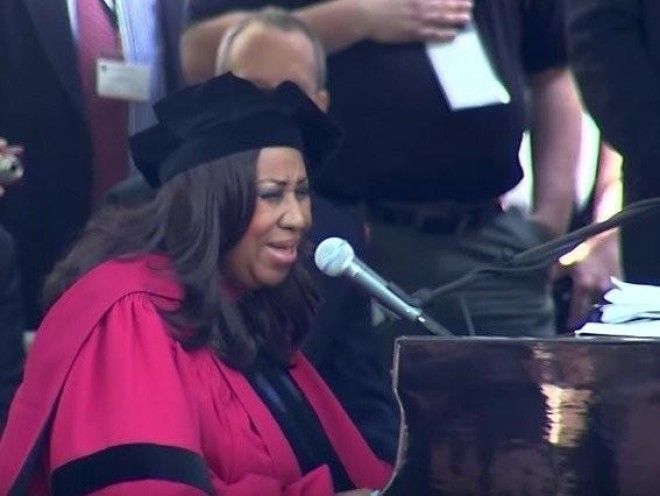 The incomparable Queen of Soul reportedly holds some 12 or more honorary degrees, including Doctorates of Music and Arts from Princeton and University of Pennsylvania. Most recently, Franklin graced the stage at Harvard's 2014 commencement to accept her honor and perform the national anthem.
Kanye West became Dr. Yeezus when he was honored in Chicago earlier this year.
The public was stunned in May when Kanye West – the artist whose rap album titled "The College Dropout" won the Grammy in 2005 – was honored with a doctorate from the School of the Art Institute of Chicago. West attended a couple of other Chicago schools for a short time before leaving to pursue music. West called the honor a "humanization" and promised his degree would make students' lives easier.
Dolly Parton was honored for her achievements in country music.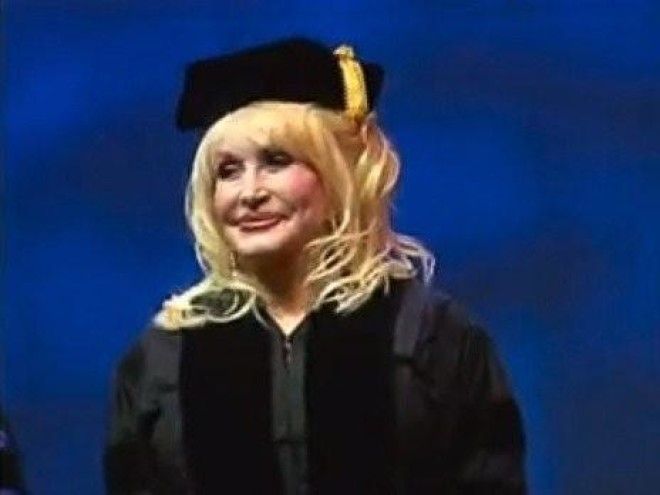 In 2009, Parton was honored with a Doctorate of Humane and Musical Letters from University of Tennessee at Knoxville – the second-ever honorary degree awarded by the school. Parton, a multi-Grammy award winner and member of the Country Music Hall of Fame said she felt proud to receive the honor from her home state.
Jon Bon Jovi received an honorary doctorate from Rutgers University this year.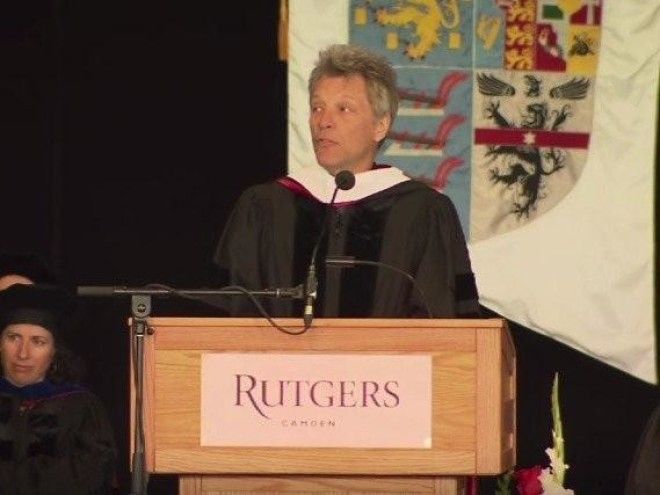 New Jersey native and frontman of the eponymously named world-famous rock band, Jon Bon Jovi has two honorary doctorates: one from Monmouth University, awarded in 2001, and another from Rutgers University at Camden, awarded earlier this year for his leadership in civic justice and equality.
Magic Johnson is the proud recipient of an honorary doctorate in business.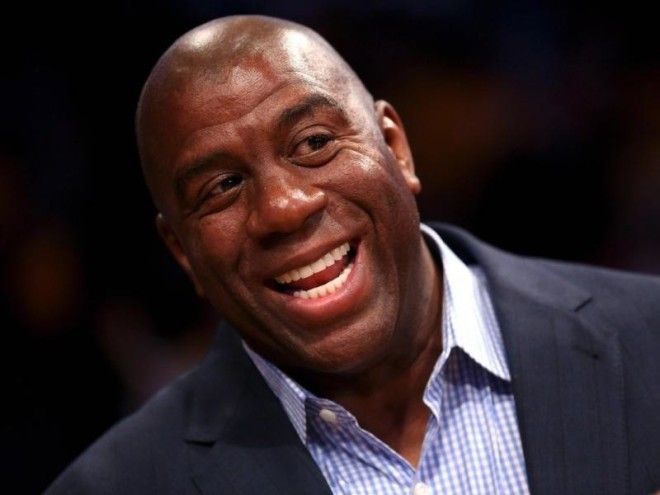 In May, NBA legend Magic Johnson was honored at Xavier University with a Doctorate of Business. The athlete, who's worth an estimated $500 million, posted a proud photo to Instagram with the caption "I am now Dr. Magic!"
Conan O'Brien gave an inspirational speech to students after receiving his honorary degree.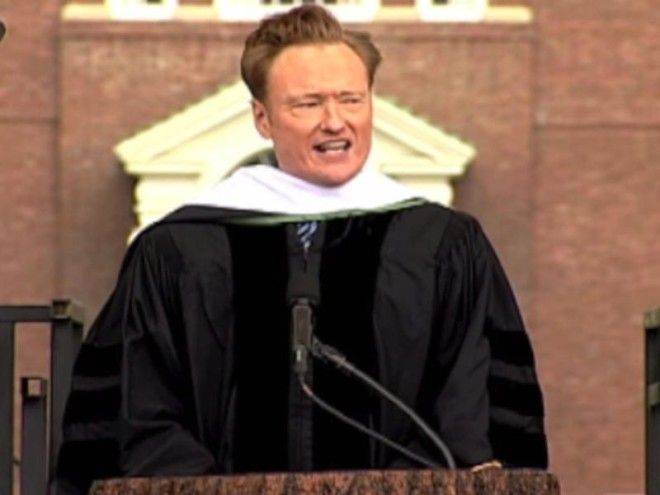 Late night talk-show host, former SNL writer, and Harvard graduate Conan O'Brien received an honorary doctorate from Dartmouth University in 2011. During the commencement speech he told students his "first job as commencement speaker is to illustrate that life is not fair," in ironic reference to his honor.
LL Cool J was honored with a doctorate during his daughter's graduation.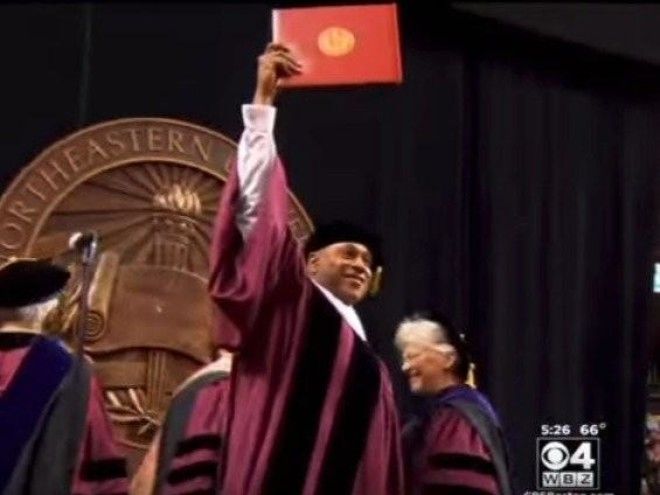 LL Cool J received an honorary degree from Northeastern University last year during his daughter's own graduation ceremony from the university. The rapper and actor, who never went to college himself, even got to present her with her diploma.
Orlando Bloom's hometown college honored him with a doctorate.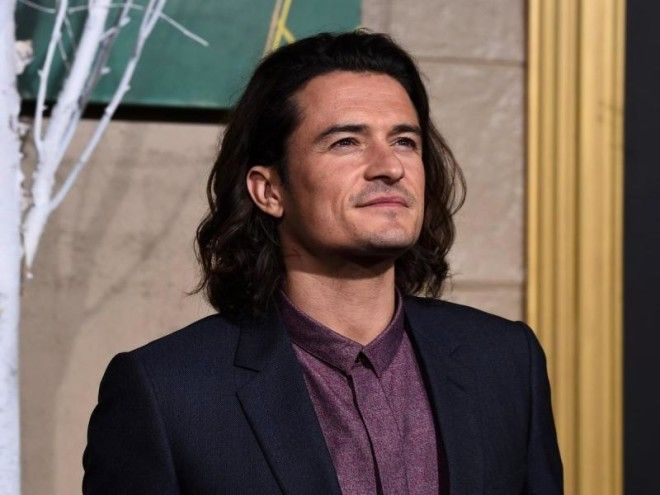 In 2010, Orlando Bloom traveled to his hometown of Canterbury in the UK to receive a doctorate from University of Kent. The "Lord of the Rings" and "Pirates of the Caribbean" leading man said he was "chuffed" (that is, proud) to be presented with such an honor.
Yoko Ono has three honorary doctorates for her activism.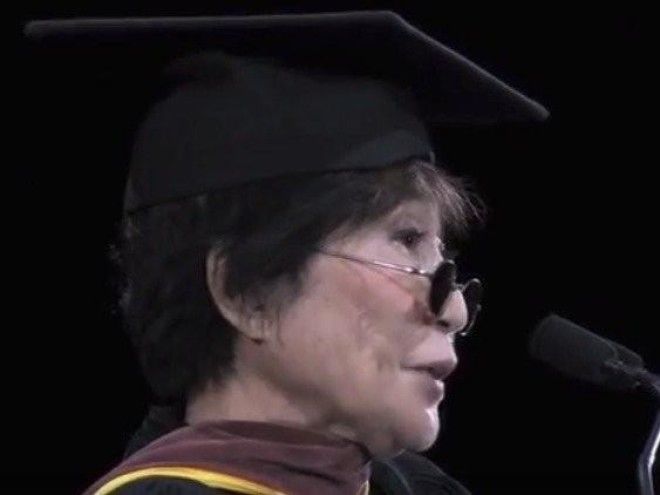 The artist and activist, who was married to the Beatles' John Lennon, most recently received an honorary doctorate at Pratt Institute's 125th commencement, which was held in 2014 at Radio City Music Hall. Ono also holds two more honorary doctorates from the University of Liverpool (which she supports in memory of her late husband) and Bard College.
Muhammed Ali was honored by Princeton for his humanitarian efforts.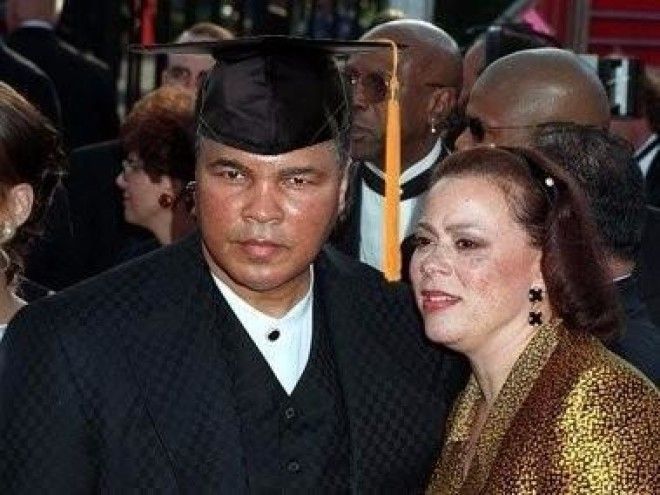 The greatest heavyweight champion in history is more than just a boxer. Muhammad Ali is the recipient of two honorary Doctorates of Humanities from Princeton University and Muhlenberg College for his perseverance in and out of the ring. Ali has embarked on goodwill missions to Afghanistan and North Korea and been recognized with a lifetime achievement award from Amnesty International.
Stephen Colbert gave the commencement speech and received an honorary doctorate at his alma mater.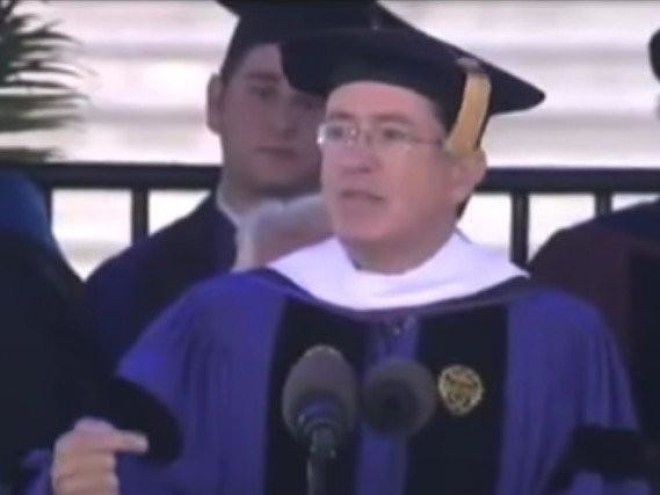 The comedian and satire news anchor's alma mater, Northwestern University, honored him with a Doctorate of Fine Arts in 2011. On his show, "The Colbert Report," in 2006 he aired a sketch in which he jokingly made light of the "Dr." title he received from Knox College earlier that year.
Denzel Washington was honored for his legendary work in film and theater.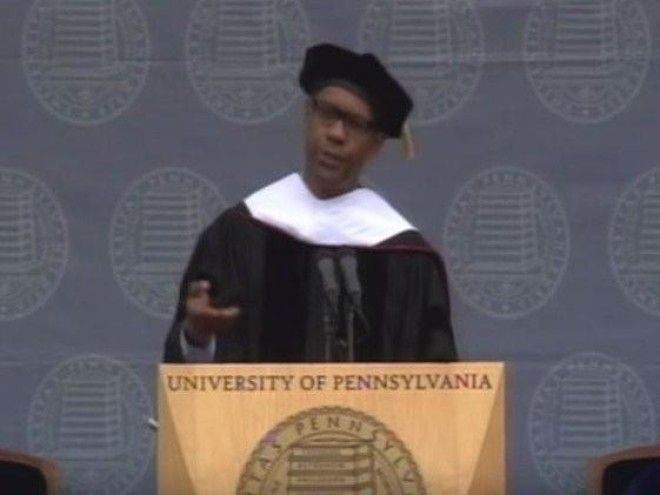 Academy Award and Tony winner Denzel Washington delivered the commencement address at the University of Pennsylvania in 2011, where he also received an honorary doctorate. "Do you have the guts to fail?" Washington asked students. "If you don't fail, you're not even trying."
Jimmy Fallon received his bachelor's degree and an honorary doctorate at the same time.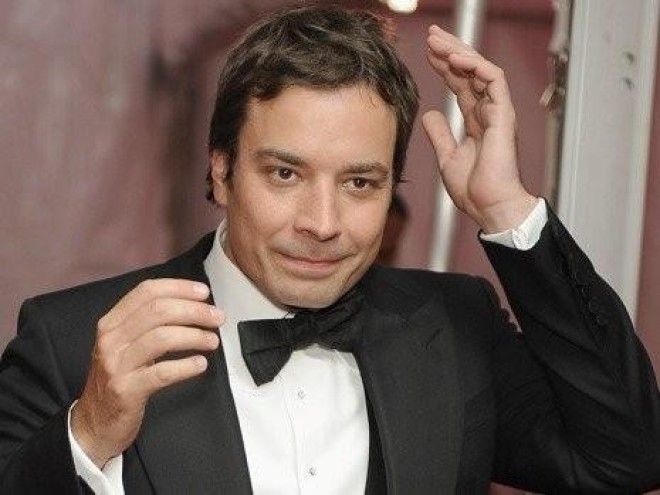 "Tonight Show" host and former SNL cast member Jimmy Fallon attended the College of Saint Rose in the 1990s but left to purse a career in television before graduating. He returned in 2009 to present the school's commencement address and was honored with both his Bachelor's degree and an honorary doctorate for his television successes.
William Shatner's famous role in Star Trek earned him an honorary doctorate.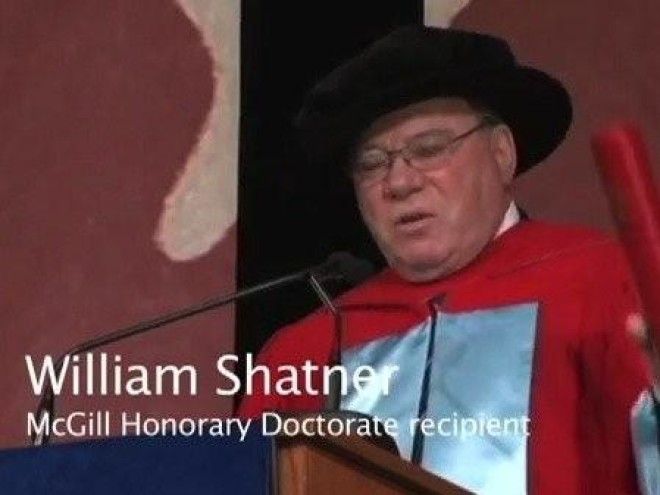 William Shatner gained a cult following for his repeated on-screen portrayal of Captain James T. Kirk in the "Star Trek" series. His legendary status was recognized by his alma mater, McGill University, in 2011 when he received an honorary Doctorate of Letters.
Celine Dion was honored in Canada for her musical accomplishments.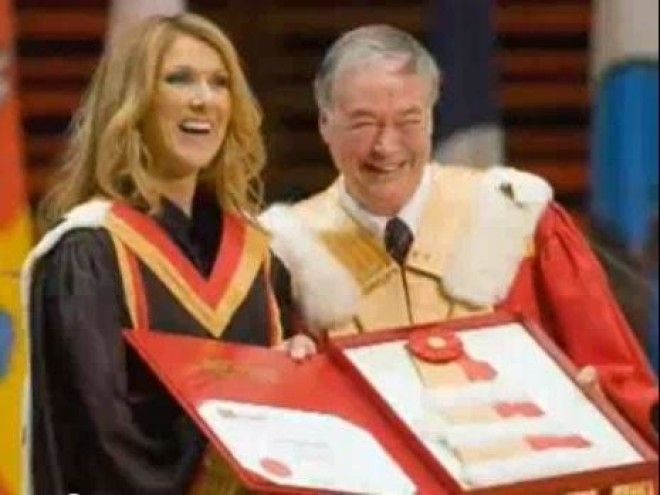 In 2008, Celine Dion was honored with a Doctorate of Music from Quebec City's Université Laval, the oldest center of education in Canada. The multi-Grammy Award winner, who never finished high school, called the doctorate a great honor.
Morgan Freeman was recognized by Howard University earlier this year.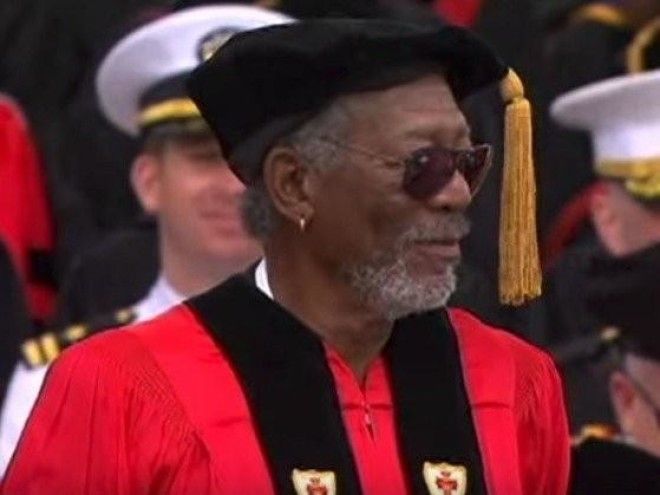 The actor-producer was awarded an honorary doctorate from Howard University this year for his achievements in film. Freeman also has an honorary Doctorate of Humane Letters from Boston University, which he received in 2013 during BU's 140th commencement.
Jimmy Kimmel was honored with a doctorate from the school he dropped out of.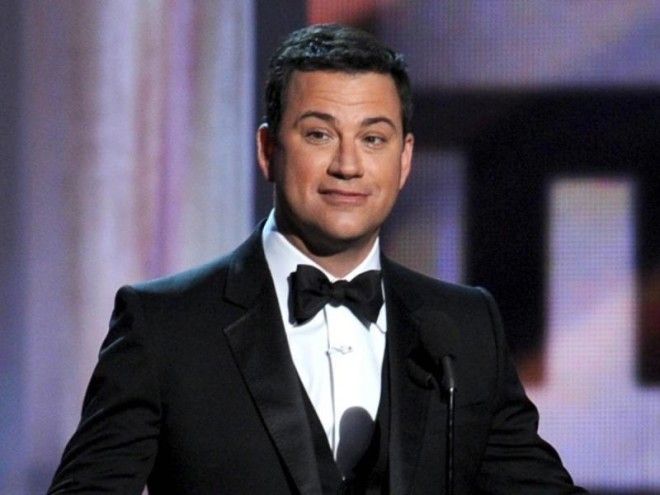 Jimmy Kimmel dropped out of the University of Nevada at Las Vegas in 1986 after just one year of enrollment. Still, UNLV invited him back in 2013 to award him an honorary doctorate for his television and comedic successes. Kimmel reportedly had the audience in stitches during his commencement speech.
Jack Nicholson has an honorary doctorate from Brown.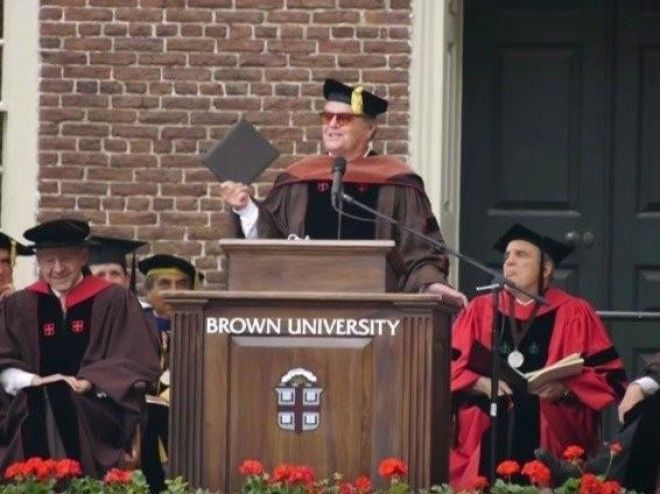 Jack Nicholson, a three-time Academy Award winner and the most frequently Oscar-nominated male actor, was honored by Brown University in 2011 with an honorary Doctorate of Fine Arts. After high school, Nicholson went to the west coast with the intention of attending college and wound up working in Hollywood instead.
Kerry Washington gave the commencement address and received an honorary doctorate at GW.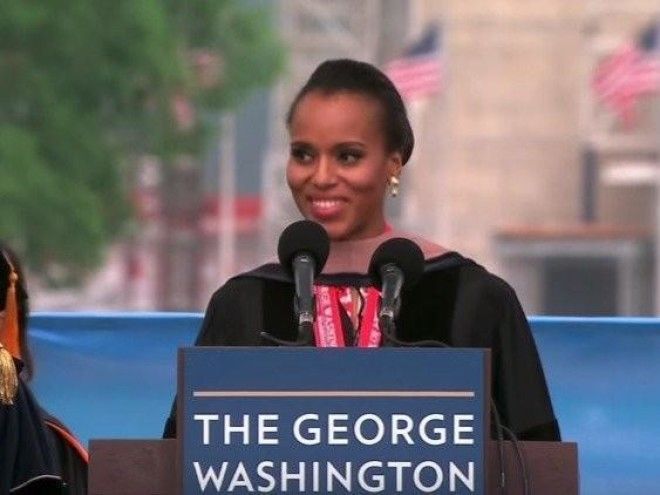 Accomplished actress Kerry Washington returned to her alma mater, George Washington University, in 2013 to receive an honorary doctorate. Washington, who was a presidential scholar for the arts at GW, also delivered the commencement speech.
Charlie Day gave a hilarious speech after receiving his honorary doctorate last year.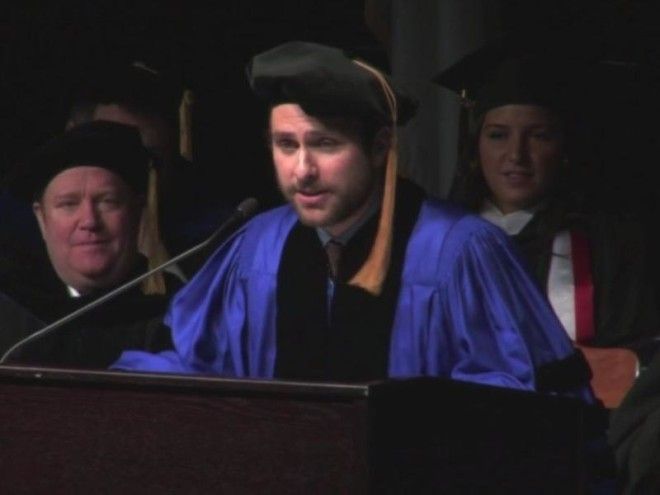 "It's Always Sunny in Philadelphia" actor Charlie Day gave a hilarious commencement speech in 2014 at his alma mater, Merrimack College, and was also awarded an honorary Doctorate in Performing Arts. He joked of his honor: "Dr. Charlie Day sounds like some kind of club DJ ... And as a doctor I plan to start writing my own prescriptions immediately."
Bono has two honorary doctorates and turned down a third.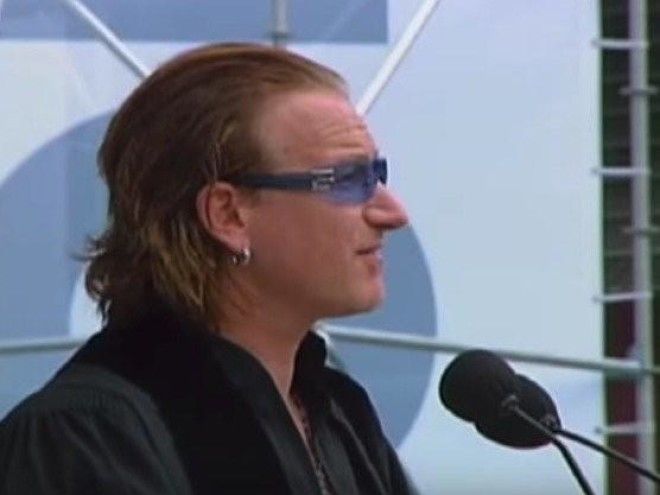 U2's frontman has two honorary doctorates — one from Trinity College Dublin in 2003, and one from UPenn in 2004 — presented in recognition of his music successes and humanitarian efforts. In 2013, Bono turned down an honorary degree from NYU as not to overshadow his daughter's graduation from the university that same year.
Sir Paul McCartney has an honorary doctorate from Yale.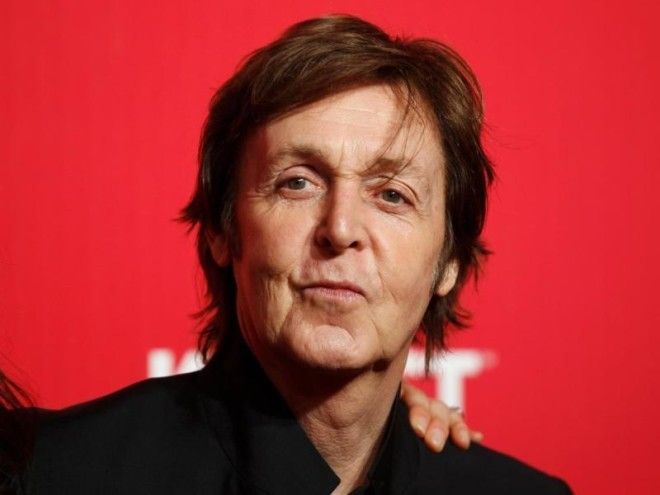 Paul McCartney was honored with a Doctorate of Music from Yale in 2008 for his solo and collaborative achievements in music and legendary status as a Beatle. Doctor McCartney was previously Sir McCartney,
after he was knighted in 1996.