The Galápagos Islands are not a destination for the novice traveler. It takes a long time to get there — no matter where you're coming from — and when done right, your trip will be jam-packed with incredible adventures.Professional travel blogger Trevor Morrow, who runs the blog Trevor Morrow Travel: Dude-Approved Travel, Food, and Gear, was recently invited to stay at the luxury resort Pikaia Lodge on the island of Santa Cruz. He got the VIP treatment from the moment he disembarked from the plane.
Morrow's experience included spa treatments, a gorgeous private yacht, and snorkeling adventures conducted by a Galápagos native who has also led private tours for Google cofounder Sergey Brin.
"A trip to the Galápagos really falls into the 'trip of a lifetime' category," Morrow told Business Insider. Morrow would know — his travel writing has taken him across the world, including to Belize, Nepal, Iceland, and Amsterdam. "It's a legendary destination and one that takes a bit of planning and dedication to visit."
Morrow left his home in Los Angeles at 11:30 p.m. on a Saturday night to catch a red-eye to Miami. From there, he flew into Quito, Ecuador, where he stayed one night before flying to the island of Baltra in the Galápagos on Monday. He got to the Pikaia Lodge at 5 p.m. on Monday, after clocking in well over 24 hours' worth of travel.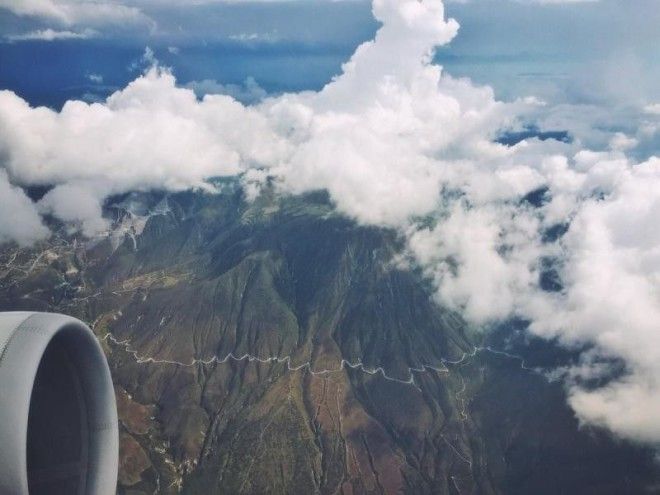 Morrow's luxurious experience with Pikaia Lodge began at the airport. "I saw a woman standing there with a sign with my name on it. While everyone else went right, she ushered me to the left and into the airport's VIP entrance," Morrow said.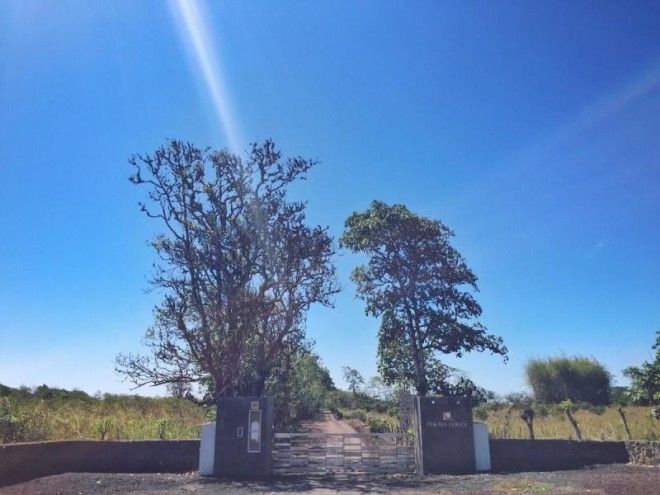 "All guests staying at Pikaia Lodge are treated to the same VIP welcome," he said.
While at the airport, Morrow met his "naturalist guide," a native tour guide provided by the Pikaia Lodge, who would be showing him and other guests around the island over the next four days.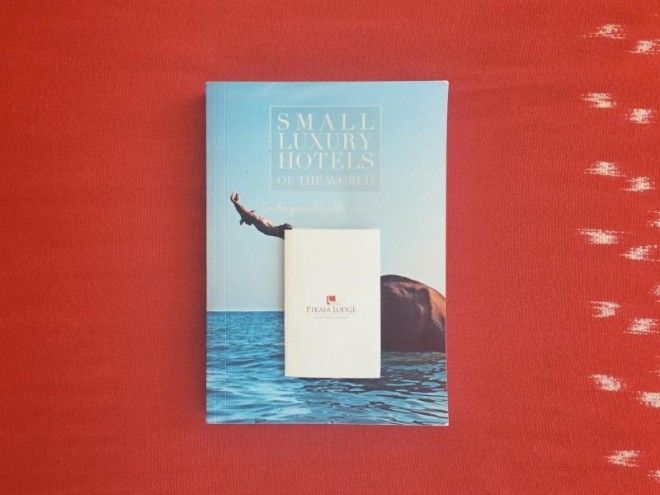 Pikaia Lodge is a member of the Small Luxury Hotels of the World group.
"Pikaia Lodge is a small hotel with only 14 rooms, and is far and away the most luxurious hotel in the Galápagos," Morrow said.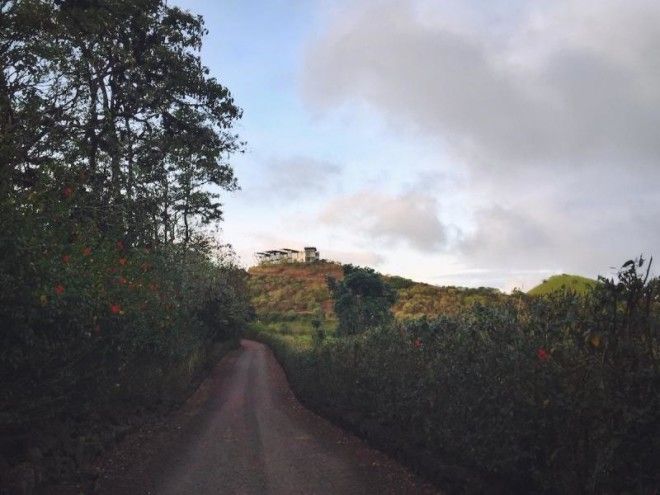 Pikaia Lodge in the distance.
The lodge provides three-night, four-night, and seven-night stays with daily activities, food, and transportation included. Prices start at $8,115 and can go up to $20,370, depending on the number of nights and the room you choose.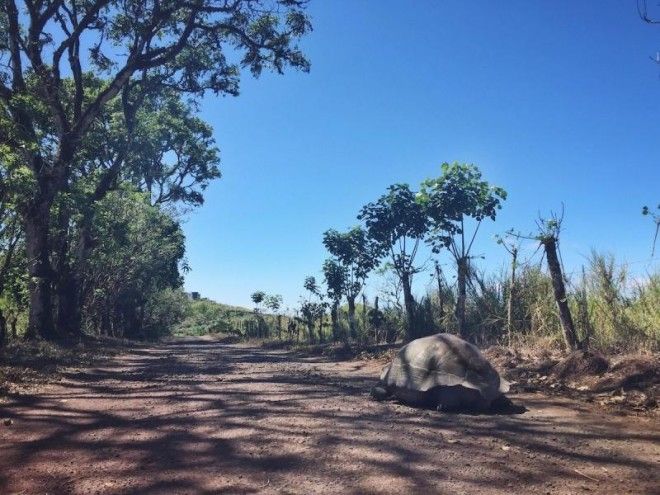 A Galápagos giant tortoise makes his way up the Pikaia Lodge's driveway.
Morrow was greeted with fresh fruit and drinks in his hotel room.
The view from his room was incredible.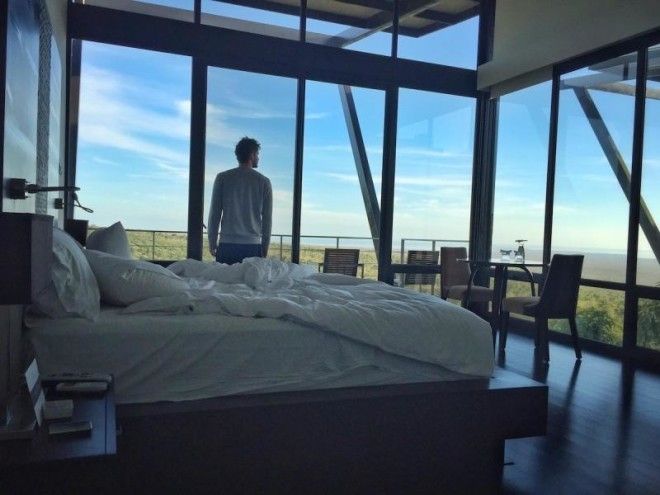 Even the bathroom provided a view of the landscape.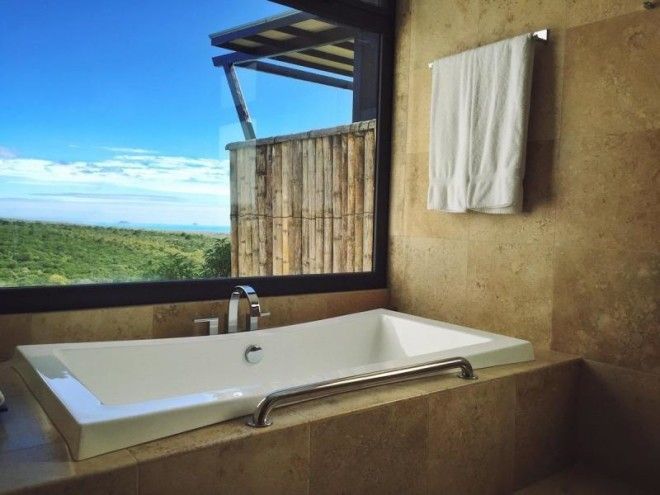 Morrow's room had its own private balcony. "From my room and from the pool area, I felt like I was overlooking Eden. The views in every direction and from every window are stunning," he said.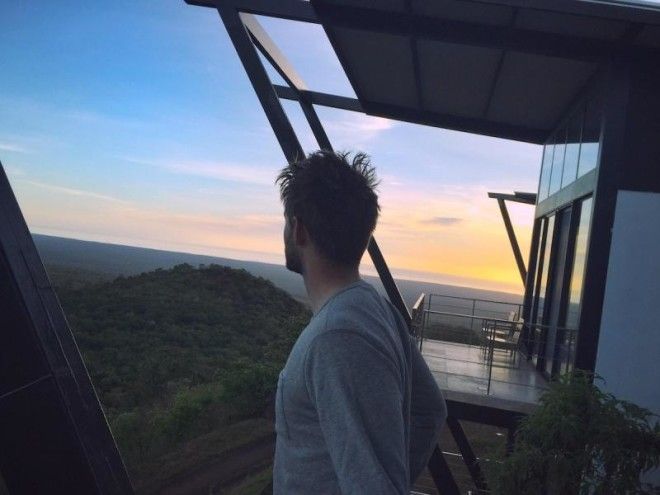 "Perched atop an extinct volcano amidst this wild terrain, the hotel is reminiscent of Africa's luxury safari lodges," Morrow said.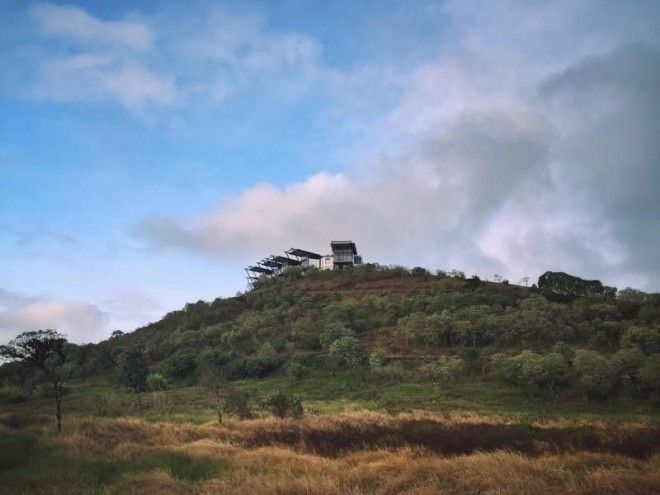 "The hotel is architecturally stunning, and its lines are a photographer's dream," he said.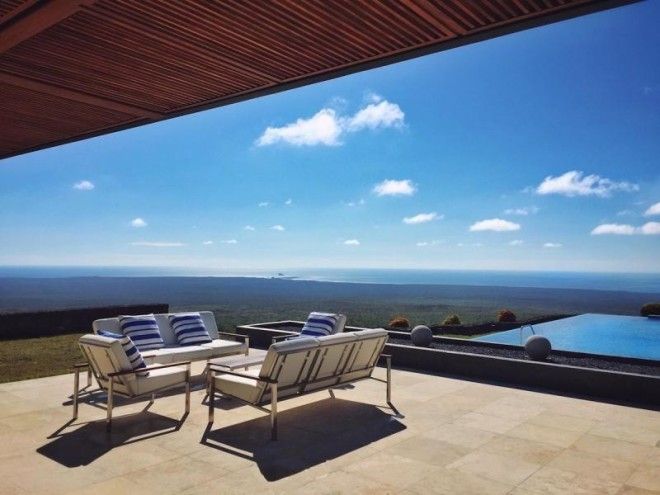 At the Sumaq Spa within the Pikaia Lodge, guests can book a couple's massage or sit in the whirlpool.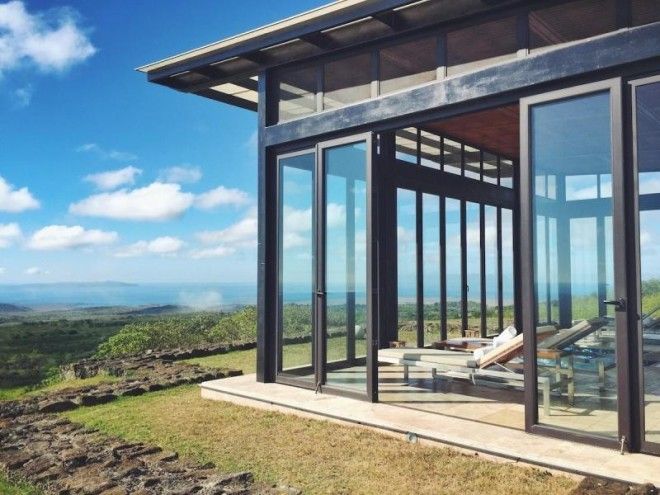 Morrow booked a healing shamanic massage. "Using a rainmaker stick and palo santo oil, this massage incorporated local techniques and wisdom handed down by shamans," Morrow said.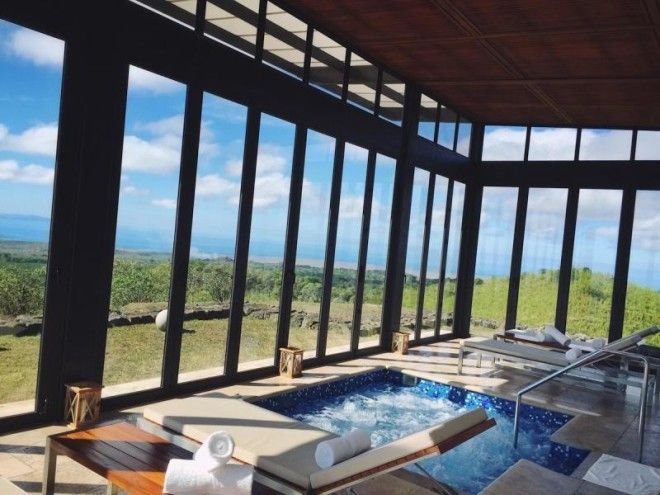 "With the exception of alcohol, all meals and drinks are included," he said.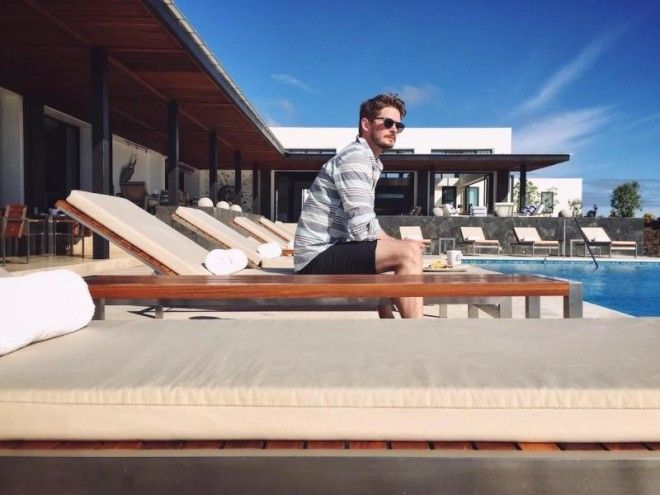 Morrow eats his breakfast by the infinity pool.
The dining room serves breakfast, lunch, and dinner.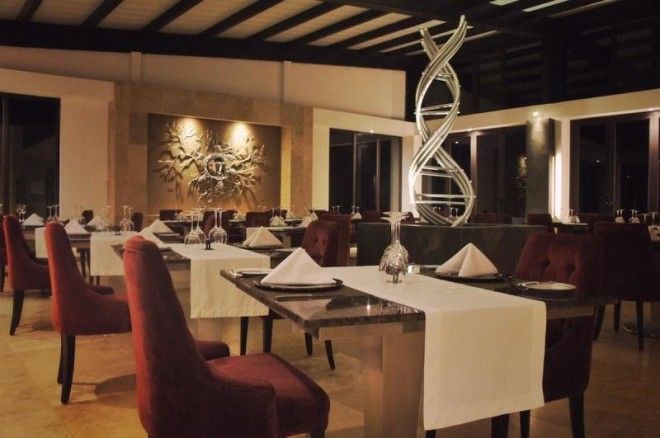 You can also take a dip in the infinity pool.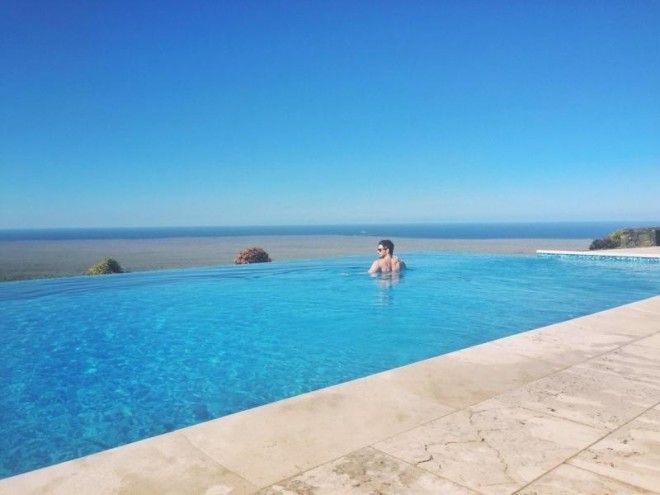 "The road seen here is the driveway leading up to the hotel. 97% of the land in the Galápagos is part of the National Park, so only 3% is private," Morrow said. "The green pastures seen here, to the left of the driveway, is private farmland on which its owner raises cows."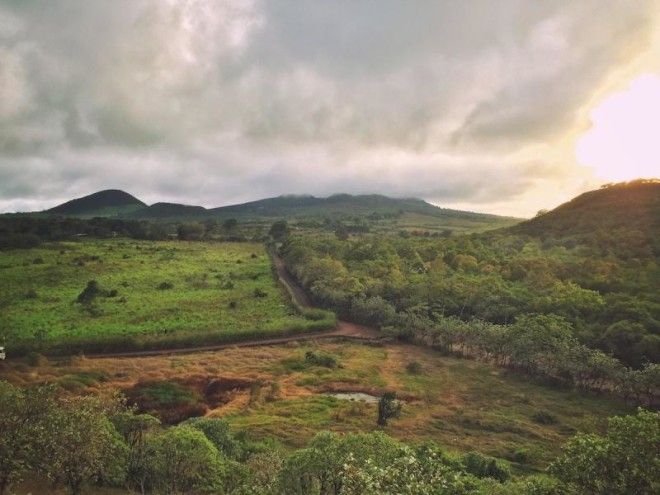 While the hotel provides a relaxing experience, it's the daytime excursions on Pikaia Lodge's private yacht that allow guests to really explore the Galápagos Islands. "The boat is 105 feet long. Each guest gets their own private room aboard, which features a bed and bathroom," Morrow said. "It's really nice to have your own private space to store your things, change, shower, and even take a nap."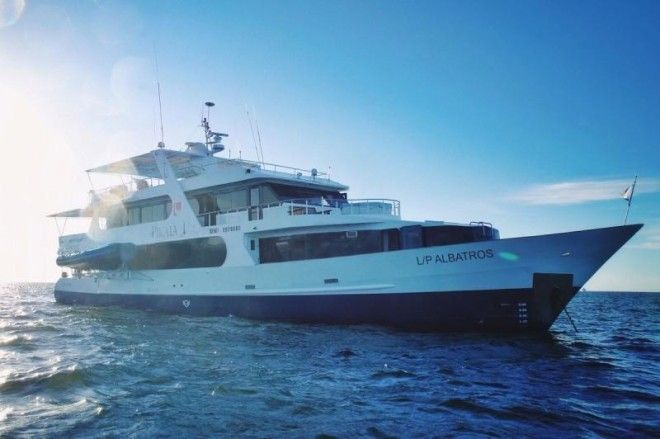 The zodiac boat pictured here transfers you from the yacht to shore, or to snorkeling excursions.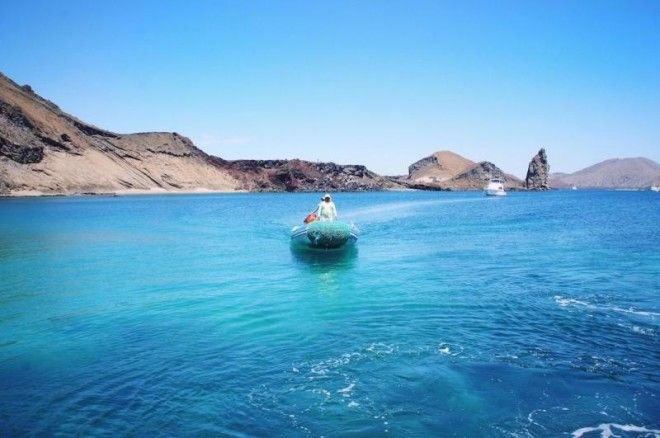 Morrow was extremely grateful for his tour guide, who was both knowledgeable and passionate about his homeland. "He was born here, so he knows it like the back of his hand," Morrow said. "He's been called upon to help guide film crews shooting nature programming, and was even one of two private guides hired by Google cofounder Sergey Brin when he toured the Galápagos via private yacht."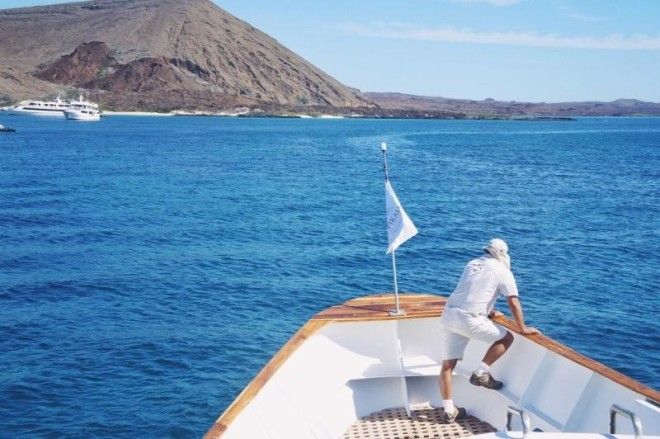 "Snorkeling on our first day, we pulled up in the zodiac along the rugged and rocky cliffs of Seymour Island and jumped into the deep blue water. By the way, if you're afraid of the ocean, this probably isn't the trip for you," Morrow warned.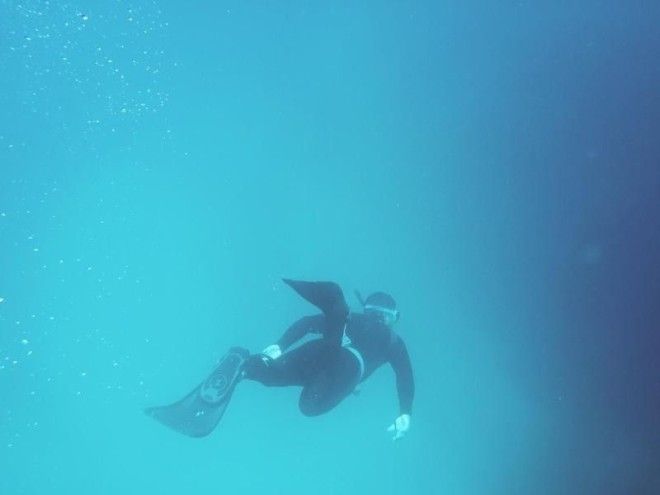 "It's not Caribbean- or Hawaii-clear on account of the churning waters and abundance of microscopic sea life," he said.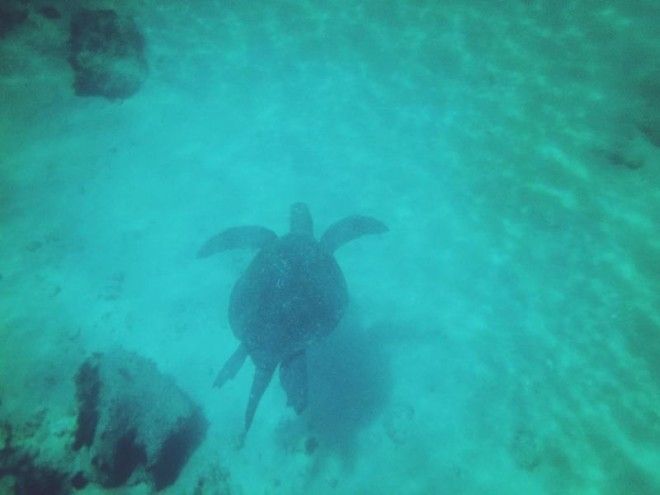 During their tour, the group encountered sea turtles, sting rays, sea lions, and even a juvenile hammerhead shark.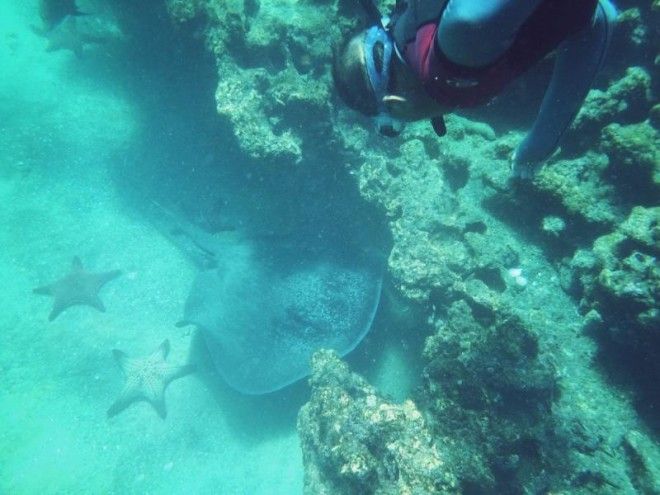 Sting Ray off the shore of Bartolomé Island.
On-shore excursions also provided fantastic animal viewing opportunities.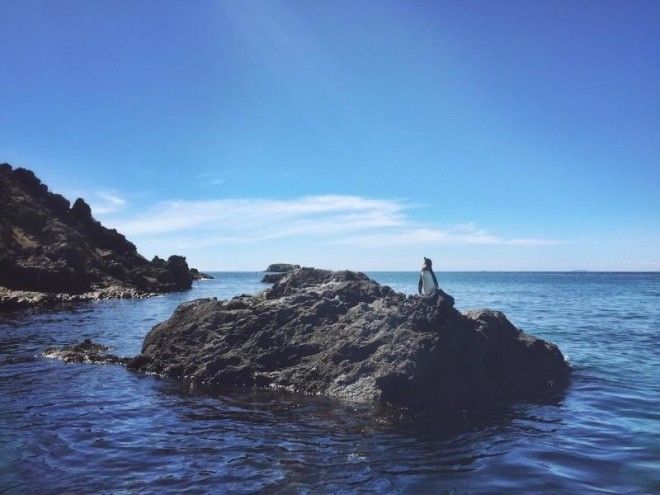 Galápagos Penguin catching some rays along the shore of Bartolomé Island.
Here, you'll spot a Sally Lightfoot crab on Santa Cruz Island, in the Las Bachas region.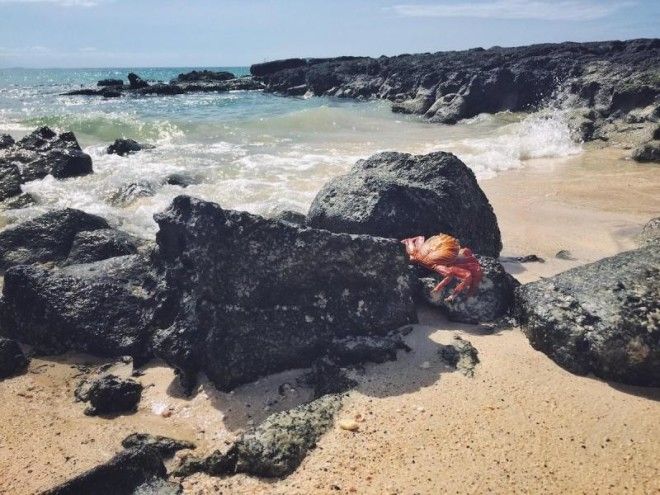 "[The Blue-Footed Booby] is perhaps the island's most famous resident, after the tortoises. They have a funny mating dance, known as the 'Booby dance,' were they lift their blue feet up and down," Morrow said. "May is the height of the Blue-Footed Booby mating season. We got to experience them in various stages of this process, from the males courting females flying overhead, to doing the 'Booby dance,' to mating, to sitting on top of their eggs, to seeing the parents take care of newborn chicks."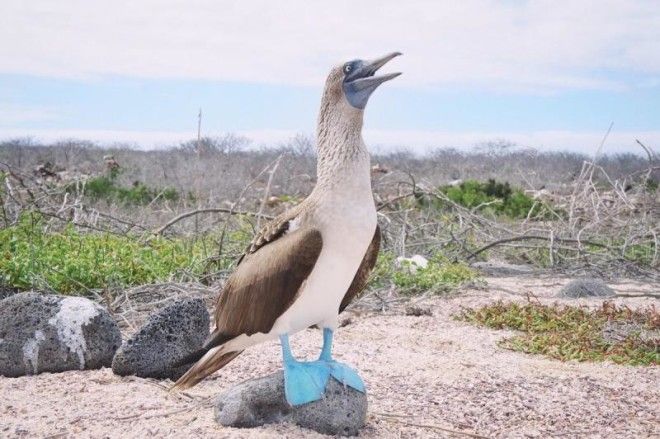 Blue-Footed Booby.
"There really are few places on earth you can so clearly see the circle of life unfolding before your eyes," he said.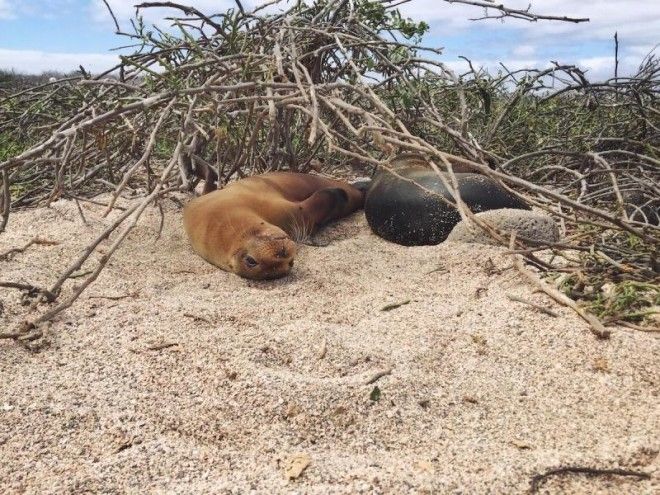 Galápagos Sea Lions.
"On of the best things about the Galápagos is how it never feels crowded. Each group is assigned a very specific arrival and departure time in each destination, ensuring you and your group have that space entirely to yourselves and ensuring minimal impact on the land, plants, and animals," Morrow said.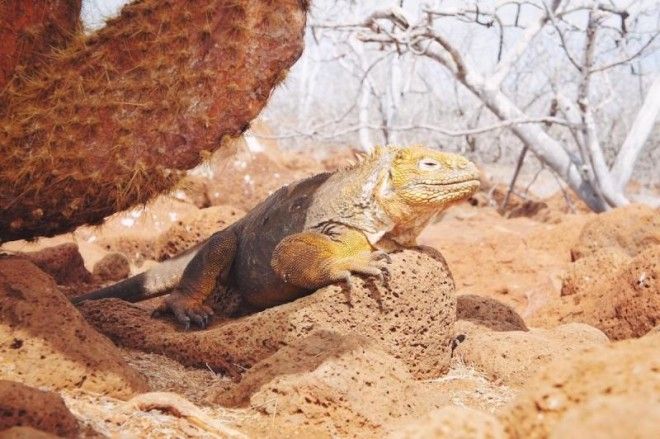 Galápagos land iguana on Seymour Island.
"The islands that make up the Galápagos archipelago are so geographically diverse, it can feel like visiting different parts of the world all in one trip," Morrow said.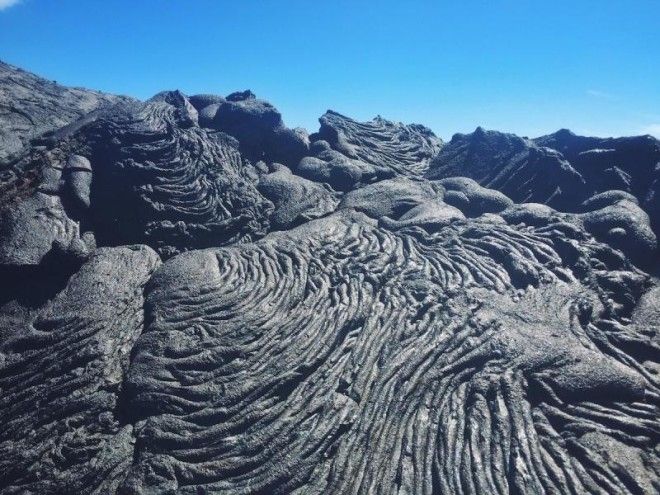 Lava field, of Santiago Island.
Once you get back onboard the boat, cold towels are provided for freshening up.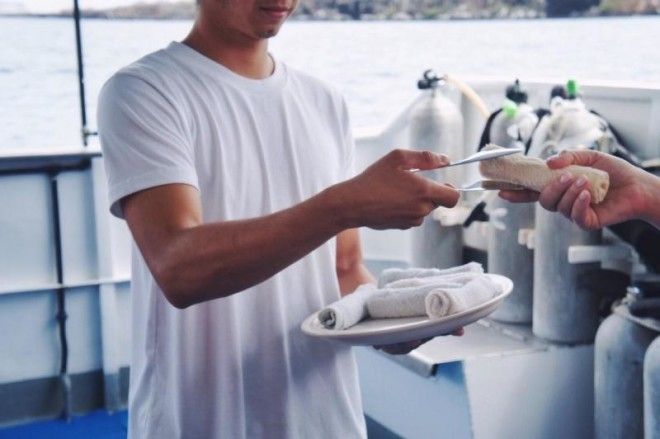 Fresh fruit is also offered.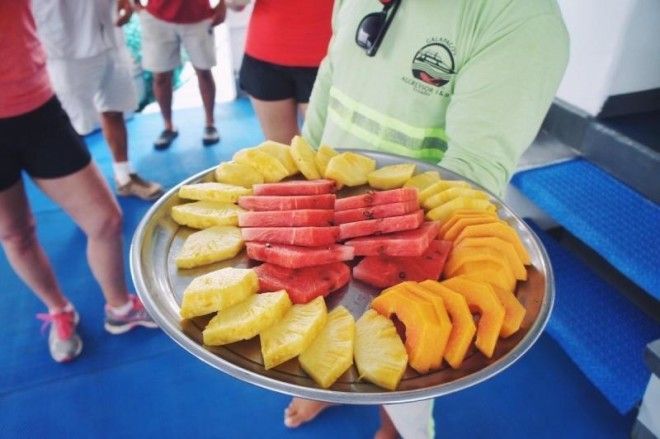 Chefs cook up grilled meats and fish for hungry guests.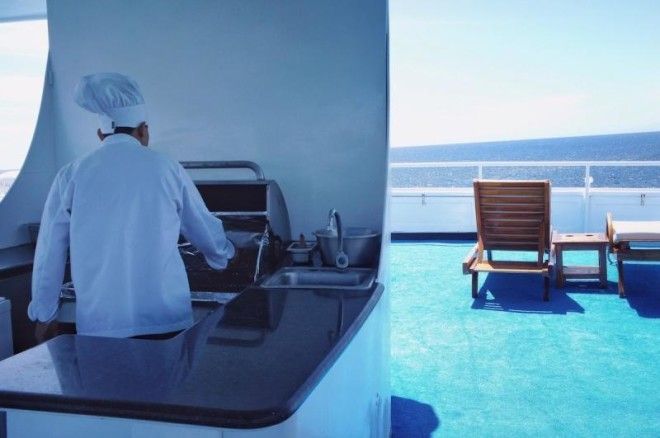 On Morrow's third day, guests were given a tour of the island of Santa Cruz. The town of Puerto Ayora, pictured here, is about a 25-minute drive from Pikaia Lodge.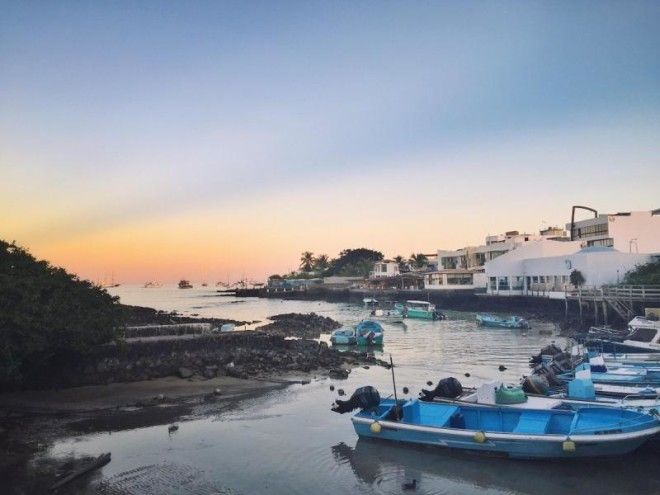 On the island, the group toured Lava Java, a native forest filled with coffee plants. Husband and wife team Scott Henderson and Marielena Guerra live on the property, and run Lava Java as a side project.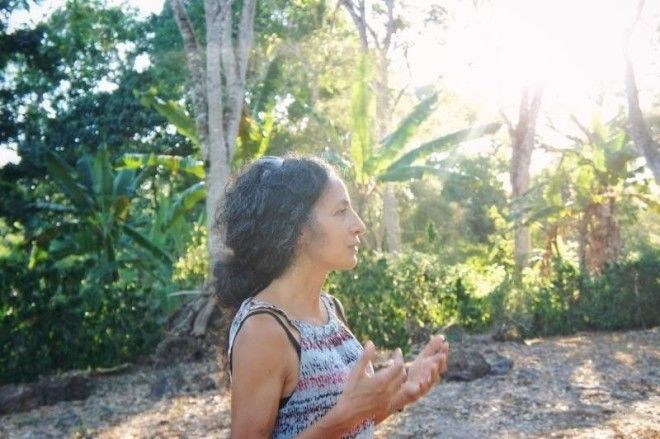 Marielena Guerra, cofounder of Lava Java.
The property has 2,000 coffee bushes on it.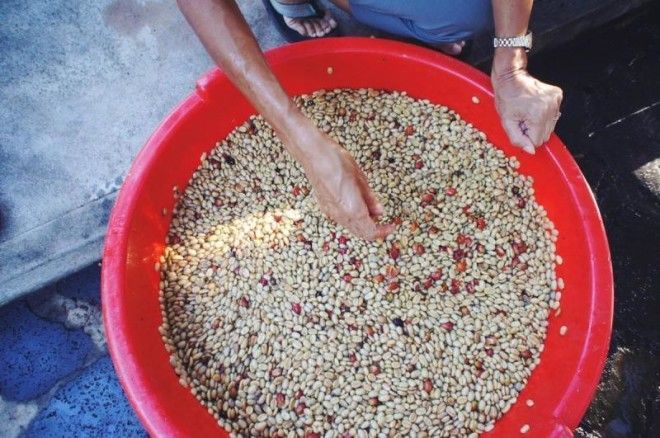 "The micro-producer of organic coffee invites travelers to tour the serene property, learn how coffee is made, and enjoy a cup of their coffee in a beautiful wooden pavilion overlooking the island and the ocean," Morrow said.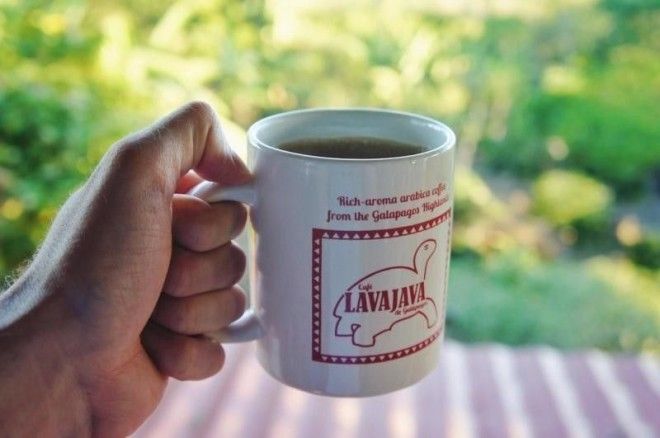 While Morrow describes a trip to the Galápagos as more of a safari than a beach vacation, there was one beach he visited that would satisfy any beach cravings: El Garrapatero beach on Santa Cruz Island. "This place is a hidden gem! I saw only four other people while I was there. The sand here is unbelievably soft and fine. It's like walking on baking flour," he said.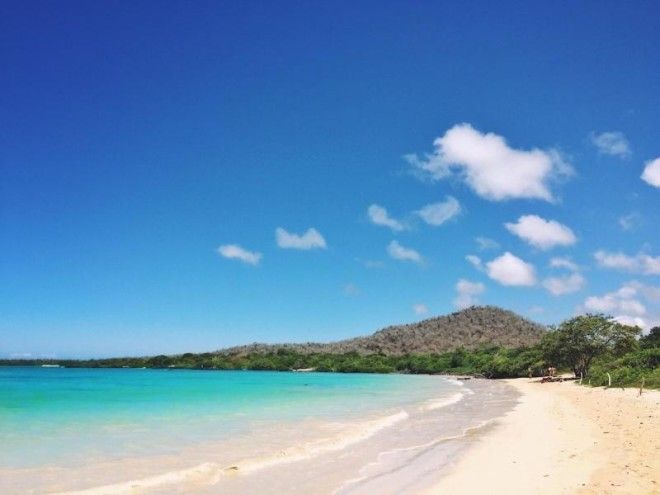 El Garrapatero Beach.
On the final day before his flight back home, Morrow checked out one of Pikaia Lodge's complimentary mountain bikes and took a 15-mile ride from the hotel down to El Garrapatero Beach.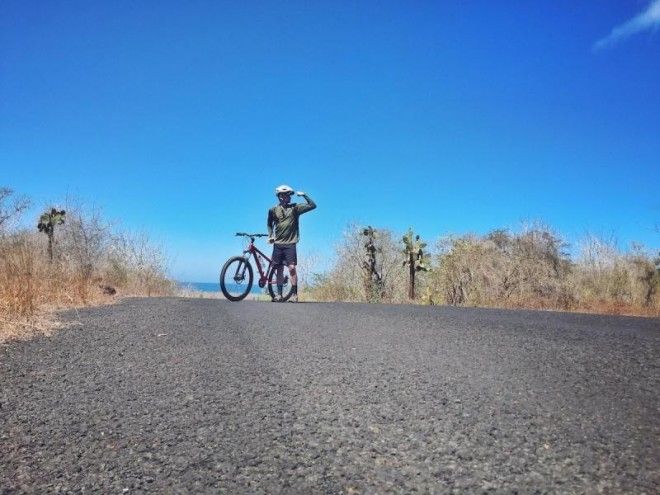 "Some of my best memories from this trip were the more tranquil moments, like drinking tea in the morning sun while cruising to Bartolomé Island, or watching the sunrise from my balcony at the hotel," he said. "These are the moments where I was really able to stop, reflect and think, 'I am so lucky to be here.'"
Morrow left the Lodge at 12:45 p.m. on Friday and flew to Quito, where he had a six-hour layover. He boarded a red-eye flight to Dallas, arrived at 5:30 a.m., then flew home to Los Angeles, where he arrived at around 9:30 a.m.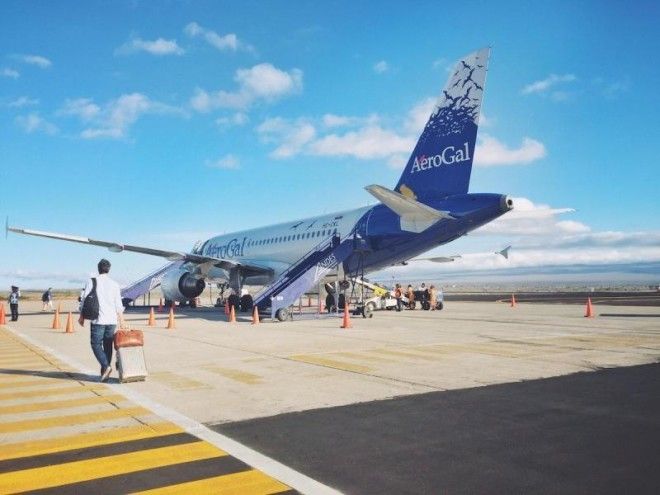 Departing the Galápagos.
Morrow suggests a Galápagos trip for adventurous families with older children, and for active and healthy retirees. "It may be a stretch for many young couples, but for those looking to really splurge on an alternative honeymoon, it's a good choice," he said.