We recently published a list of the best hotels in the world, and many of those happen to be in Asia. So we decided to focus on the best hotels in Asia.
To create this list, we aggregated five notable hotel rankings made by elite travel publications and websites: Travel + Leisure's World's Best Hotels, Conde Nast Traveler's Top 100 Hotels and Resorts, TripAdvisor's Top 25 Hotels in the World, Fodor's 100 Hotel Awards, and Jetsetter's Best of the Best Awards.
From the thatched-roof villas of Bali's Amandari resort to the Four Seasons Tented Camp Golden Triangle in Chiang Rai, Thailand, here are the 34 best hotels in Asia.
34. Hyatt Regency Danang Resort & Spa, Da Nang, Vietnam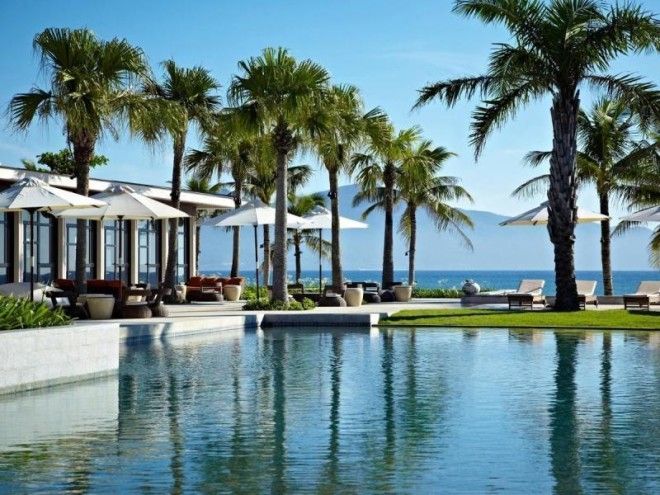 Hyatt Regency Danang Resort and Spa sits on a stunning beachfront location near Marble Mountain. Guests can choose between rooms, private villas, or residences on the secluded location and go for a relaxing massage at the VIE Spa, where they'll see breathtaking views of the area's mountains and the ocean. Rooms start at around $260 per night.
33. Mandarin Oriental Tokyo, Tokyo, Japan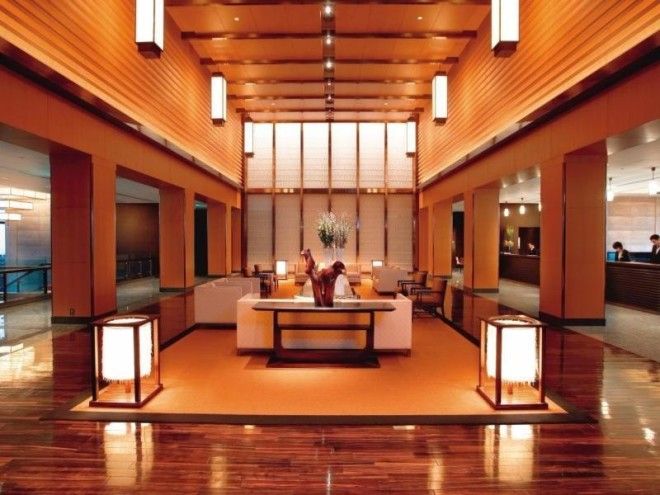 Mandarin Oriental Tokyo sits high above the city to offer bird's eye views of the breathtaking skyline. Besides being at a walking distance from Tokyo's main shopping and entertainment destinations, the resort is equipped with 157 rooms and 21 suites that offer panoramic views, and dining options that include three different Michelin-starred restaurants. Rooms start at around $750 per night.
32. Four Seasons Hotel Singapore, Singapore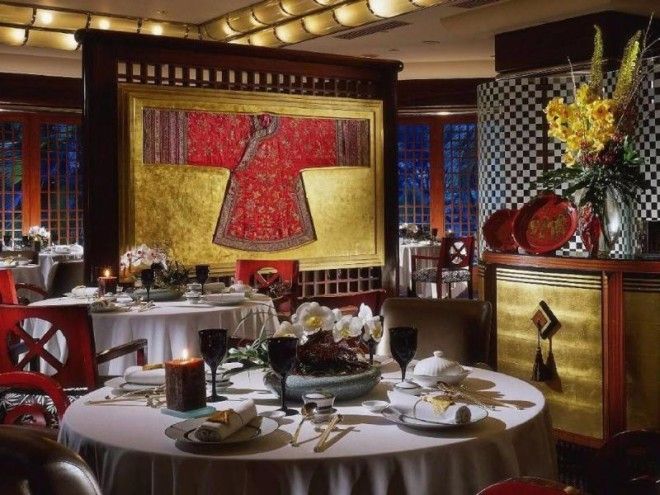 Four Seasons Hotel Singapore can be found on the tranquil and tree-lined Orchard Boulevard. The hotel offers a relaxing getaway while still being steps away from the shopping, entertainment, and business district of Orchard Road and the Singapore Botanic Gardens. Guests can also enjoy its four tennis courts, its two outdoor swimming pools, its luxury spa, and its fine dining options. Rooms start at around $307 per night.
31. The Oberoi New Delhi, New Delhi, India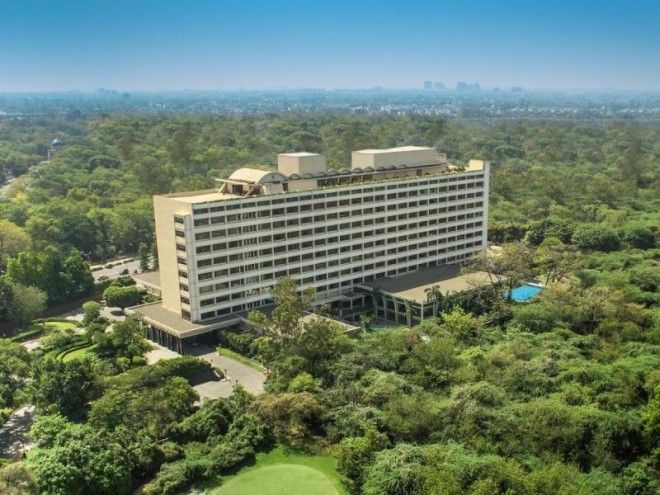 The Oberoi, New Delhi offers sweeping views of the Delhi Golf Course on one side and of Humayun's Tomb—a UNESCO World Heritage Site—on the other. Each of the rooms are furnished with plush carpets, blackout curtains, and king-sized beds, and its 3,500-square-foot Kohinoor Suite includes its own private butler, treadmill, and massage bed. Guests can also enjoy a Sunday buffet with an array of international dishes and incredible views at Threesixty°. Rooms start at around $233 per night.
30. St. Regis Lhasa Resort, Tibet, China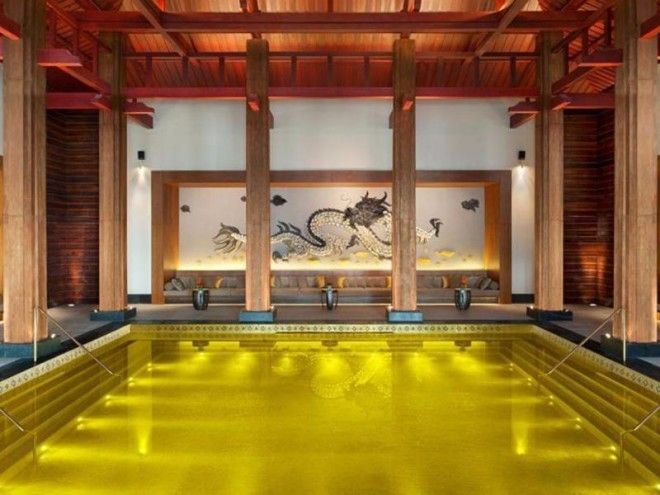 The St. Regis Lhasa Resort faces the Potala Palace, the winter palace of the Dalai Lama. Besides its proximity to iconic structures like the Jokhang Temple and Norbulingka, the resort also offers guided tours to Mount Everest, healing Tibetan treatments in its Iridium Spa, a meditation garden, and activities like yoga and cooking classes. For the ultimate swim in luxury, head to the shimmering Golden Energy Pool lined with gold-plated tiles. Rooms start at around $314 per night.
29. Amandari, Bali, Indonesia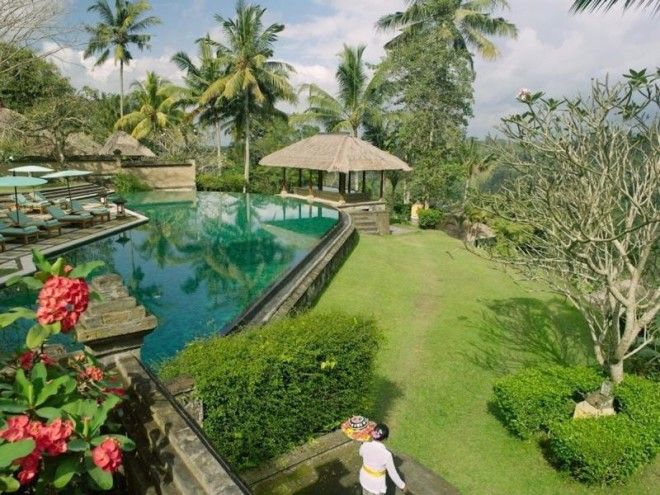 Created in the style of a traditional Balinese village, Amandari offers guests the choice between thatched-roof suites and stunning villas. Its suites open on three sides via sliding glass doors to lush garden courtyards and some include private plunge pools and views of the surrounding rice terraces. The villas are composed of five pavilions, a two-tiered swimming pool, a glass-walled living room, and a kitchen to let visitors feel at home in the tranquil setting. Rooms start at around $970 per night.
28. The Peninsula Beijing, Beijing, China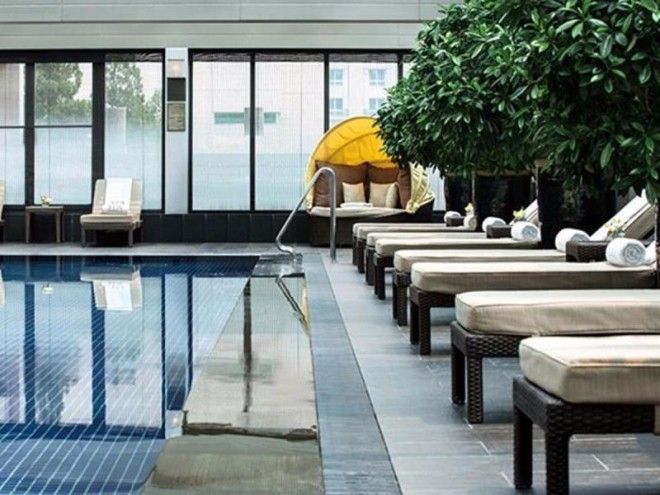 The Peninsula Beijing is in a central location within the Wangfujing shopping district and is just minutes away from historical monuments that include Tiananmen Square and the Forbidden City. Access the close-by sites with one of the hotel's chauffeur-driven limousines and enjoy traditional dim sum at Huang Ting, one of the resort's fine-dining restaurants. Rooms start at around $251 per night.
27. Park Hyatt Saigon, Ho Chi Minh City, Vietnam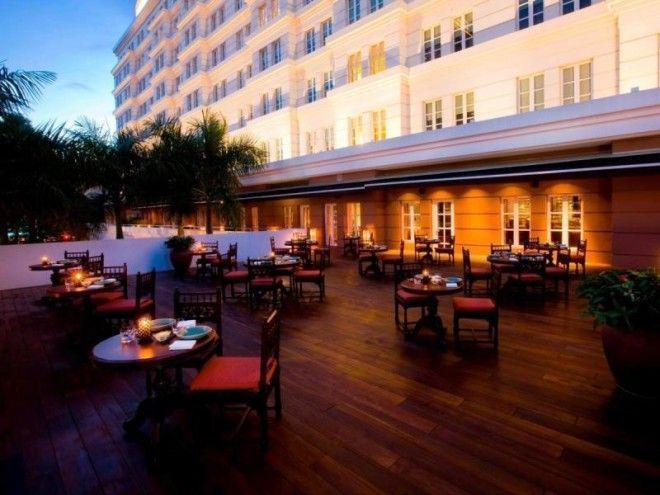 Park Hyatt Saigon is situated at Lam Son Square in Ho Chi Minh City and is steps away from the Opera House and the B?n Thành Market. Go for a drink at the 2 Lam Son martini bar, a relaxing massage at the Xuan Spa, a swim in the 65-foot outdoor swimming pool, or enjoy an authentic Vietnamese meal at its stylish restaurant Square One. Rooms start at around $325 per night.
26. Taj Lake Palace, Udaipur, India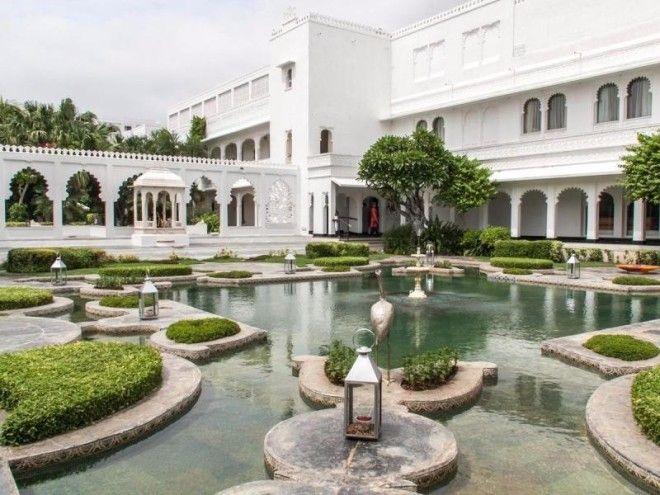 At Taj Lake Palace, guests are taken to a stunning palace that sits against the backdrop of the Aravalli Range. Here, guests can sail on a 150-year-old Gangaur boat and be waited on by a royal butler. Each of the 66 rooms and 17 suites within the resort are adorned with mosaics, artifacts, and frescoes that create an inviting yet palatial environment. Rooms start at around $452 per night.
25. Raffles Dubai, Dubai, UAE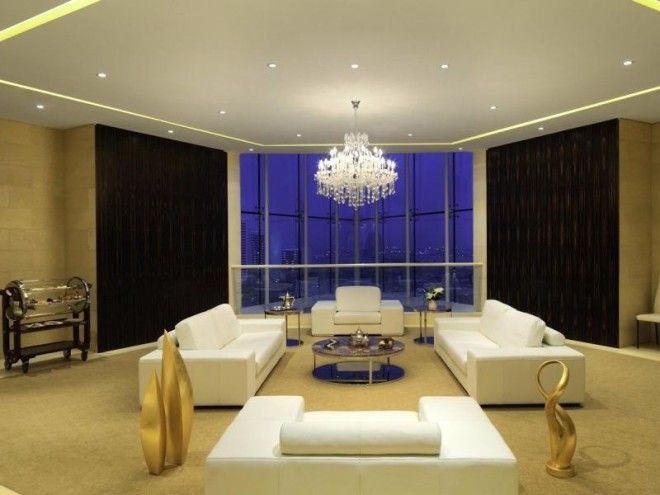 Raffles Dubai is situated in the heart of the city, near major shopping, cultural sites, and tourist attractions. Each room has a balcony with stunning views of Dubai's skyline. There are several restaurants, including Solo Bistronomia & Vino Bar for Italian food and TOMO for authentic Japanese dishes, as well as a hip nightclub called People by Crystal. Rooms start at around $416 per night.
24. Constance Moofushi, Alifu Atoll, Maldives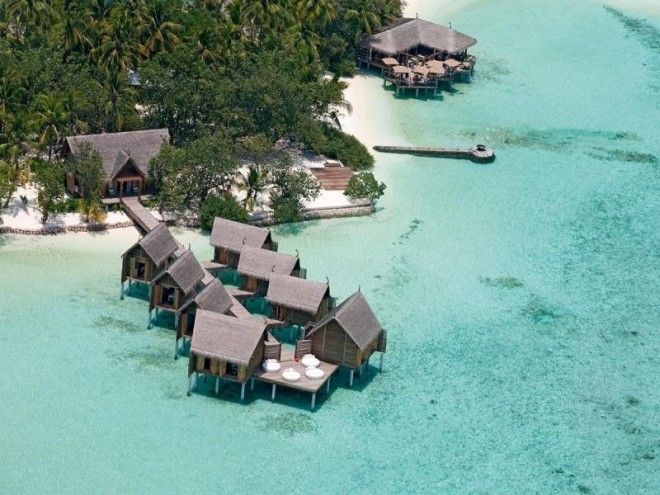 Set on its own secluded island, Constance Moofushi offers guests a serene stay with beachfront villas that sit on the sand and stilted villas that float above the water. Thanks to its All-Inclusive Cristal Package, which includes premium drinks, cuisine, and luxury spa treatments at the hotel, guests can enjoy getting pampered without worrying about the cost. Rooms start at around $1,270 per night.
23. Mandarin Oriental Pudong, Shanghai, China
Located on the banks of the Huangpu River, Mandarin Oriental Pudong Shanghai sits in the heart of Pudong's central financial district. Its rooms offer magnificent views of the gleaming skyscrapers of Lujiazui while its six different dining and bar options offer guests a variety of choice. Finally, visitors can indulge in the indoor pool or try one of the free Pilates classes in the gym. Rooms start at around $314 per night.
22. Four Seasons Resort Langkawi, Langkawi, Malaysia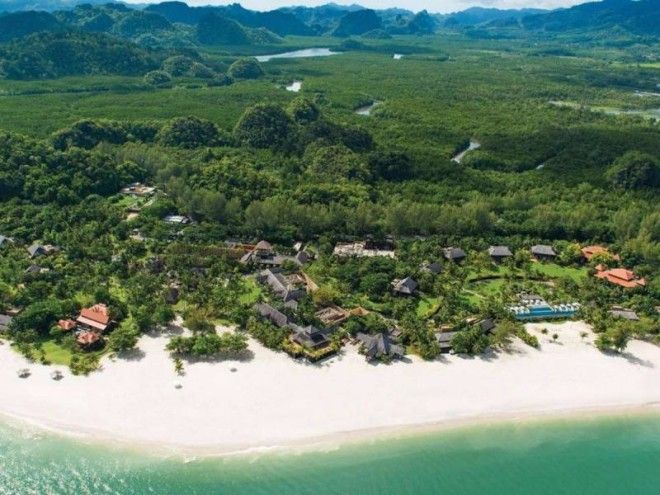 The Four Seasons Resort Langkawi takes guests into a pristine nature resort where tropical gardens, waterfalls, and the Kilim Karst Geoforest Park await. Visitors can spend their time exploring the mangroves and rainforests, bird watching, snorkeling, jungle trekking, golfing, and wakeboarding, before heading back to the resort to unwind. Rooms start at around $486 per night.
21. Jumeirah Dar Al Masyaf at Madinat Jumeirah, Dubai, UAE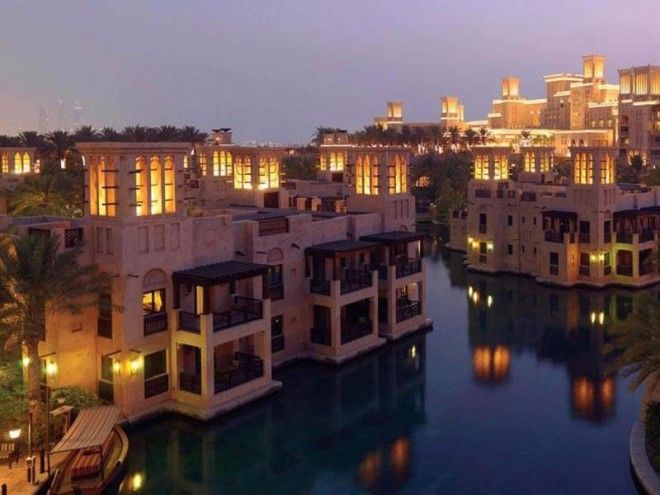 The Jumeirah Dar Al Masyaf at Madinat Jumeirah is modeled after the traditional courtyard summer houses of Old Arabia. Inside the resort are two-story houses accessed via scenic waterways, 283 luxury rooms and suites, over 40 restaurants and bars, and a gym with sports that include tennis, squash, and aerobics. Rooms start at around $368 per night.
19. Waldorf Astoria Shanghai on the Bund, Shanghai, China (TIE)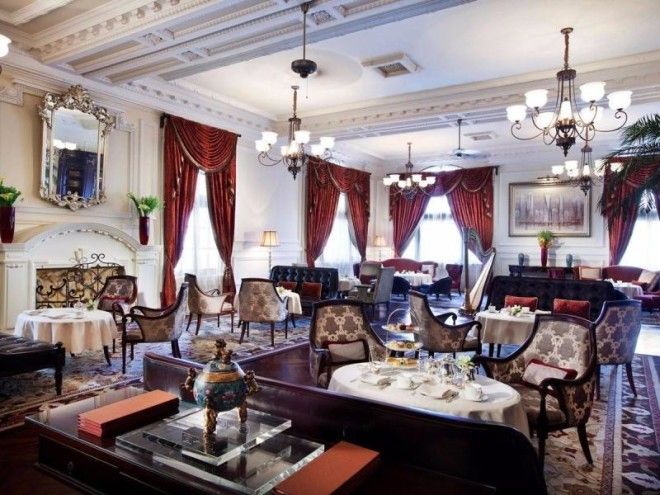 At Waldorf Astoria Shanghai on the Bund, 260 rooms and suites are housed within the regal two-building complex. The hotel boasts a luxury spa that offers couples their own steam room and thermal Jacuzzi, a gym, three restaurants, two lounges, and a bar. Rooms start at about $314 per night.
19. Taj Mahal Palace, Mumbai, India (TIE)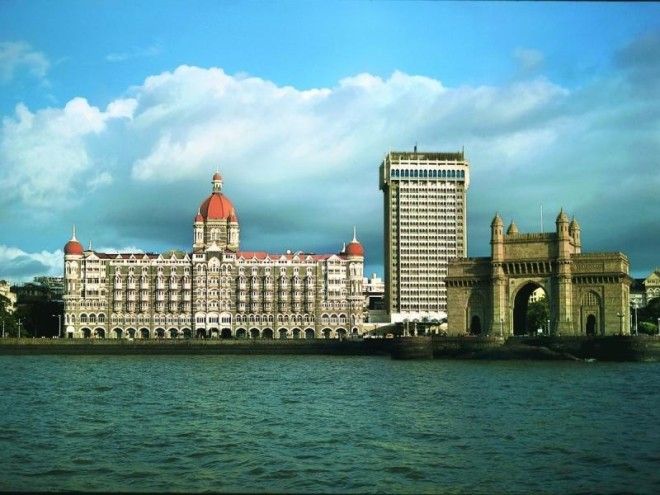 Taj Mahal Palace has played host to Maharajas and dignitaries thanks to its lavish suites that offer views of the Gateway of India, the Arabian Sea, and of Mumbai's bustling city. With 24-hour butler service that is available at the touch of a button, visitors can be catered to like royalty during their stay. For prime dining, guests can enjoy meals prepared by top chefs like Chef Morimoto, known for his notable Japanese restaurants, and Chef Oberoi, who has served as a personal chef to heads of state for years. Rooms start at around $228 per night.
18. Mandarin Oriental Bangkok, Bangkok, Thailand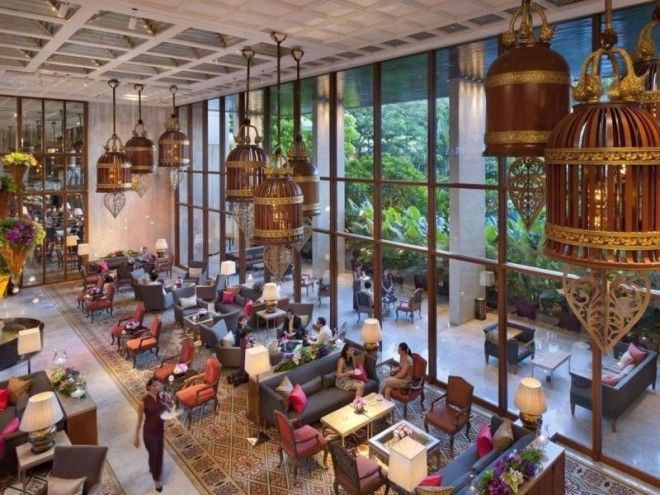 Mandarin Oriental Bangkok is equipped with 393 rooms and 35 luxurious suites that offer spectacular views of the Chao Phraya River. Guests can take the ferry across the river to the resort's tranquil garden pool and spa, attend a cooking school, have traditional dim sum at The China House, and try a Singapore Sling at The Bamboo Bar. Rooms start at around $511 per night.
17. Mandarin Oriental Hong Kong, Hong Kong, China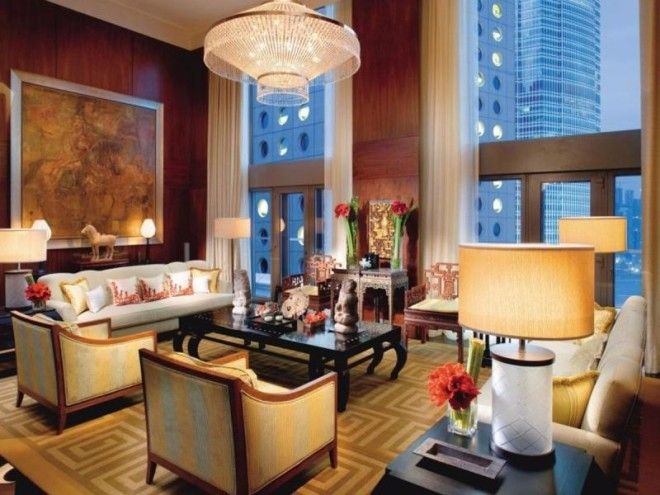 Mandarin Oriental Hong Kong offers 430 rooms and 71 individually designed suites for guests to choose from. Inside, rooms are stocked with Hermès toiletries and high-tech audio and entertainment systems. Guests can have a French-inspired meal at Pierre or surprise themselves with a meal at the Krug Room, where the chef creates his dishes based on his inspiration for the night. Rooms start at around $581 per night.
16. Four Seasons Resort Chiang Mai, Chiang Mai, Thailand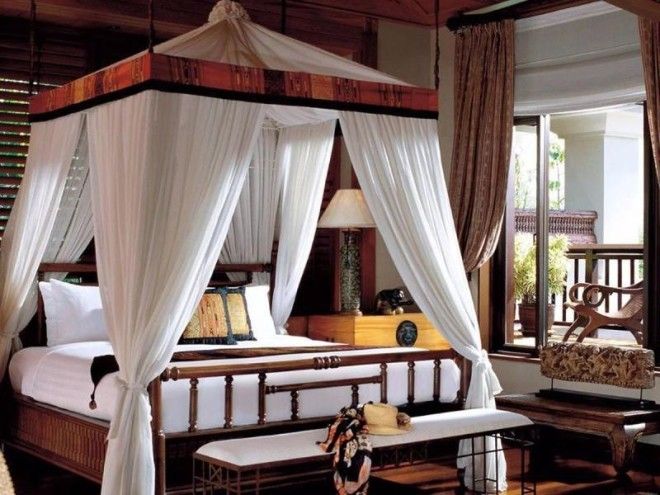 Fours Seasons Resort Chiang Mai is nestled in the Mae Rim valley and is surrounded by lush rice paddies and mountains. The hotel has 98 pavilions, villas, and residences. There are also two pools to relax in, a spa that includes seven treatment rooms, tennis courts, and two fine-dining restaurants to choose from. Rooms start at around $487 per night.
14. The Peninsula Tokyo, Tokyo, Japan (TIE)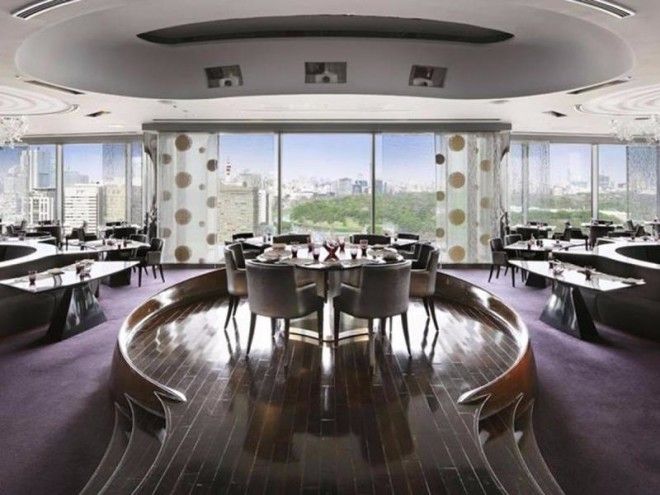 Located in the business district of Marunouchi, The Peninsula Tokyo includes rooms with views of the Imperial Palace Gardens and Hibiya Park. The hotel's rooms are designed by interior designer Yukio Hashimoto and include rich earth tones, woods, marble, and stone that make for a relaxing ambiance. To further unwind, try one of the holistic treatments at the resort's spa, have a drink at Peter: The Bar, or try a traditional Cantonese meal in a Suzhou garden setting at Hei FungTerrace. Rooms start at around $466 per night.
14. Ritz-Carlton Shanghai, Pudong, Shanghai, China (TIE)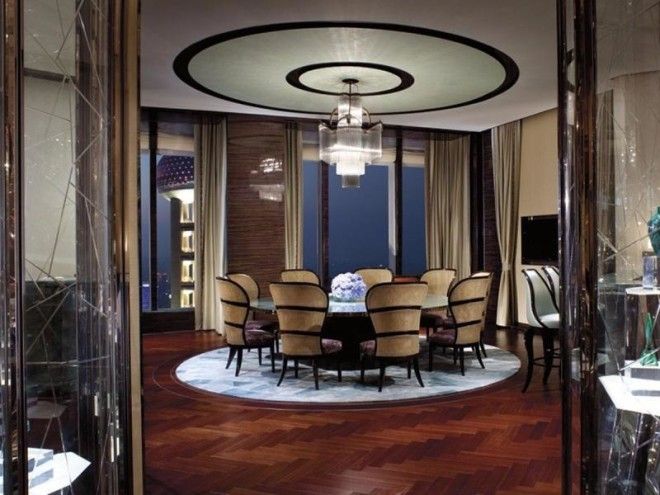 The Ritz-Carlton Shanghai, Pudong sits near the iconic Oriental Pearl Tower and gives guests easy access to high-end shopping and public transportation. The Art-Deco style rooms are large and luxurious with views of the Huangpu River and the city's stunning skyline. The hotel also hosts one of China's highest rooftop bars—Flair. Rooms start at around $330 per night.
13. The Peninsula Hong Kong, Hong Kong, China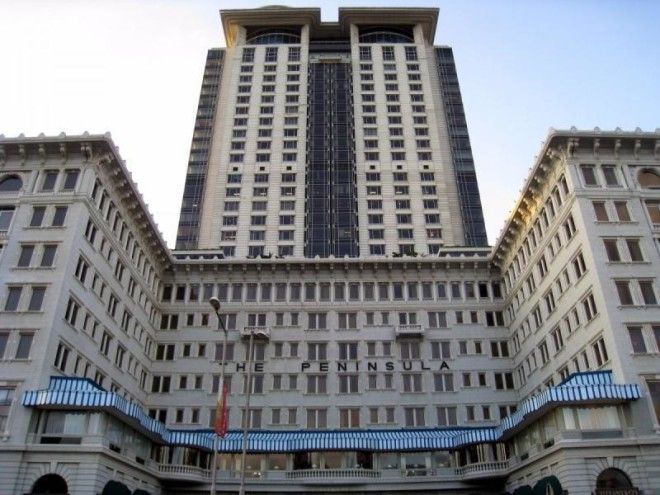 The Peninsula Hong Kong was created in 1928 and is one of the oldest hotels in Hong Kong. The hotel's grandeur ranges from its fleet of 14 Rolls-Royce vehicles to its 12,000-square-foot spa. It also offers seven restaurants and two bars that include Felix (which serves modern European cuisine), Gaddi's (which serves light French cuisine), Spring Moon (which serves Cantonese dishes), Chesa (which serves traditional Swiss fare), and The Lobby (which serves international and Southeast Asian specialties). Rooms start at around $3,480 per night.
12. Four Seasons Resort Bali at Sayan, Bali, Indonesia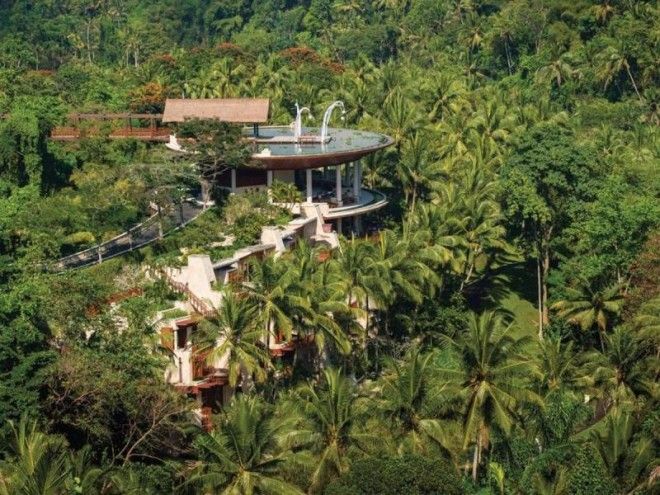 Four Seasons Resort Bali at Sayan is hidden in a lush paradise near the Ayung River. Guests approach through a wooden footbridge before entering into one of its 18 spacious suites or 42 private villas complete with teak furnishings and hand-loomed fabrics. There are also River View Villas that are set right on the riverbank. To unwind, visitors can try a Balinese ayurveda-inspired spa treatment at their luxury spa. Rooms start at around $451 per night.
11. Burj Al Arab Jumeirah, Dubai, UAE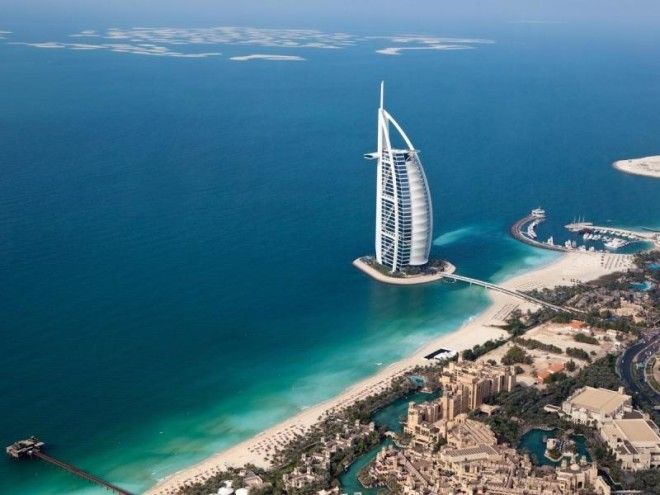 The Burj Al Arab Jumeirah is a sail-shaped resort in Dubai. It calls itself the most luxurious resort in the world, and it's easy to see why. Guests get personal butler service, airport transfers in a Rolls Royce, Mercedes, or helicopter, and access to four swimming pools, a private beach club, and fine dining restaurants. There are 202 lavish suites that all offer floor-to-ceiling windows. Rooms start at around $1,608 per night.
10. The Upper House, Hong Kong, China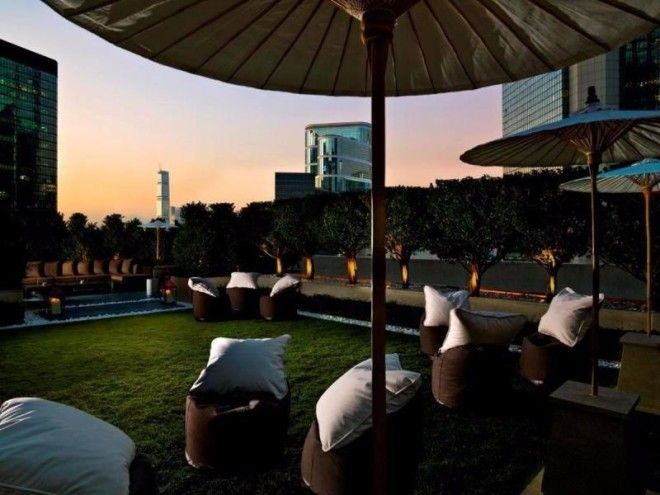 The Upper House occupies the top 10 floors of a skyscraper that sits high above Hong Kong's harbor to offer magnificent views. Created by architect Andre Fu, the hotel hosts a minimalist clean design with high-tech elements. Go for a meal at one of its eateries or have a drink outdoors at its garden. Rooms start at around $619 per night.
9. The Peninsula Bangkok, Bangkok, Thailand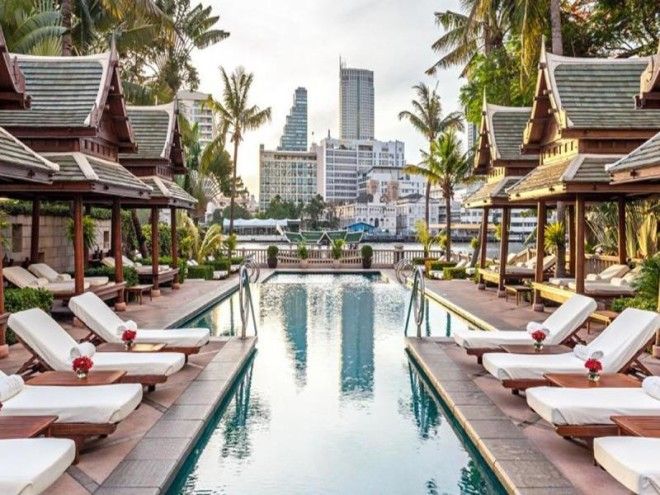 The Peninsula Bangkok is minutes away from the city's business and shopping districts and includes 370 rooms and suites with river views. With contemporary Asian decor and five restaurants that offer cuisine ranging from Thai to the Pacific Rim, the resort offers a luxurious ambiance. Activities for guests include flower arranging at a local market, riverboat tours of the Chao Phraya, and cooking classes. Rooms start at around $210 per night.
8. Oberoi Amarvilas, Agra, India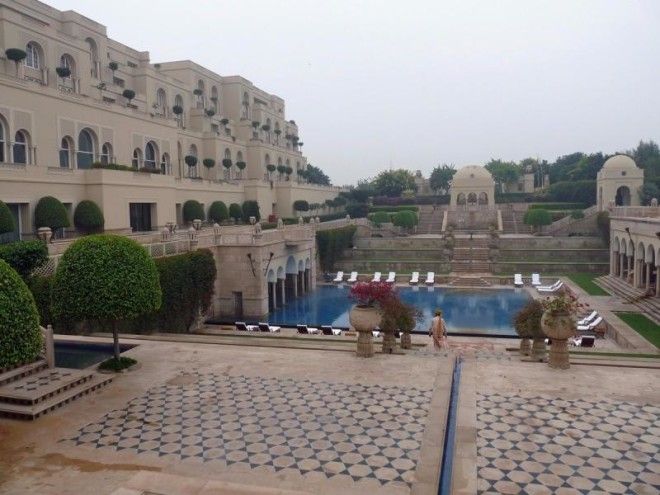 The Oberoi Amarvilas is located near the iconic Taj Mahal and offers visitors breathtaking views of the monument. Cascading fountains and arched passageways decorated in gold leaf frescoes lead guests inside. Its rooms include dark sandstone and white marble, while Mughal coins and antique Indian fabrics adorn the walls. Guests can travel in private golf buggies during the day or go for a candlelit dinner near the Taj Mahal at night. Rooms start at around $752 per night.
7. Sofitel Legend Metropole, Hanoi, Vietnam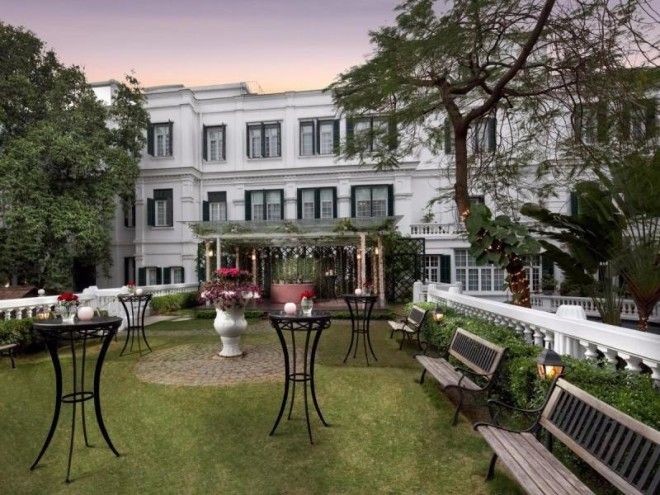 The Sofitel Legend Metropole Hanoi is located near Hanoi's Opera House, making it a favorite for playwrights, ambassadors, and heads of state. Rooms are divided between two wings: the Metropole Wing offers mahogany furnishings and plush Vietnamese silks while the Opera Wing sits opposite of the Opera House and includes black and white neoclassical decor. Plus, whether you're in the mood for French cuisine, Vietnamese gastronomy, or Italian wine, you'll find all three at the hotel. Rooms start at around $288 per night.
5. Four Seasons Tented Camp Golden Triangle, Chiang Rai, Thailand (TIE)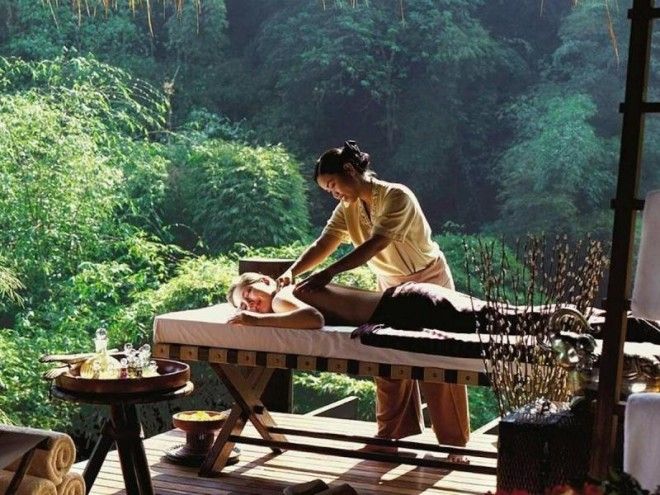 Four Seasons Tented Camp Golden Triangle is hidden within an exotic bamboo jungle at the confluence of the Ruak and Mekong rivers. With only 15 tents at the secluded retreat, you'll feel like you're in your own private paradise. The accommodations are surrounded by bamboo jungles and include hand-crafted leather-and wood furniture and copper bathtubs for two. Since the camp shares its hills with an elephant rehabilitation reserve, it's likely that you'll get up-close views of them. The resort also offers cooking classes, jungle treks, and spa treatments. Rooms start at around $2,385 per night.
5. Shinta Mani Club, Siem Reap, Cambodia (TIE)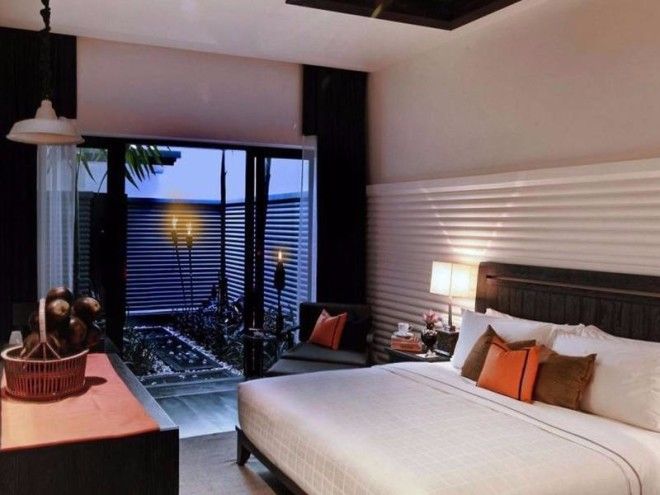 Shinta Mani Club sits in a tranquil and lush natural sitting in Siem Reap, near the Angkor Wat ruins. Ideal for a relaxing getaway, the resort includes 39 rooms inspired by an Angkorian design, traditional spa therapies, private temple tours, a refreshing poolside bar, and creative culinary menus. Rooms start at around $241 per night.
4. The Peninsula Shanghai, Shanghai, China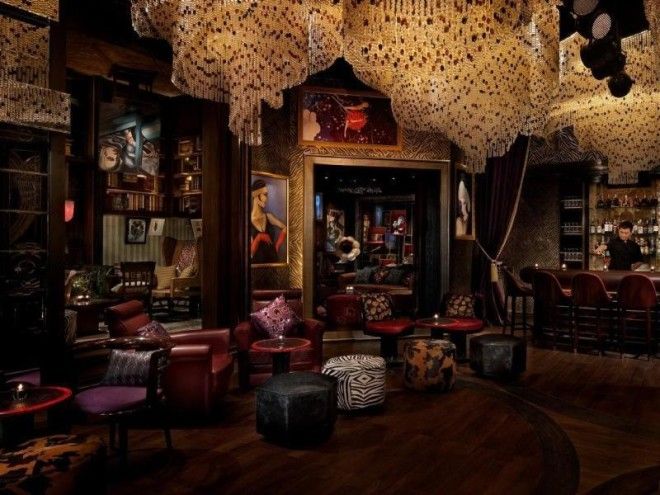 The Peninsula Shanghai includes intricately styled rooms reminiscent of the Art Deco era with exotic woods, imported stones, black lacquer, carved glass, and ornate accents. Their luxury spa was also awarded five stars by Forbes' Travel Guide. Rooms start at around $345 per night.
3. Oberoi Rajvilas, Jaipur, India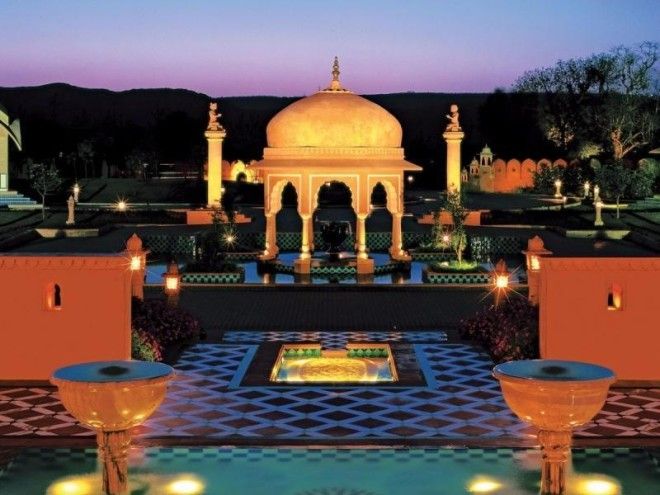 Feel like royalty at the breathtaking Oberoi Rajvilas, set in a 32-acre oasis of gardens. You'll find yourself surrounded by exotic bird life, a stunning 18th-century Shiva temple, gold leaf frescoes, magnificent crystal chandeliers, and relaxing swimming pools. Built in the traditional Rajasthani style, the resort offers a luxurious spa, master suites, and private dining pavilions for guests. Rooms start at around $617 per night.
2. The Mulia, Bali, Indonesia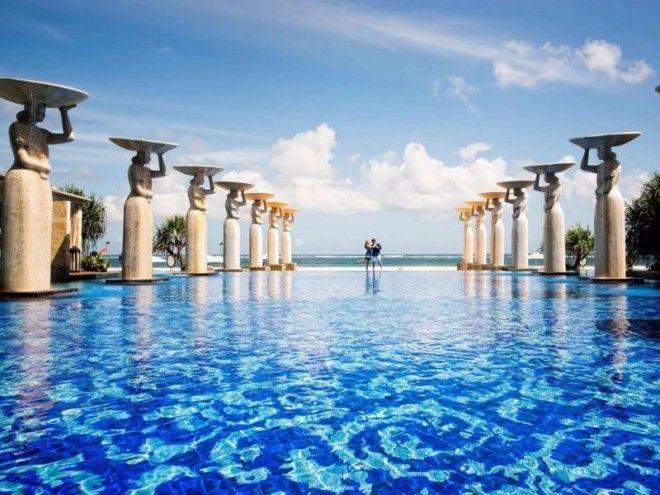 Set on a stunning stretch of beach along Bali's Nusa Dua bay, The Mulia has elegant suites with butler service and gorgeous oceanfront pools. The resort has nine different restaurants and bars that are staffed
by high-profile culinary teams. Rooms start at around $710 per night.
1. Gili Lankanfushi Maldives, North Malé Atoll, Maldives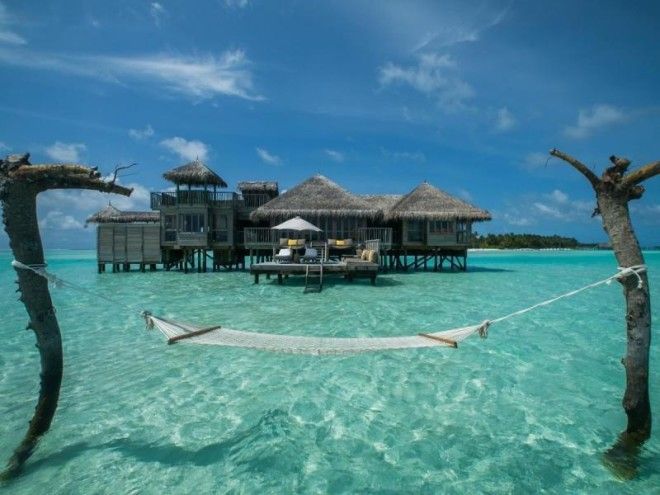 The Gili Lankanfushi Maldives resort is in a remote setting on a private island in the North Malé Atoll in the Maldives. With 45 overwater villas and private residences that are only accessible by boat and offer up-close looks of the vibrant marine life, the hotel is a favorite with honeymooners and couples. The property is also renowned for its customer service, as each guest receives a personal assistant who welcomes them with fresh fruit. The hotel took the No. 1 spot on TripAdvisor's list, but didn't make any other lists.