Icelanders Einar and Agust Agustssohn have come up with a great new idea for personal and portable energy generation – small-scale wind turbines that can be used to power all sorts of gadgets from smartphones to cameras to tablets while also being able to lower domestic energy costs at home. The short battery life of most phones and tablets can often be really frustrating but the brother's new Trinity wind turbine gives the freedom to charge USB devices anywhere in the world with sustainable, clean energy.
Trinity is available in four sizes, each of which is lightweight and easy to set up, making it the world's first truly portable and user-friendly wind turbine. The device can also be folded up and packed into a cylinder thereby making it extremely easy to carry around.
"We started building the Trinity in 2013" says Einar, speaking via Skype. "Both of us are from Iceland and we're used to clean energy here. Everything is run on renewable energy and the energy bills here are very low, it's not something you have to think about. We moved to the US in 2011 and I started to wonder about the electric bills, because suddenly I was seeing these sky-high electric bills and so I started thinking about why that was. In Iceland I worked with a family company that works with building motors."
Einar's brother, Agust, explains that they come from a family of electricians and so they built their first wind turbine to help lower the household energy bills.
"When we started building the turbine we thought of a way to do it and we wanted to share our knowledge here in Iceland of clean energy with other people" Agust adds.
Rather than building a huge wind turbine, Einar and Agust decided to build something for just one person, something you could hold in your hand or perhaps carry around in your backpack.
"So that's where we started" Einar says, "taking the wind turbine and turning it into something personal and portable."
The brothers began by building a functional prototype. This was so successful that the brothers knew they had developed something extremely valuable. So they built two more prototypes and then decided to present their idea to the world with the goal of getting their idea into mass manufacturing. The next step was to form a company called Janulus, founded by Einar who acts as the company CEO. A Kickstarter campaign was then launched to raise funds for the project. Almost immediately it was making worldwide headlines.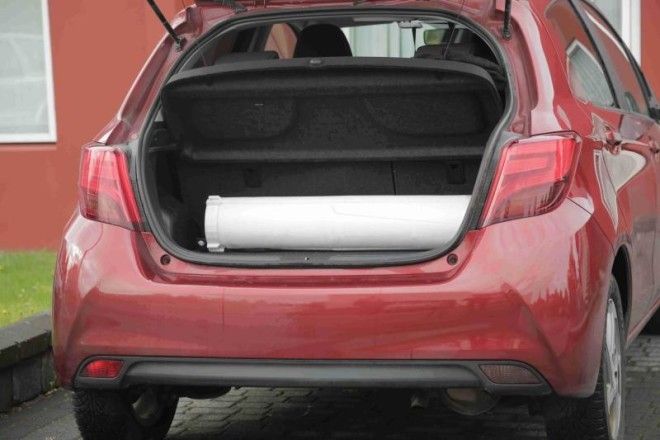 Trinity 2500 fits neatly into any trunk (Janulus)
"Our Kickstarter campaign more than doubled our goal and there's still 25 days of that left" says Agust enthusiastically. "We've had a great response so far, from the media and from other people congratulating us on the design and everything."
The brothers met with a number of manufacturers but direct communication with customers through the crowdfunding campaign proved to be valuable in itself, enabling them to listen to a number of ideas on how to refine and improve the product. They decided to spend some time improving the design before starting out on the manufacturing process. After exploring possible manufacturing options in the US and in China, the brothers eventually decided to manufacture Trinity themselves in Iceland and the company opened its first manufacturing facility earlier this year with the first Trinity turbines dispatched to customers in September.
Trinity comes in four sizes with 50, 400, 1,000 and 2,500 watt generators storing energy in 7,500 to 300,000 mAh Li-ion batteries. The status and settings of the batteries are displayed on an LED screen. The unit as a whole is extremely lightweight weighing only 650g (1.4 lbs) for the smallest device. However, the largest version, the 2,500 watt model, can help to power a small house. Both the 1,000 and 2,500 versions have grid-tie inverters, enabling them to power household devices with AC electricity.
Setting Trinity up is very easy. All you have to do is pull out the blades and arrange the legs in either a tripod configuration or laid flat. There are two different blade settings for harnessing different wind speeds and USB devices can be powered via water resistance plugs. The larger versions have 110V/220V wall plugs that can be used as a power source or to feed power right into homes or Recreational Vehicles (RVs). Trinity can also help to power electric cars in circumstances where the owners find themselves some distance away from a conventional power source or want a cleaner way of powering their EV. When not required the Trinity can be neatly folded and packed away into a cylinder, which can be stashed away in the trunk.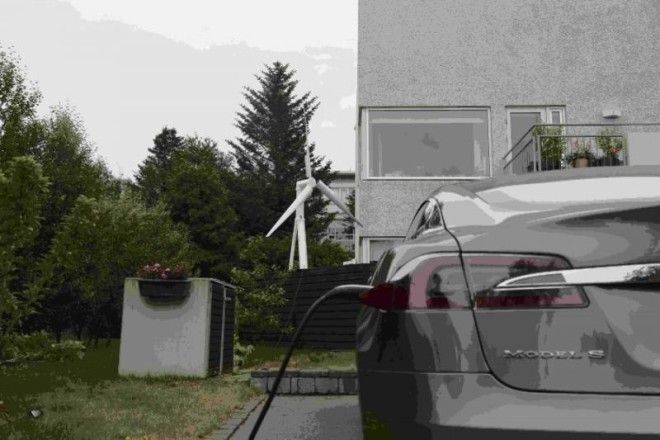 Trinity 2500 charging a Tesla Model S (Janulus)
Einar explains that although people have tried previously to make very small wind turbines, they've largely been very inefficient. The Trinity may be small but it generates a lot of energy. You can use it for a multitude of purposes and can even carry one around in your bag, using it to recharge your phone when you need to.
"Or you can use it while you're out camping or to lower your energy bill if you have a RV (Recreational Vehcile) or if you're a boat owner or want that extra battery for your phone" explains Agust. "The world today is always demanding more energy and this is a great way to generate it."
As with larger wind turbines, the Trinity can be used anywhere, but the best places are open areas, preferably on higher ground. It can start producing energy at wind speeds of 2 meters per second although that is only when the blades start to spin. The smallest version begins to hit 50 watts at about 7 meters per second.
"We've had a lot of inquiries from distributors and retailers all around the world, so we're getting great attention" says Einar. "They obviously see the market potential in their home territories."
Janulus is now aiming to become a global leader in sustainable investments and projects and judging by the success enjoyed by the company so far, they'll be very good at it too.