If 15 minutes of TV news watching has left you doubting humanity's ability to work together toward achieving a common goal, Spain's human tower competition might just change your mind.
Every other October, hundreds of people in Tarragona, Spain come together to form
castells
— Catalan for the word "castles" — that reach more than 30 feet into the Spanish skies in a competition called the
Concurs de Castells
.
The event regularly draws in crowds of thousands, with the act of human tower building dating back to the early 18th century in Valls, a city in the Spanish region of Catalonia.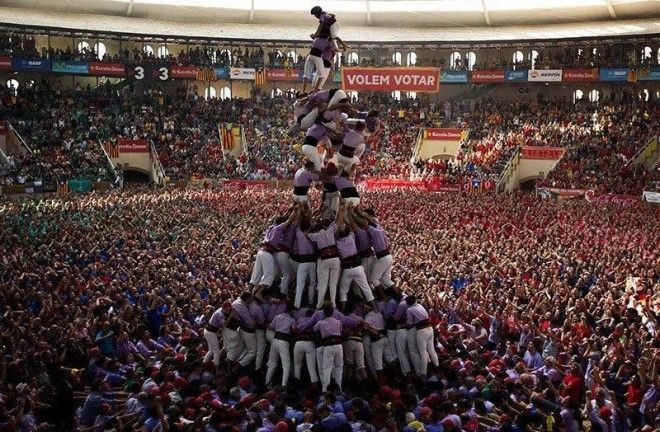 Traditionally,
castellers
— the people who form the towers — made the towers at the end of a folk dance. Over time, teams of castellers started competing against one another in an attempt to build the highest, most complicated tower. The tradition slowly separated from its dancing roots yet still retained some of its elements, such as
orça, equilibri, valor i seny
, or strength, balance, courage and common sense.
By the 19th century, the tradition had spread across Catalonia.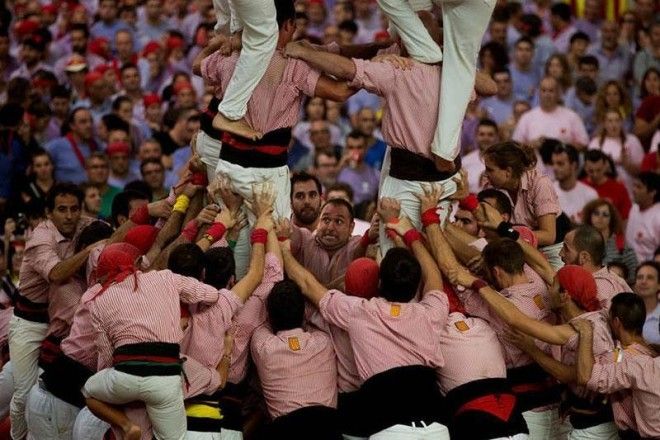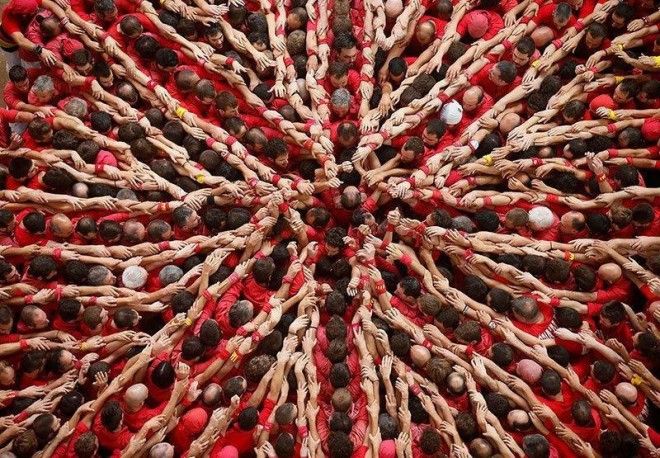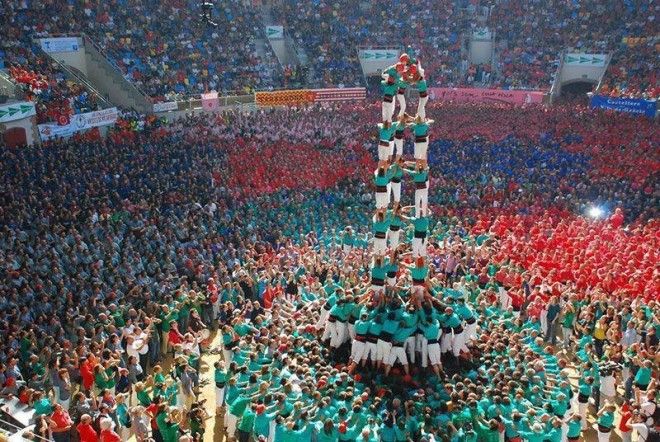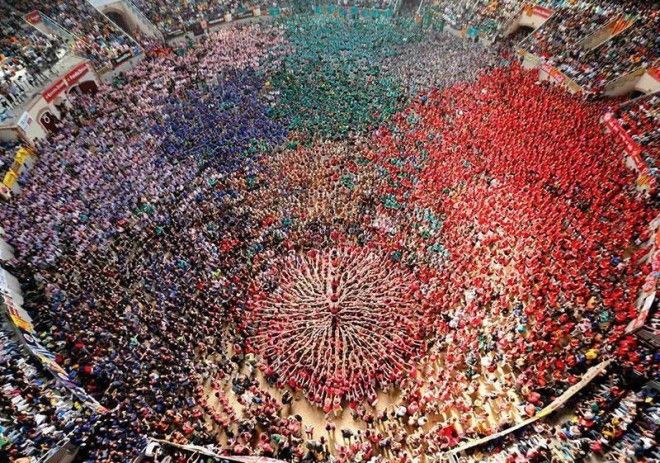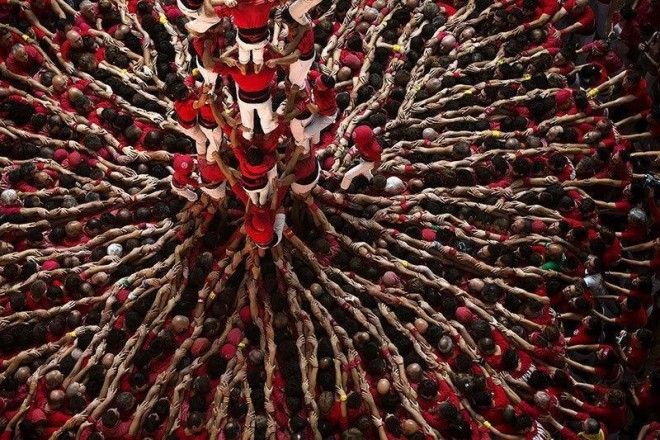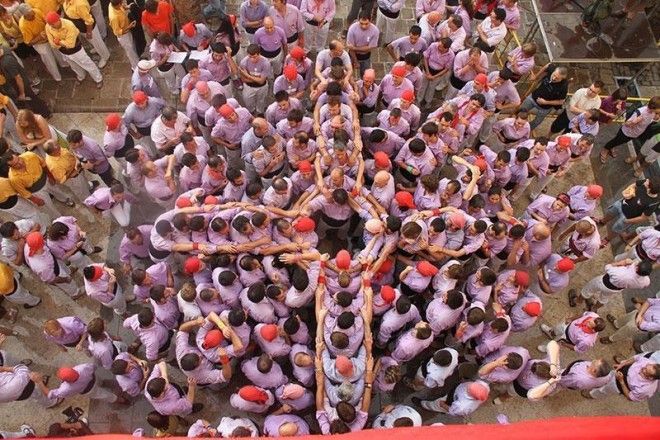 As you can imagine, constructing a human tower is no easy feat, and every single casteller plays a specific role to make sure the tower is stable — even down to what he or she wears in the process. All castellers don a black sash called a
faixa
, which provides critical back support, and is sized according to the casteller's role in constructing the human tower. For instance, tower climbers typically wear shorter
faixa
to allow for more movement, while ground members sport wider
faixa
for extra lumbar support.
There are three parts to every castell. First, there's the
pinya
, or the foundation of the entire human tower. Next is the
tronc
(meaning "trunk" in Catalan), which is made up of smaller tiers stacked upon one another to resemble a tower.
The top of the castell is called the
pom de dalt
, or "tower dome," with the tower's child "crown" called the
enxaneta
, or rider. Once he or she reaches the top of the tower (with a helmet — don't worry), the child will raise four fingers to represent the Catalan flag, and then climb down.
Deconstructing the human tower is often just as hard—if not harder—than building it in the first place, and it's not uncommon for the human tower to come crashing down. While rare, there have been fatalities in competitions past.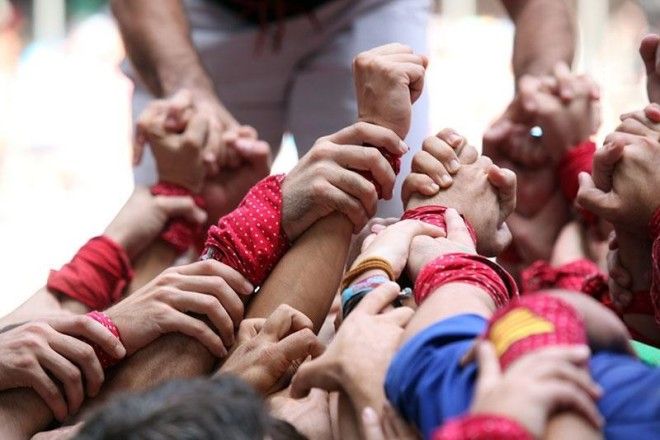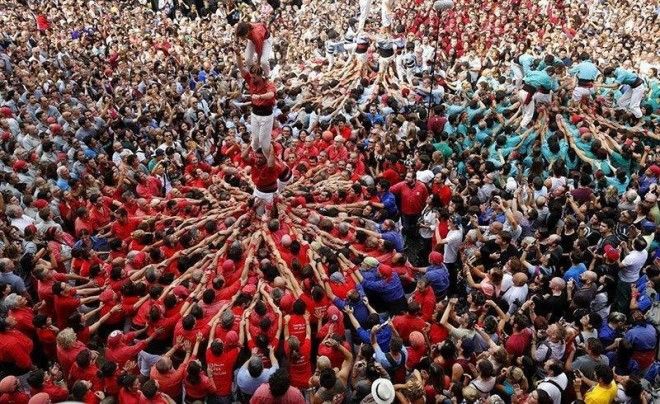 In Concurs de Castells, the most famous tower building competition, judges award points based on difficulty, height and following protocol, and select the winner according to the participating teams' best three attempts out of five.
To date, the highest human tower ever created was made up of 10 tiers, with each three people composing each level. In 2010, UNESCO added castells to the list of Masterpieces of the Oral and Intangible Heritage of Humanity.