Its Halloween time and today we are going to share some healthy Halloween Inspired snacks for you to make with your kids! These are so fun and easy to make because it requires not baking or cooking. My daughter was so thrilled to make these fun snacks with me and couldn't wait to eat them! Wish you enjoy and have a safe Happy Halloween!
Halloweeño Jalapeño Popper Mummies:
These little mummies will win over your heart and your stomach! They are a perfect addition to your Halloween appetizer spread or to bring to a Halloween party.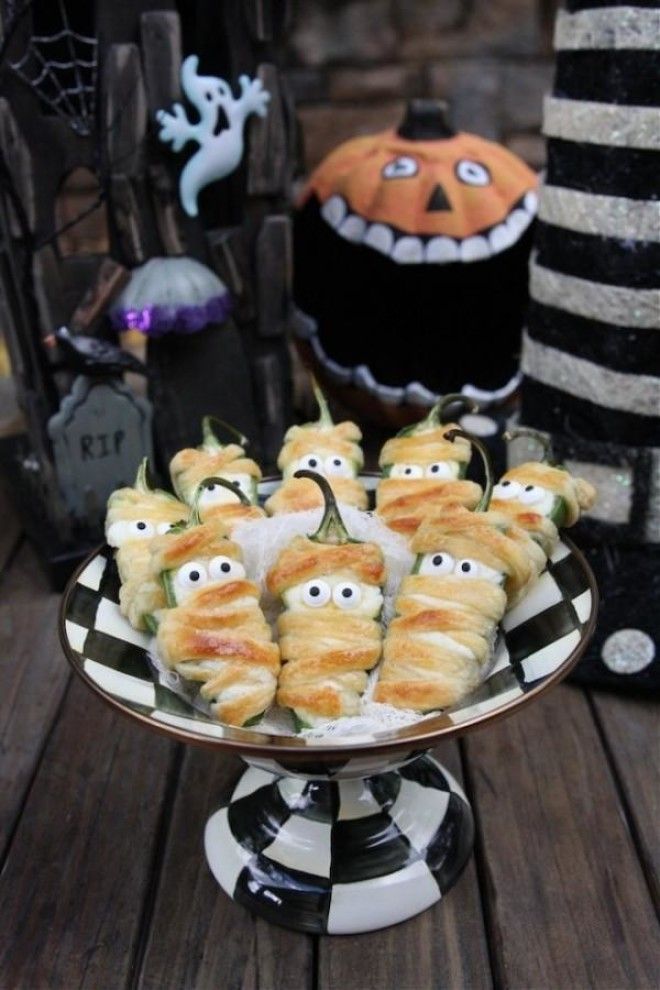 Mummy Toast:
With few clever placements of sliced cheese and olives, turn a plain piece of toast or pizza into a creepy little mummy snack!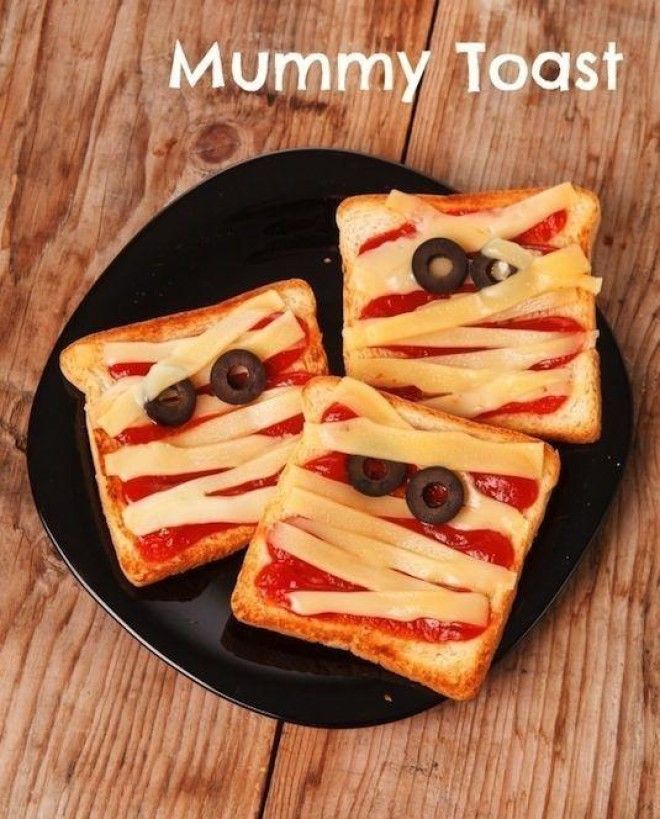 Candy Corn" Veggie Platter:
This arrangement will make the kids forget they're eating something healthy! It's also very colorful and festive on a party table. Serve it with a side of ranch, hummus, or your favorite veggie dip.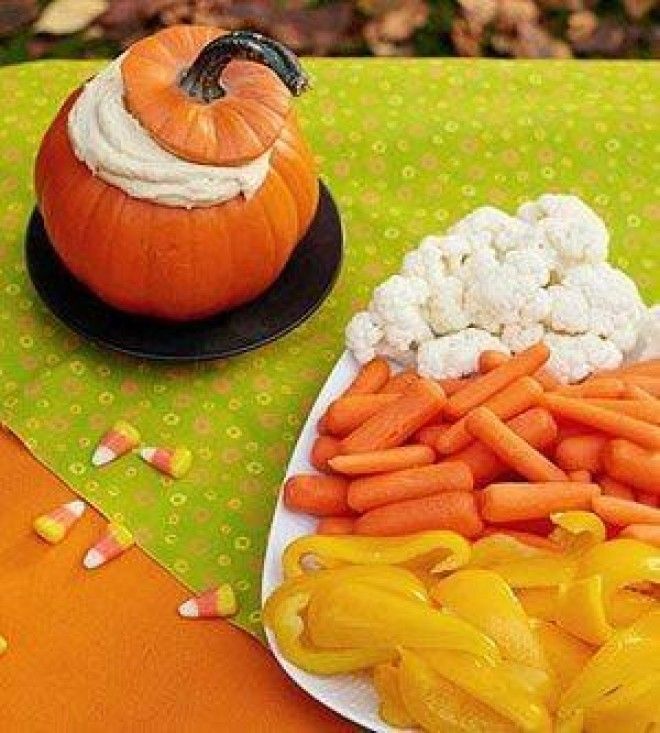 Boo"Nana Pops:
Although this is made with white chocolate (only half an ounce each pop), it's much healthier than candy, and certainly a frozen Halloween snack that the kids will love! They will also enjoy being your little kitchen assistant on this one.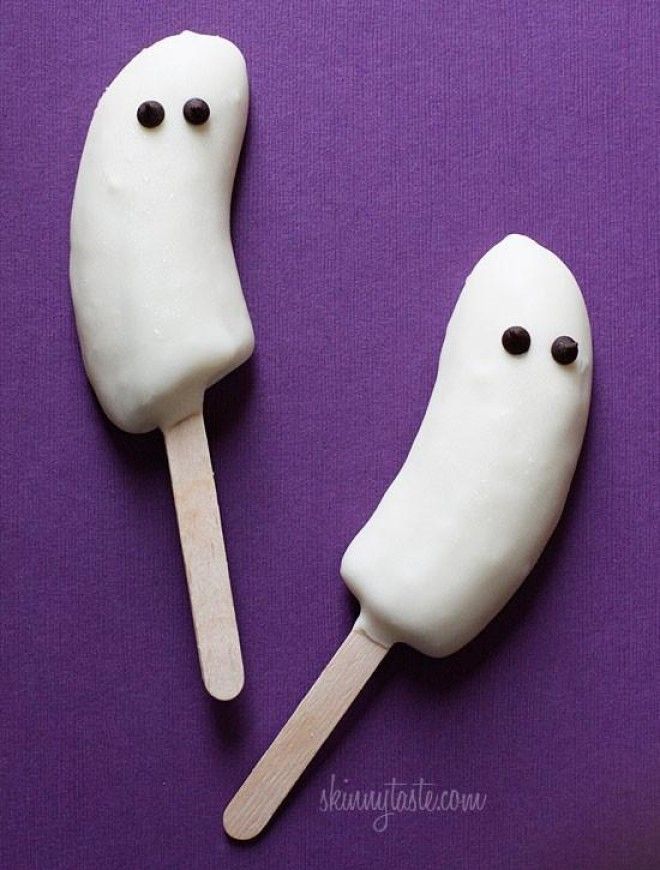 Spider Web Pizza:
How creative! Not enough cheese for me, but I'm a cheese maniac (I'd douse mine in a bottle of parmesan). I love the spider detail with the black olive, too.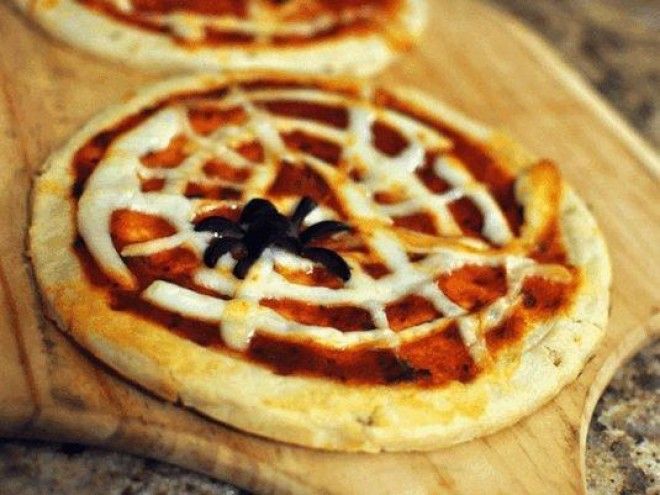 Spooky Fruit Spider Snack:
This actually IS scary! Although it's just made with fruit, I can't help but think it's going to start crawling around on that plate. And, the edible eyeballs are the icing on the cake.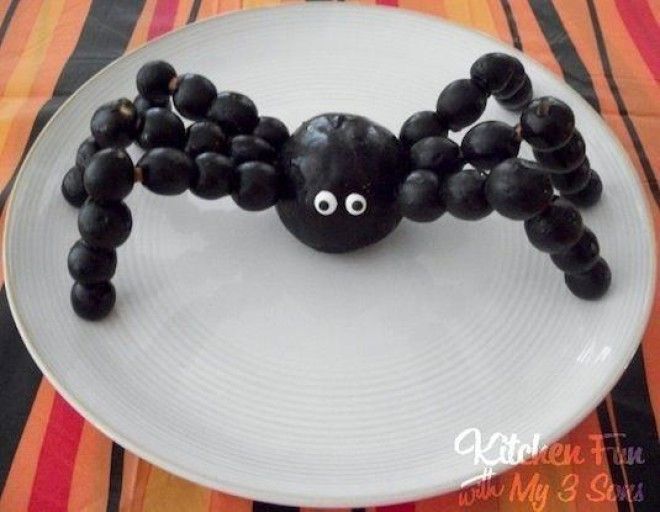 Cheesy Witch Brooms:
These edible witch brooms are just perfect packed away in a school lunch or displayed on a party platter. Use kitchen scissors to slice the bottom half of a cheese slice, wrap it around a pretzel stick, and then use a fresh chive as a string to hold it in place. So easy!
Spider Crackers:
These little cracker spiders would be a hit for a school party! Peanut butter sounds better to me as the stuffing, but cream cheese is more allergy friendly–maybe make a few of both?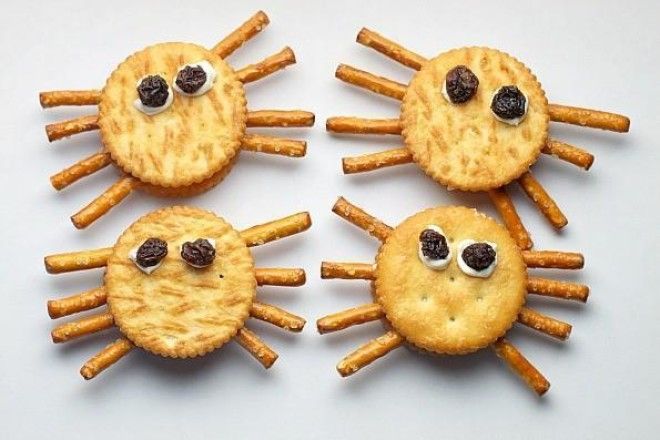 Apple Smiles:
I've been doing these apple smiles for some time now, and the kids LOVE them! They're just as fun to make as they are to eat. Use peanut butter as your glue to hold the mini marshmallows in place. You can make quite a few of these from just one apple.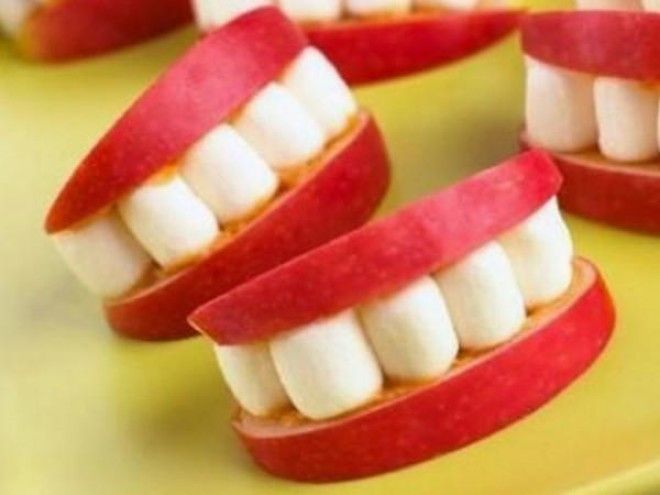 Mini Spider Sandwiches
: School lunch just isn't complete without these mini spider sandwiches! Surprise the kids on Halloween with a creative and fun version of their favorite sandwich.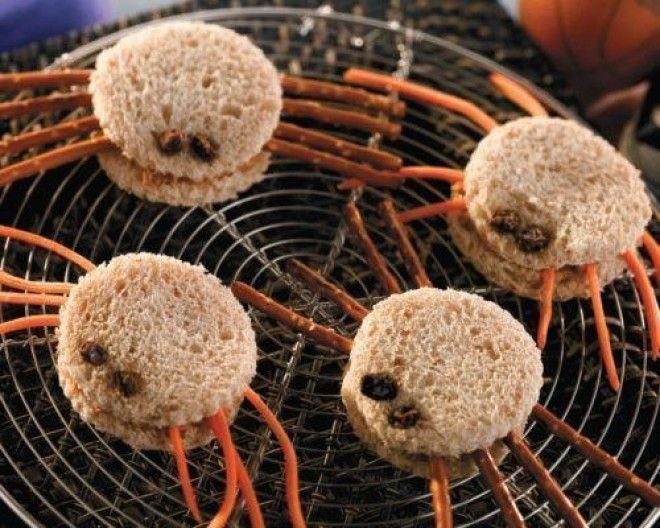 Celery Mummies:
Garden vegetable cream cheese and deli meat make up these cute celery mummies! It's easiest to pipe the cream cheese on for a cleaner look, and then cut your deli meat into small strips and place them in a criss-cross pattern. Use raisins or dried cranberries for the eyes.
Banana Ghosts:
It doesn't get much easier than this! Surprise the kiddos with this for breakfast or as an after-school snack.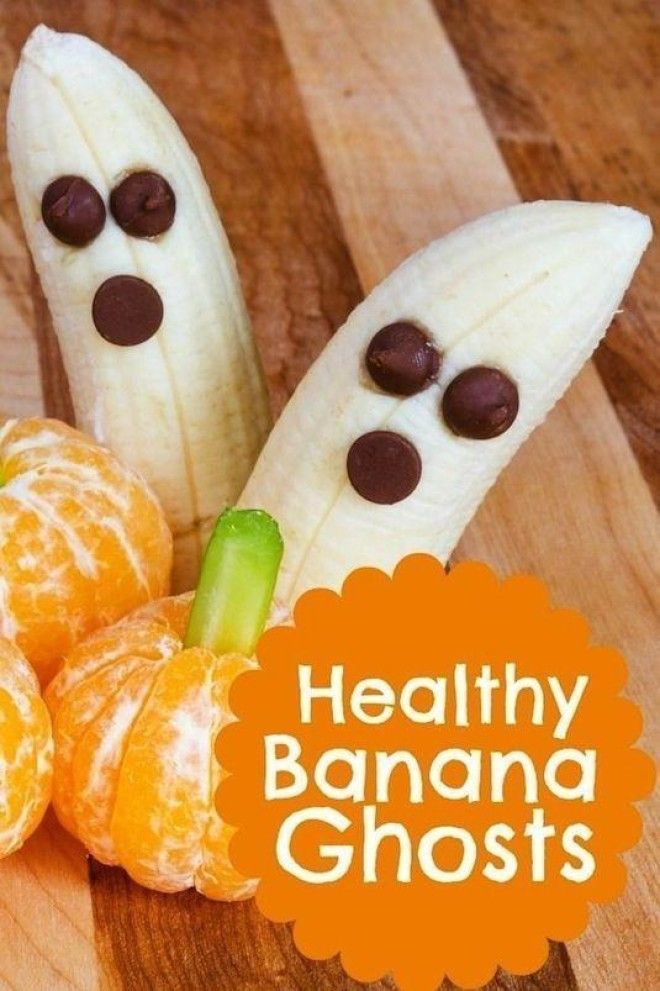 Goblin Grins:
These goblin grins are a nice addition to a vegetable tray! You could also use them on a snack plate and use other veggies for the eyes and nose. Cute!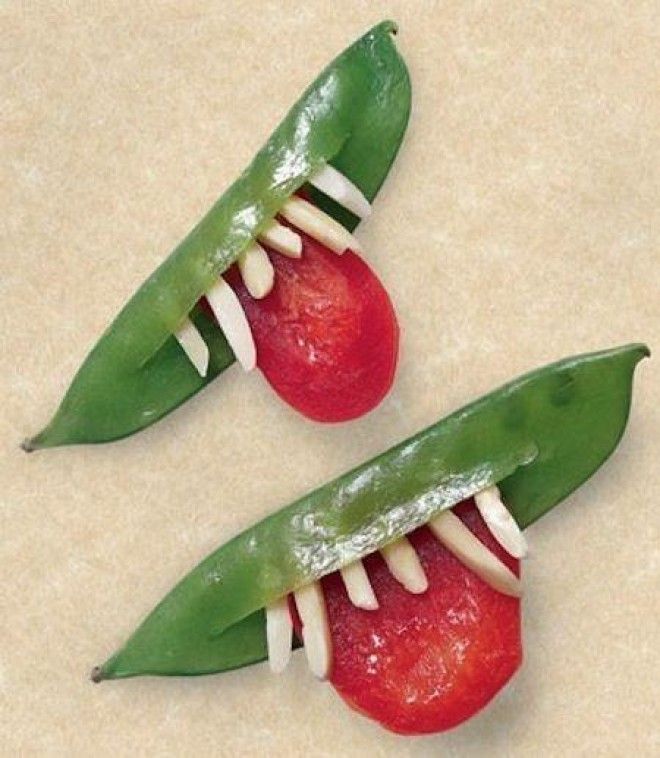 Cheese Pumpkins:
Form soft cheese into balls, and then carve out the pumpkin lines with a toothpick. Now, insert a pretzel as the stem and enjoy with your favorite crackers! You could even do a larger version of this with your favorite soft cheese dip.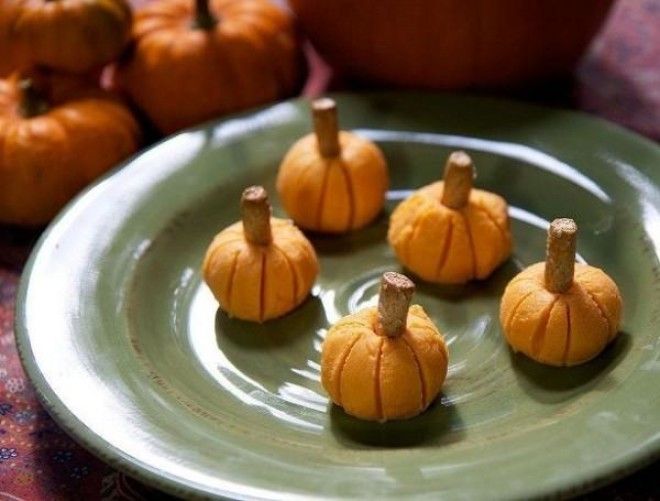 Ghost Toast
: Partying down on Halloween isn't just for the kiddos! Adults dig ghostly decorations, clever costumes, and spookily inspired munchies, too. And the party doesn't need to be all about candy, either!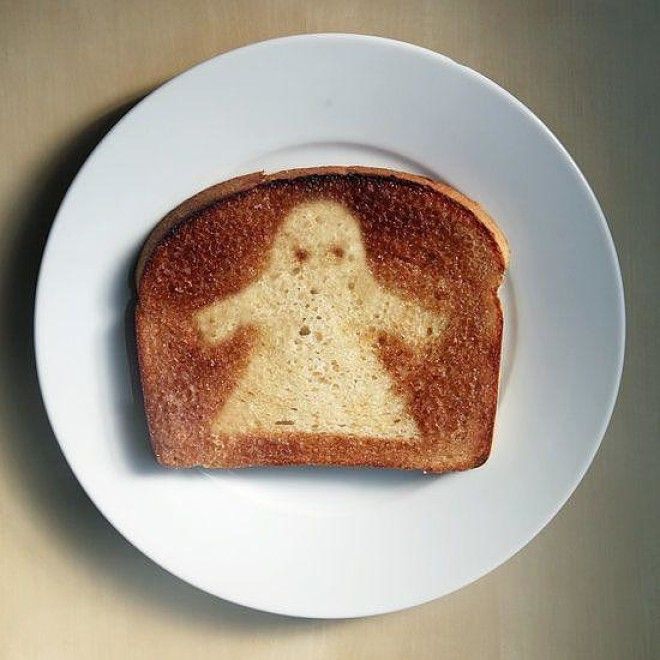 Hot Dog Fingers:
Those little knuckle slices are just enough to make these hot dog fingers repulsive enough for Halloween! Garnish them with ketchup to resemble blood, and an onion slice for the yucky nail.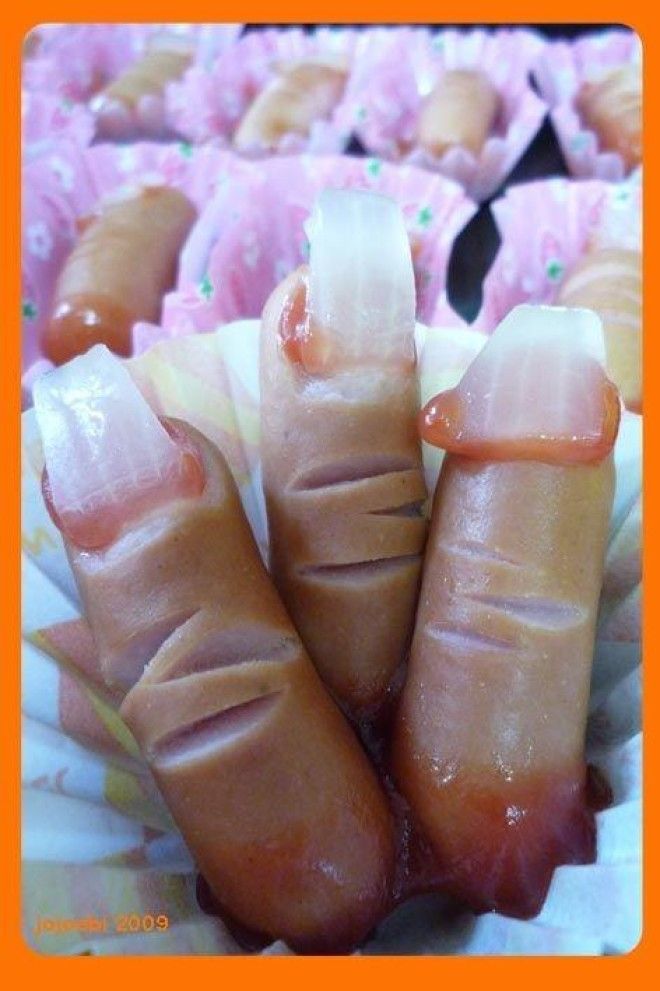 Cheese Eyeballs:
Everyone loves those yummy little Babybel cheese rounds, and they just happen to be perfect for making edible eyeballs. The kids are in for a surprise when they open up their school lunch and see what's waiting for them!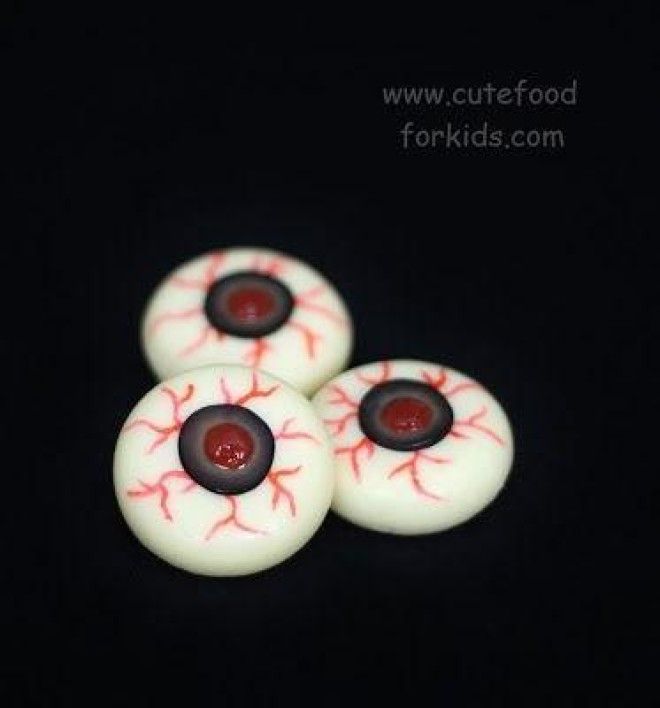 Halloween Deviled Eggs:
Deviled eggs have always been my favorite snack to bring to a party, although mine are usually pretty boring. Get creative with them this Halloween by topping them with an olive spider?!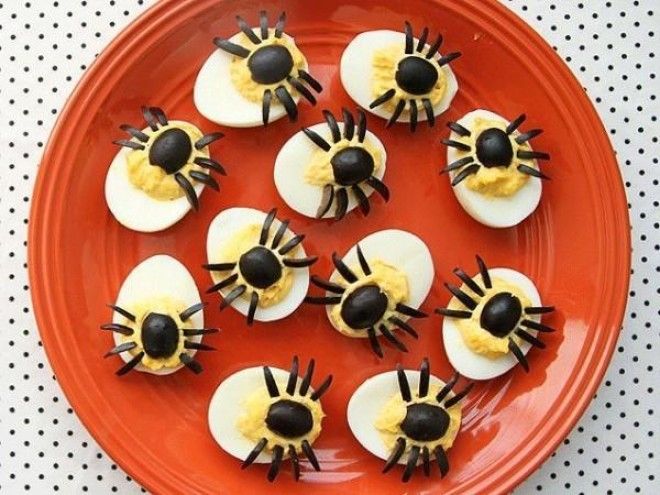 Jack O' Lantern Fruit Cups:
Looking for a fabulous fall treat to serve your guests?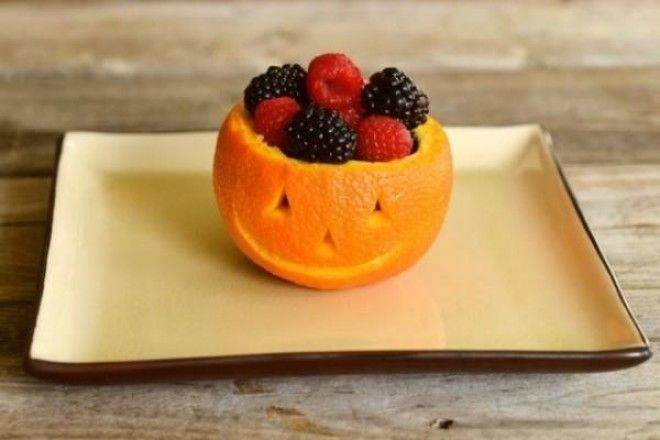 Guacamole From a Pumpkin:
Serving Chips as appetizer with dips running out of Jack-O Pumpkin.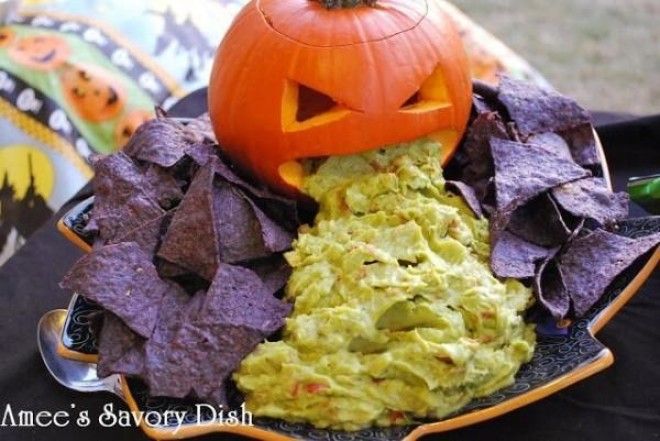 Cheese Sugar Skull:
Celebrate the Day of the Dead by serving a decorated sugar skull made from cheese. See how to color cheese to make the festive decorations for your skulls.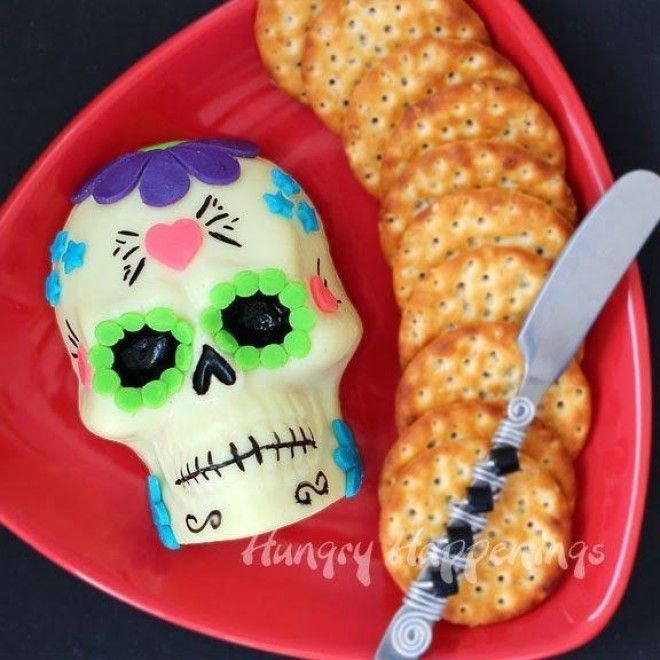 Tombstone Sandwiches:
Turn their favorite sandwich into a tombstone! You can get two of these out of one sandwich (depending on the size of your bread). Just cut them to shape with a knife, perhaps using a round cookie cutter as your guide for the top. Place black paste food coloring, ketchup, jelly or mustard in a plastic sandwich bag and cut a very small piece off of one of the corners to use as a piping bag to write your heading.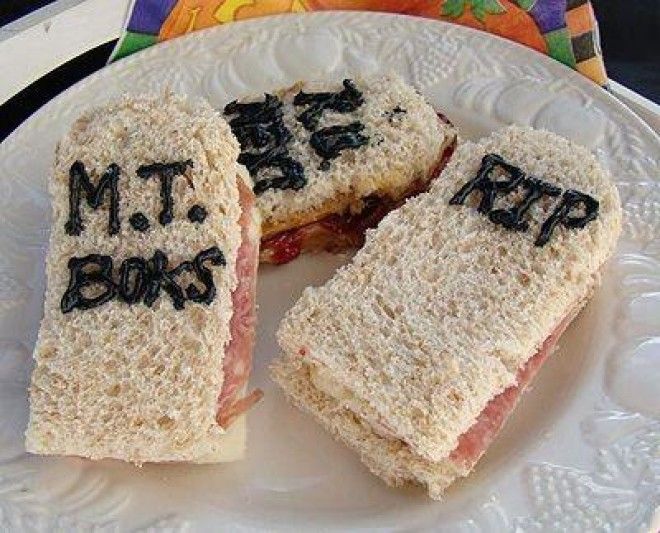 "Candy Corn" Fruit Cup:
It's all about the presentation! Stack pineapple, orange slices, and whipped cream or yogurt to create a healthier take on candy corn.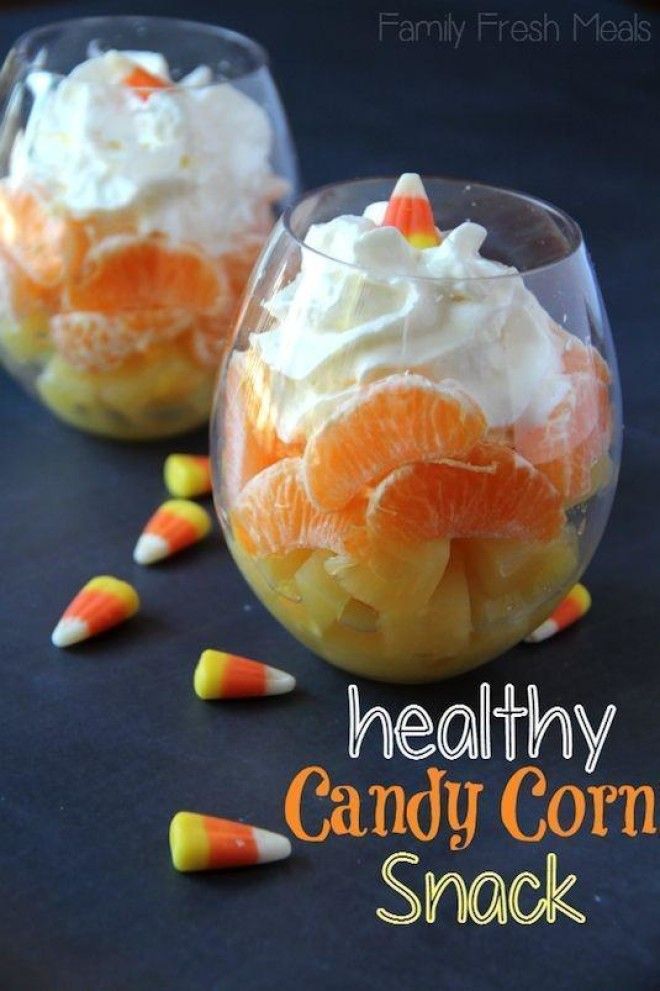 Ghost Cheese:
Another creative cheese idea for Halloween! These octopus ghosts are pretty easy to pull off considering the string cheese is made to be easily strung and taken apart. Add them to a snack plate with crackers and fruit, and the kids are sure to love!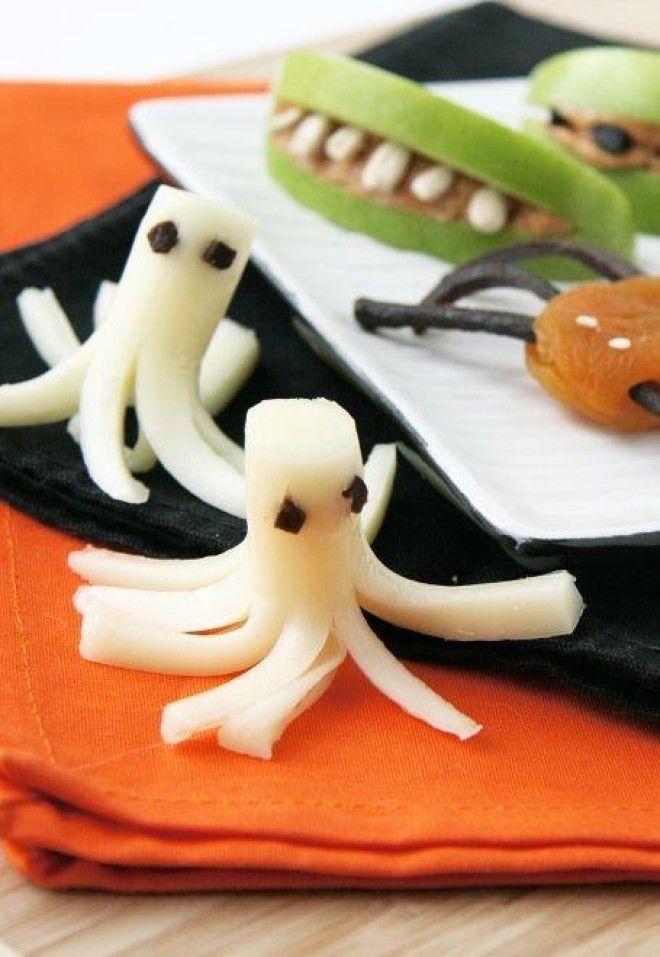 Veggie Skeleton:
This vegetable skeleton covers just about every veggie you could ever want on a veggie tray! I love how the head is the dip bowl, too.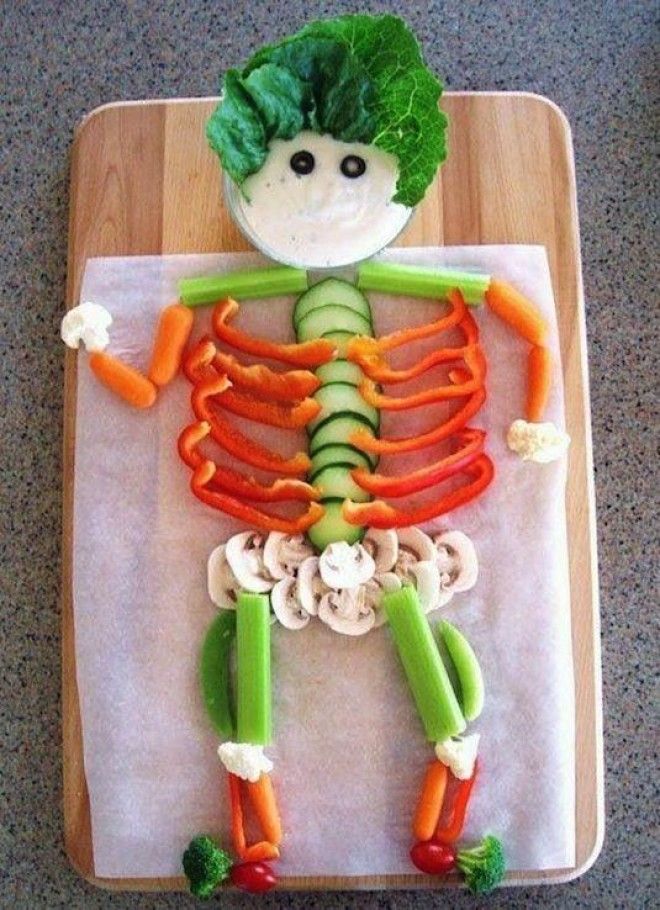 Eye-Popping Soup:
Bite-size mozzarella balls and pimiento-stuffed green olives are just right for floating eyeballs in your soup. And, check out the olive bug crawling on the side of the bowl. How creepy!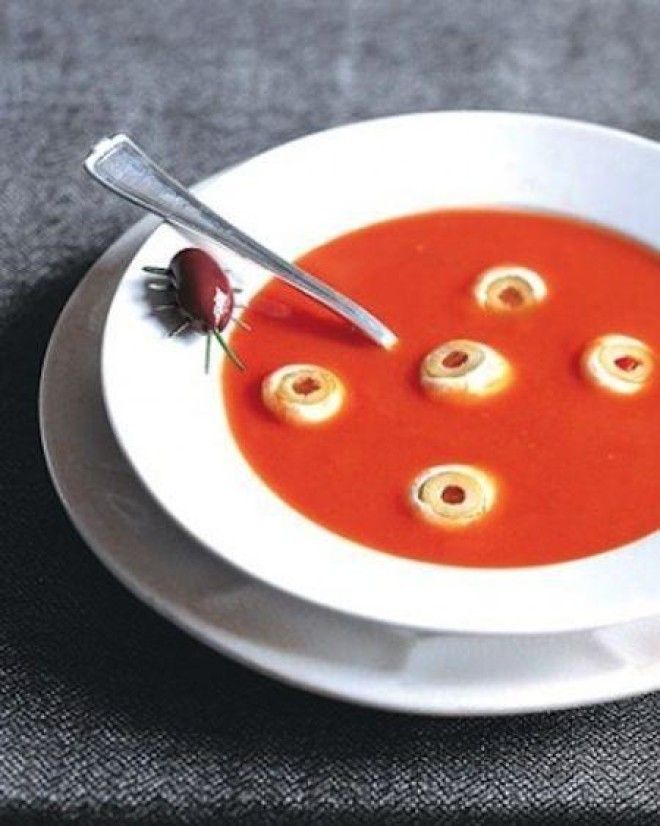 Spooky Cheese Pops:
You put anything on a stick, and my kids will eat it up like it's candy. Babybel cheese is so much fun to eat AND decorate, kind of like these spooky cheese pops for Halloween!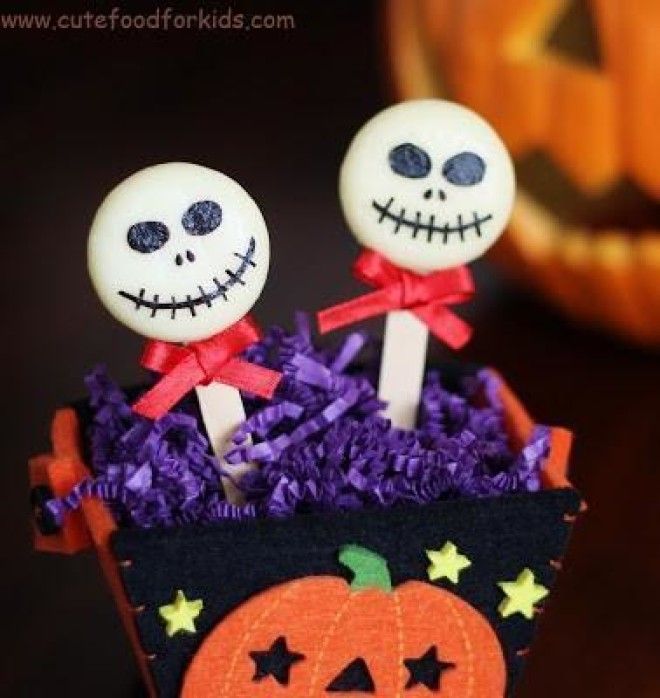 Stuffed Jack o' Lantern Peppers:
Stuffed peppers are one of my new favorite healthy dinner options. Make a few cuts in the face to resemble a jack o' lantern, and the kids will love them just as much as you!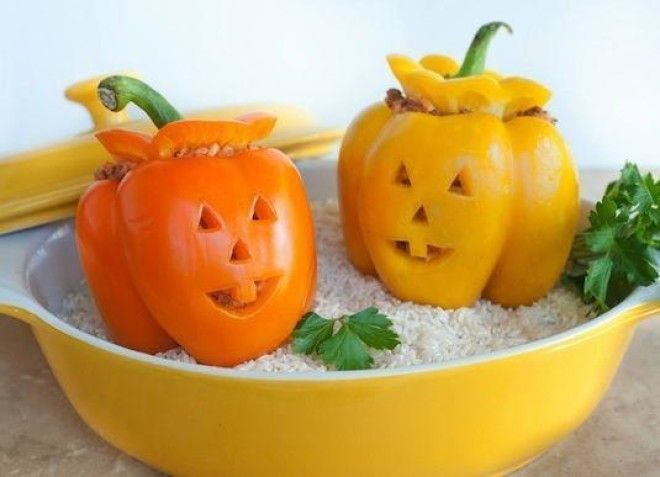 Hot Dog Caterpillar:
Hot dogs, AGAIN! No wonder kids love these things. They're so versatile and fun to make cute food creations with. This caterpillar is a cute after school snack, or along side dinner just to make it a little more festive.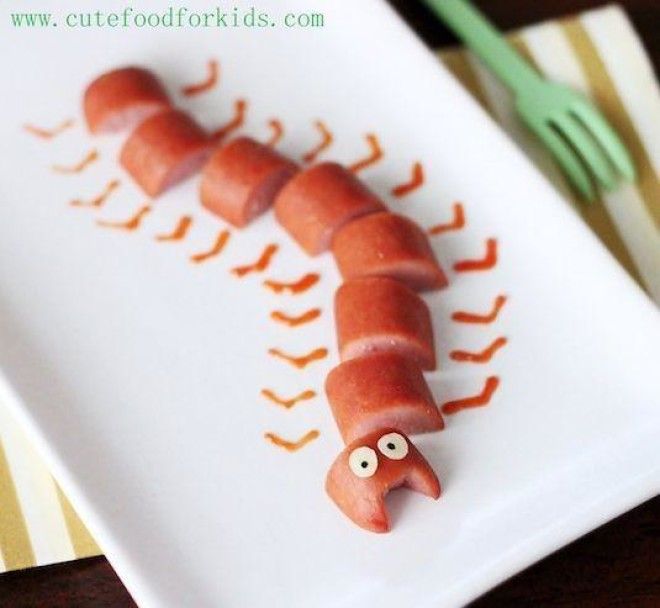 Spiders On A Log:
Self explanatory, really. Little plastic spiders will make any Halloween snack or treat frightening! You could also use black olives to make edible spiders.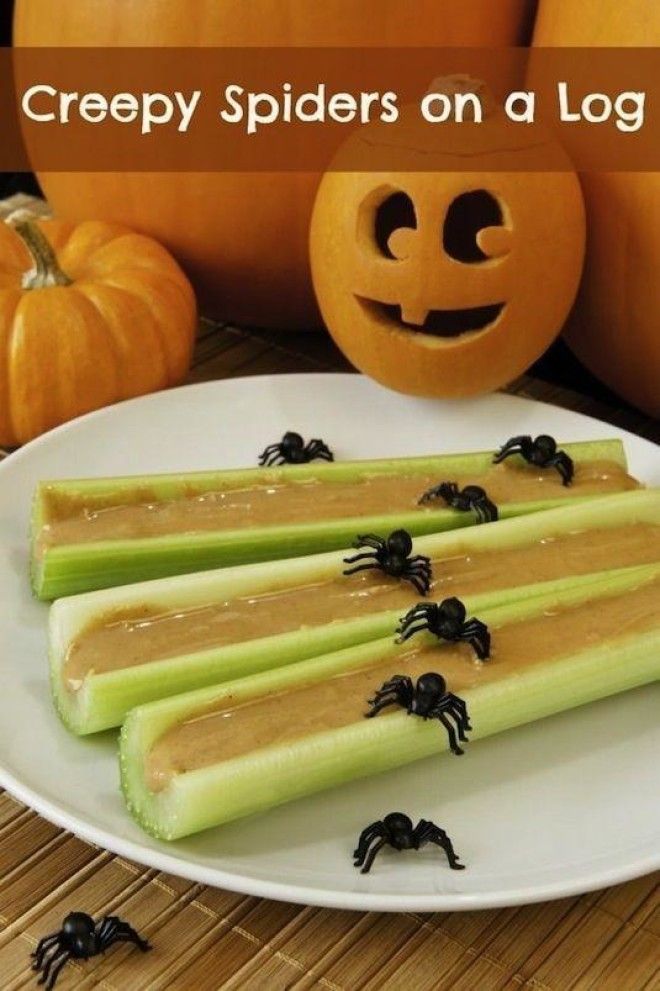 Carrot Fingers:
A creepy carrot hand sticking out of your cheese dip is the perfect way to dress it up for Halloween! Serve it with more carrots, veggies, and crackers.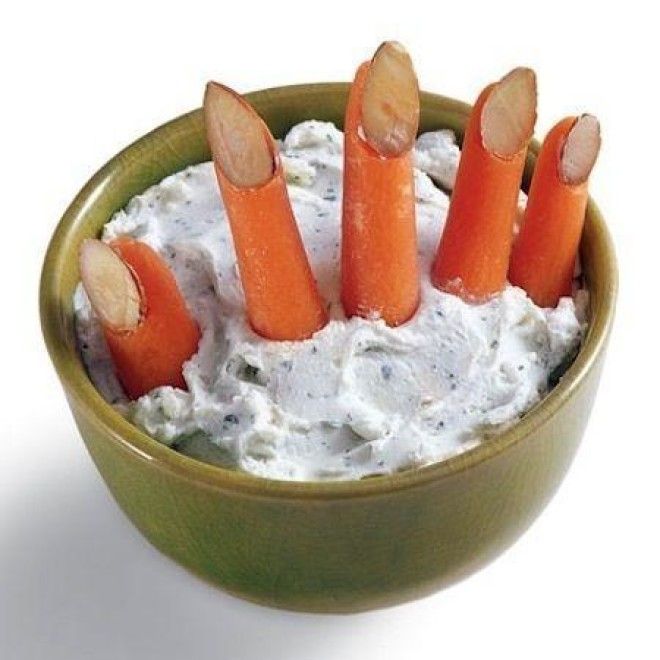 Jack O' Lantern Fruit Bowl:
Just like the veggie jack o' lantern tray, you can also do this with fruit. I love how this one is placed in a bowl with orange slices, apple wedges, grapes, and a green apple for the stem.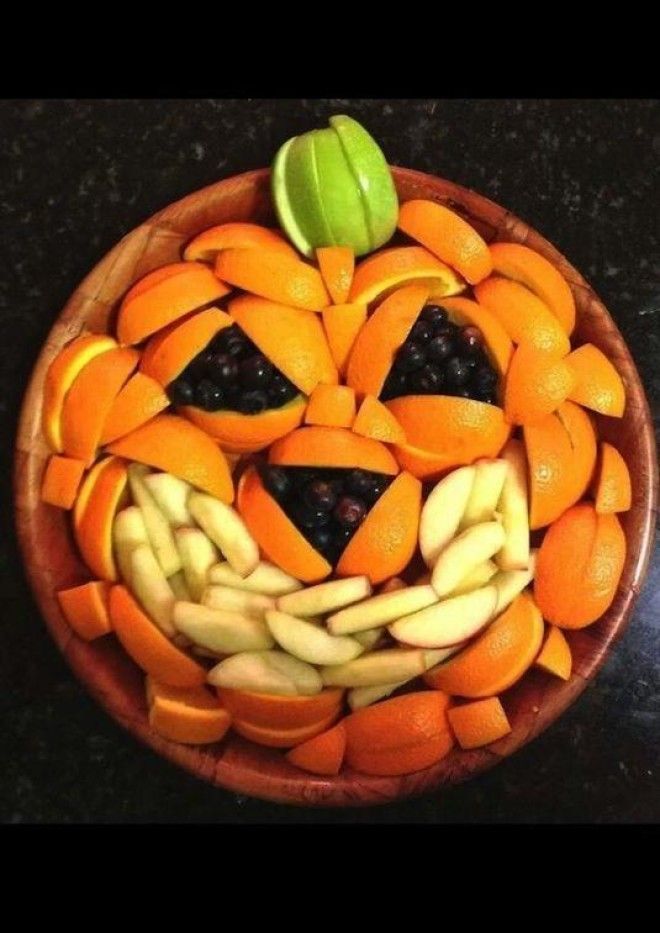 Owl Crackers:
How cute for any Fall party or after school snack! Crackers, cream cheese, raisins, and almonds; all stacked together to create these adorable owl crackers.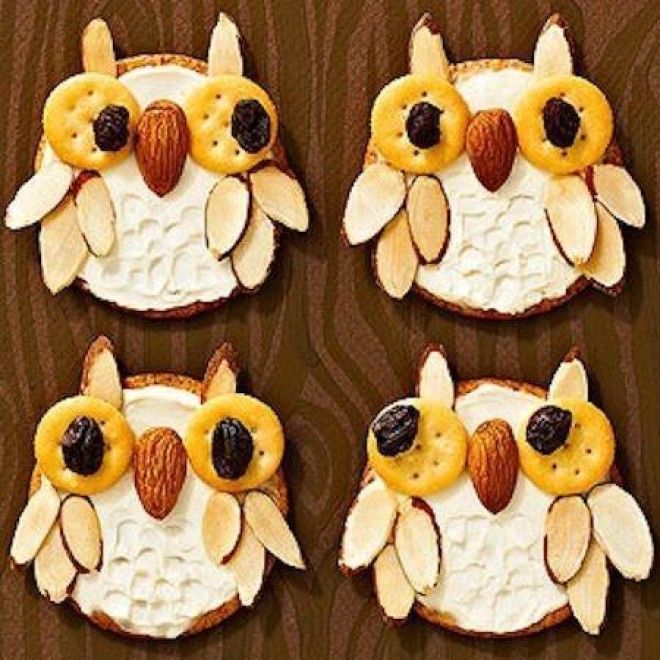 Edible Popcorn Bowl Jack-O-Lantern:
Amaze your Halloween party guests with this Jack-O-Lantern Popcorn Bowl that is not only filled with white chocolate popcorn but is made of it too.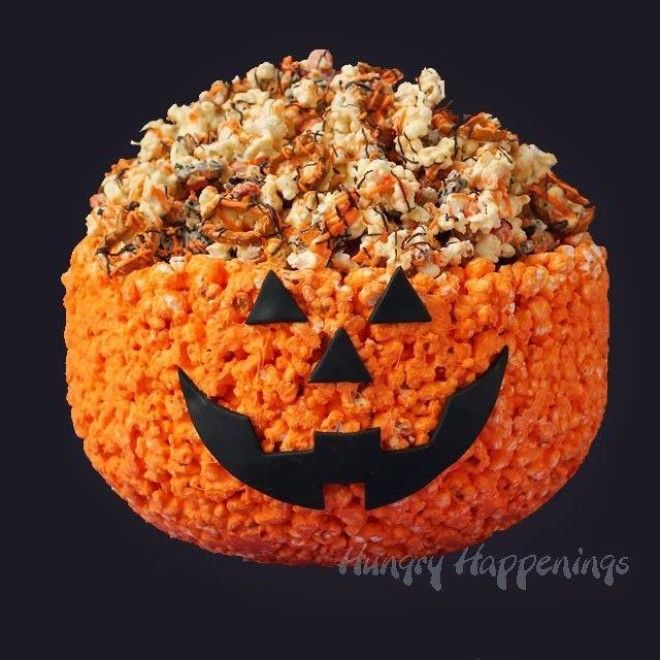 Hot Dog Mummies:
Pigs in a blanket, Halloween style! What a fun party idea or after school snack for the kids. Bonus: these hot dog mummies are so easy to make and take very little time.