The Red Bull Cliff Diving World Series, which is set to begin its eighth season this week, is an adrenaline-pumping high diving competition that takes place among some of the world's most breathtaking vistas. Starting June 3, both elite and up-and-coming athletes will perform gravity-defying dives and impressive tricks atop incredible spaces, including an opera house, a volcanic formation, and soaring cliffs. This year is set to be the largest yet, and will begin at Hell's Gate in Possum Kingdom Lake, Texas.
We spoke to top-ranked US men's diver David Colturi to learn the story behind what these divers face during these events, which often draw in thousands of spectators.
Keep scrolling to check out 12 photos that will keep you at the edge of your seat.
The first stop this year will be in Hell's Gate, Texas, where observers will have to take boats, kayaks, or paddle boards to see the event. A large lake sits surrounded by beautiful mansions all around, and two large natural cliff formations are separated by a channel.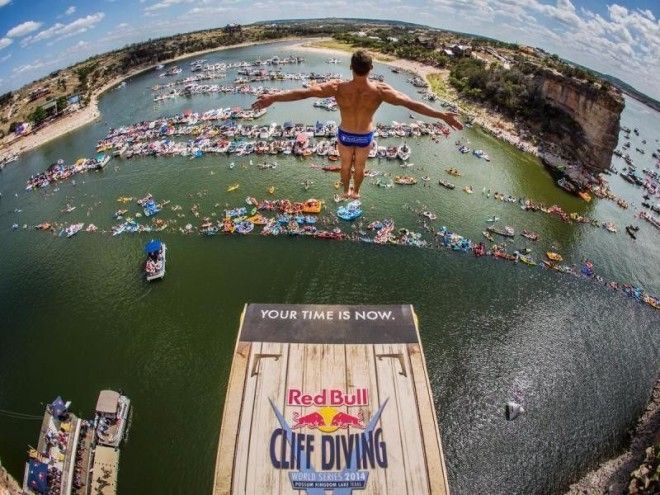 Past stops have included Inis Mór, the largest of the Aran Islands off the coast of Ireland. "It is hands down the most terrifying and incredible location I have ever dove at," Colturi said of the blowhole he can be seen diving into here. Colturi told us the blowhole is referred to in Gaelic legend as "The Serpent's Lair" because of the hissing sound its large swells make when they crash against the rocks.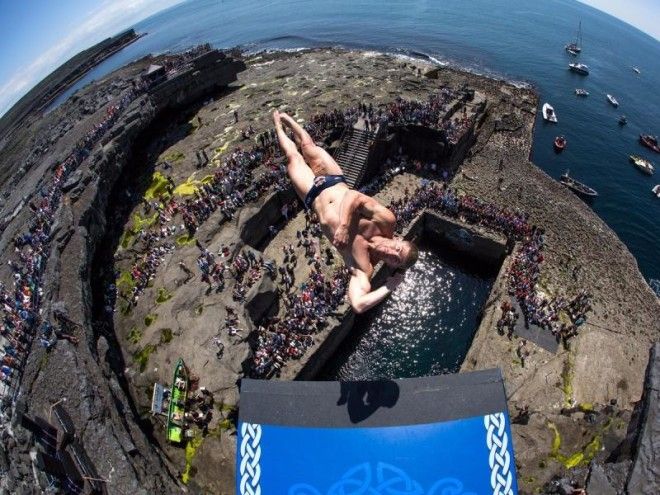 Pictured here is La Rochelle, France. The platform is set at the base of the Saint Nicolas Tower, which sits surrounded by a marina with a stadium-like setup. "You really feel like a rock star for a day when you're looking out over such a big crowd," Colturi said. More than 60,000 people showed up to see it.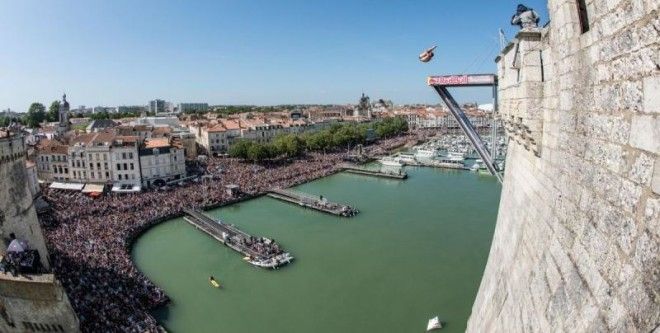 Another popular location is Mostar in Bosnia and Herzegovina. According to Colturi, the city has a history of high diving, and the Stari Most bridge (pictured here) has traditionally been a place for men to jump off of when transitioning into adulthood. The bridge was destroyed during the Croat-Bosniak War but was later redeveloped into the popular spot it is today.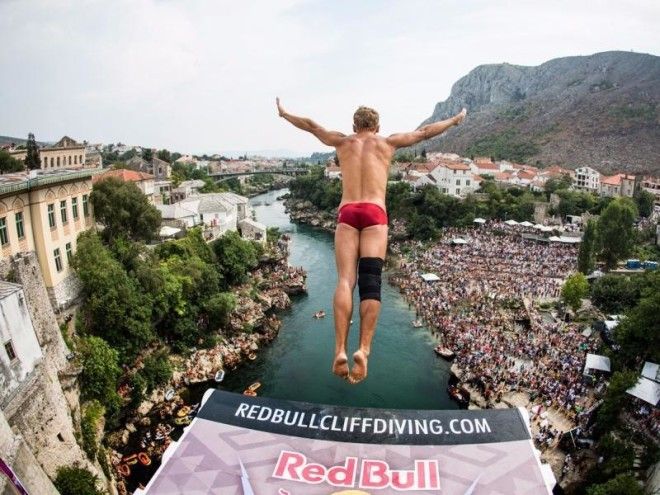 Pictured here is Copenhagen, Denmark, where competing divers jumped off of the opera house. While the building itself has an impressive design, the views were equally amazing.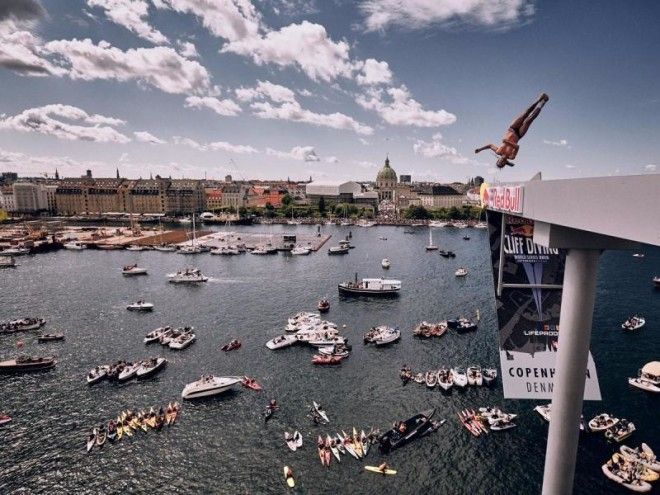 "This is one of the most mind-blowing places you'll ever be," Colturi said of Islet Franco do Campo, in Portugal's Azores Islands. The islet is home to an ancient volcano and is known for having swells that can get up to 10 feet tall, as well as rainy and windy conditions that make it one of the most dangerous places to dive.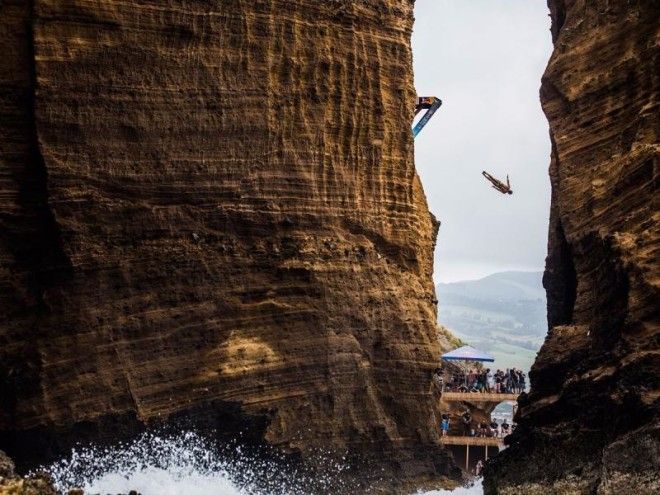 What's incredible about the Portugal locations is that dives are often performed straight from the cliffs themselves, rather than from a platform. "It's refreshing to be up there connected to the cliff, when it's just you and the environment," Colturi said.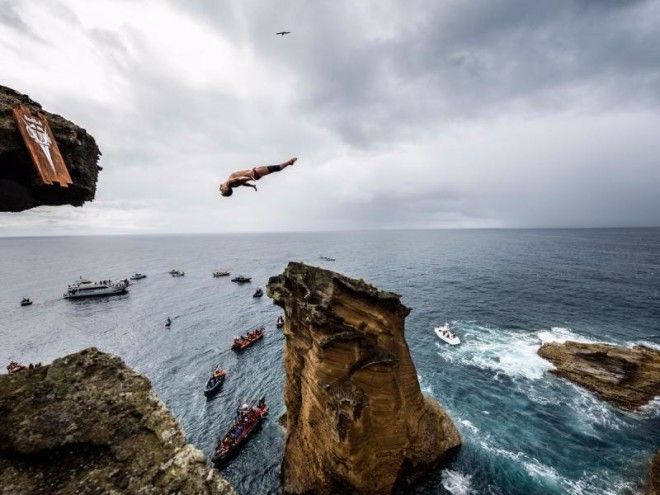 Pictured here is the Snakehead rock formation in Islet Franco do Campo. The formation, which from afar resembles a snake with its head perched up, is one of the trickiest dives out there, since the diver must jump into a small pool of water. "It's one of those locations where you know it's safe, but it can be very visually deceiving," Colturi said.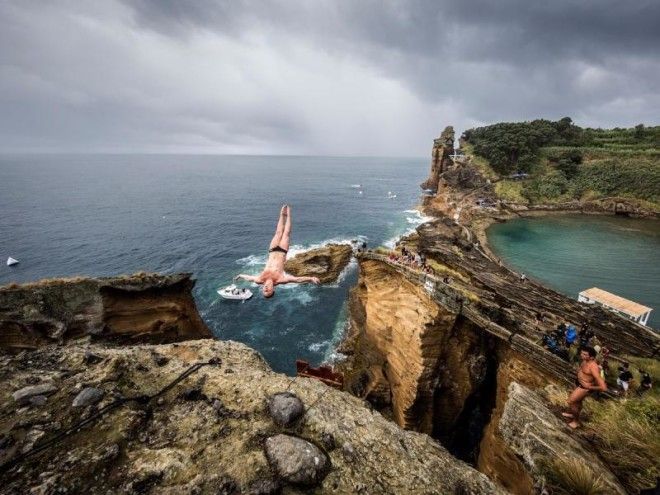 Oftentimes divers will have to scope out destinations before they arrive and focus on their mental preparation, since no diving facility has platforms this high. Divers will practice in Olympic diving pools, but those platforms will usually only reach half the height the divers typically jump off of during the Red Bull series.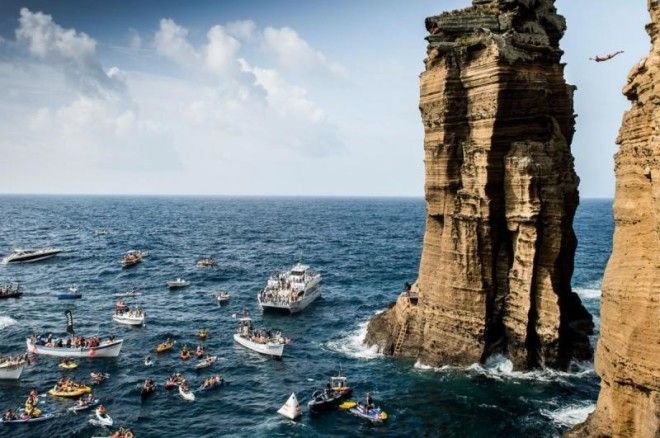 Pictured here is "The Gap", which is a natural small channel located between two giant rock formations in Wang Long Bay, in Krabi, Thailand. "Southeastern Asia is just one of the most breathtaking places I've ever been to," Colturi said.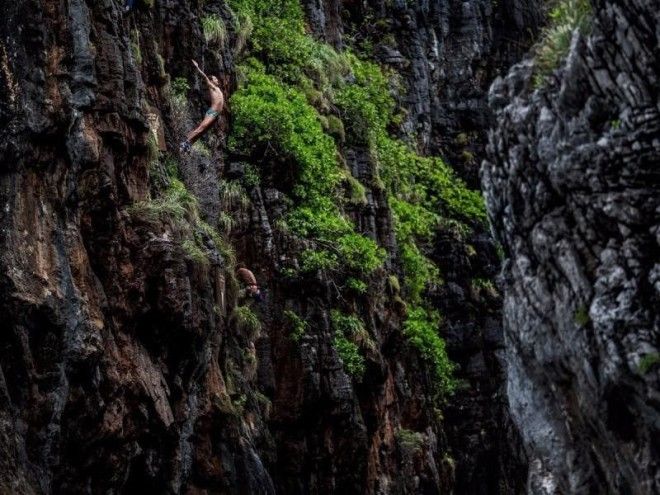 Also in Thailand is Hong Island, where people gathered on boats and floated over to the venue to watch the event take place. Some locations in Thailand will include dives straight off of the natural rock formations, like in Portugal, while others will incorporate platforms into the dive.
This photo was taken in Bilbao, Spain. The city is known for its impressive architecture, which includes the Guggenheim Museum, pictured in the background on the left side.