Now is the perfect time to bring the warm colors and beauty of autumn into your home with beautiful and simple DIY projects.
When it comes to entertaining, add elements of nature's fall bounty to your home decor by making your very own autumn leaf bowls that will last straight through to Thanksgiving. This handmade, stylish bowl is made entirely out of maple leaves and looks lovely displayed with the seasonal decor. (Note: You can use real or fake leaves, but the the silk craft leaves ensure that the bowl can be re-used each year.)
After the bowl is complete, it can serve as a candy dish, serving piece or even a festive centerpiece with autumn goodies or potpourri. The possibilities are endless!
Not only is this an easy craft to make, the colorful fall foliage bowl will brighten your room and be a beautiful conversation piece when you have family and friends in your home.
What you'll need:
Several dozen fake maple leaves
Mod Podge
Paintbrush
Plastic wrap
Medium-sized bowl
- When you have your supplies ready, put the bowl together.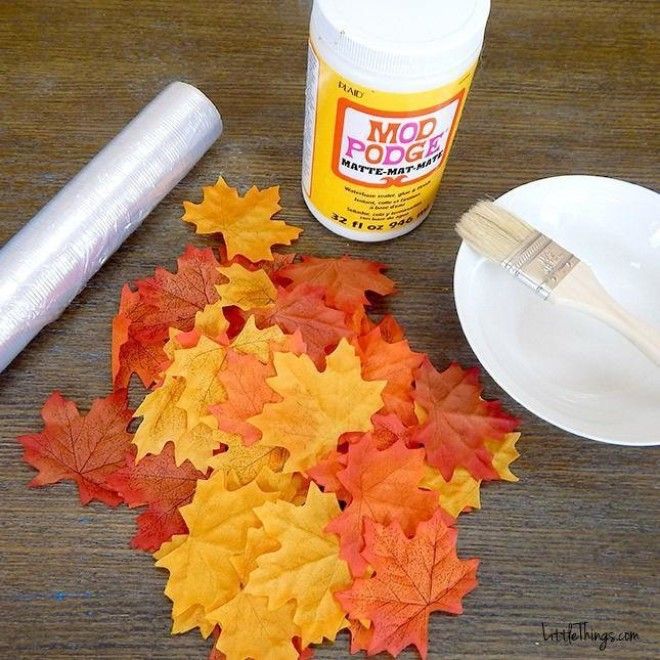 - Prep the bowl that you're using as the mold by covering it with plastic wrap. (Be sure you cover every inch of the bowl, as this will help prevent the leaves or excess glue from sticking to it.)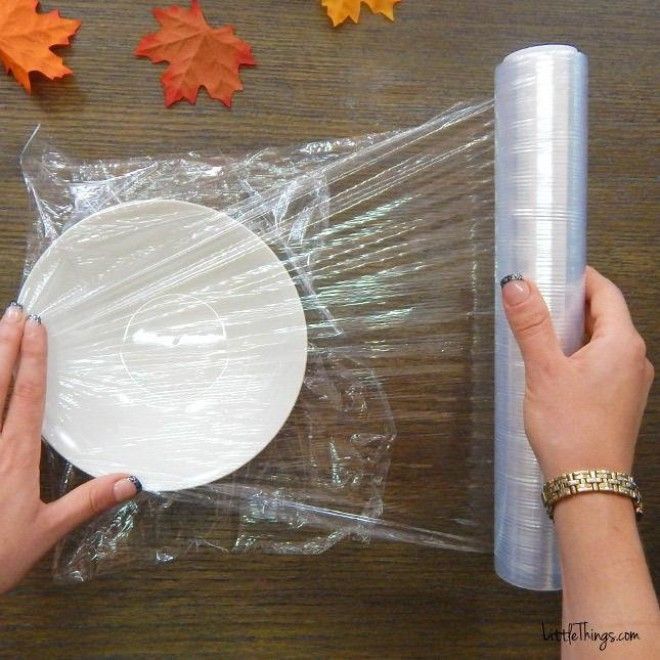 - Turn the plastic-wrapped bowl upside down and apply Mod Podge directly to the plastic wrap. Place the leaves (one at a time) onto the glue, and add another layer of Mod Podge on top to make each leaf stick.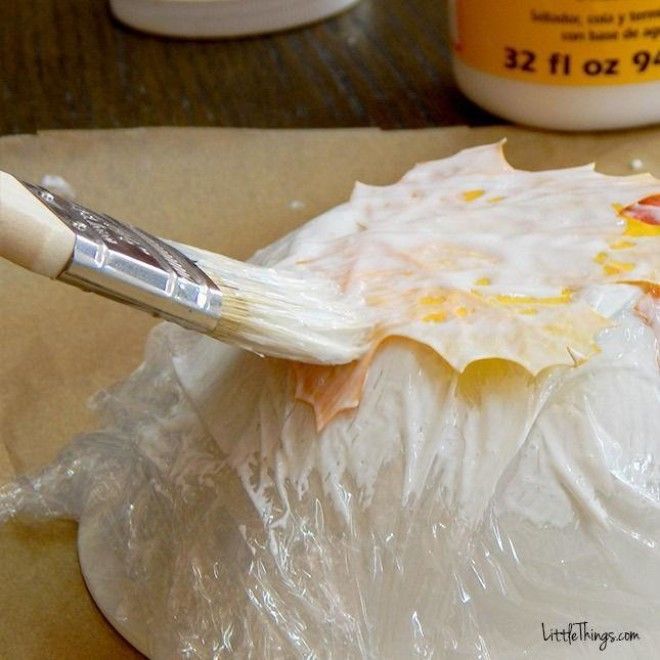 - Use A LOT of glue to make sure it fully adheres to the leaves. (And don't worry about using too much Mod Podge, as it dries clear and cleans up easily with soap and water.)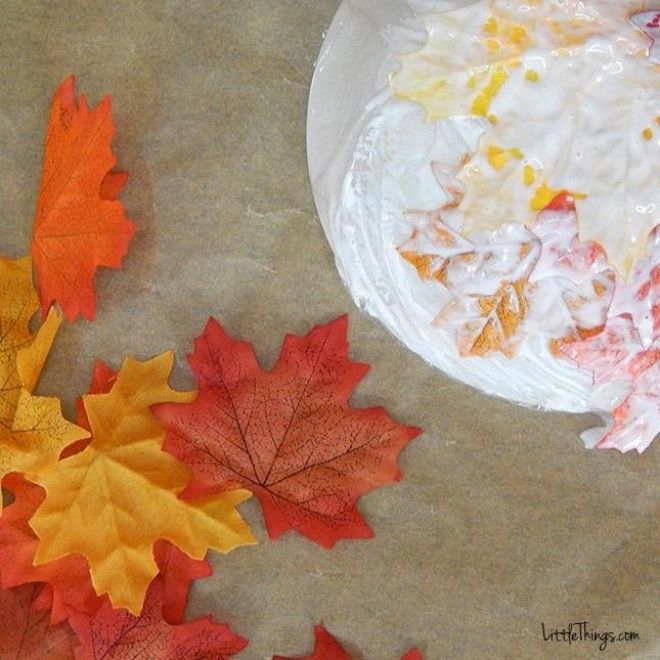 - Continue "painting" on the leaves making sure there are no gaps. Get creative and use a variety of colors and sizes until the entire bowl is covered.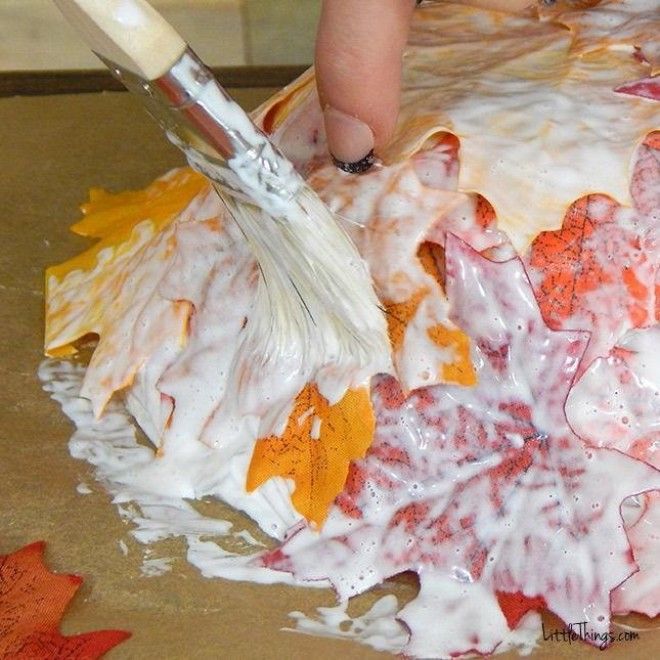 - Add another coat of Mod Podge over all the leaves, and allow it to dry overnight.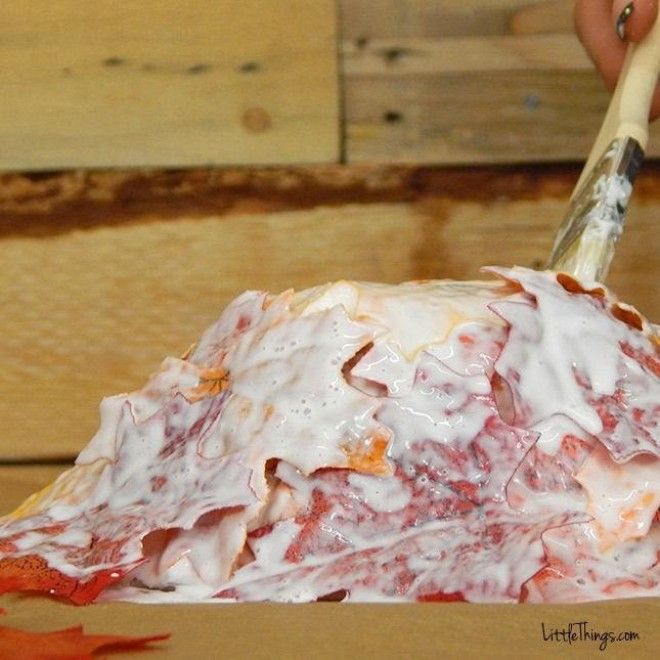 - The next day, carefully separate the leaves from the plastic wrap and carefully cut off any excess glue that remains.
Now comes the fun part: filling the beautiful decoration with goodies that will transform your home for fall. This beautiful fall bowl should reflect the coziness and comfort that comes with the holidays, so I personally love filling it with tangerines, fresh mint, and scented pine cones.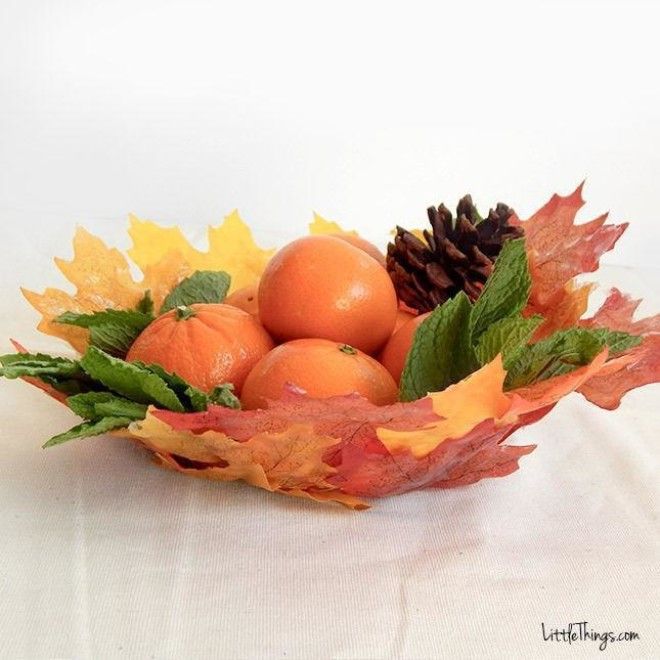 The beautiful aroma from this decorative bowl makes me want to curl up up by the fireplace with a good book.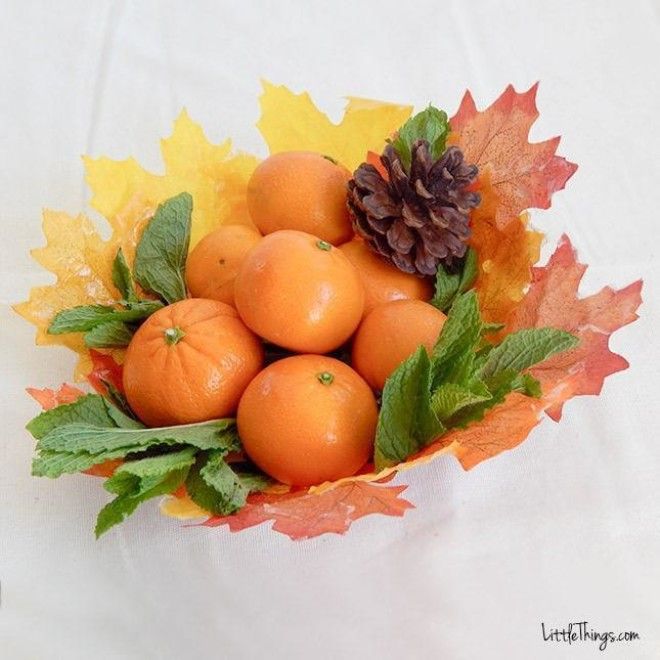 This is such a simple DIY project that will infuse a bit of fall into your home and can last the entire harvest season.
Remember, you can easily fill it with candy when those trick-or-treaters come knocking, and then "recycle" it as a table centerpiece that will take you all the way to Thanksgiving.