What do the Chicago skyline, a cat, a subway map, a Van Gogh, and a skull all have in common?
They've all been re-created into beautiful masterpieces using... bacteria.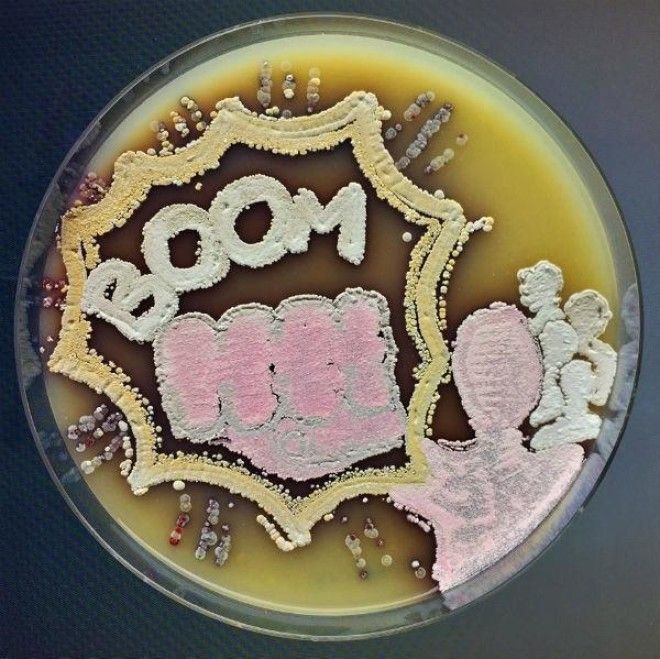 And BOOM is bacteria, too.
The American Society for Microbiology just held its first-ever Agar Art contest, challenging microbiologists to mix science with art. Their main rule: to use microbes as the paint and agar (a jelly-like substance) as the canvas.
Let's just say I'm glad I wasn't a judge — it would have been a tough call. After 85 submissions came rolling in, it's evident that science and art can overlap in a very special way.
Here are the top 3 winners: 1. Neurons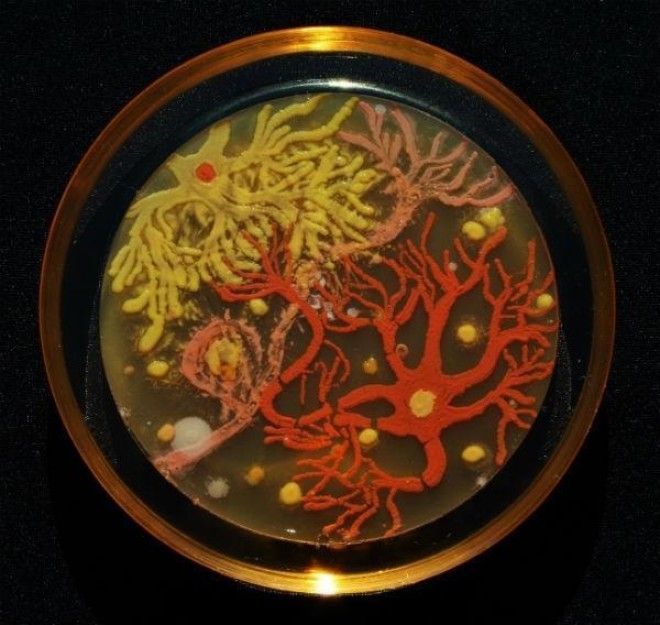 Submitted by Mehmet Berkmen of New England Biolabs, with artist Maria Penil.
2. NYC Biome Map

Submitted by Christine Marizzi, an educator at a community lab. This art piece was created as a collaboration between citizen scientists and artists at Genspace: New York City's Community Biolab.
A subway map! Ahh. I love this description of it:
"Microorganisms reside everywhere, yet they are too small to be seen with the human eye. New York City is a melting pot of cultures - both human and microbial - and every citizen has a personalized microbiome. Collectively, we shape NYC's microbiome by our lifestyle choices, and this unseen microbial world significantly impacts us."
3. Harvest Season
Created by Maria Eugenia Inda, a postdoctoral researcher from Argentina working at Cold Spring Harbor Labs.
People's Choice Winner: Cell to Cell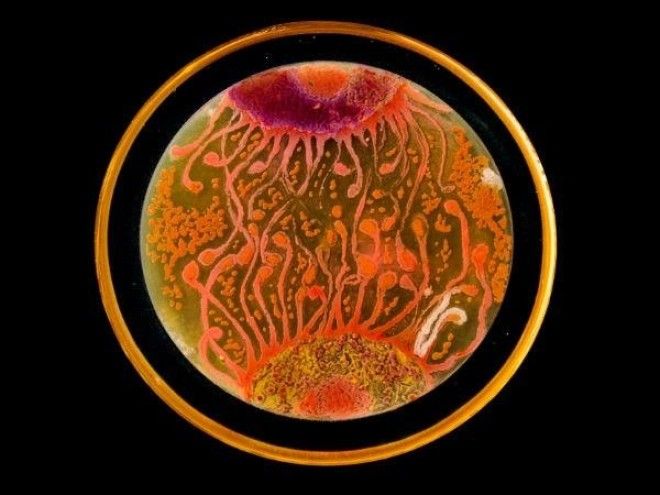 It had the most Facebook Likes! Created by the group that won first place, Mehmet Berkmen with artist Maria Penil.
When the idea of bacteria goes from "ew" to "interesting!" ... that's awesome.
Bacteria is so normal and EVERYWHERE (you're entirely covered with it, sorry), but it's still often seen as such an icky thing. This is one way to show it in a different light and have a lot of fun doing so.
There were many submissions that didn't win the art contest but are still a sight to behold — like this version of Van Gogh's "Starry Night." Whaaat!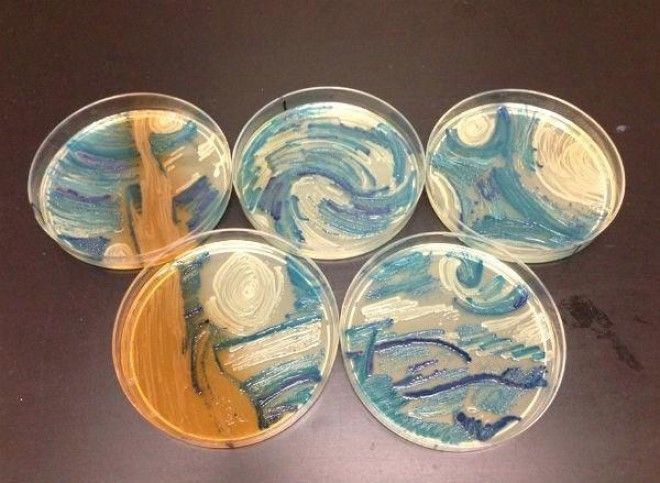 Or this butterfly that almost looks real.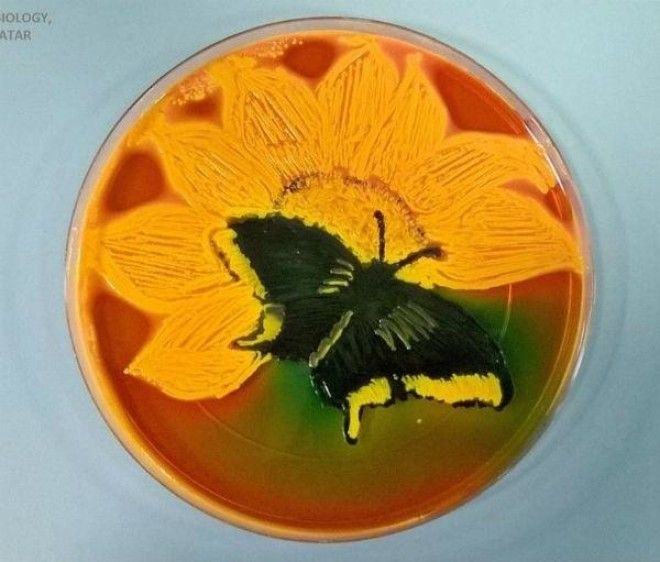 And then there's St. Louis. Hey there, St. Louis.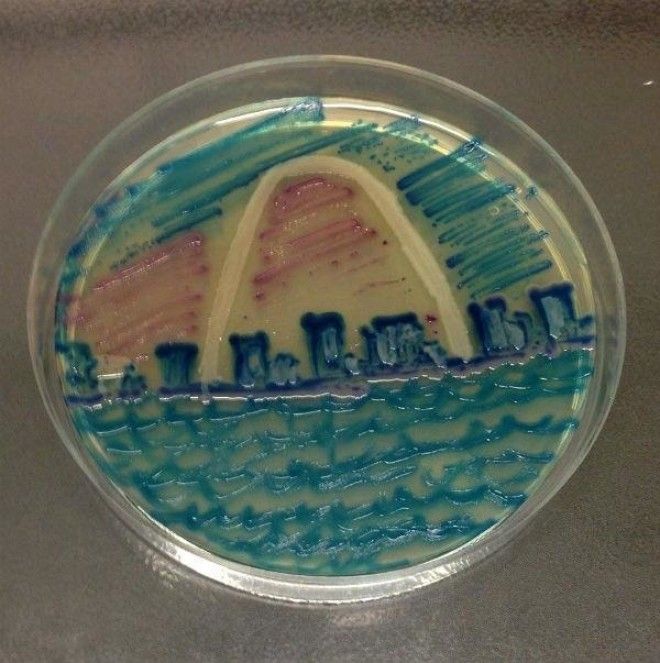 Looks like it was picture day for one petri dish.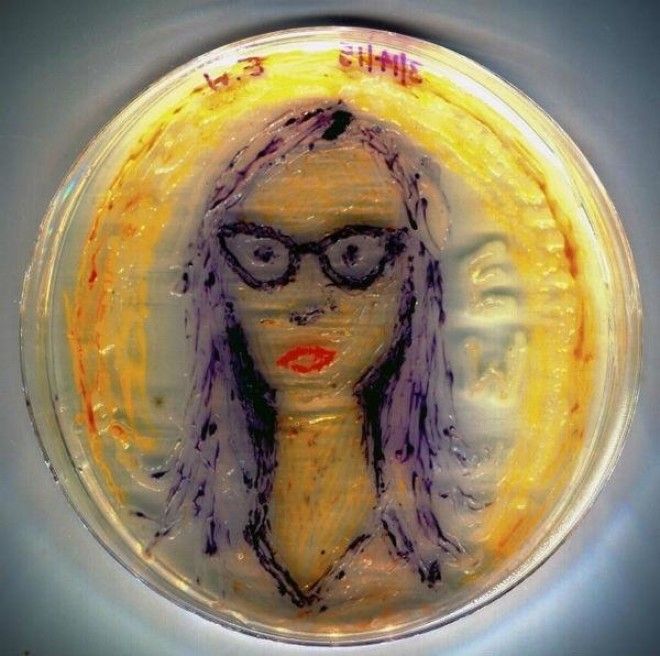 What a cool competition and a way to show that science and art don't have to be seen as opposites.
Left-brained, right-brained, whatever. We tend to box ourselves in to thinking we're only good at certain things. But ... says who? Just go for it.