Kids love to do it, it's inevitable but also vital to their physical, emotional, and cognitive development. They start with barely gripping the writing instrument, then putting doodles to paper, then eventually spelling and words. All the while trying to instill that the walls are NOT a canvas for their burgeoning artistic career. It is also being discovered that the practice of tracing is extremely helpful, and doing this is the fast and easiest way for children to learn the alphabet. With that said, the creators over at Boogie Board were lending their ears and created a solution for every parent and child's demand.
The Boogie Board is an artistic and educational tool to help children learn writing fundamentals, while not marking up furniture and walls like a graffiti artist. A distinctive feature the Boogie Board contains is an LCD screen that is transparent, allowing kids to trace on to it, with the provided stylus or their own finger. The kit comes with educational templates, allowing them to trace upper and lower case letters then eventually whole words. Erasing is easy and can be done with just a (literal) push of a button.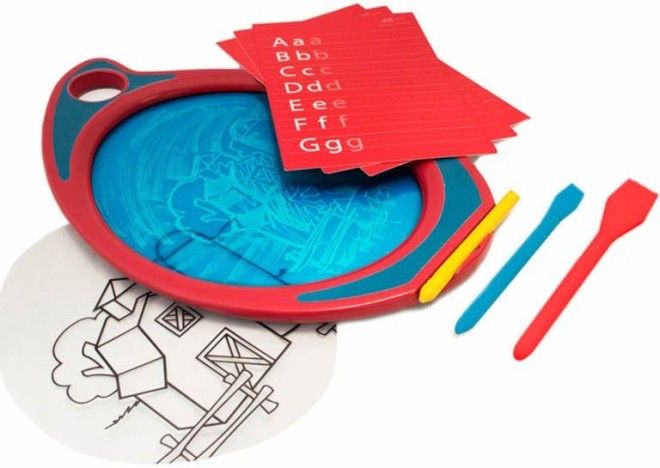 The design of the board itself is shaped like an actual artist's palette, and because the LCD screen gives off luminous display, kids are encouraged to doodle and tap into their creative side. And because this is the age of widgets and electronic add-ons, there is a tablet app available for download that transforms the Boogie Board into an educational tool challenging children to draw shapes, write numbers and practice penmanship. Various other accessory packs will be available for building on the creative aspect, they include more drawing sketches and various styluses for children to experiment with.