For some people, the regular activities of everyday life are just not enough to keep the blood flowing. Sitting at an office desk, taking the train, drinking your coffee — they can only provide you with so much of a rush.
Extreme thrill-seekers will do everything from leaping off bridges to diving with sharks to get the adrenaline fix they need.
Certain activities are done in groups, like drift racing or waterfall jumping, but some are solo efforts for those who are just brave — or crazy — enough.
In Scotland, a cyclist rides off the Garry Bridge while attached to a bungee rope.
"Sidewalk skiing," where a car goes up on two wheels, is popular with young adults in Saudi Arabia. This stunt gained worldwide attention when M.I.A included it in her popular "Bad Girls" music video in 2012.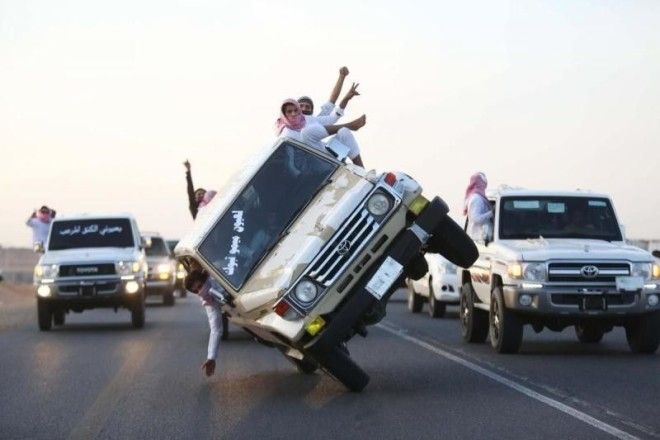 In Hawaii, a tourist takes a dive of faith, swimming with a shark without the protection of a cage.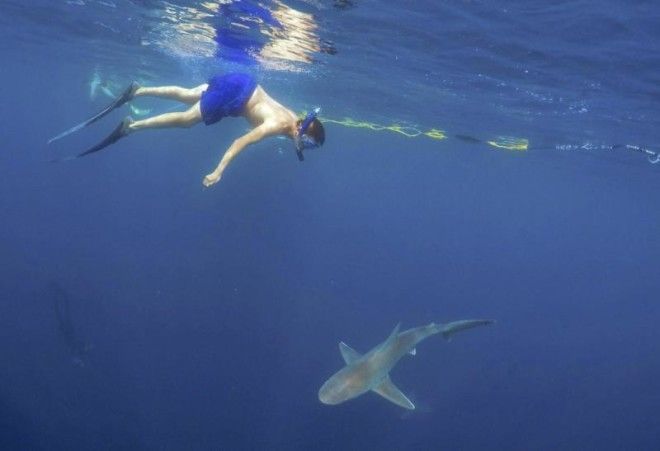 Alain Robert, who is known as "The French Spiderman," climbs Paris' 500-foot-tower Ariana Tower, located in the La Défense financial district.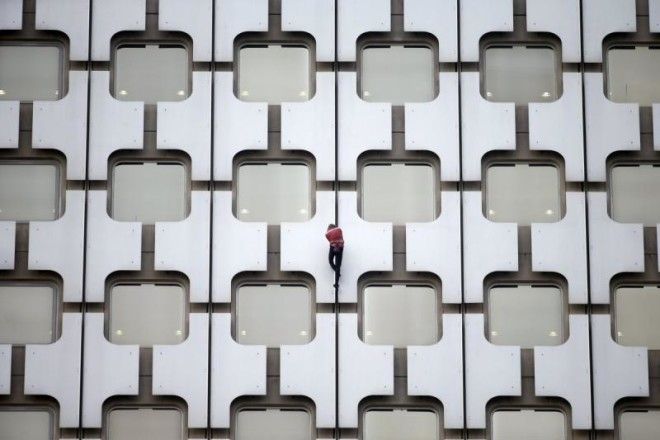 A participant in the first international waterfall jumping competition jumps down a flowing stream in the Bosnian city of Jajce.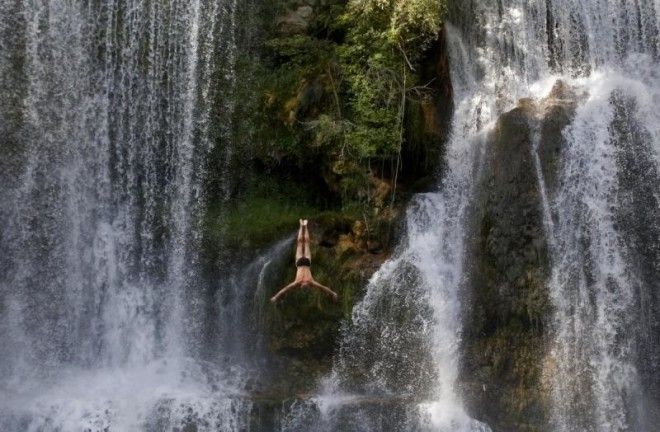 A storm chaser in Texas positions himself under a large thunderstorm supercell, which was charging at speeds of up to 50 miles per hour.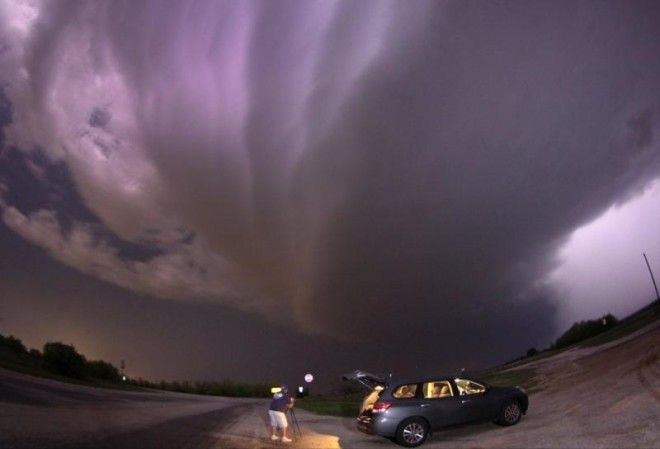 A rope-jumper braces to leap from a 144-foot bridge in Russia.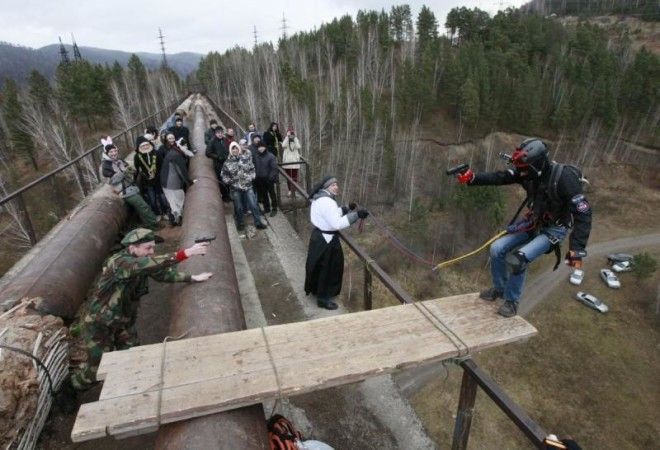 A competitor in the Highline Extreme event walks over a thin wire high above the mountains of Switzerland. The lines of wire range anywhere from 148 feet to 1,624 feet long.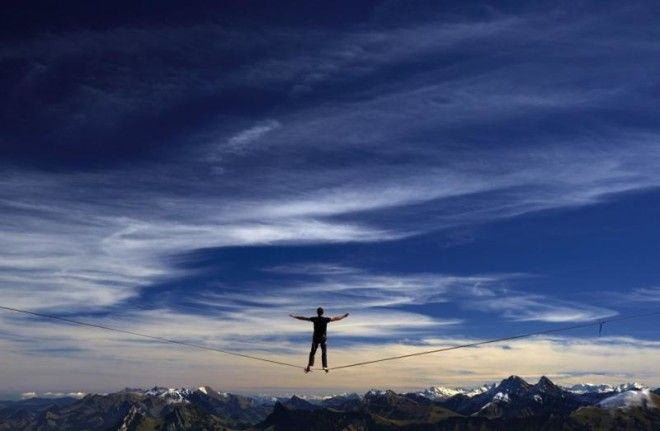 A student practices stunt performance at the Tagou Wushu School in Zhengzhou, China.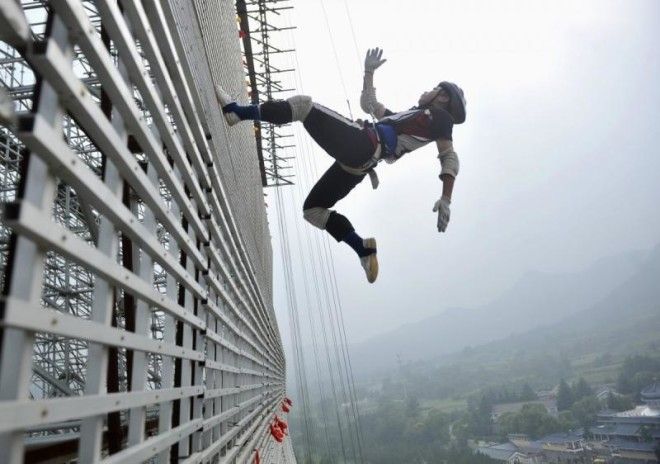 One of the most painful ways to get your blood flowing is this "Electroshock Therapy" obstacle course, where participants run through hanging wires of about 10,000 volts. It's part of the German "Tough Mudder" event, where several military-like obstacles are presented to those willing to take on the challenge.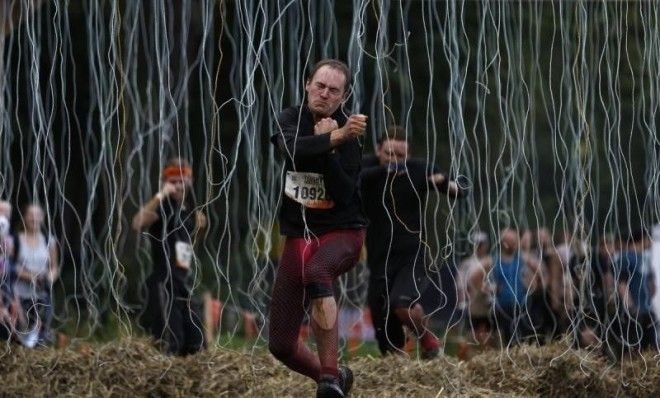 In Praia do Notre, Portugal, in 2011, Garrett McNamara set the world record for the largest wave ever surfed. The record is officially 78 feet, although McNamara claims he also rode a 100-foot one there. A brave surfer tries to beat his record in the scene pictured.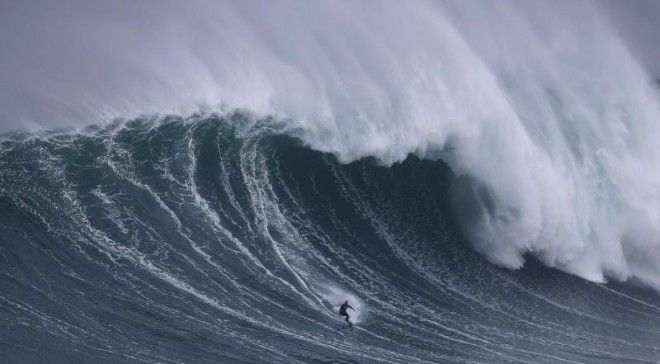 A BASE jumper takes a leap from Malaysia's Kuala Lumpur Tower, which stands at nearly 1,000 feet tall.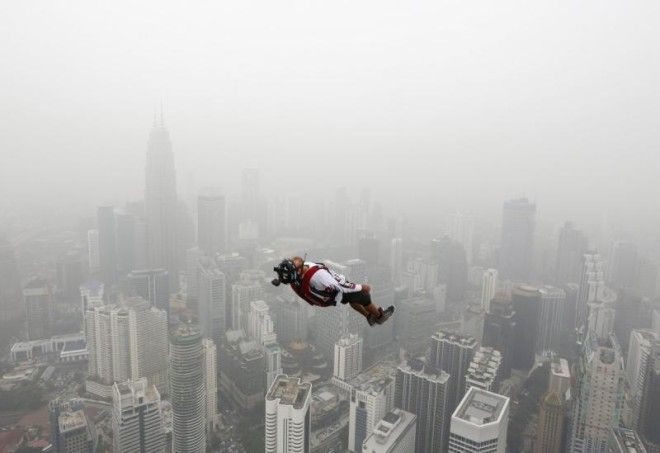 A stuntman rides a motorcycle inside an attraction nicknamed the "Well of Death" during a fair in Nepal.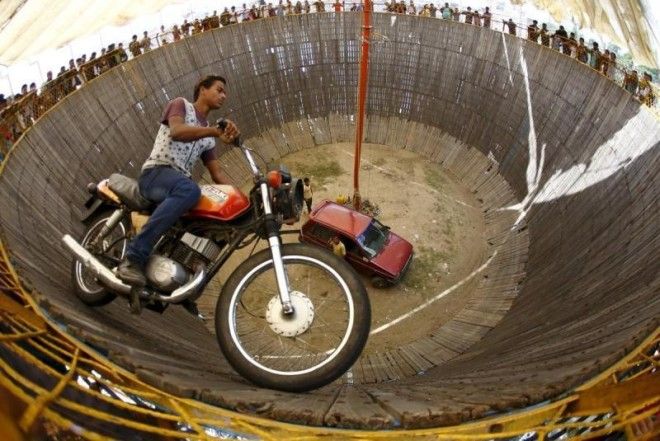 Wingsuit flyers take air in the Yunnan province of China as they practice for a competition.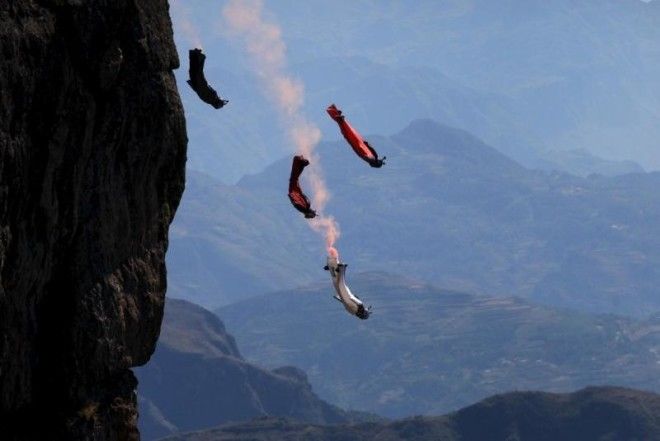 During the 50th Paris Air Show in 2013, a "windwalker" balances along the slim platform atop a Boeing Stearman biplane.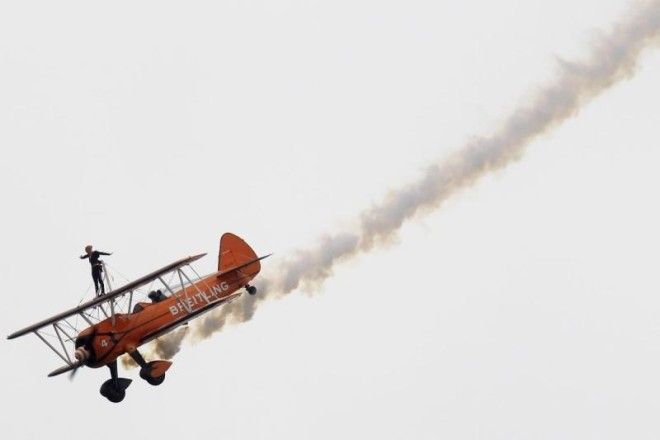 During the course of a drift game in the Shanxi province of China, stunt drivers jump from car to car while the vehicles are turned on their sides.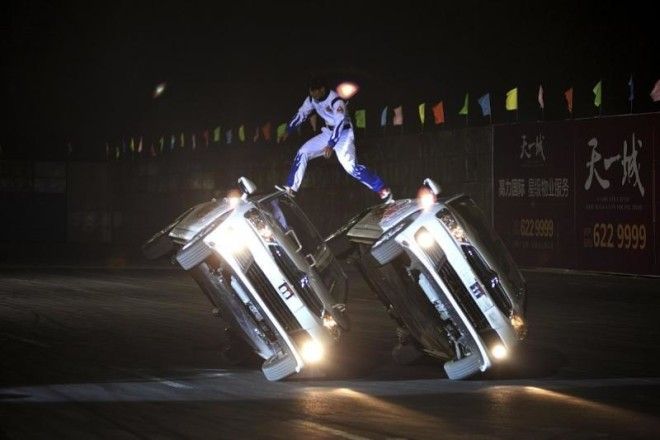 The running of the bulls takes place at the annual San Fermin festival in Pamplona, Spain. Bulls charge behind runners during an event that usually takes three to four minutes.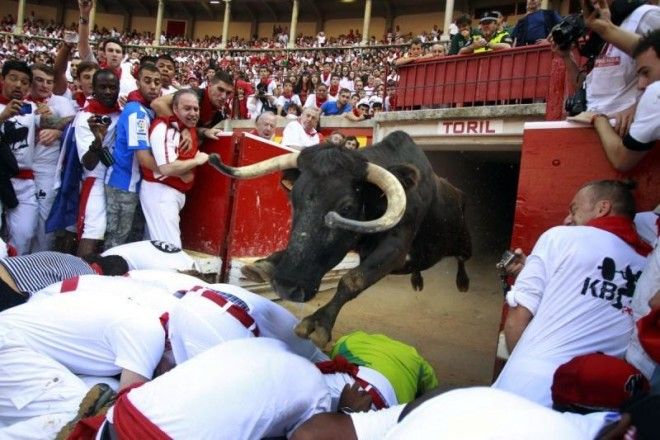 Kids jump through the air as they perfect their parkour skills at the Shati refugee camp in Gaza City, Palestine.