Saudi Arabia is currently on the way to building the world's tallest building which would rival Dubai's Burj Khalifa, currently the tallest building in the world. It is to be called
Jeddah Tower
and is currently already under construction. Costing at least $1.23 billion, it will also be a part of a $120 billion proposed development known as
Jeddah Economic City
. Interestingly, it is being designed by Adrian Smith, the same American architect who designed Burj khalifa. It will also become the first structure to reach the 1 kilometer high mark.
The Jeddah tower which would resemble a desert plant shooting into the sky as a symbol of Saudi Arabia's growth and fortune, has a triangular footprint and a sloped exterior design to reduce wind load. It also has a high surface area which would make it ideal for residential units . Though no official floor count has been given, the architect Adrian Smith stated in an interview that it would be about 50 floors more than Burj Khalifa. This leads us to believe that it would have more than 200 floors.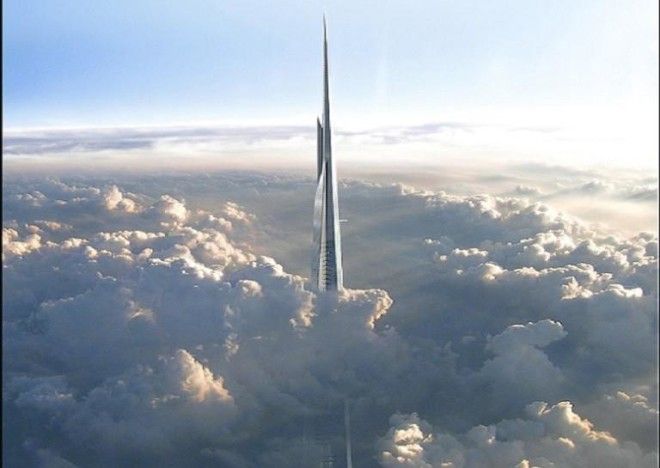 What the Jeddah Tower is expected to look like
The building would have a total of 59 elevators including double deck elevators and 12 escalators, it would also boast the world's highest observation deck to which high speed elevator's would travel up to 33 feet per second in both directions (slightly over 35km/hr). Jeddah tower would have 3 sky lobbies where elevator transfers can be made. This implies that no elevator would go from the bottom to highest floor which in some way makes sense considering the incredible height of the building.
The Creator and leader of the project, Saudi Prince Al-Waleed bin Talal, intends for it to bring significant change in terms of development and tourism to the city of Jeddah. It is estimated that the construction will take five years and 3 months to complete. Although other experts believe it might take significantly longer considering the duration of the construction of Burj Khalifa.