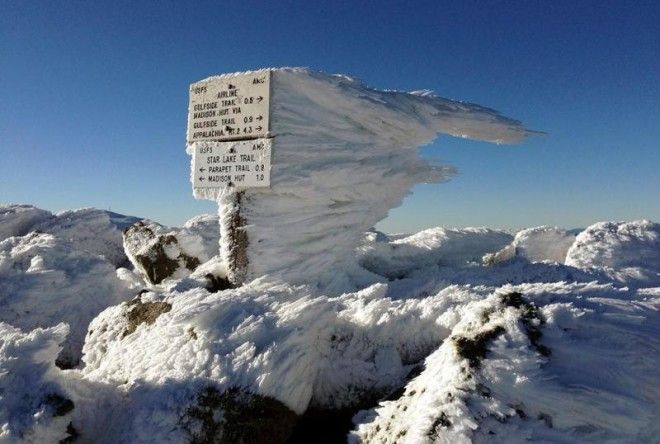 Rime ice extends several feet horizontally from a sign marking the summit of 5,774-foot Mount Adams, the second highest mountain in New England, on Tuesday, November 17, 2015, in northern New Hampshire. Monday's freezing fog and strong winds formed the rime ice, creating a winter wonderland above treeline in New Hampshire's aptly named White Mountains.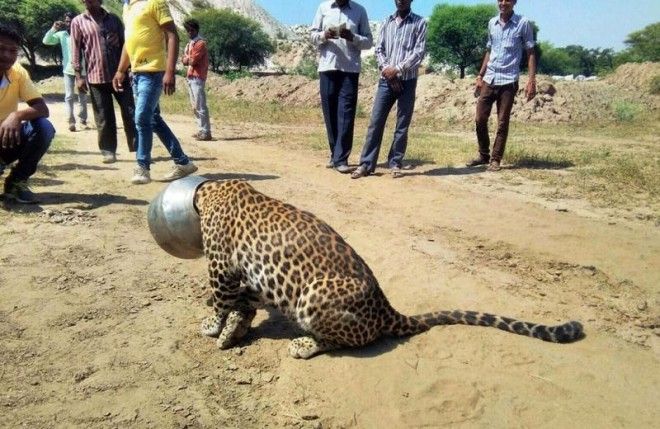 People stand around a leopard with its head stuck in a vessel in Rajsamand district of Rajasthan state, India, Wednesday, September 30, 2015. The leopard's head got stuck when it attempted to drink water from the pot, according to news reports. Forest officials tranquilized the animal and sawed off the vessel later in the day.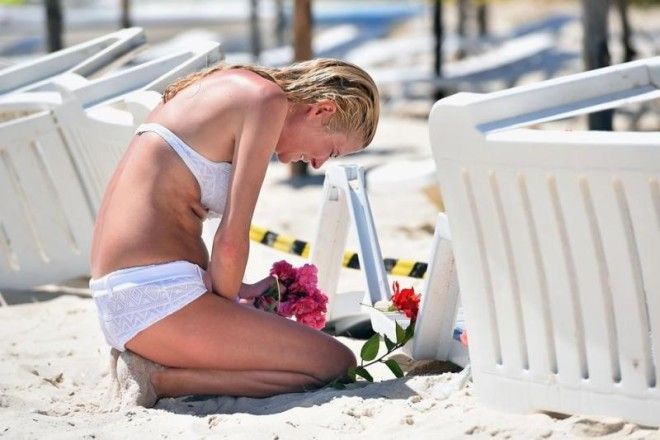 A woman grieves as she lay flowers at the beach next to the Imperial Marhaba Hotel where 38 people were killed yesterday in a terrorist attack on June 27, 2015 in Souuse, Tunisia. Habib Essid Prime Minister of Tunisia announced a clampdown on security after the attack on a holiday resort.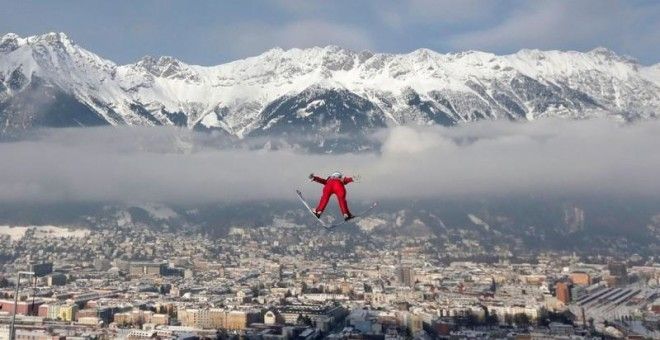 Norway's Anders Jacobsen soars during the trial jump at the third stage of the four hills ski jumping tournament in Innsbruck, Austria, Saturday, January 3, 2015.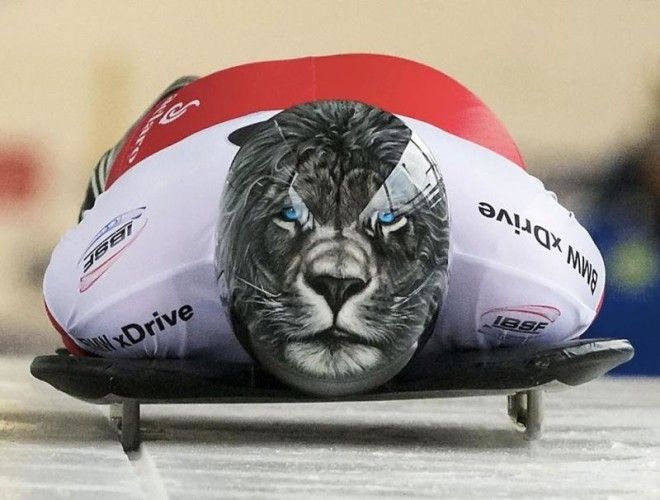 Micaela Widmer of Switzerland competes during the women's race at the Skeleton World Cup in Altenberg, eastern Germany, November 27, 2015.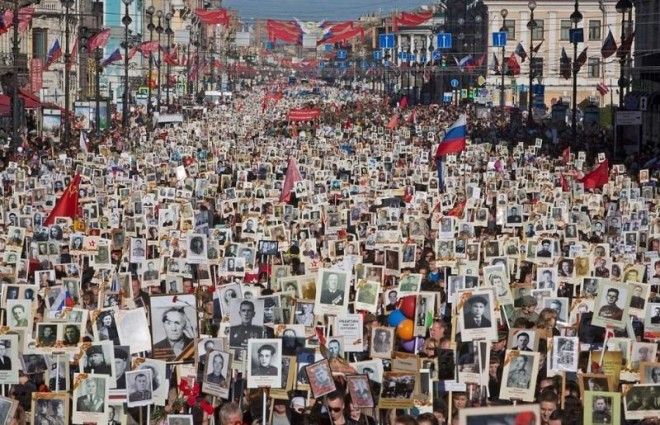 Local residents carry portraits of their ancestors, participants in World War Two as they celebrate the 70th anniversary of the defeat of the Nazis in World War II in St. Petersburg, Russia, May 9, 2015. About 100,000 people walked in central streets in a march named 'Immortal Regiment' while carrying portraits of their relatives who fought in World War Two.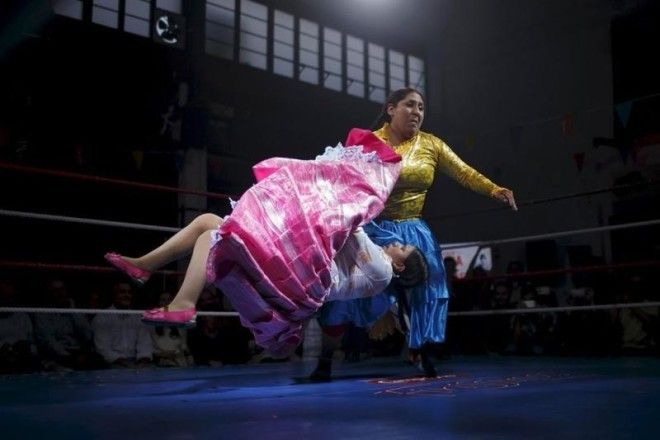 Bolivian wrestlers Yenny Mamani (R), nicknamed Martha "La Altena" and Leonor Cordova, nicknamed Anglea "La Simpatica", battle during a wrestling bout in Madrid, Spain, October 8, 2015.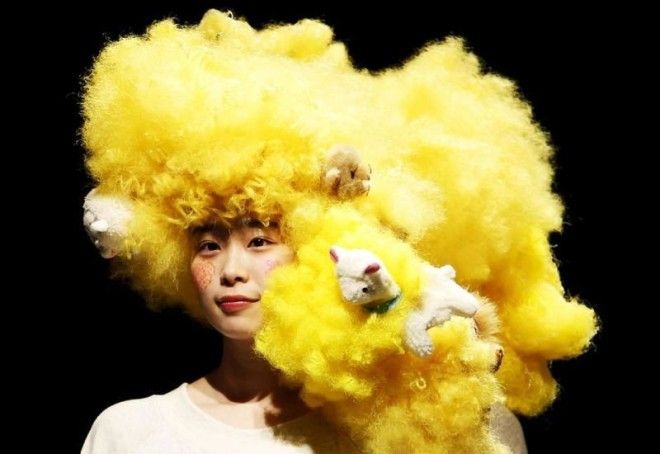 A model presents a creation by designer Takafumi Tsuruta from his Autumn/Winter 2015/2016 collection for his brand tenbo during Tokyo Fashion Week March 18, 2015.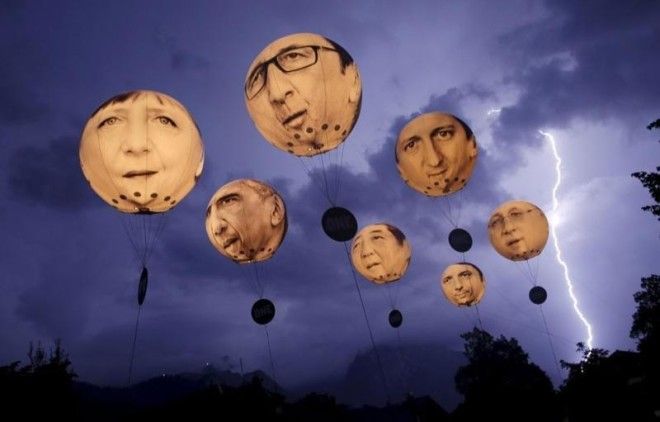 Lightning strikes the Alpine mountains over Garmisch-Partenkirchen as balloons, made by the "ONE" campaigning organisation, depicting leaders of the G7 countries are inflated in Garmisch-Partenkirchen June 7, 2015.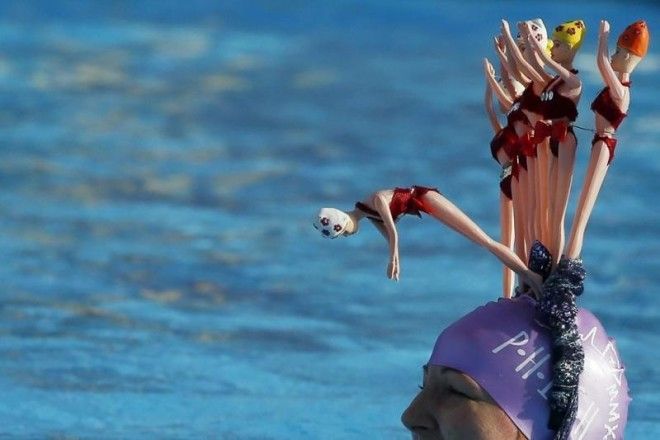 A swimmer competes during the UK Cold Water Swimming Championships at Tooting Bec Lido in south London January 24, 2015.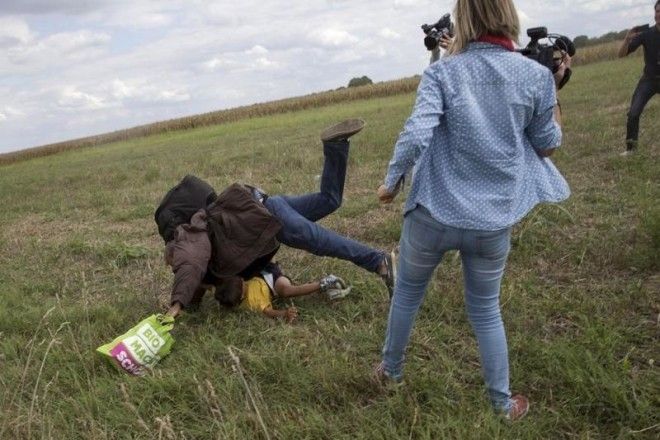 Hungarian camerawoman Petra Laszlo was fired after videos of her kicking and tripping up migrants fleeing police, including a man carrying a child, spread in the media and on the internet. Pictured in Roszke village, Hungary, September 8, 2015.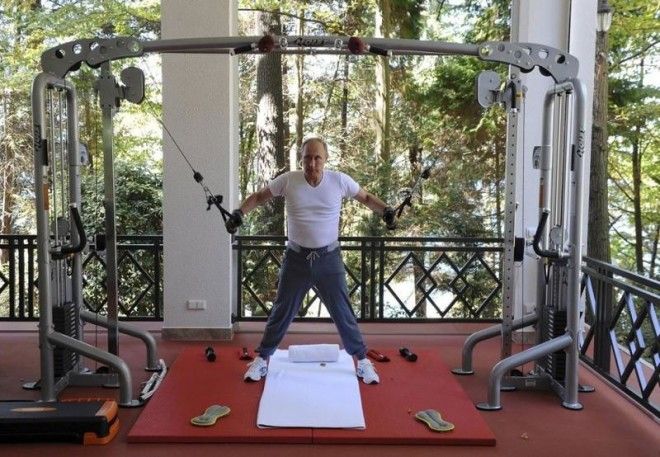 Russian President Vladimir Putin says Russian air strikes in Syria would last as long as was necessary to punish those guilty of blowing up a Russian airliner over Egypt in October, an incident in which 224 people were killed. The air strikes come as Russia endures sanctions imposed for its intervention in Ukraine.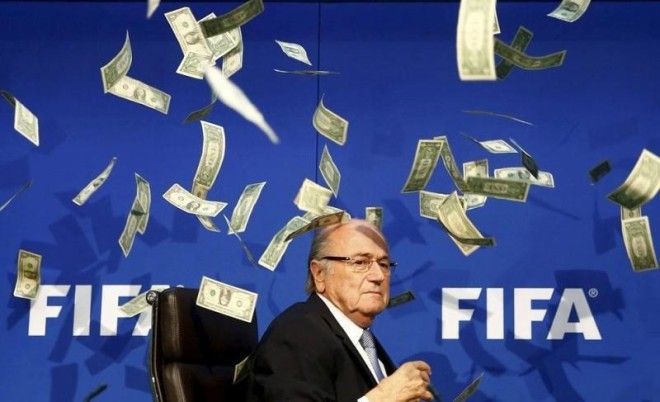 FIFA's ethics judges are aiming to decide the fate of suspended president Sepp Blatter by the end of December, following an investigation into graft allegations. Blatter, who has been the head of FIFA since 1998, faces criminal investigation in Switzerland over a 2 million Swiss franc ($1.96 million) payment from FIFA to European soccer boss Michel Platini. Both men have denied wrongdoing. Pictured in Zurich, Switzerland, July 20, 2015.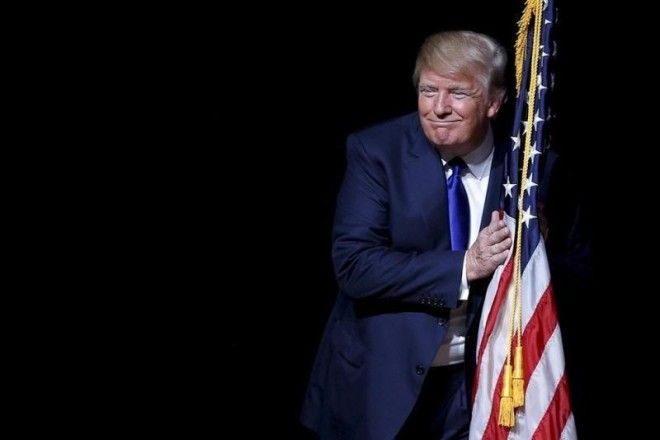 Donald Trump, who leads the Republican presidential field in opinion polls, entered the race in June, campaigning under the slogan, "Make America great again". Over the course of his campaign, he has sparred with popular figures like Fox News anchor Megyn Kelly and put forth controversial proposals such as a plan to have the Mexican government pay to build a wall along the U.S. border and supporting the idea of requiring all Muslims in the United States to register in a special database. Pictured in Derry, New Hampshire, August 19, 2015.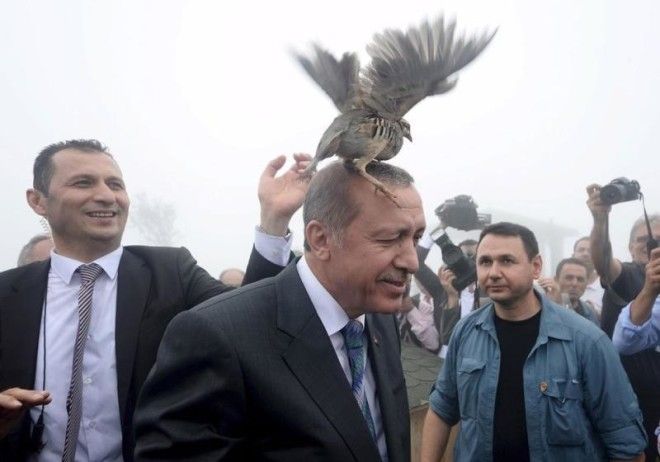 Turkish President Tayyip Erdogan, accused by critics of an increasingly authoritarian style of government, has argued that the country would be better served by a strong presidential system. Turkey faces conflict on several fronts, battling Islamic State militants, Kurdish rebel fighters and militant leftists. Over two million refugees from Syria are encamped on its borders. Pictured in Rize, Turkey, August 14, 2015.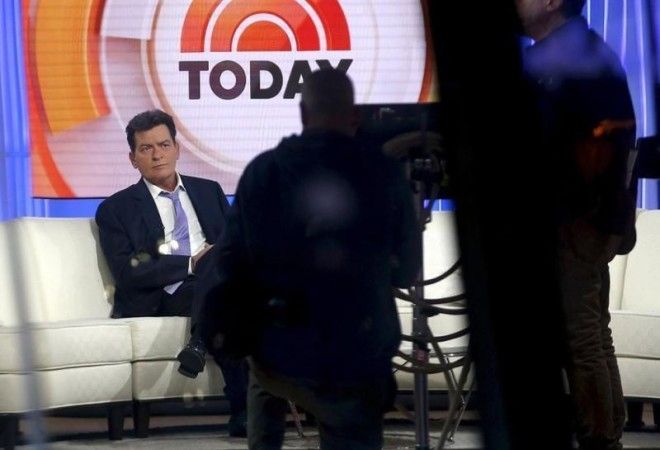 Actor Charlie Sheen revealed that he is HIV positive during a TV interview in November, saying he was diagnosed with HIV about four years ago. Pictured on the set of the NBC Today show New York, November 17, 2015.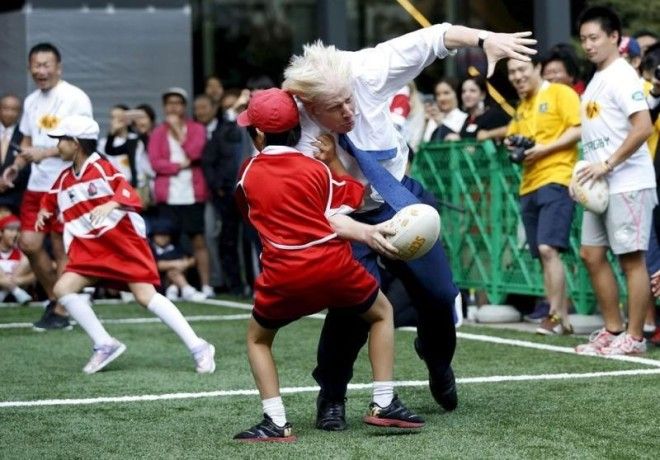 London Mayor Boris Johnson, seen as a rival to Chancellor George Osborne for Britain's Conservative Party leadership, has said he will stand down as mayor in 2016 after being elected as an MP this year. Pictured in Tokyo, October 15, 2015.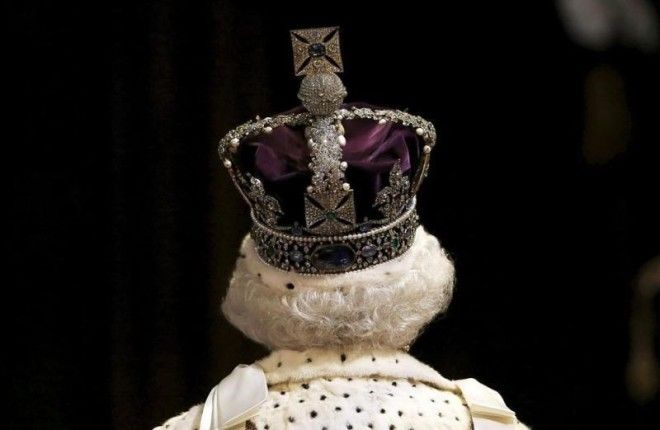 Britain's Queen Elizabeth, who ascended the throne aged just 25 as her exhausted country struggled to recover from the ravages of World War Two, made history in September when she becomes Britain's longest-reigning monarch. Pictured in London, May 27, 2015.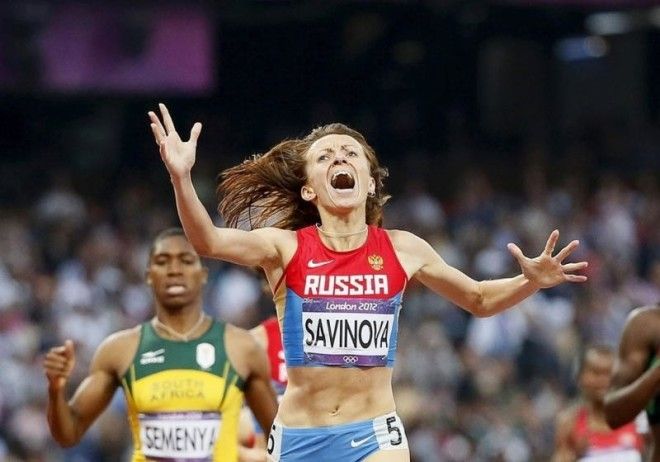 The World Anti-Doping Agency commission in November alleged that Russian athletes have systematically used performance-enhancing substances and recommended Russia be suspended from international competition. If endorsed by the International Athletics Federation (IAAF), the proposal could see Russian athletes excluded from next year's Olympic games in Brazil. Pictured: Russia's Mariya Savinova winning the 800m final at the London 2012 Olympic Games, August 11, 2015.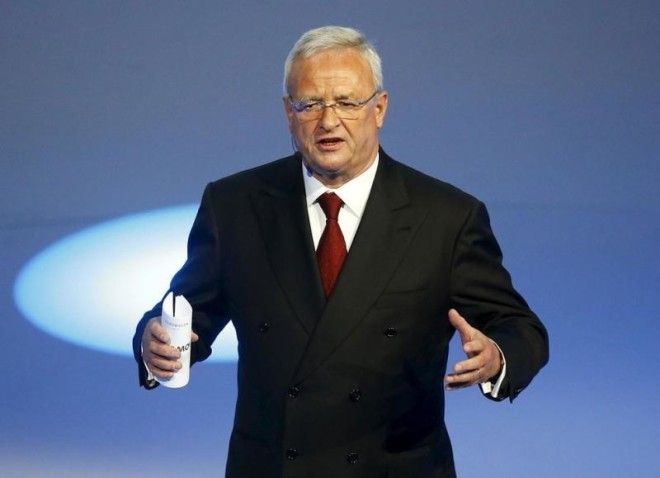 Volkswagen admitted in September it had rigged U.S. nitrogen oxides emissions tests. Auto analysts say the company could face a bill as high as 35 billion euros ($38 billion) for fines, lawsuits and vehicle refits. Volkswagen has declined to comment on whether the firm's culture or the management style of former Chief Executive Martin Winterkorn, who resigned in September, had been a factor in the cheating. Pictured at the Frankfurt Motor Show in Germany, September 14, 2015.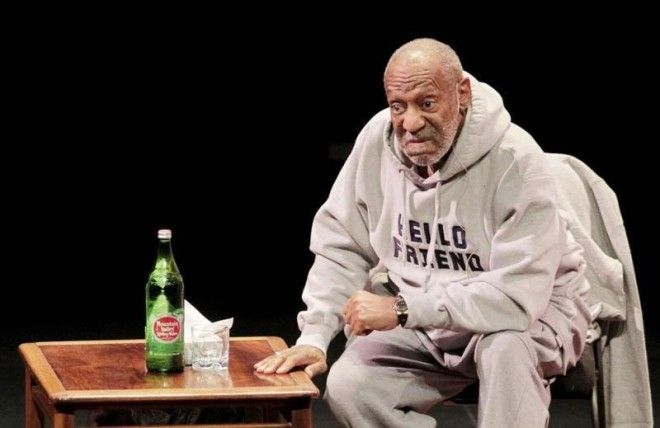 More than 50 women have come forward to accuse comedian Bill Cosby of sexually assaulting them after plying them with drugs or alcohol, allegations Cosby has denied. The comedian has never been criminally charged and many of the alleged incidents date back decades so the statute of limitations for prosecution has long run out. Pictured in Denver, Colorado January 17, 2015.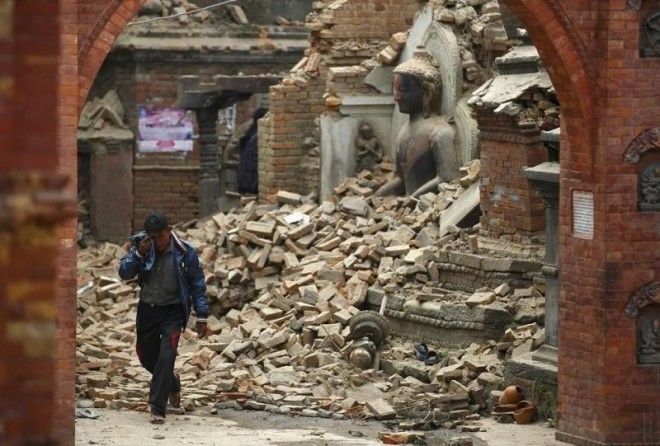 A man cries as he walks on the street while passing through a damaged statue of Lord Buddha a day after an earthquake in Bhaktapur, Nepal April 26, 2015.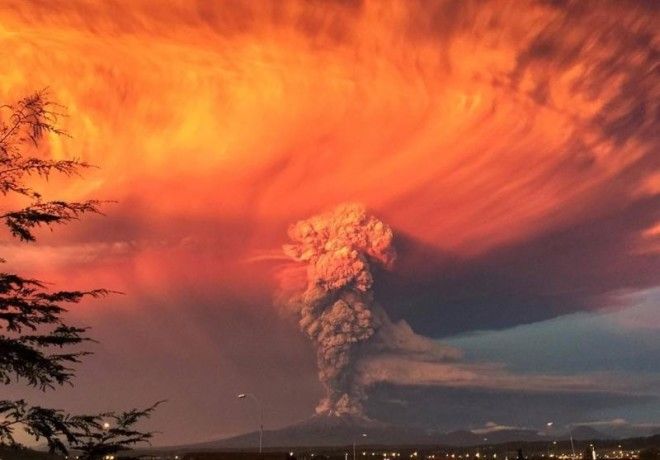 Smoke and ash rise from the Calbuco volcano as seen from the city of Puerto Montt, Chile April 22, 2015.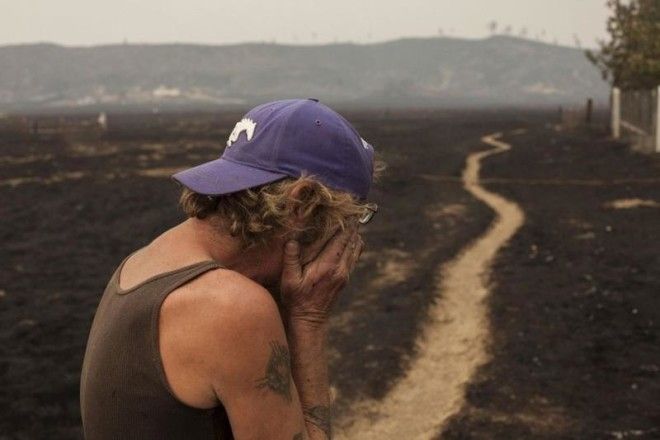 Robert Hooper, exhausted after several days with little sleep, is overcome with emotion while surveying his property that was burnt by the so-called Valley Fire near Middleton, California September 14, 2015.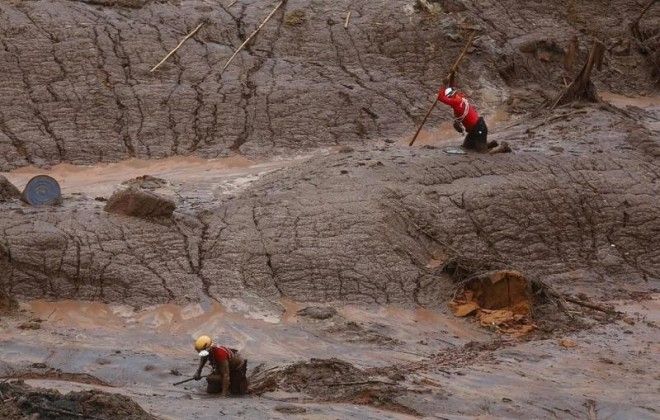 Rescue workers search for victims at the Bento Rodrigues district that was covered with mud after a dam, owned by Vale SA and BHP Billiton Ltd, burst in Mariana, Brazil, November 8, 2015.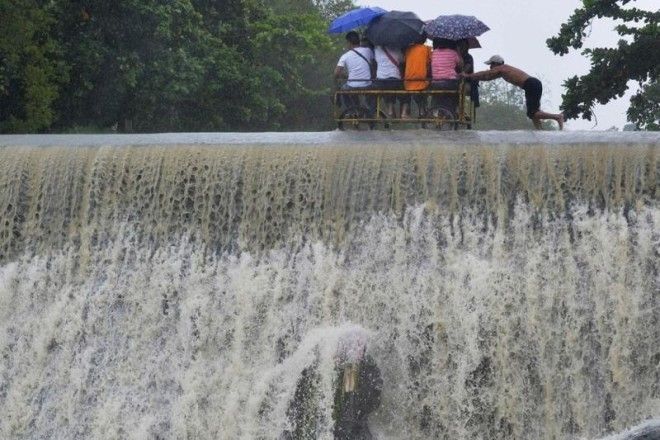 Residents cross a swelling dam, due to rising waters brought about by Typhoon Koppu, in Las Pinas city, metro Manila, Philippines October 19, 2015.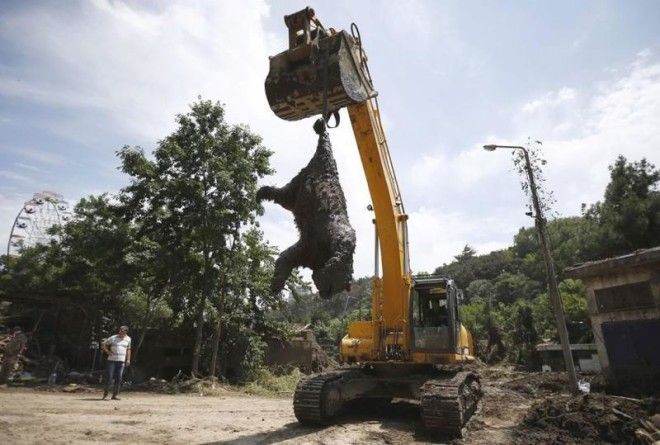 An excavator removes a dead bear at the zoo in Tbilisi, Georgia, June 17, 2015. Tigers, lions, bears and wolves were among more than 30 animals that escaped from a Georgian zoo and onto the streets of the capital Tbilisi during floods that killed at least 12 people.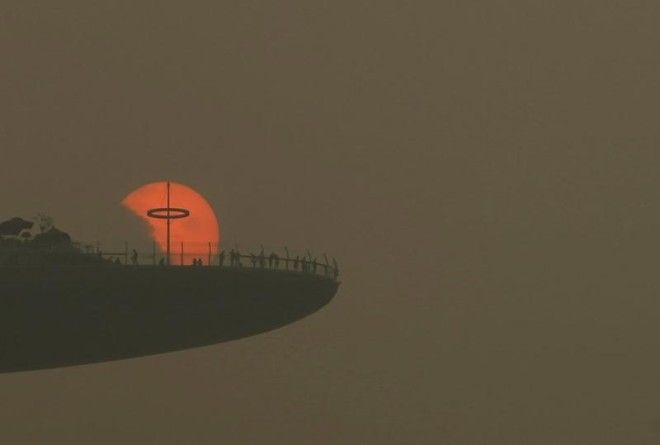 People watch the sun set from the observatory deck of the Marina Bay Sands hotel in Singapore October 5, 2015. Slash-and-burn agriculture in neighboring Indonesia blanketed Singapore in a choking haze.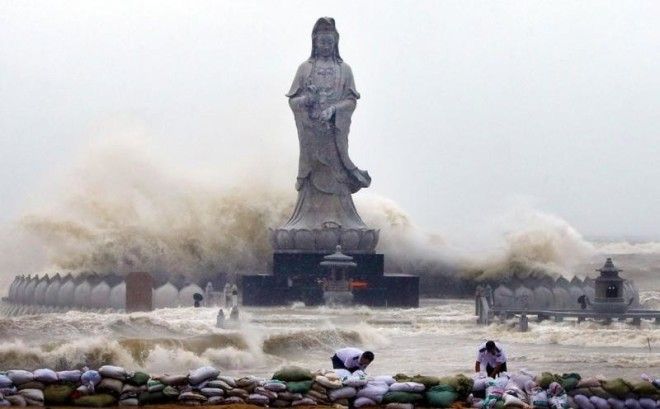 People set up sand bags to reinforce an embankment in front of an Avalokitesvara Bodhisattva statue as waves brought by Typhoon Dujuan slam the coastline in Quanzhou, Fujian province, China September 29, 2015.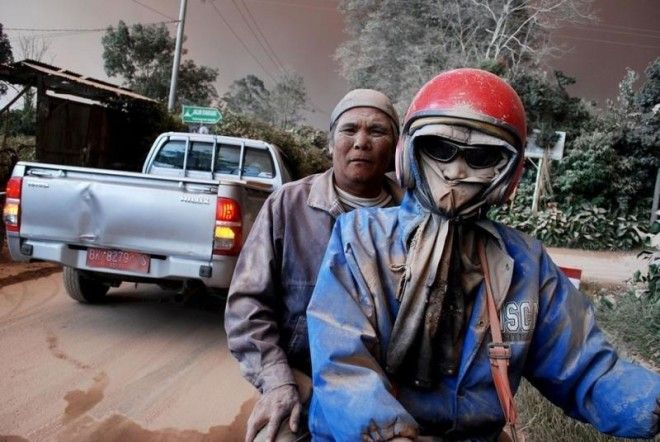 Residents with faces covered in ash ride on a motorcycle as Mount Sinabung volcano erupts, in Sukandebi village in Karo Regency, Indonesia's North Sumatra province, Indonesia June 13, 2015, in this photo taken by Antara Foto.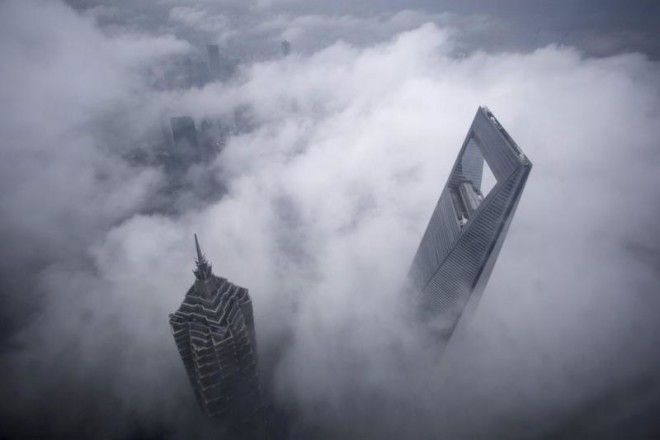 Skyscrapers Shanghai World Financial Center (R) and Jin Mao Tower are seen during heavy rain at the financial district of Pudong in Shanghai, May 15, 2015.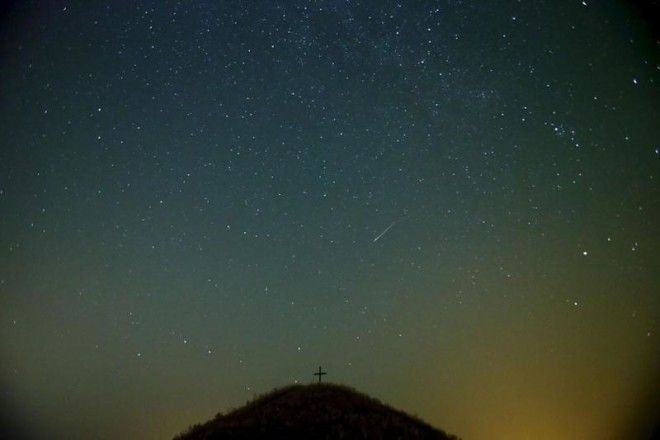 A meteor streaks across the sky over Leeberg hill during the Perseid meteor shower near Grossmugl in the early morning of August 13, 2015.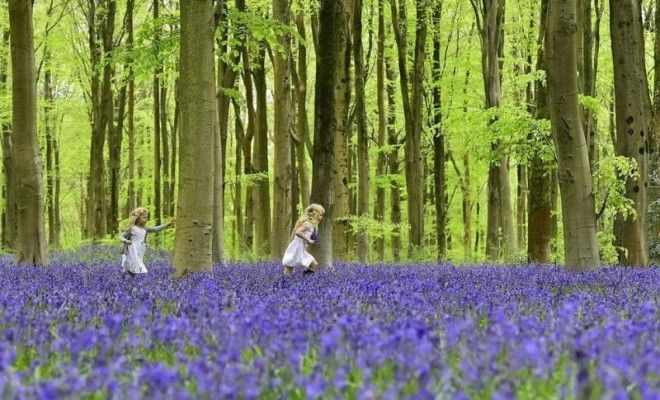 Local girls Bella (L) and Daisy run through a forest covered in bluebells near Marlborough in southern England, May 4, 2015.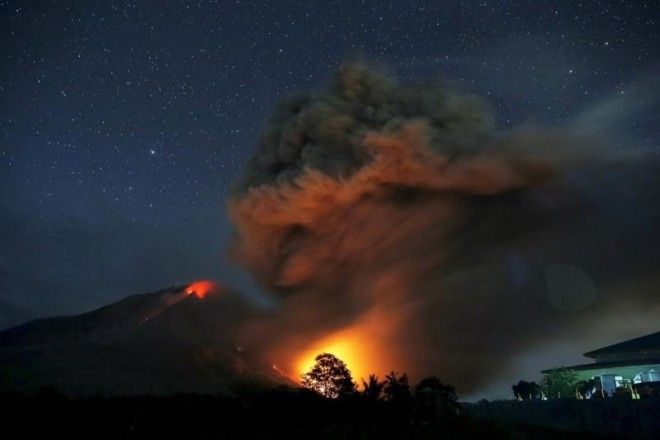 Hot lava flows from Mount Sinabung volcano during eruption as seen from Tiga Serangkai village in Karo Regency, North Sumatra province, Indonesia June 25, 2015.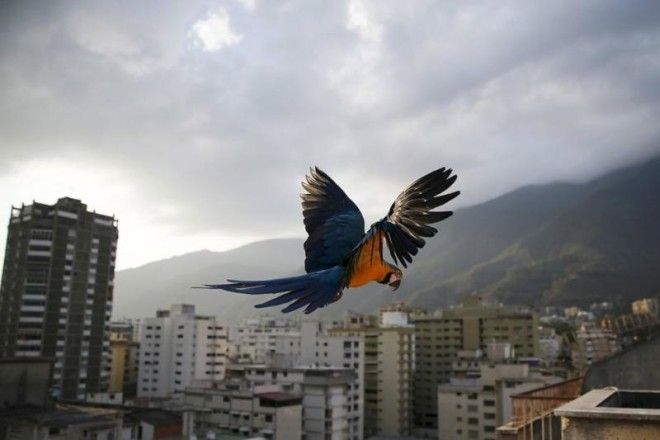 A macaw flies over buildings with the Avila mountain behind in Caracas March 31, 2015.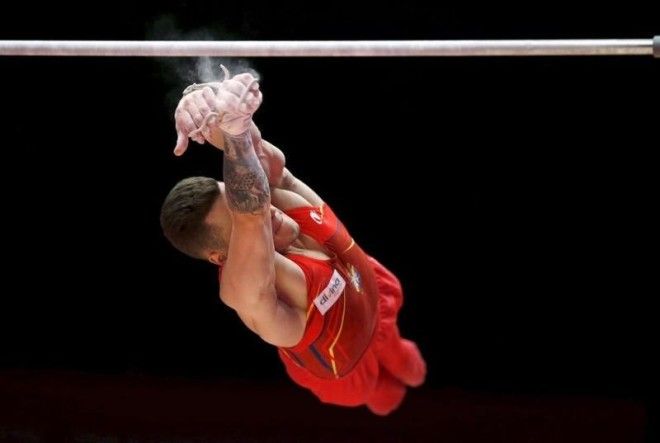 Nestor Abad of Spain falls from the high bar during the men's qualification for the World Gymnastics Championships at the Hydro arena in Glasgow, Scotland, October 26, 2015.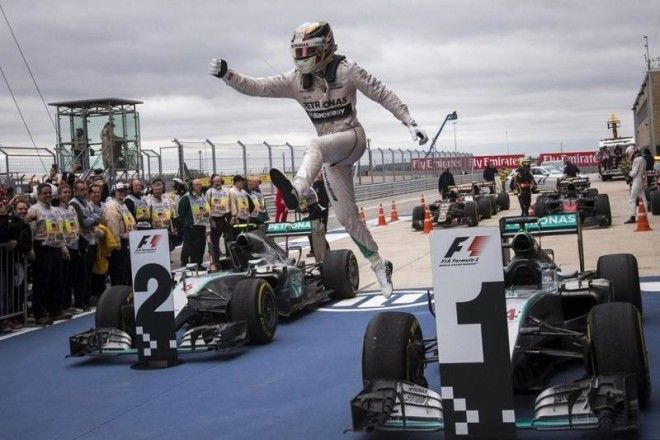 Mercedes Formula One driver Lewis Hamilton of Britain leaps off his car after winning the U.S. F1 Grand Prix at the Circuit of The Americas in Austin, Texas, United States, October 25, 2015.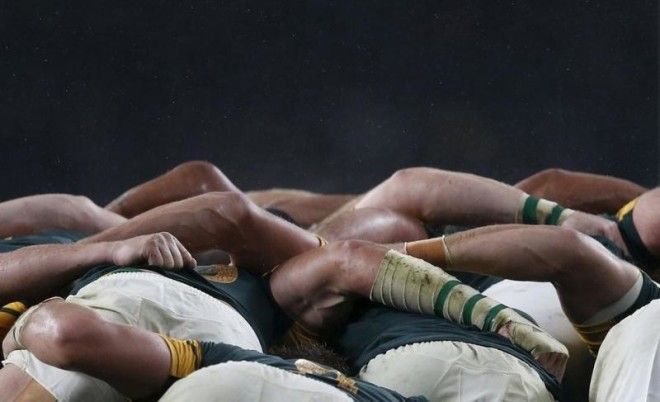 South Africa players compete in a scrum with New Zealand players during their Rugby World Cup Semi-Final match at Twickenham in London, Britain, October 24, 2015.
Pope Francis waves as he arrives at the Kangemi slums on the outskirts of Kenya's capital Nairobi, November 27, 2015.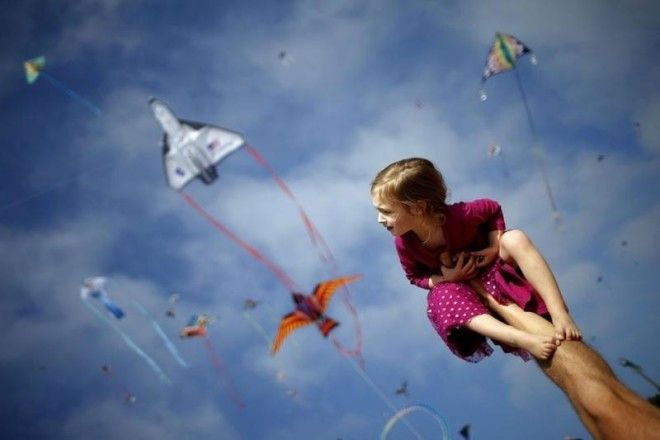 Madeleine Klonoski, 2, sits on her father's leg at a kite festival in Redondo Beach, California, United States, March 8, 2015.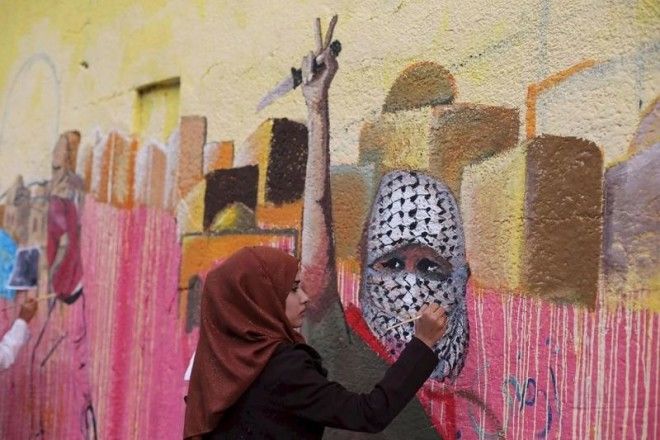 A Palestinian woman paints a mural, depicting a masked Palestinian holding a knife, in support of Palestinians committing stabbing attacks against Israelis, in Rafah in the southern Gaza Strip November 3, 2015.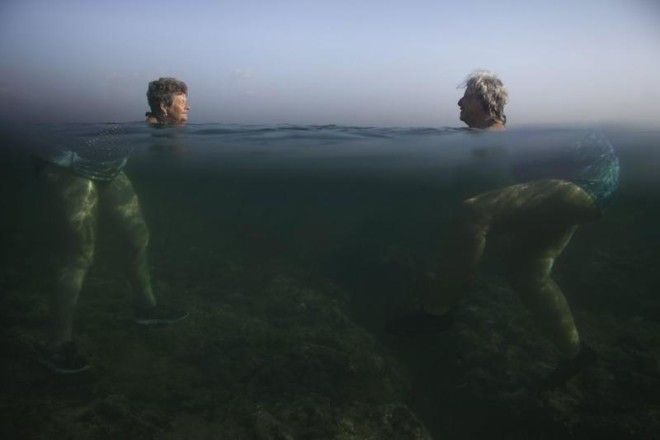 People swim in the sea in Havana, Cuba April 28, 2015.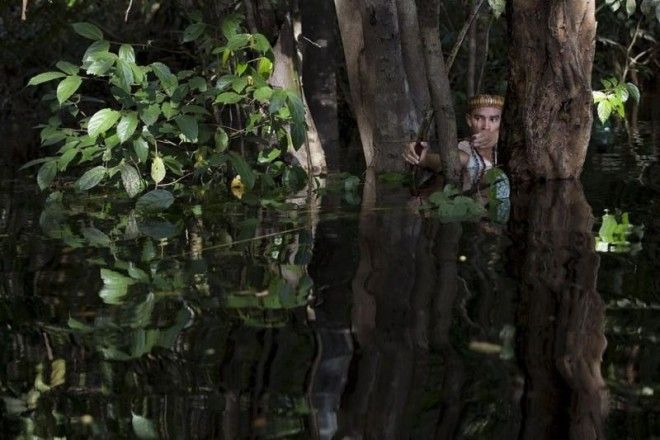 Kambeba Indian, Dream Braga, 18, aims his arrow in a jungle near the village Tres Unidos, Amazon state, Brazil May 9, 2015.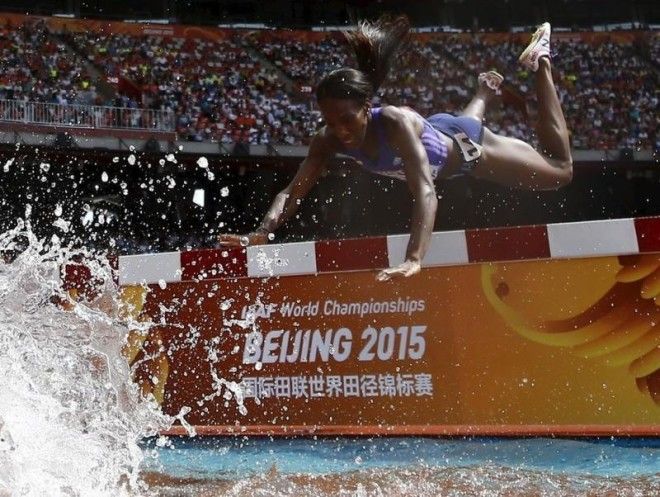 Rolanda Bell of Panama falls head first into the water obstacle during the women's 3000 metres steeplechase heats at the 15th IAAF World Championships in the National Stadium in Beijing, China August 24, 2015.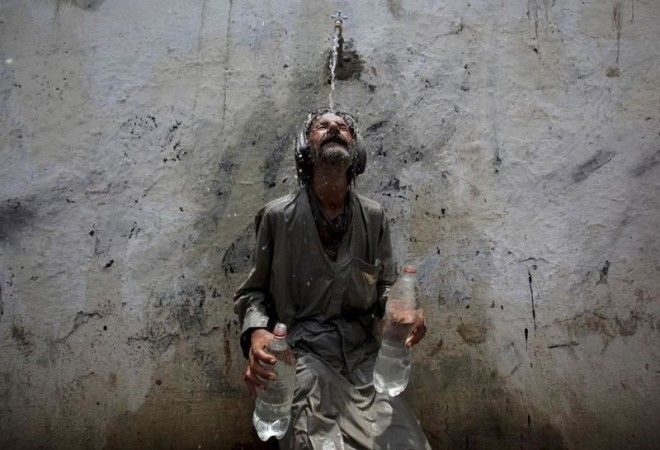 A man cools off from a public tap after filling bottles during intense hot weather in Karachi, Pakistan, June 23, 2015.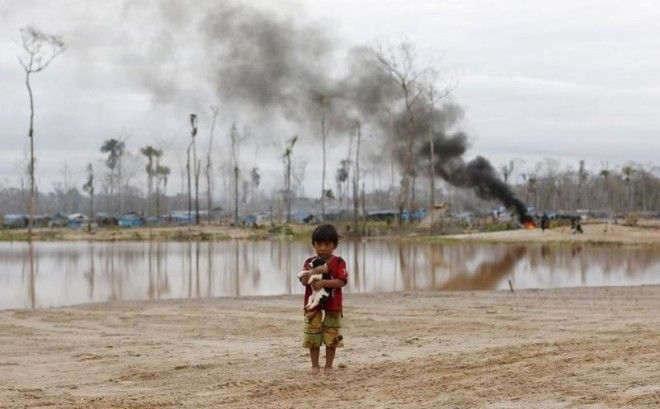 A boy carries a dog as he stands after a Peruvian police operation to destroy illegal gold mining camps in a zone known as Mega 14, in the southern Amazon region of Madre de Dios, Peru July 14, 2015.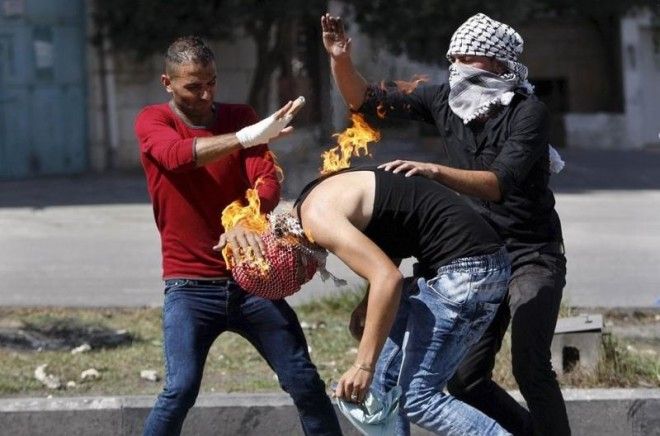 Palestinian protesters put out a fire burning on a compatriot, caused by a molotov cocktail which he was trying to hurl at Israeli troops during clashes in the West Bank city of Hebron October 13, 2015.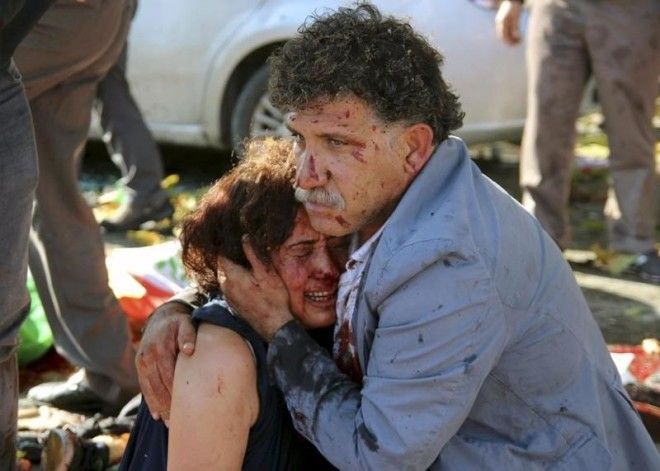 An injured man hugs an injured woman after an explosion during a peace march in Ankara, Turkey, October 10, 2015.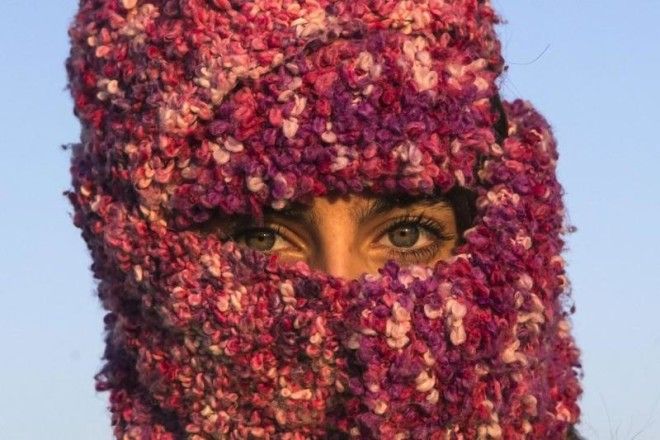 A woman from Syria looks on as she waits to cross the border with Croatia near the village of Berkasovo, Serbia, October 21, 2015.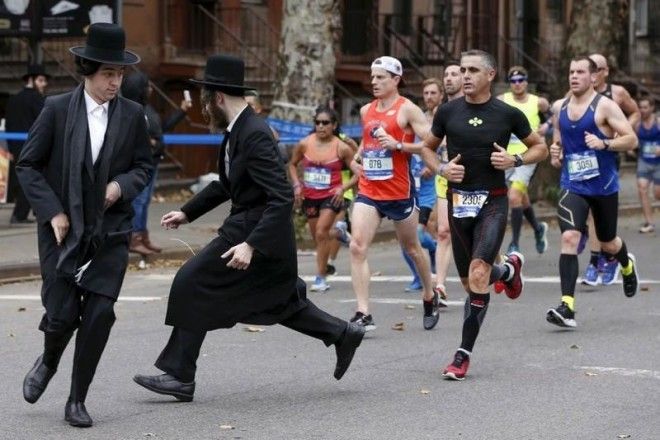 Orthodox Jewish men try to cross Bedford Avenue in the Williamsburg section of the Brooklyn borough during the 2015 New York City Marathon in New York, United States November 1, 2015.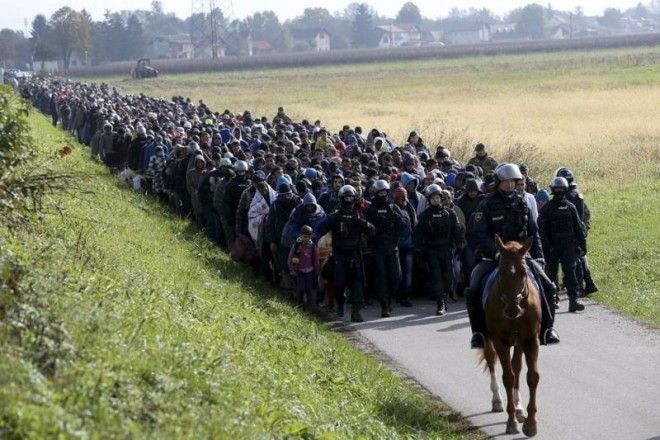 A mounted policeman leads a group of migrants near Dobova, Slovenia October 20, 2015.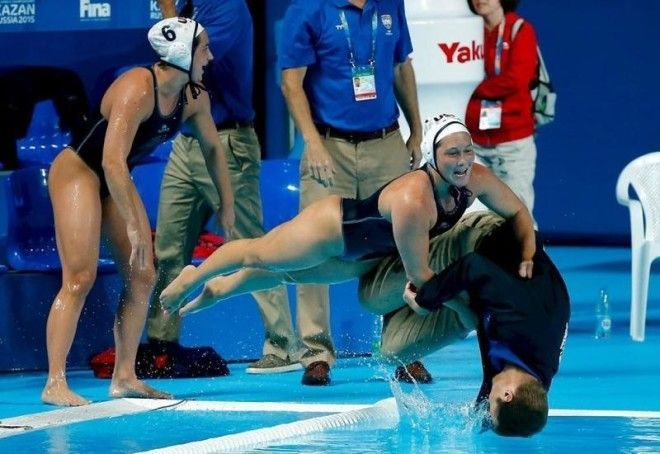 U.S. players push head coach Adam Krikorian into the pool after they defeated the Netherlands in their women's water polo gold medal match during the Aquatics World Championships in Kazan, Russia, August 7, 2015.
FDJ rider William Bonnet of France receives medical help as he sits on the ground after a fall during the 159.5km (99 miles) third stage of the 102nd Tour de France cycling race from Anvers to Huy, Belgium, July 6, 2015.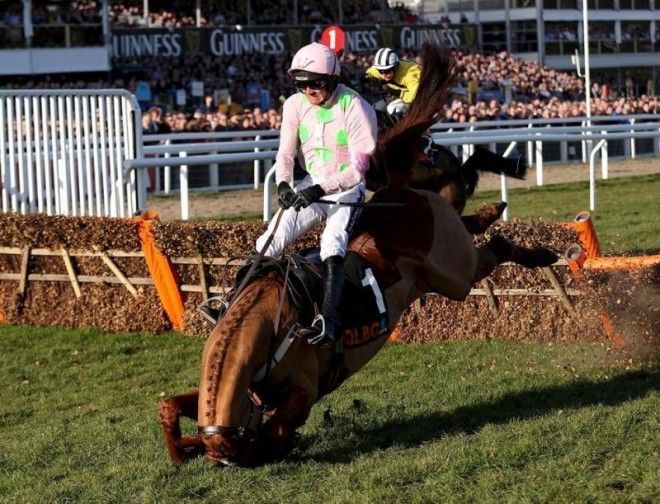 Ruby Walsh on Annie Power falls at the last during the 16:00 OLBG Mares' Hurdle (Registered As The David Nicholson Mares' Hurdle) at the Cheltenham Festival in Cheltenham, Britain, March 10, 2015.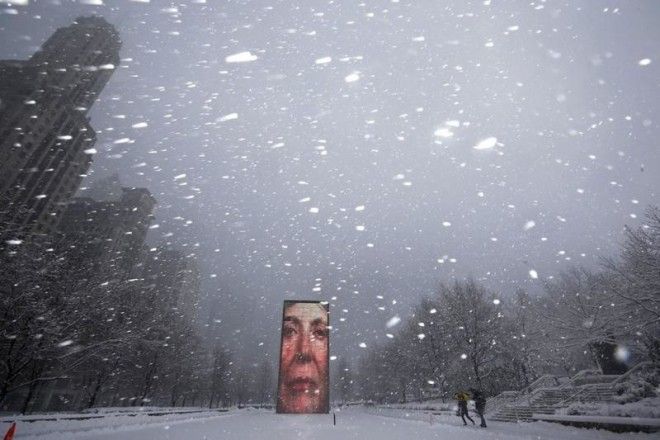 Two men walk past the Crown Fountain in blizzard conditions in Chicago, Illinois, United States February 1, 2015.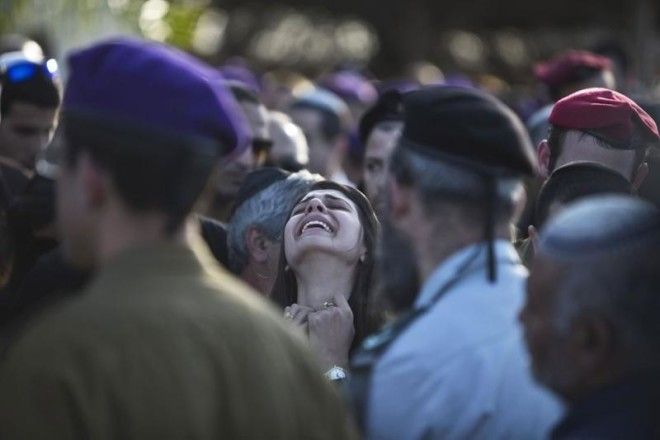 Sahar, the girlfriend of Israeli soldier Dor Nini, mourns during his funeral in a cemetery at Shtulim village near Ashdod, Israel January 29, 2015.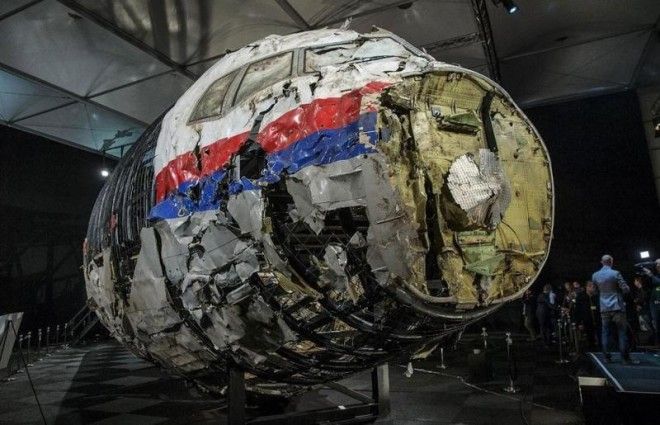 The reconstructed wreckage of the MH17 airplane is seen after the presentation of the final report into the crash of July 2014 of Malaysia Airlines flight MH17 over Ukraine, in Gilze Rijen, the Netherlands, October 13, 2015.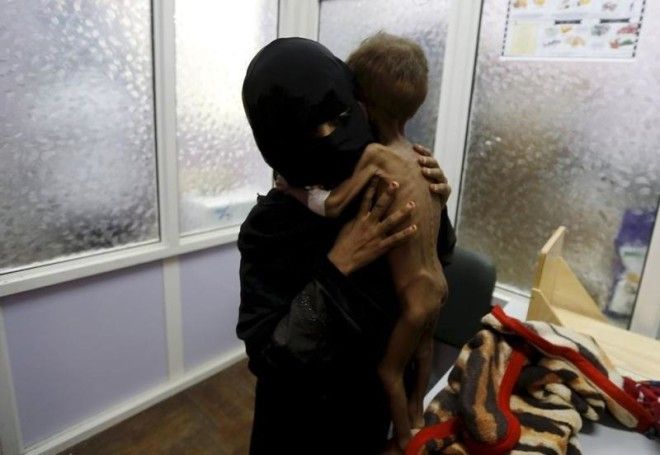 The mother of 21-month-old Majed Ayyash prepares him to be weighed in a malnutrition intensive care unit in Sanaa, Yemen July 30, 2015.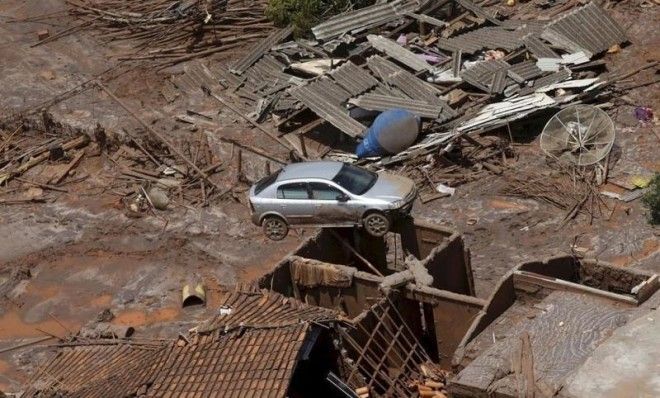 Debris is pictured in Bento Rodigues district which was covered with mud after a dam owned by Vale SA and BHP Billiton Ltd burst, in Mariana, Brazil, November 10, 2015.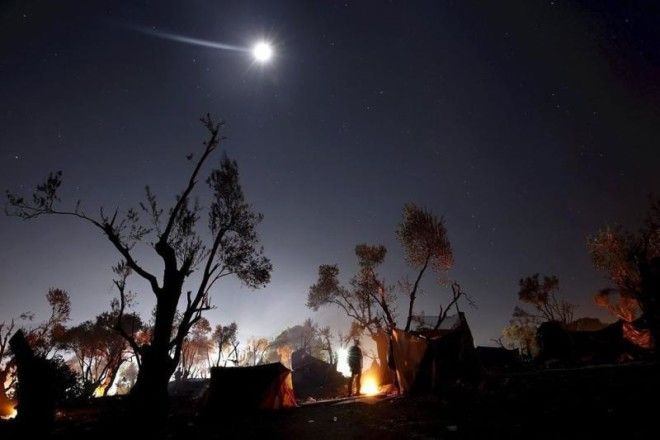 A refugee keeps warm by an open fire at a makeshift camp close to a registration centre on the Greek island of Lesbos November 18, 2015.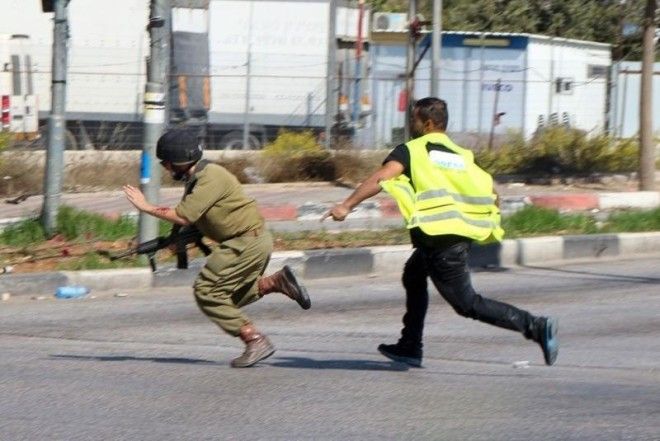 A Palestinian (R) posing as a journalist runs after a wounded Israeli soldier to continue stabbing him before being shot dead near the West Bank city of Hebron October 16, 2015.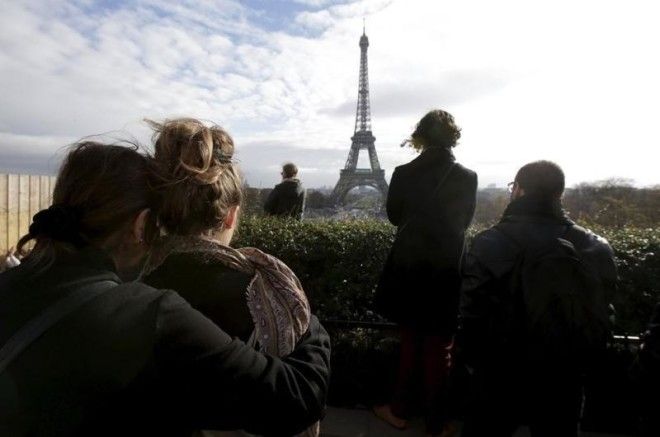 People observe a minute of silence at the Trocadero in front the Eiffel Tower to pay tribute to the victims of the series of deadly attacks in Paris, France, November 16, 2015.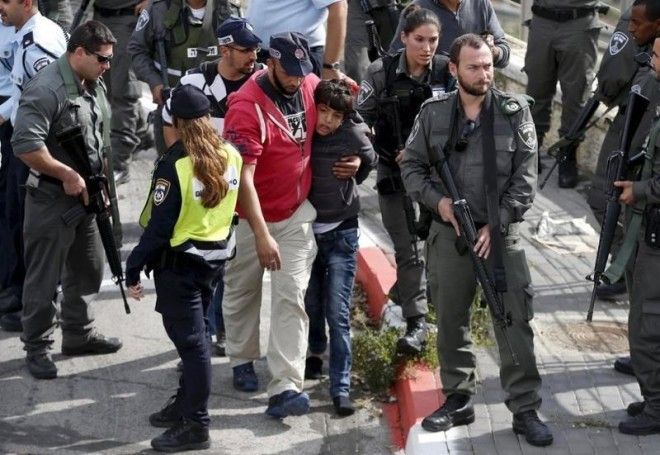 Israeli police lead away a Palestinian minor (C) they said stabbed an Israeli security guard in Pisgat Zeev, which lies on occupied land that Israel annexed to Jerusalem after the 1967 Middle East war, November 10, 2015.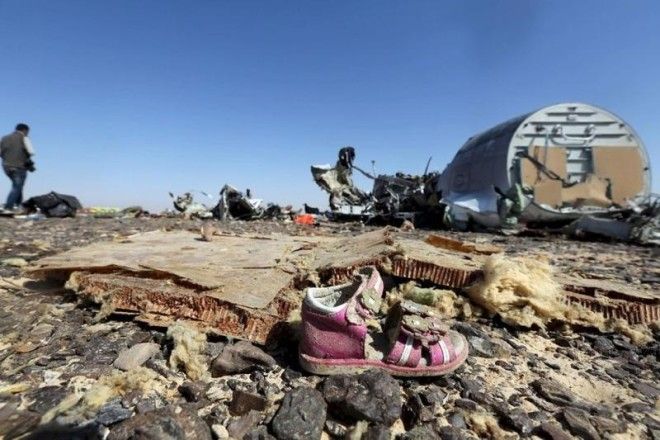 A child's shoe is seen in front of debris from a Russian airliner which crashed in the Hassana area in Arish city, Egypt, November 1, 2015.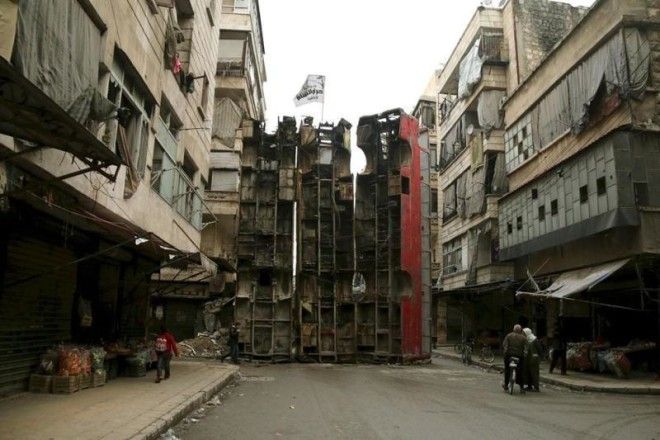 Civilians walk near upright buses barricading a street, which serve as protection from snipers loyal to Syria's President Bashar al-Assad, in Aleppo's rebel-controlled Bustan al-Qasr neighbourhood, Syria March 21, 2015.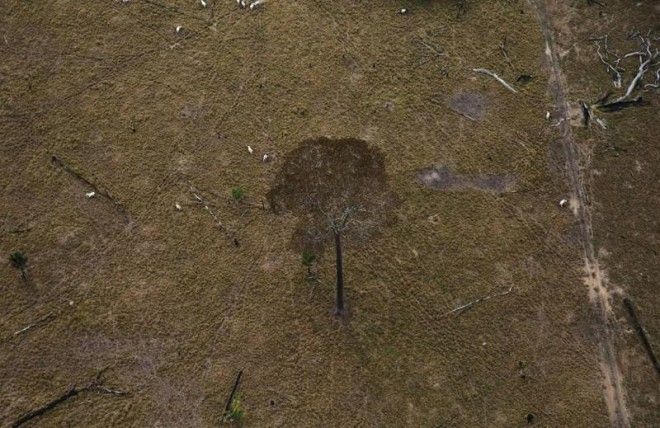 Cows are seen in this aerial view on a deforested plot of the Amazon rainforest near Rio Pardo, in the district of Porto Velho, Rondonia State, Brazil, September 3, 2015.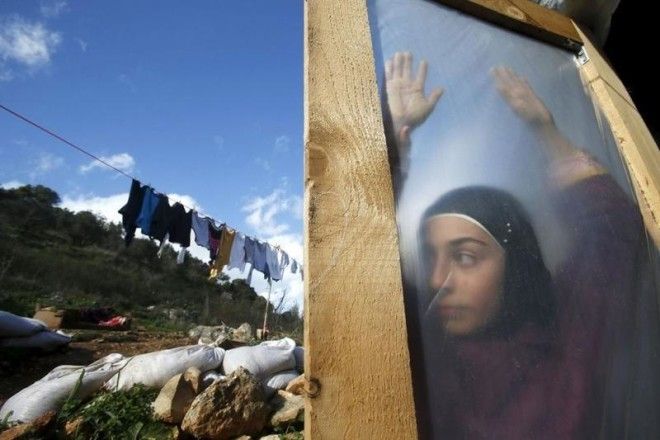 A Syrian refugee girl stands behind a door at a makeshift settlement in the village of Ketermaya, south of Beirut, Lebanon January 8, 2015.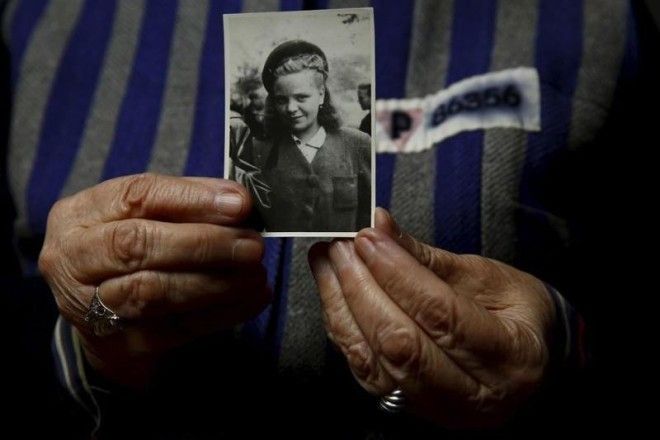 Auschwitz death camp survivor Jadwiga Bogucka (maiden name Regulska), 89, registered with camp number 86356, holds a picture of herself from 1944 in Warsaw, Poland January 12, 2015.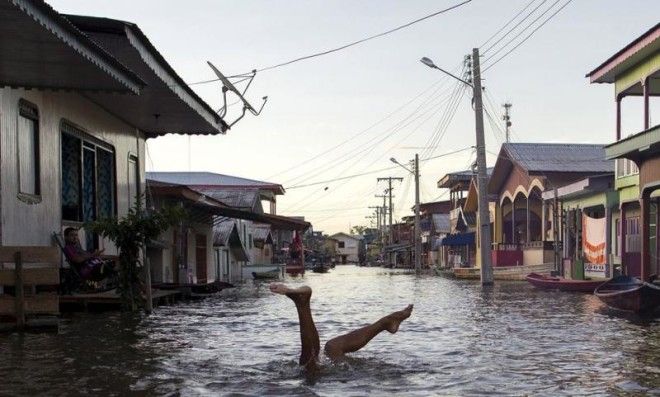 A child jokes in a street flooded by the rising Rio Solimoes, one of the two main branches of the Amazon River, in Anama, Amazonas state, Brazil June 3, 2015.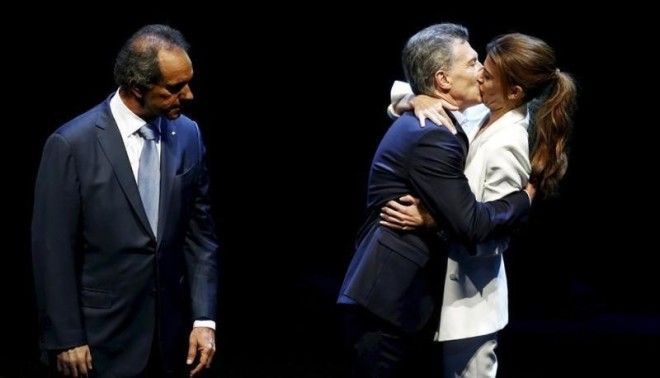 Mauricio Macri (C), presidential candidate for the Cambiemos (Let's Change) alliance, kisses his wife Juliana Awada as Argentina's ruling party candidate Daniel Scioli watches in Buenos Aires, Argentina November 15, 2015.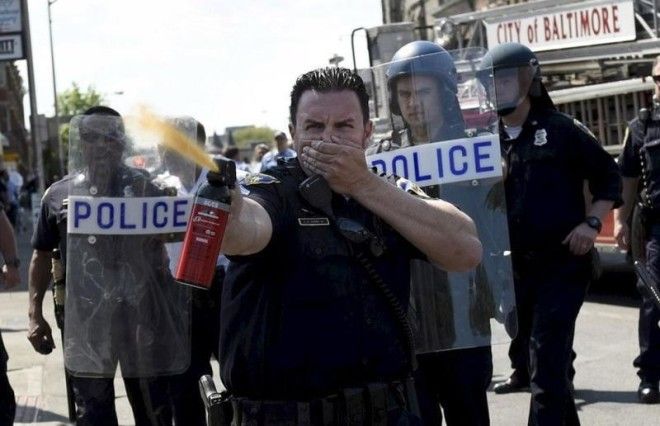 A law enforcement officer uses pepper spray to disperse the crowd at the intersection of North and Pennsylvania Avenues in Baltimore, United States May 4, 2015.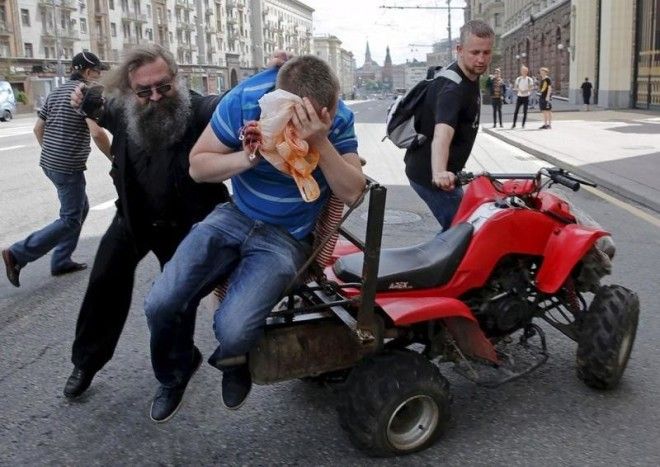 Anti-gay protesters attack a gay rights activist during an LGBT community rally in central Moscow, Russia, May 30, 2015.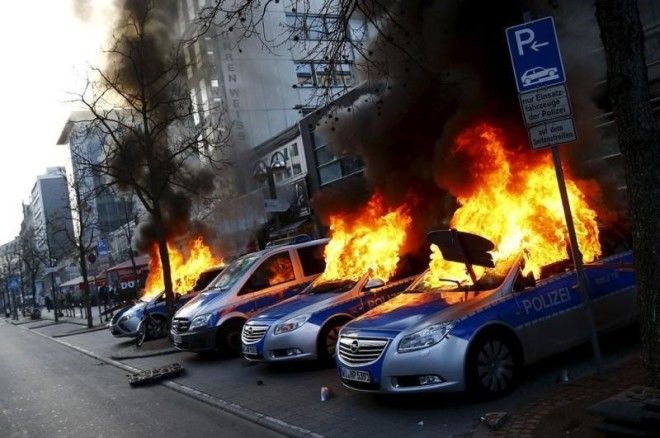 Four German police cars set on fire by anti-capitalist protesters burn near the European Central Bank (ECB) building hours before the official opening of its new headquarters in Frankfurt, Germany March 18, 2015.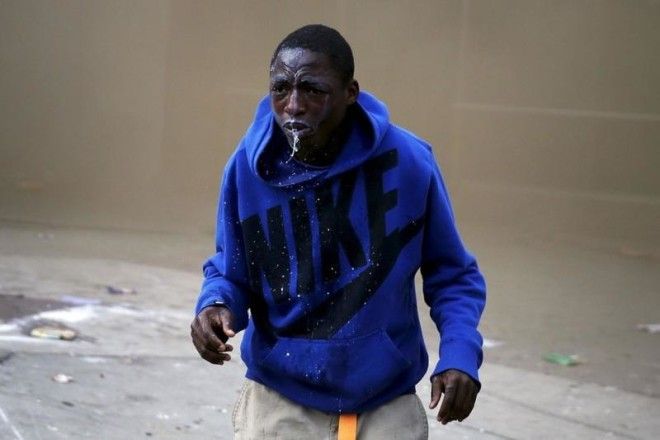 A demonstrator looks up after being sprayed with pepper spray during clashes in Baltimore, Maryland, United States April 27, 2015.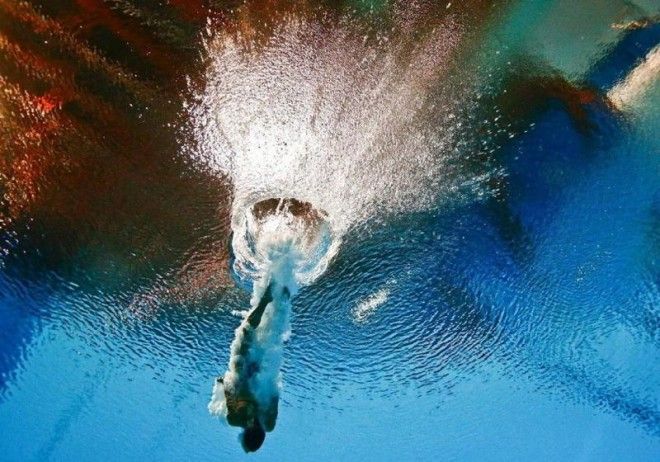 Tania Cagnotto of Italy is seen underwater during the women's 3m springboard semi final at the Aquatics World Championships in Kazan, Russia July 31, 2015.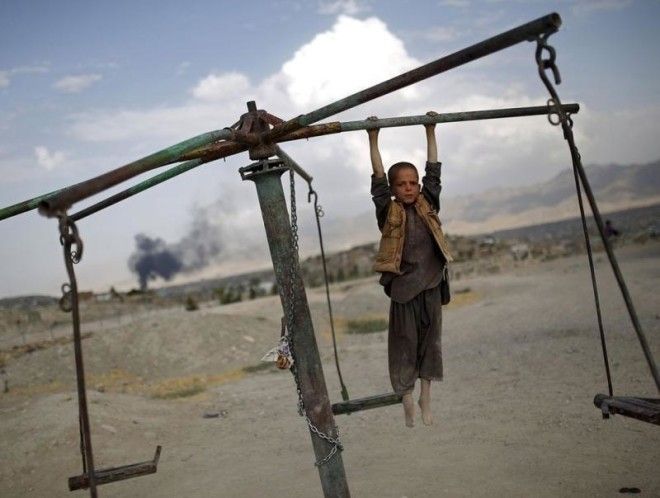 An Afghan boy plays on a merry-go-round on a hilltop in Kabul, Afghanistan July 20, 2015.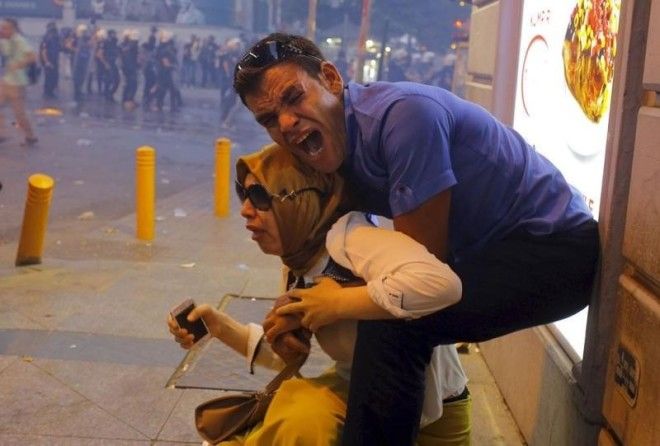 A couple, affected by tear gas used by riot police to disperse demonstrators, reacts in central Istanbul, Turkey, July 20, 2015.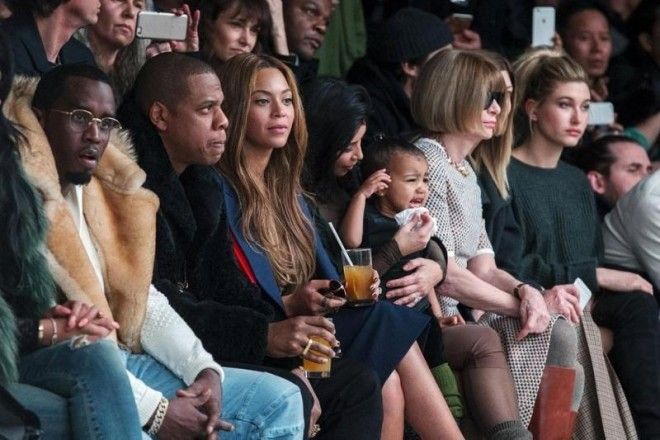 Kim Kardashian attempts to calm her daughter, North, while sitting next to Sean Combs (L), Jay-Z (2nd L), Beyonce (3rd L) and Anna Wintour (2nd R) as they watch a presentation of Kanye West's Fall/Winter 2015 partnership with Adidas at New York Fashion Week in New York, United States February 12, 2015.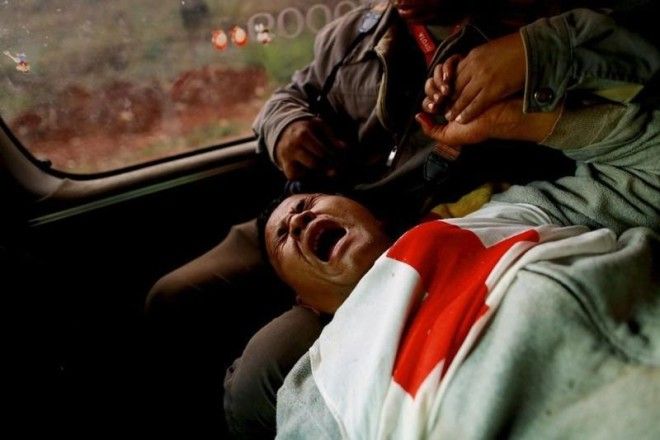 Moe Kyaw Than, 45, a volunteer with the Myanmar Red Cross Society reacts after he was wounded when the convoy he was in was fired upon by the Myanmar National Democratic Alliance Army (MNDAA), according to the Myanmar army, between the capital of Kokang, Laukkai, and Chinshwehaw, Myanmar February 17, 2015.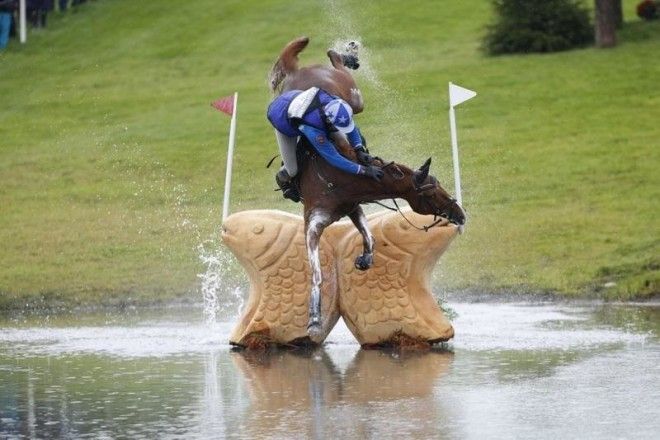 Russia's Mikhail Nastenko riding Reistag falls at the Lochan fence in the cross country event of FEI European Eventing Championship at Blair Castle, Scotland, Britain, September 12, 2015.
A female Kurdistan Workers Party (PKK) fighter stands near a security position in Sinjar, Iraq March 13, 2015.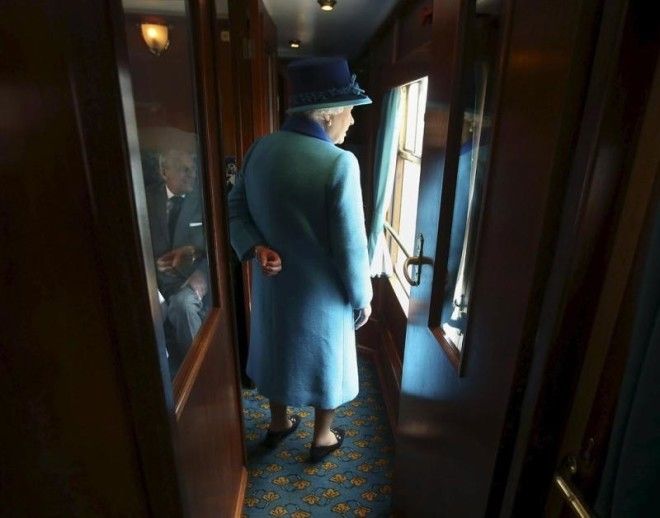 Britain's Queen Elizabeth boards her carriage as she travels on the new Scottish Borders railway line, in Scotland, Britain September 9, 2015.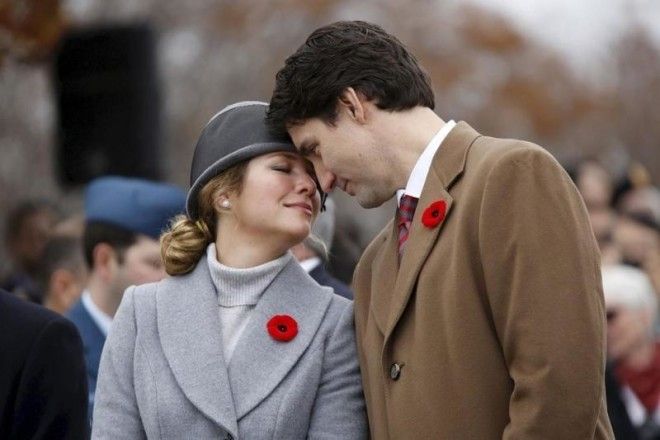 Canada's Prime Minister Justin Trudeau and his wife Sophie share a moment during Remembrance Day ceremonies at the National War Memorial in Ottawa, Canada November 11, 2015.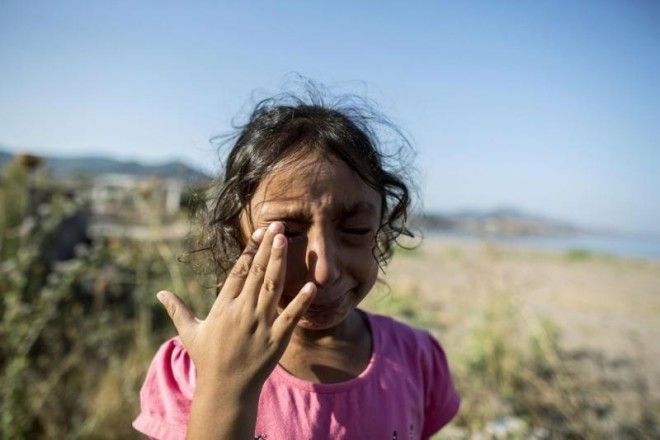 Yasmine, a 6-year-old migrant from Deir Al Zour in war-torn Syria, cries at the beach after arriving on the Greek island of Lesbos September 11, 2015.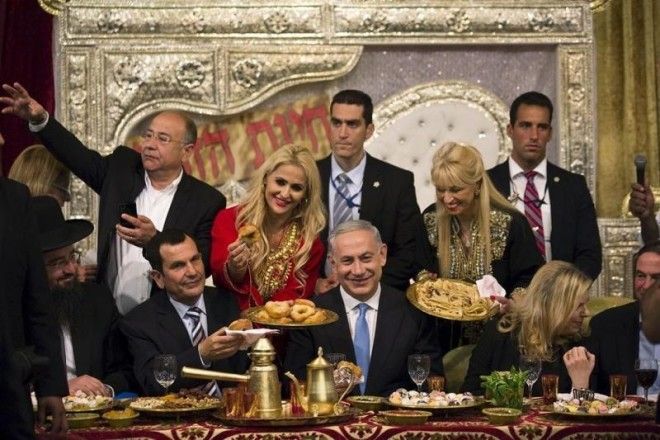 Israeli Prime Minister Benjamin Netanyahu (C) and his wife Sara (R) attend the Mimona ceremony in the Israeli town of Or Akiva near Caesarea April 11, 2015.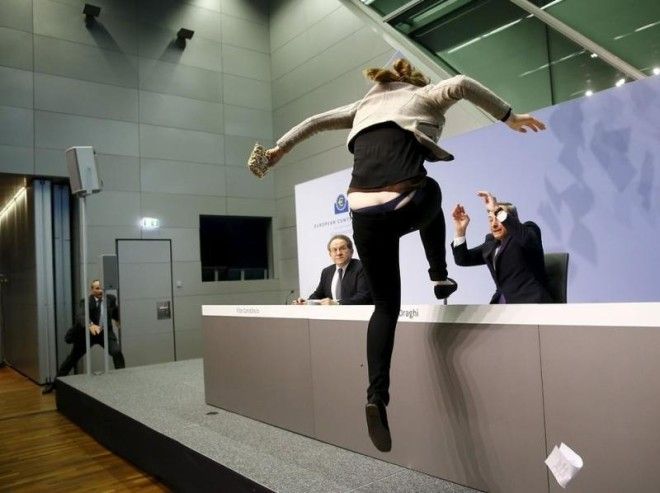 A protester jumps on the table in front of the European Central Bank President Mario Draghi during a news conference in Frankfurt, Germany April 15, 2015.
Girls who survived what activists said was a ground-to-ground missile attack by forces of Syria's President Bashar al-Assad, hold hands at Aleppo's Bab al-Hadeed district, Syria April 7, 2015.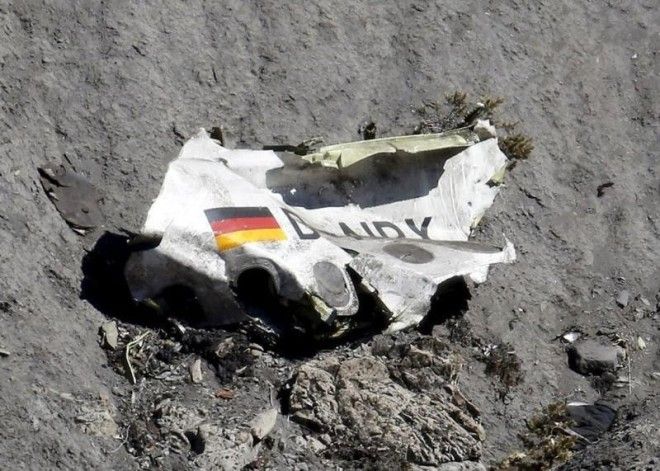 Wreckage of the Airbus A320 is seen at the site of the crash, near Seyne-les-Alpes, in the French Alps, France, March 26, 2015.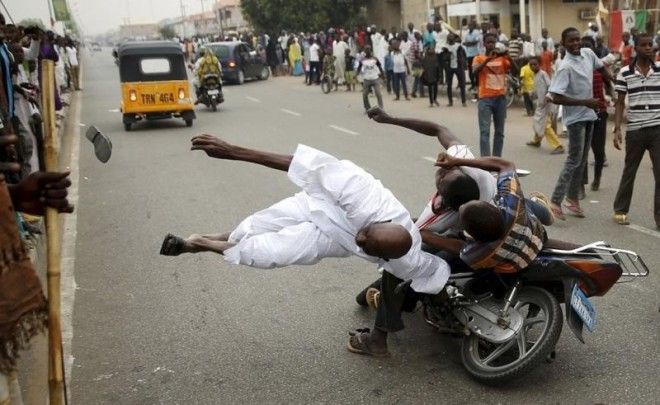 Supporters of the presidential candidate Muhammadu Buhari and his All Progressive Congress hits another supporter with a motorbike during celebrations in Kano, Nigeria March 31, 2015.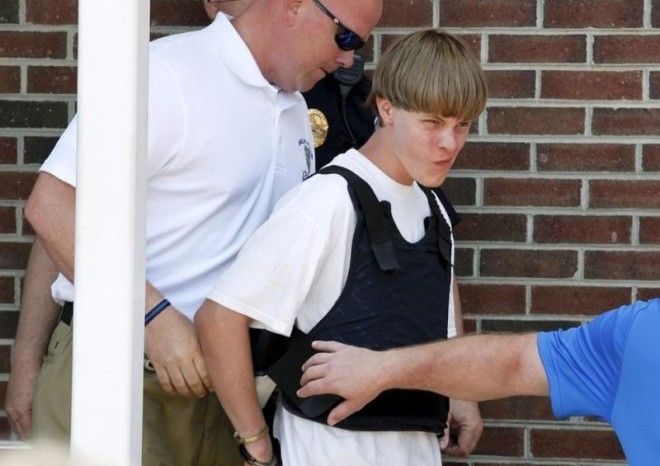 Police lead suspected shooter Dylann Roof, 21, into the courthouse in Shelby, North Carolina, United States June 18, 2015.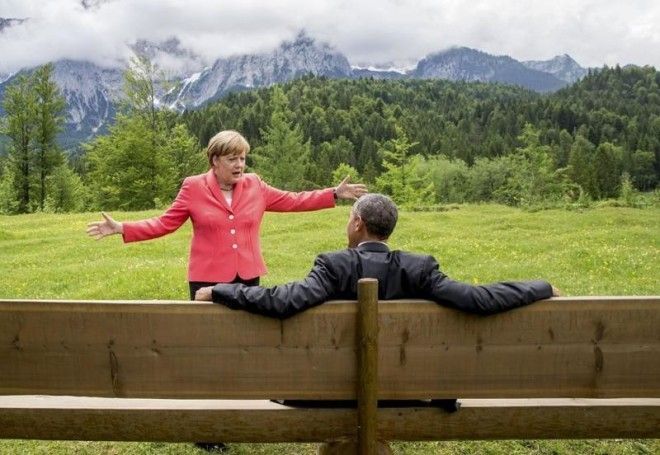 German Chancellor Angela Merkel speaks with U.S. President Barack Obama outside the Elmau castle in Kruen near Garmisch-Partenkirchen, Germany, June 8, 2015.
A stuntman flies through the air following an explosion during the filming of the Koldo Serra directed feature film Gernika in the Basque town of Guernica, northern Spain June 17, 2015.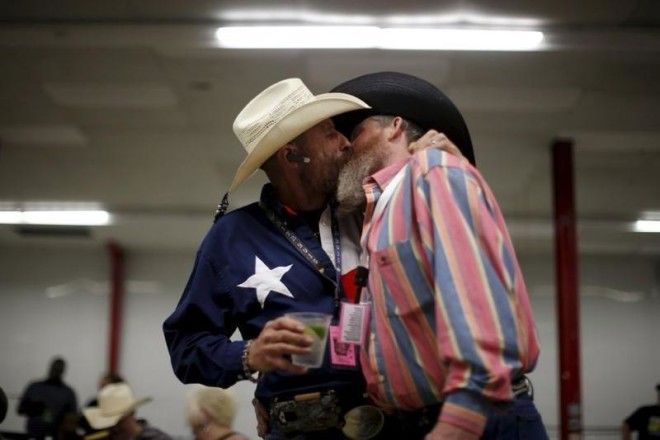 Gordon Satterly, 61, from Michigan (L) kisses his husband Richard Brand, 53, from Texas, at the International Gay Rodeo Association's Rodeo In the Rock party in Little Rock, Arkansas, United States April 24, 2015.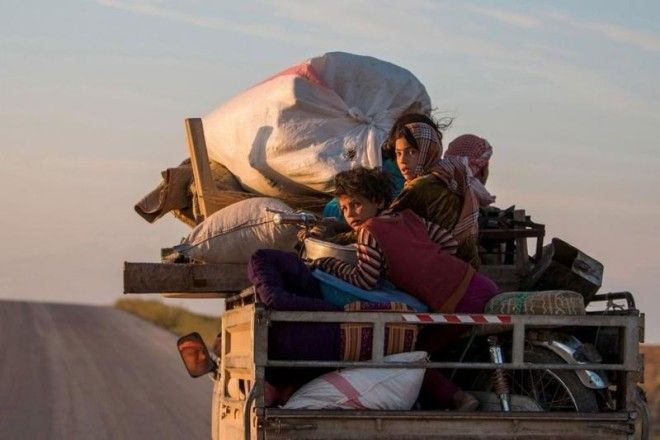 Residents, with their belongings, return to their villages on a pickup truck after Kurdish People's Protection Units (YPG) fighters said that they retook control of the area from Islamic State in the southern countryside of Ras al-Ain, Syria May 13, 2015.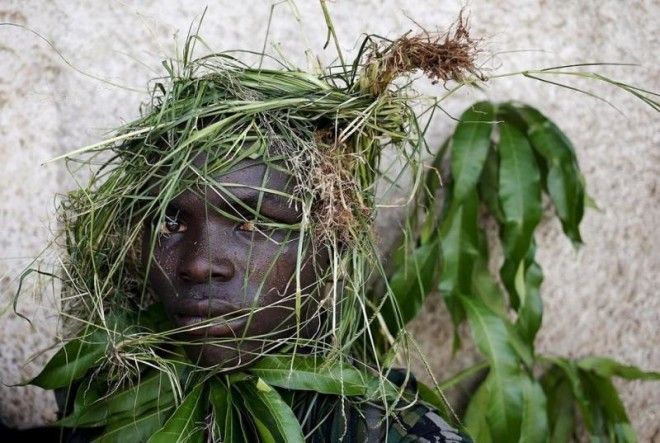 A protester wears grass around his face to obscure his identity during a protest against President Pierre Nkurunziza's decision to run for a third term, in Bujumbura, Burundi, May 11, 2015.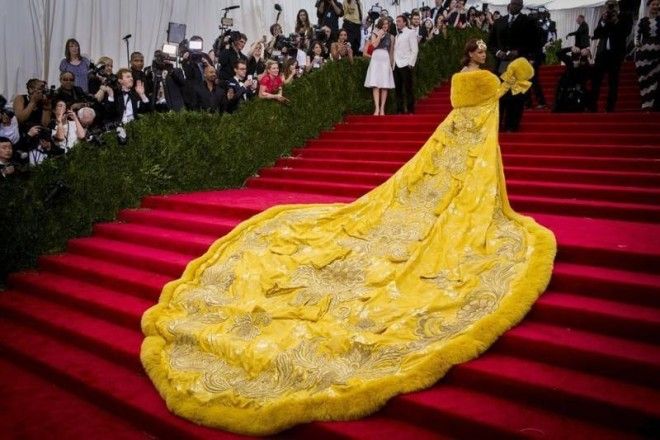 Singer Rihanna arrives at the Metropolitan Museum of Art Costume Institute Gala 2015 celebrating the opening of "China: Through the Looking Glass" in Manhattan, New York, United States May 4, 2015.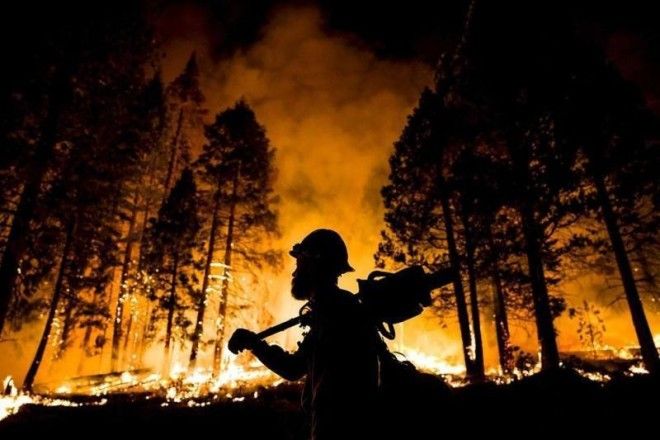 Los Padres National Forest firefighter Jameson Springer watches a controlled burn on the so-called "Rough Fire" in the Sequoia National Forest, California, United States August 21, 2015.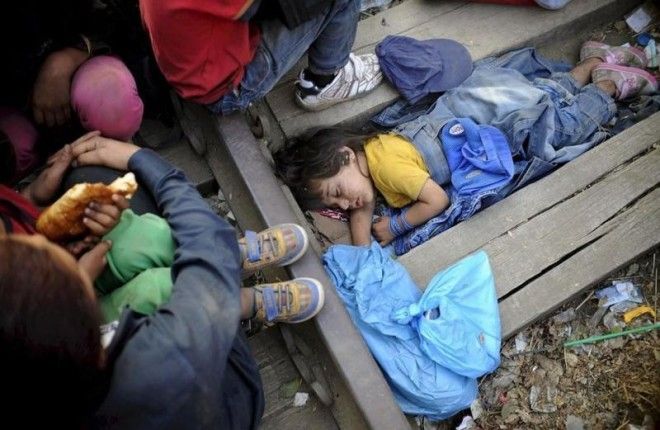 Four-year-old Rashida from Kobani, Syria, part of a new group of more than a thousand immigrants, sleeps as they wait on the border between Macedonia and Greece to enter Macedonia near Gevgelija railway station August 20, 2015.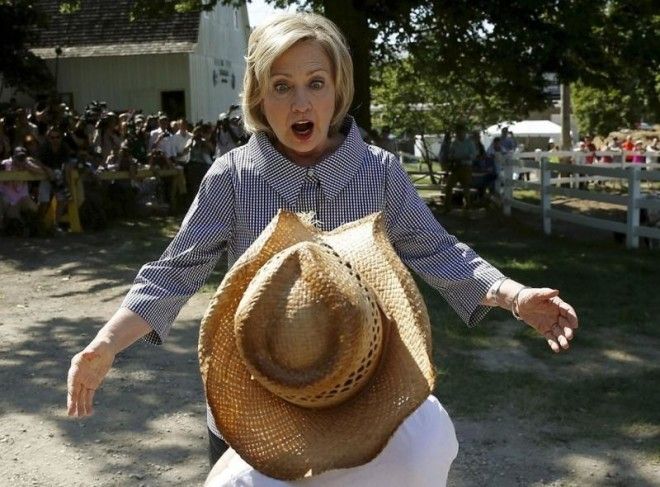 U.S. Democratic presidential candidate Hillary Clinton greets Louie Dixon as she campaigns at the Iowa State Fair in Des Moines, Iowa, United States, August 15, 2015.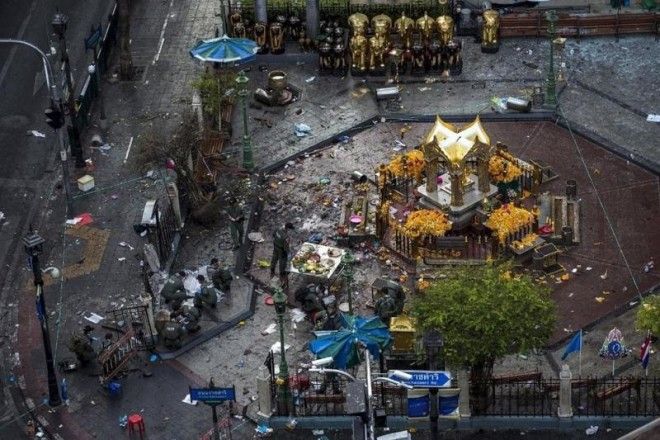 Experts investigate the Erawan shrine at the site of a deadly blast in central Bangkok, Thailand, August 18, 2015.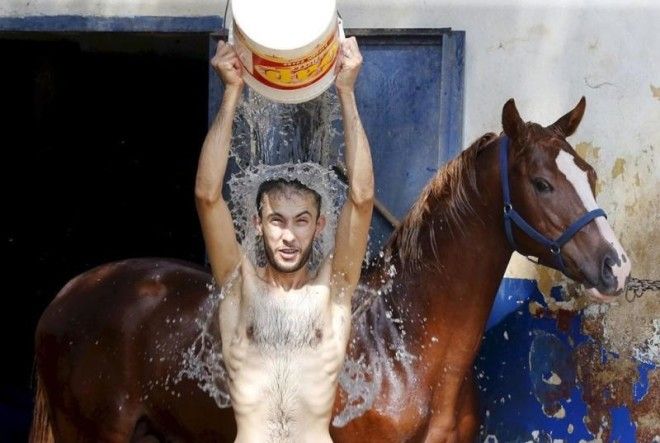 A man pours water over himself while washing a horse in order to cool it down as part of measures taken to ease the effect of a heatwave at the Beirut Hippodrome, Lebanon August 4, 2015.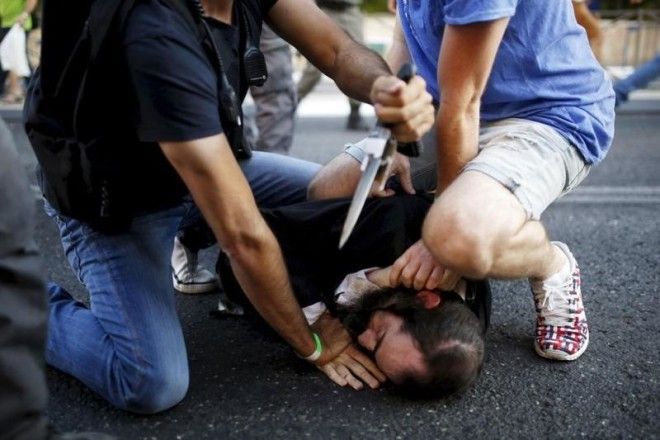 People disarm an Orthodox Jewish assailant shortly after he stabbed participants at the annual Gay Pride parade in Jerusalem July 30, 2015.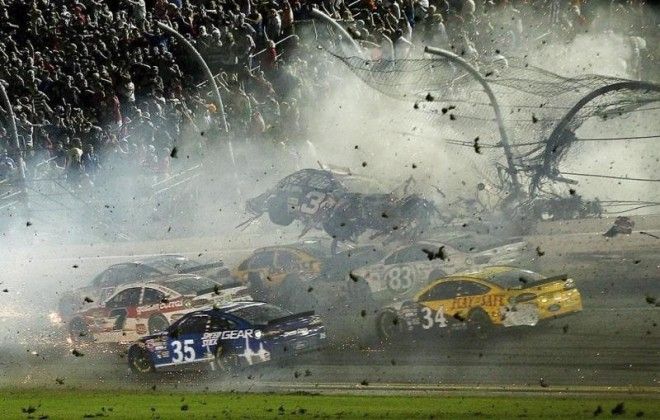 Jul 6, 2015; Daytona Beach, FL, USA; NASCAR Sprint Cup Series driver Austin Dillon car (3) crashes against the catch fence during the finish of the Coke Zero 400 at Daytona International Speedway.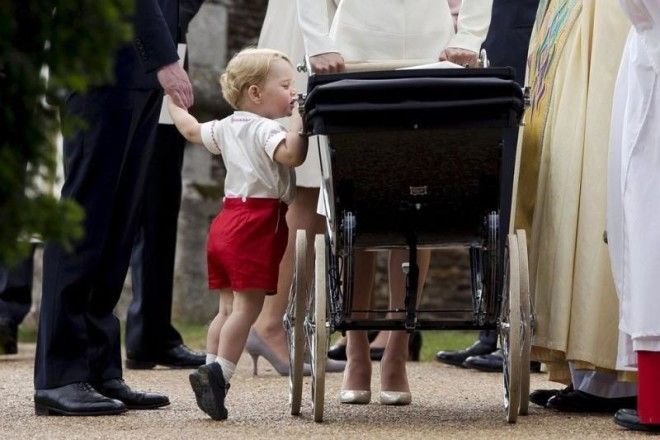 Britain's Prince George looks into the pram of his sister Princess Charlotte after her christening at the Church of St. Mary Magdalene in Sandringham, Britain July 5, 2015.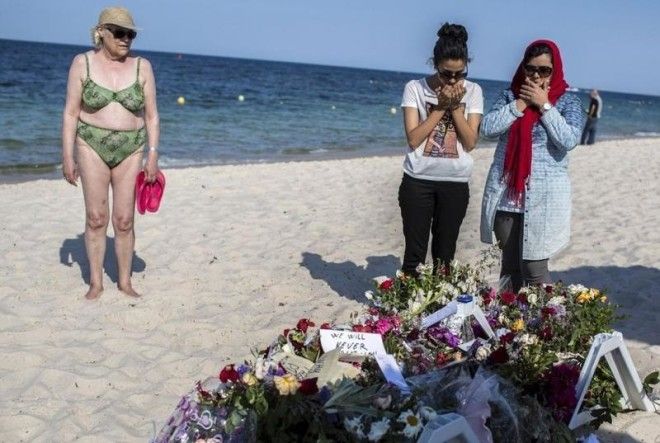 Women pray near bouquets of flowers laid on the beach of the Imperial Marhaba resort, which was attacked by a gunman, in Sousse, Tunisia, June 28, 2015.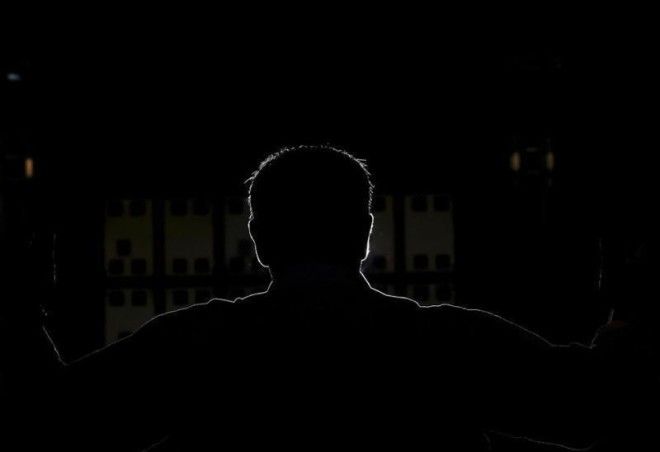 Greek Prime Minister Alexis Tsipras delivers a speech at an anti-austerity rally in Syntagma Square in Athens, Greece, July 3, 2015.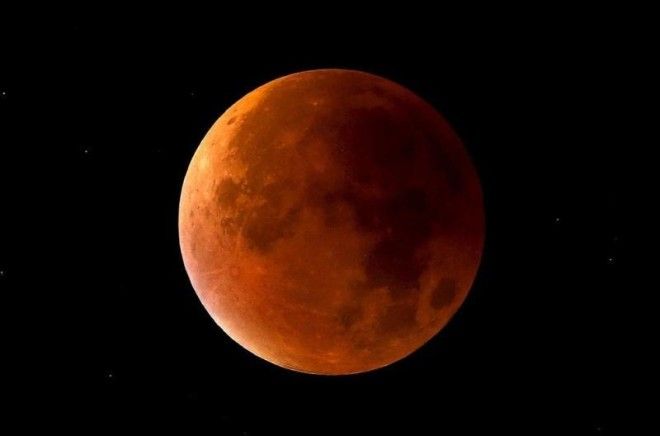 A lunar eclipse coincides with a so-called "supermoon" in Newcastle-under-Lyme, Staffordshire, England, Britain September 28, 2015.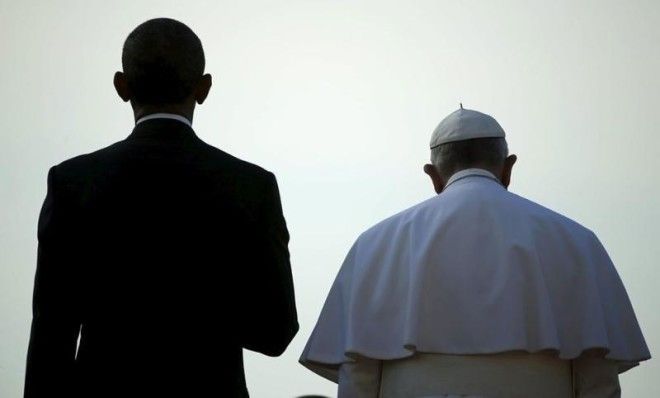 U.S. President Barack Obama (L) stands with Pope Francis during an arrival ceremony for the pope at the White House in Washington, United States September 23, 2015.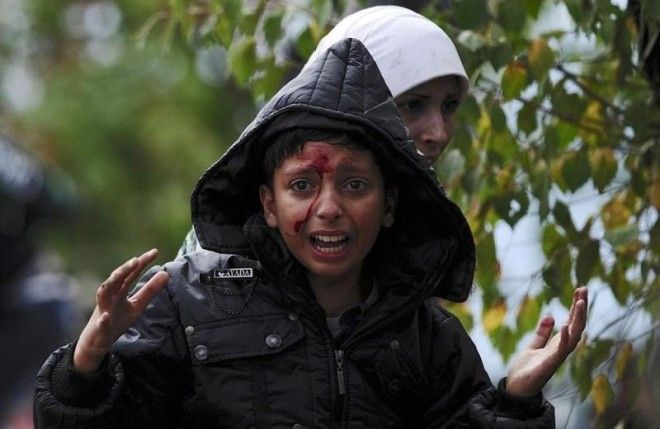 A girl cries after crossing Greece's border into Macedonia near Gevgelija, Macedonia, August 22, 2015.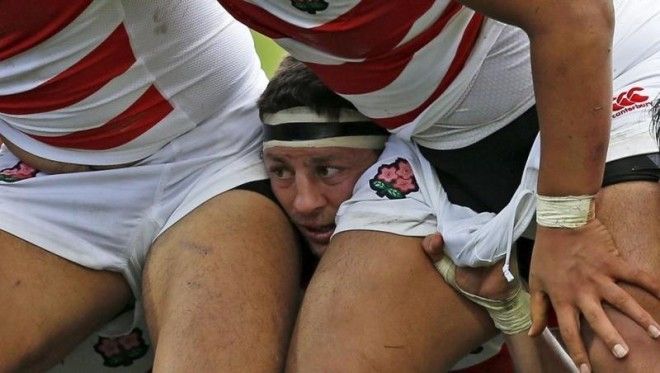 Japan's Luke Thompson (C) is seen before a scrum against Scotland during their IRB Rugby World Cup 2015 Pool B match at Kingsholm, Gloucester, Britain, September 23,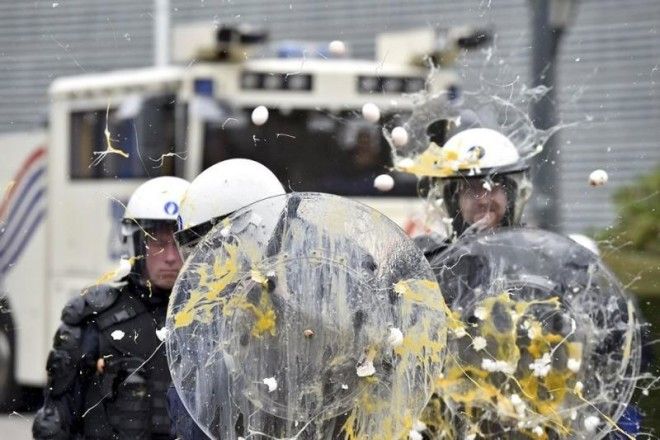 Policemen get hit by eggs as farmers and dairy farmers from all over Europe take part in a demonstration outside a European Union farm ministers' emergency meeting at the EU Council headquarters in Brussels, Belgium September 7, 2015.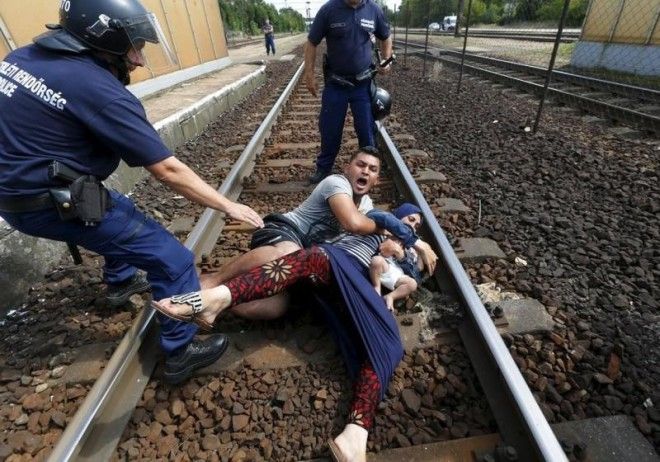 Hungarian policemen stand by the family of migrants as they want to run away at the railway station in the town of Bicske, Hungary, September 3, 2015.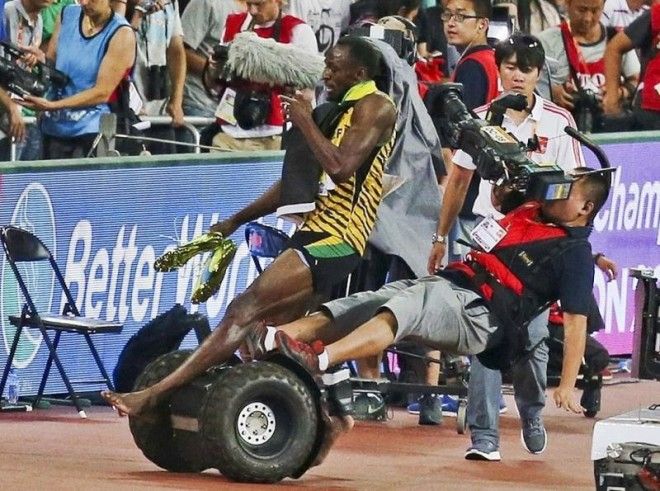 Usain Bolt of Jamaica is hit by a cameraman on a Segway as he celebrates after winning the men's 200 metres final at the 15th IAAF World Championships at the National Stadium in Beijing, China, August 27, 2015.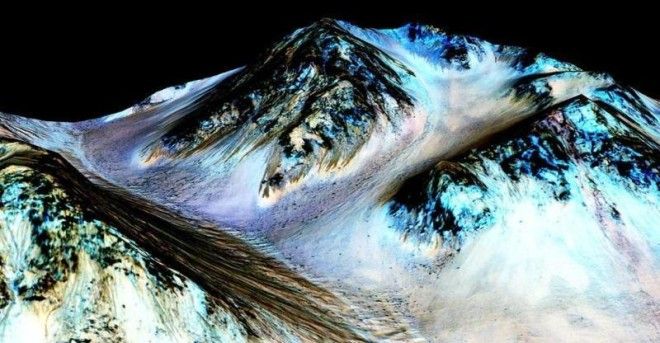 Dark, narrow, 100 meter-long streaks on Mars inferred to have been formed by contemporary flowing water are seen in an image produced by NASA, the Jet Propulsion Laboratory (JPL) and the University of Arizona. Scientists have found the first evidence that briny water may flow on the surface of Mars during the planet's summer months, a paper published on Monday showed.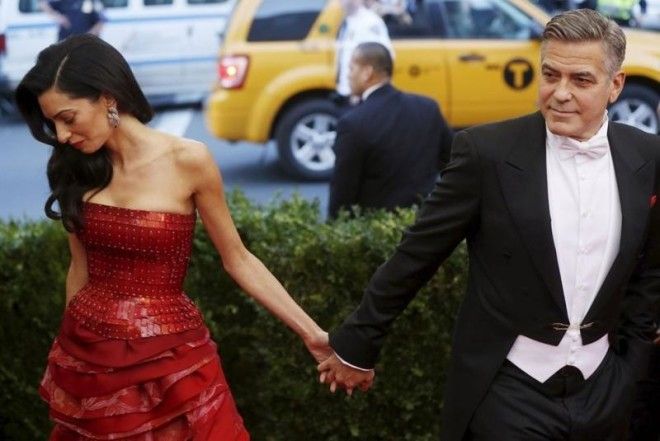 George Clooney and wife Amal Clooney pictured at the Metropolitan Museum of Art Costume Institute Gala 2015 in Manhattan, May 4, 2015.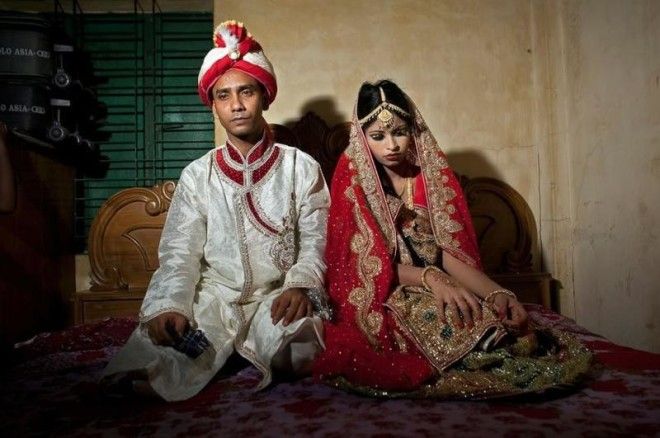 Mohammad Hasamur Rahman, 32, poses for photographs with his new bride, 15-year-old Nasoin Akhter, August 20, 2015, in Manikganj, Bangladesh.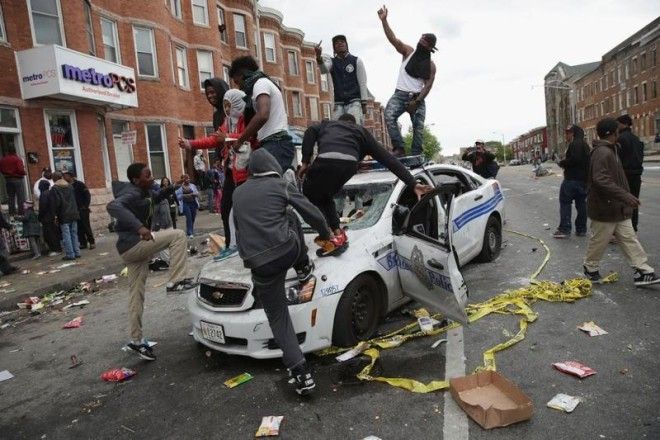 Demonstrators climb on a destroyed Baltimore Police car in the street near the corner of Pennsylvania and North avenues during violent protests following the funeral of Freddie Gray April 27, 2015 in Baltimore, Maryland. Gray, 25, who was arrested for possessing a switch blade knife April 12 outside the Gilmor Homes housing project on Baltimore's west side. According to his attorney, Gray died a week later in the hospital from a severe spinal cord injury he received while in police custody.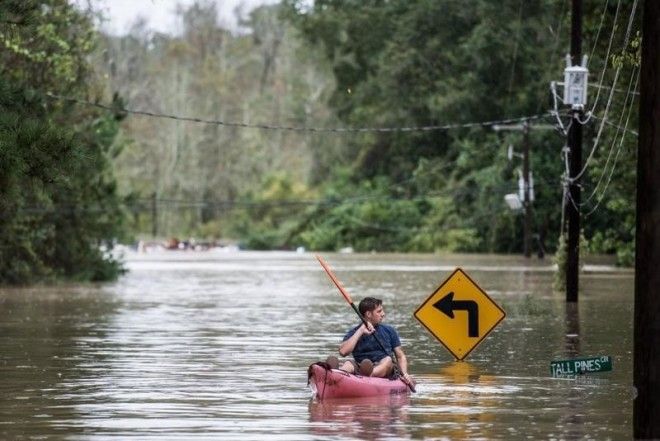 A man kayaks on Tall Pines Circle October 4, 2015 in Columbia, South Carolina. South Carolina experienced a record rainfall, with at least 11.5 inches falling October 3.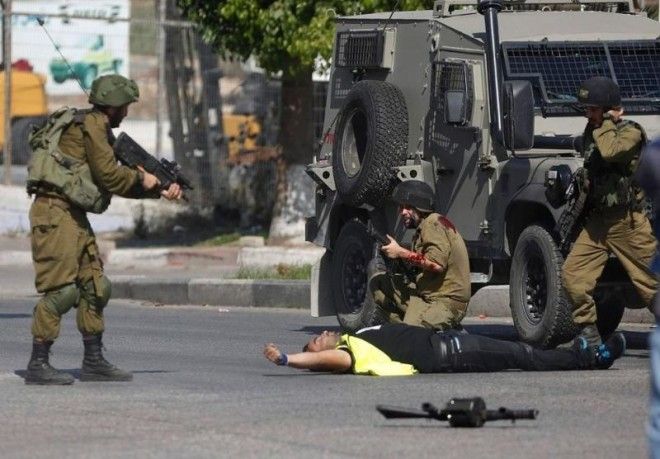 An Israeli soldier shoots a Palestinian holding a knife after he stabbed another Israeli soldier, seen kneeling, during clashes in Hebron, West Bank, October 16, 2015. The Palestinian man wearing a yellow "press" vest and a T-shirt identifying him as journalist stabbed and wounded the soldier in the latest in a monthlong spate of attacks.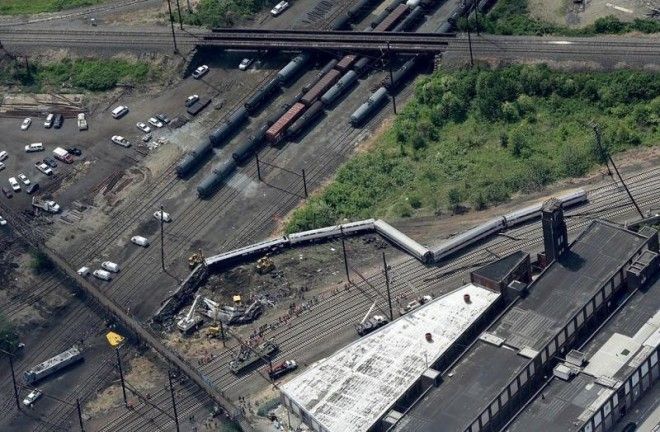 Investigators and first responders work near the wreckage of Amtrak Northeast Regional Train 188, from Washington to New York, that derailed yesterday May 13, 2015 in north Philadelphia, Pennsylvania. At least six people were killed and more than 200 others were injured in the crash.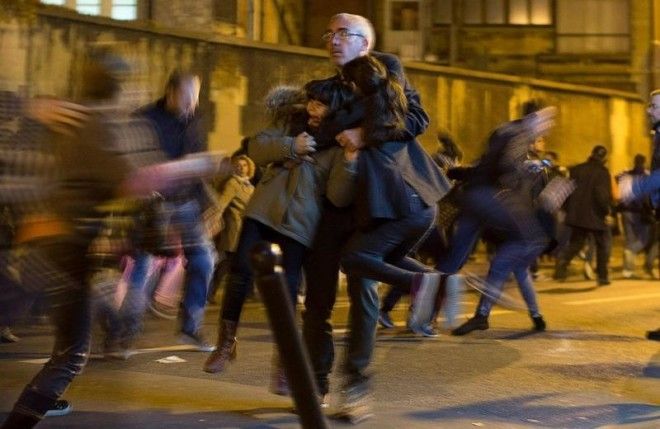 A man carries two children after panic broke out among mourners who payed their respect at the attack sites at restaurant Le Petit Cambodge (Little Cambodia) and the Carillon Hotel in Paris, November 15, 2015. Thousands of French troops deployed around Paris on Sunday and tourist sites stood shuttered in one of the most visited cities on Earth while investigators questioned the relatives of a suspected suicide bomber involved in the country's deadliest violence since World War II.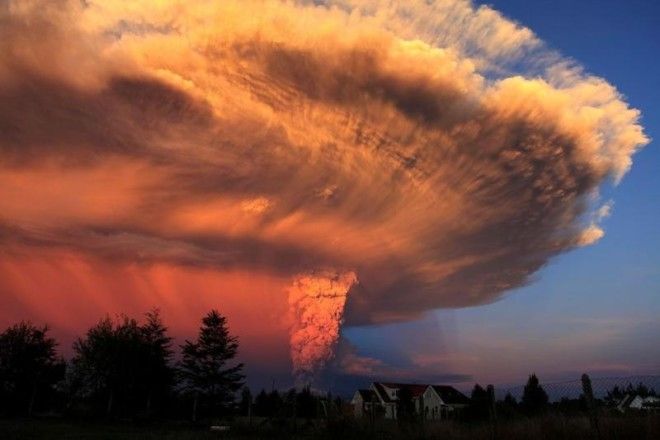 The Calbuco volcano erupts near Puerto Varas, Chile, Wednesday, April 22, 2015. The volcano erupted for the first time in more than 42 years, billowing a huge ash cloud over a sparsely populated, mountainous area in southern Chile.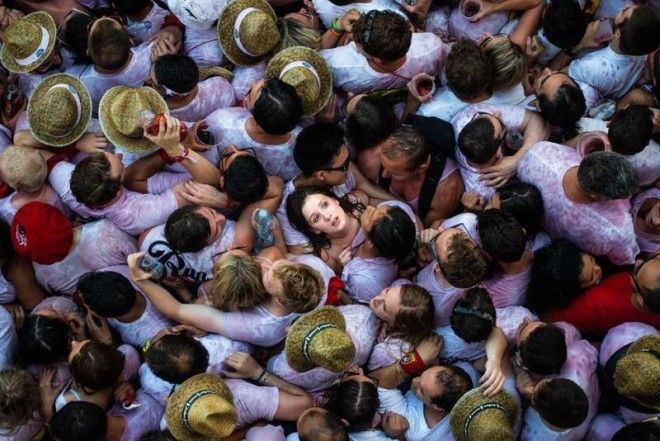 Revellers enjoy the atmosphere during the opening day or "Chupinazo" of the San Fermin Running of the Bulls fiesta on July 6, 2015 in Pamplona, Spain. The annual Fiesta de San Fermin, made famous by the 1926 novel of US writer Ernest Hemmingway entitled "The Sun Also Rises", involves the daily running of the bulls through the historic heart of Pamplona to the bull ring.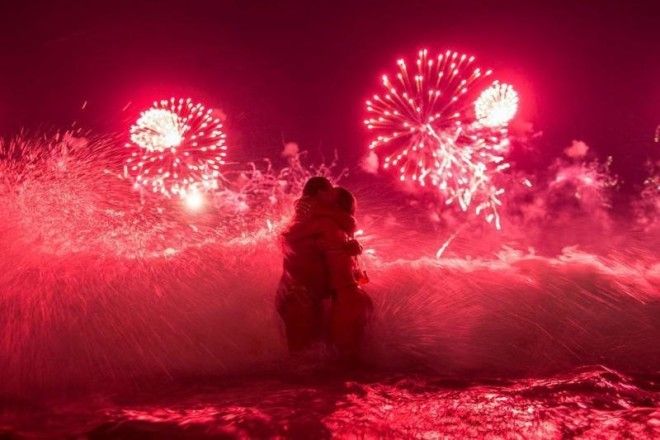 A wave crashes on two girls hugging as they usher in the new year, while fireworks explode over Copacabana beach, during New Year celebrations in Rio de Janeiro, Brazil, Thursday, January 1, 2015.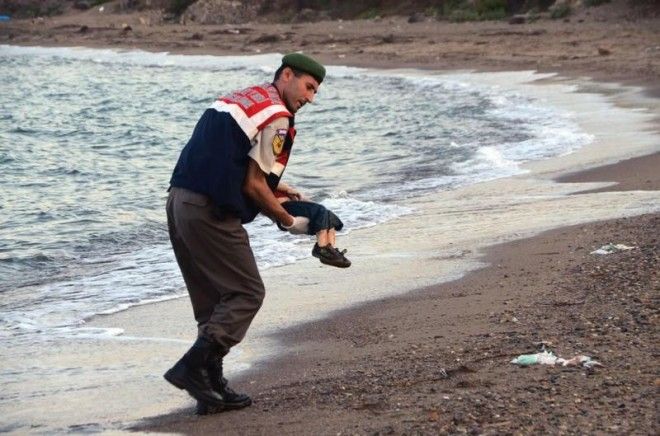 A paramilitary police officer carries the lifeless body of Aylan Kurdi, 3, after a number of migrants died and a smaller number were reported missing after boats carrying them to the Greek island of Kos capsized, near the Turkish resort of Bodrum early Wednesday, September 2, 2015. The family — Abdullah, his wife Rehan and their two boys, 3-year-old Aylan and 5-year-old Galip – embarked on the perilous boat journey only after their bid to move to Canada was rejected. The tides also washed up the bodies of Rehan and Galip on Turkey's Bodrum peninsula Wednesday, Abdullah survived the tragedy.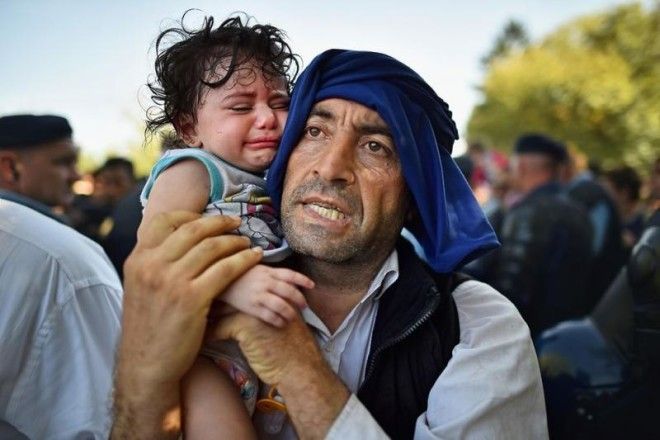 A man holds his crying child close to him as migrants force their way through police lines at Tovarnik station for a train to take them to Zagreb on September 17, 2015 in Tovarnik, Croatia. Migrants are crossing into Croatia from Serbia two days after Hungary sealed its border with Serbia, the majority of them want to reach Germany, amid divisions within the European Union over how to manage the ongoing crisis.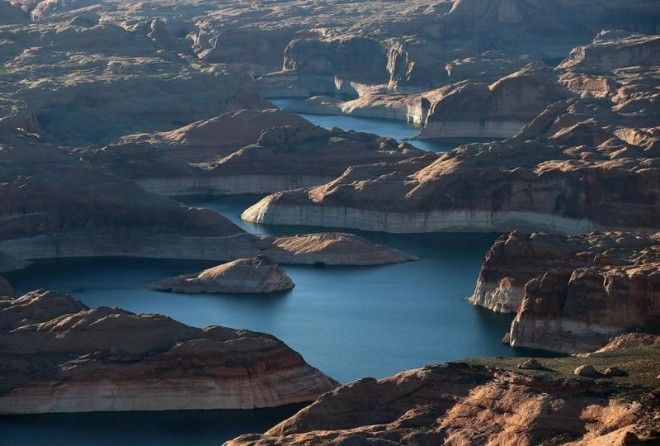 A bleached "bathtub ring" is visible on the rocky banks of Lake Powell on March 28, 2015 in Lake Powell, Utah. As severe drought grips parts of the Western United States, a below average flow of water is expected to enter Lake Powell and Lake Mead, the two biggest reservoirs of the Colorado River Basin. Lake Powell is currently at 45 percent of capacity, a recent study predicts water elevation there to be above 3,575 by September. The Colorado River Basin supplies water to 40 million people in seven western states.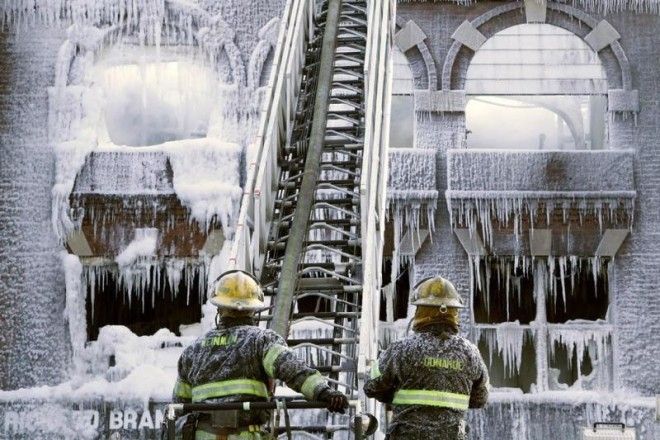 Philadelphia firefighters work the scene of an overnight blaze in west Philadelphia, Monday February 16, 2015, as icicles hang from where the water from their hoses froze. Bone-chilling, single digit temperatures have gripped the region, prompting the closure of all parish and regional Catholic elementary schools in the city of Philadelphia.
Residents gather to see huge waves stirred up by strong wind as typhoon Soudelor draws near the mainland of China in Wenling, east China's Zhejiang province on August 8, 2015. Typhoon Soudelor battered Taiwan with fierce winds and rain, leaving four people dead and a trail of debris in its wake as it takes aim at mainland China.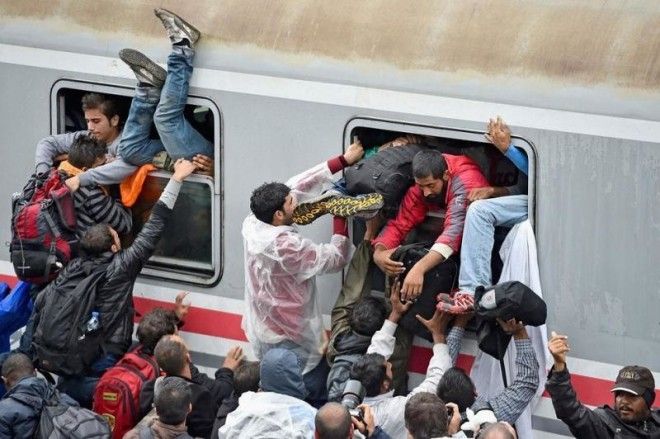 Migrants desperately try and board a train heading for Zagreb from Tovarnik station on September 20, 2015 in Tovarnik, Croatia. Croatia continues to send buses and trains north to its border with Hungary, as officials have estimated the around 20,000 migrants have entered since Wednesday.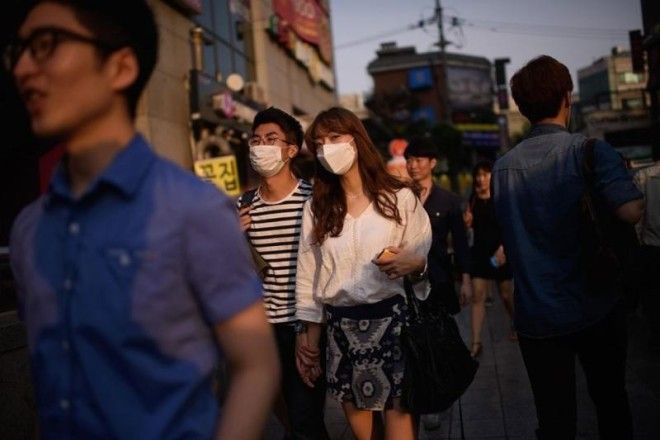 A couple wearing face masks walk on a street in Seoul on June 9, 2015. South Korea on June 9 reported its seventh death from Middle East Respiratory Syndrome (MERS) as the government – concerned about the economic impact – said it hoped to end the crisis this week.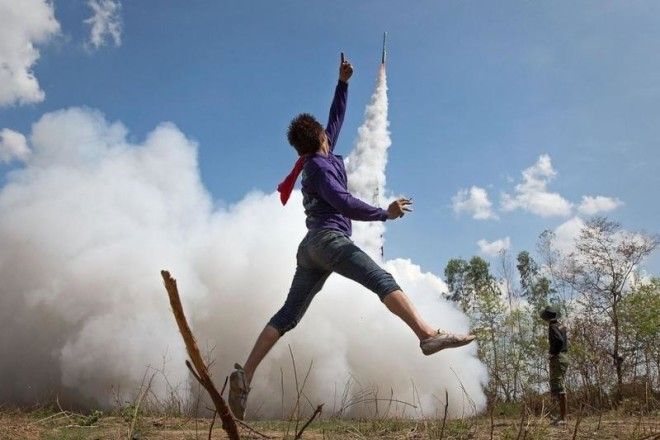 A young Thai man jumps in the air and cheers as his rocket takes off at the Bun Bang Fai Rocket Festival on May 10, 2015 in Yasothon, Thailand.
A Guarani Indian woman jokes with her son in the village of Pyau at Jaragua district, in Sao Paulo, Brazil, April 27, 2015. The National Indian Foundation (FUNAI) has recognized 521 hectares of this area as indigenous territory, making it the smallest indigenous reserve in Brazil. Members of the Guarani community have now established a new village outside the demarcation and are being threatened with an eviction through a court order.
North Korean leader Kim Jong Un (3rd R) and wife Ri Sol Ju (4th L) enjoy an art performance given by the Chongbong Band to mark the 70th anniversary of the founding of the Workers' Party of Korea (WPK) in this undated photo released by North Korea's Korean Central News Agency (KCNA) in Pyongyang on October 19, 2015.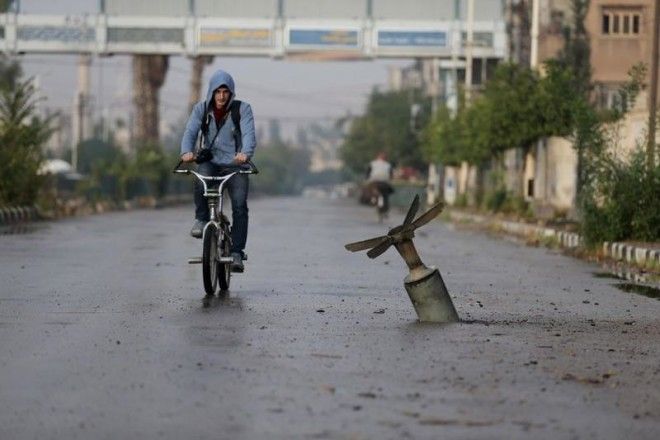 A resident rides his bicycle near what activists said was an exploded cluster bomb shell in the town of Douma, eastern Ghouta in Damascus November 5, 2015.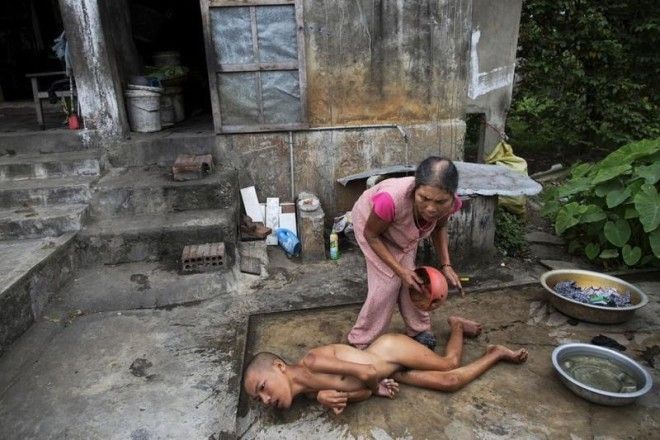 Tang Thi Thang baths her disabled son Doan Van Quy outside their family home in Truc Ly, in Vietnam's Quang Binh Province April 11, 2015. Doan Van Quy's father, a soldier who served on 12.7 mm anti-aircraft guns during the Vietnam war, said he lived in several areas that were contaminated by Agent Orange. Two of his sons were born with serious health problems and the family and local health officials link their illnesses to their father's exposure to Agent Orange.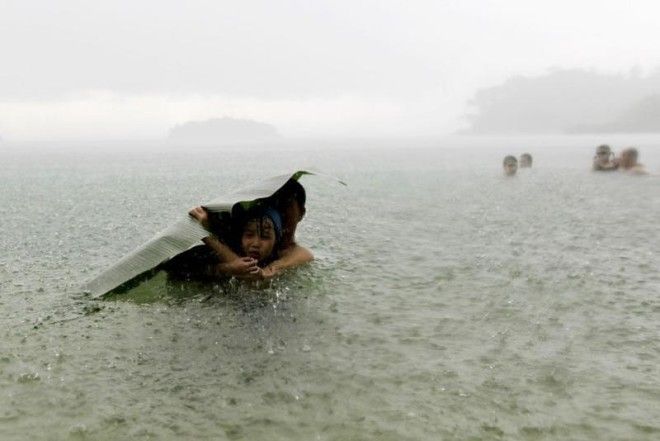 A young girl covers herself from the rain with a banana leaf next to a man in the sea on the outskirts of Colon City October 17, 2015.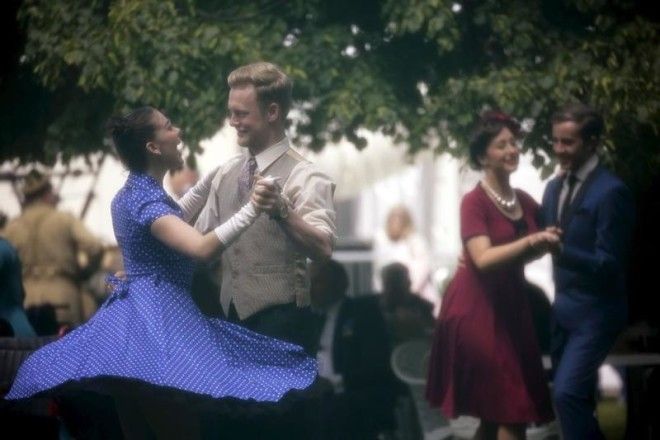 People wearing period clothing dance in St James's Park on the final day of the 70th anniversary Victory in Europe (VE) day commemorations in central London May 10, 2015. Picture taken through a mesh fence.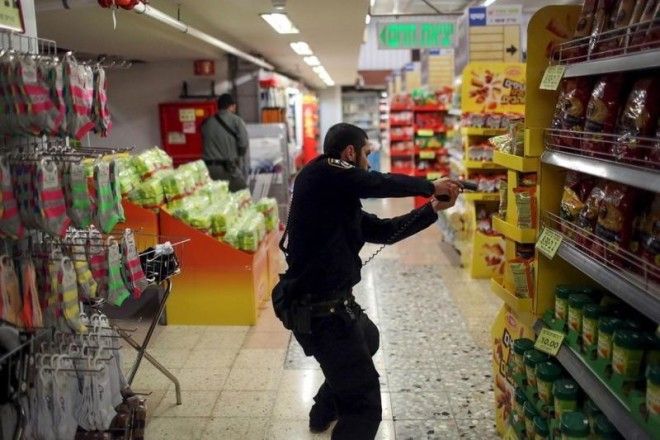 An Israeli policeman searches a supermarket inside the Central Jerusalem Bus Station after police said a woman was stabbed by a Palestinian outside the bus station October 14, 2015. A Palestinian stabbed and moderately wounded a 70-year-old woman outside Jerusalem's central bus station, at the entrance to the city, before an officer shot him dead, a police spokeswoman said.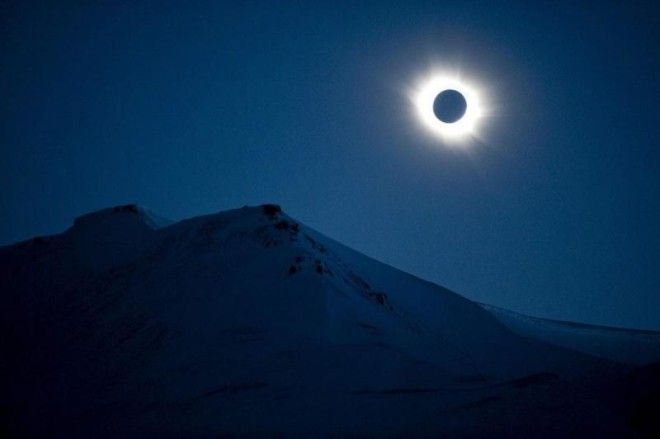 A total solar eclipse is seen in Longyearbyen on Svalbard, Norway, March 20, 2015. A partial eclipse was visible on Friday, the first day of northern spring, across parts of Africa, Europe and Asia. The total eclipse of the sun was only visible in the Faroe Islands and the Norwegian archipelago of Svalbard in the Arctic Ocean.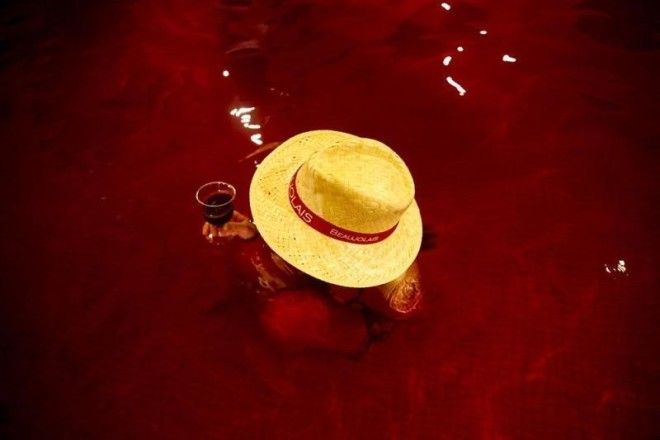 A woman drinks wine in a hot bath with coloured water representing wine at the Hakone Kowaki-en Yunessun spa resort during an event marking Beaujolais Nouveau Day in Hakone west of Tokyo, November 19, 2015.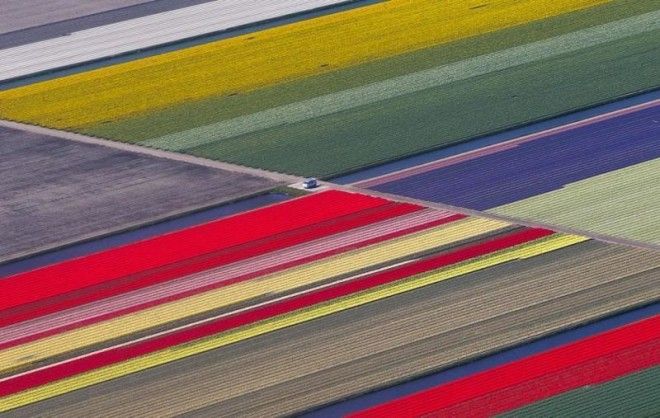 An aerial view of flower fields is seen near the Keukenhof park, also known as the Garden of Europe, in Lisse, The Netherlands April 15, 2015. Keukenhof, employing some 30 gardeners, is considered to be the world's largest flower garden displaying millions of flowers every year.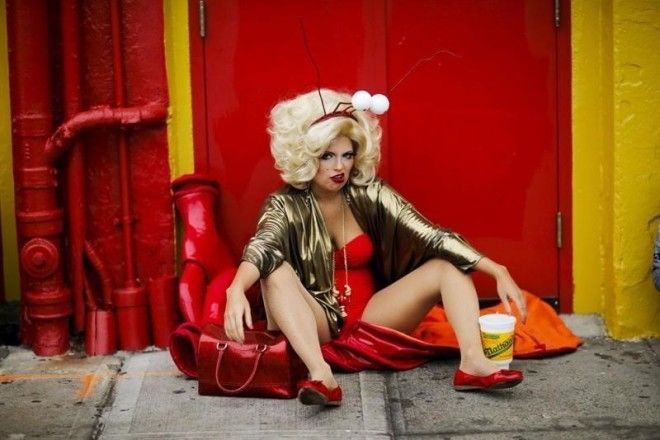 A participant rests while people take part in the Mermaid Parade at Coney Island, in Brooklyn, New York, June 20, 2015. The annual parade, founded in 1983, seeks to bring mythology to life for residents, create confidence in the district and to allow artistic self-expression in public, according to the parade's website.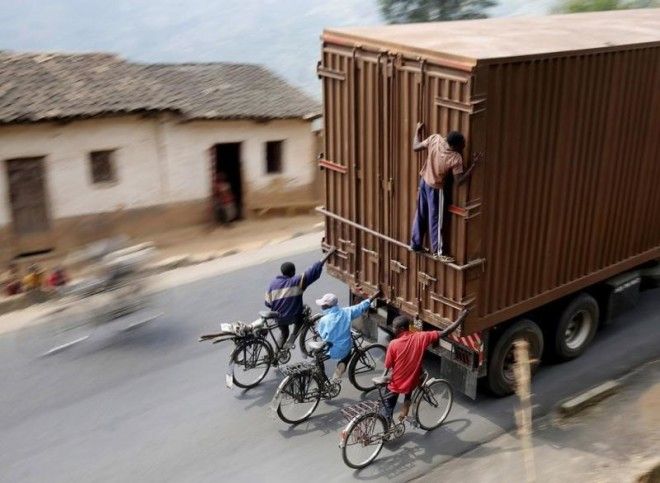 Cyclists hang on to the back of a truck outside the capital Bujumbura, July 19, 2015, as the country awaits next week's presidential elections. Each day scores of cyclists make the 45 kilometer (27 miles) downhill journey at breakneck speed from Bugarama to sell bananas, often hanging from the back of trucks for the return uphill trip.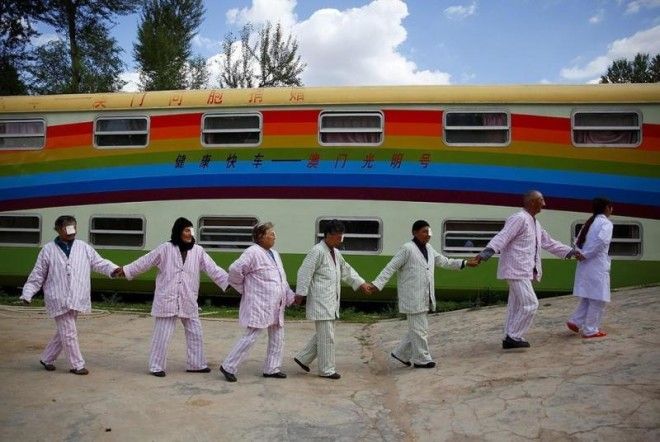 A nurse (R) leads cataract patients as they walk past a train which serves as a mobile hospital, in Ledu county, Qinghai province, China, July 23, 2015. The train, donated by people from Hong Kong and Macau, came to the county three months ago and has provided free medical treatment to more than 900 local cataract patients, local media reported.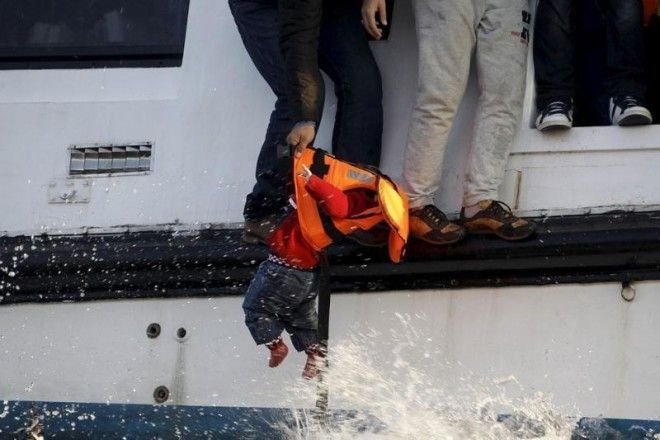 A refugee prepares to hand over a toddler to a volunteer lifeguard as a half-sunken catamaran carrying around 150 refugees, most of them Syrians, arrives after crossing part of the Aegean sea from Turkey on the Greek island of Lesbos, October 30, 2015. There were no casaulties amongst the refugees who were travelling on the catamaran, according to a Reuters witness.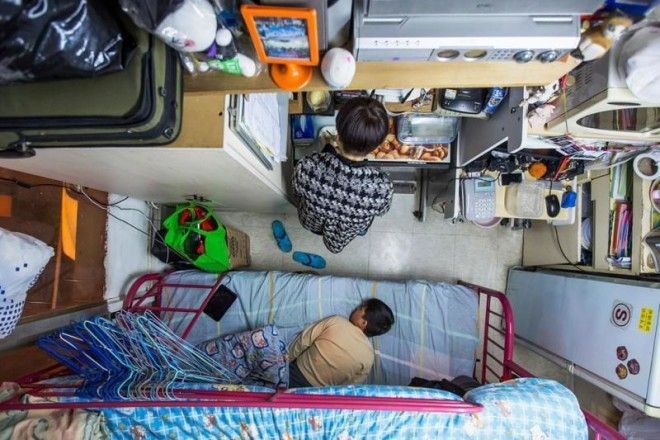 A woman and her son are seen in their 60-square-foot sub-divided flat, with a monthly rent of HK$3,800 ($487), in Hong Kong February 2, 2015.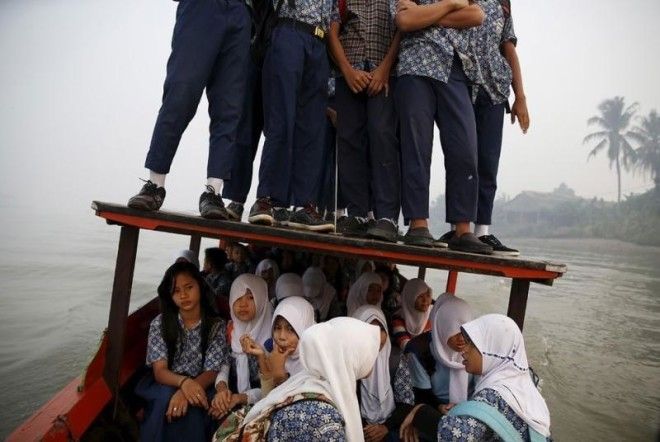 Students stand on the roof of a wooden boat as haze blankets the Musi River while they travel to school in Palembang, on Indonesia's Sumatra island, September 10, 2015.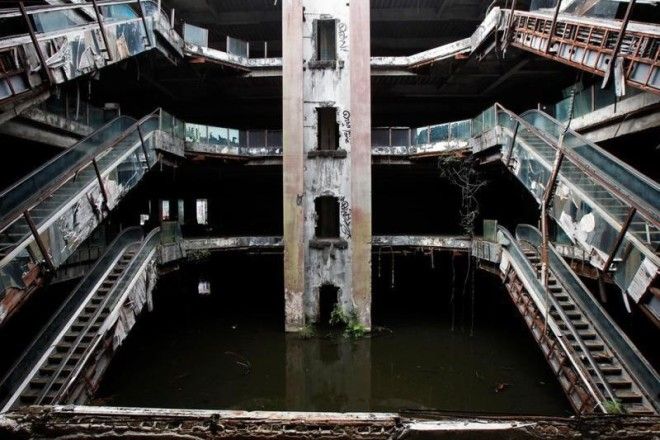 An abandoned department store is seen flooded in Bangkok January 13, 2015. Staff from Bangkok Metropolitan Administration (BMA) office were catching fish at the ground floor of the roofless New World department store that was closed down in 1997. Thousands of fish such as catfish, fancy carps as well as black and red tilapias were released into the ground floor of the building, flooded with rainwater, as local vendors tried to control mosquitoes in the area, local media reported. BMA recently decided to remove the fish and release the water.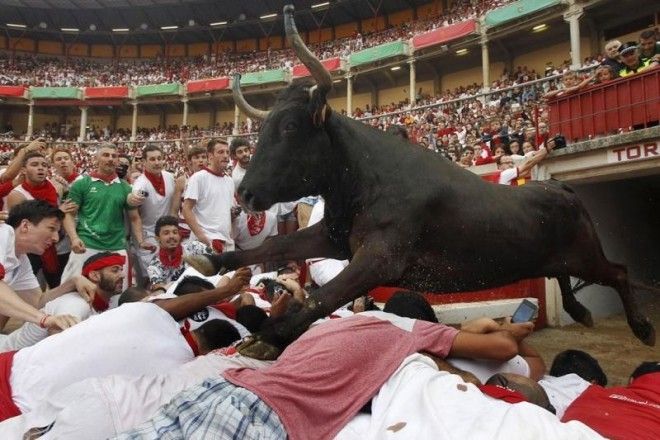 A wild cow leaps over revellers into the bull ring after the second running of the bulls of the San Fermin festival in Pamplona, northern Spain, July 8, 2015. One runner was gored in the run that lasted 2 minutes and 14 seconds, according to local media.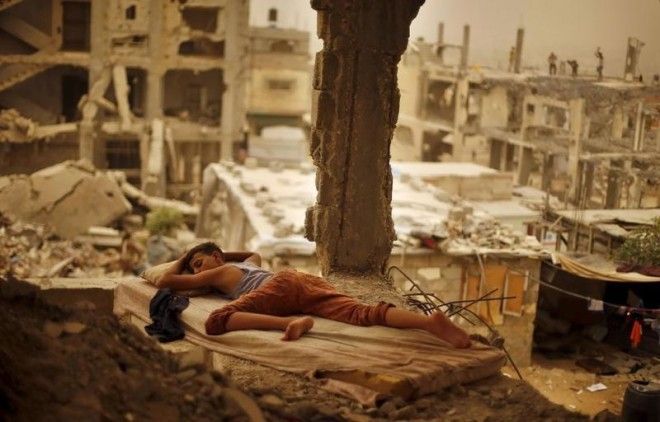 A Palestinian boy sleeps on a mattress inside the remains of his family's house, that witnesses said was destroyed by Israeli shelling during a 50-day war in 2014 summer, during a sandstorm in Gaza September 8, 2015.
People cool off at a water park, in Nanjing, Jiangsu province, August 1, 2015. Temperature hit 35 degrees Celsius (95 degrees Fahrenheit) in Nanjing on Saturday.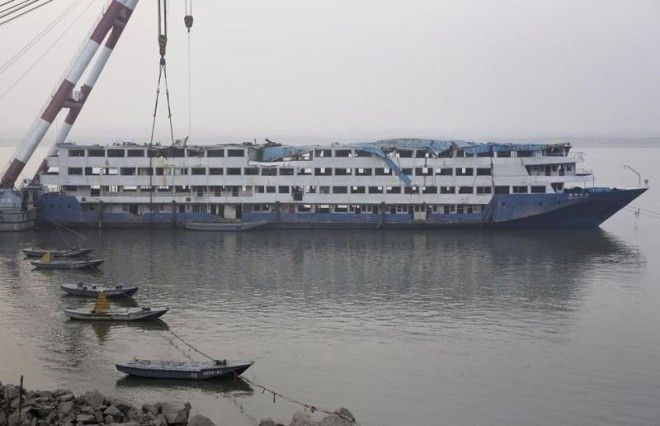 The Eastern Star, the cruise ship which went down in the Jianli section of the Yangtze River in June, is seen in Jianli, Hubei province, December 30, 2015. A formal inquiry has concluded that freak weather led to the sinking of a Yangtze River cruise ship in June that killed 442 people and recommended that the captain be investigated for possible crimes, media reported.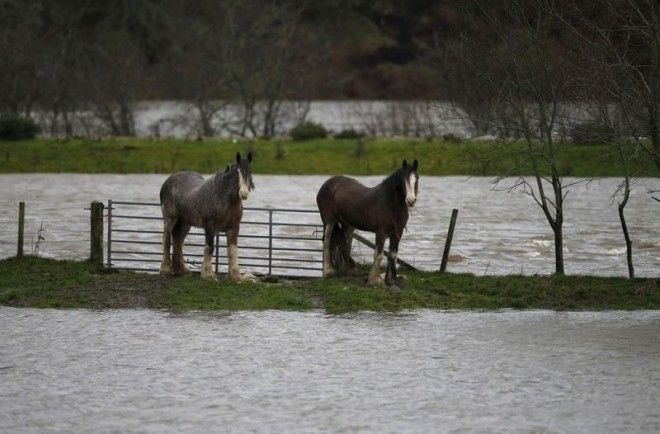 Horses stand in a flooded field beside the River Tay near Ballinluig, Scotland December 30, 2015. Torrential rain and gale force winds battered northern Britain on Wednesday cutting power to thousands of homes and forcing some to evacuate flooded streets in the third major storm in a month.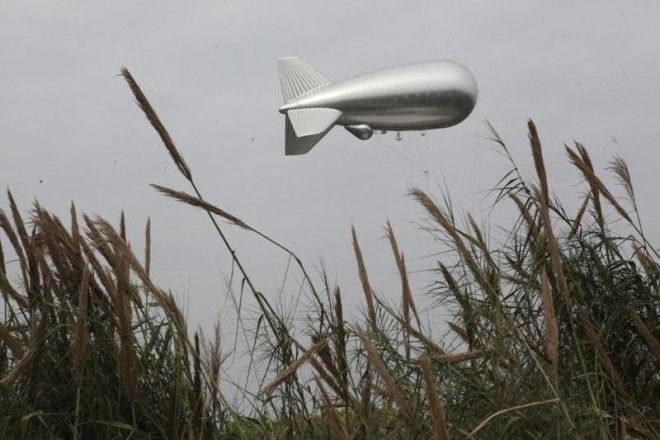 Smart City space information platform "Yunduan" flies in Dongguan, Guangdong province, in this picture taken December 28, 2015. According to local media, the 41.8-meter-long airship-shaped aerial platform "Yunduan" was used in the rescue work in Shenzhen after the landslide on December 20. With the launch in Dongguan on Monday, "Yunduan" started to serve as a real time monitor for the city's water system, weather and air quality, and also to contribute to regional security surveillance.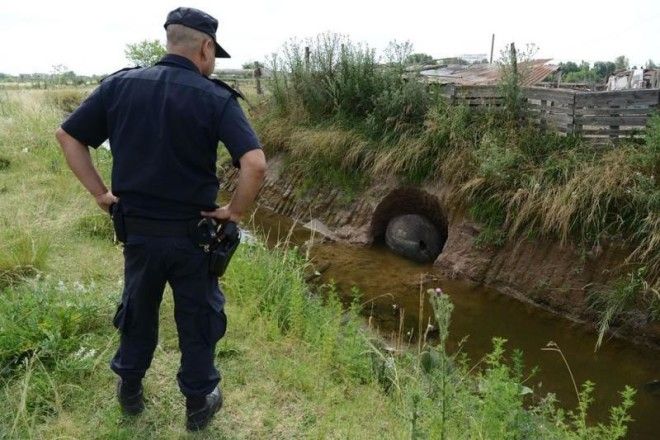 A policeman looks at a glyptodont shell found in Carlos Spegazzini, Buenos Aires Province, Argentina, on December 29, 2015.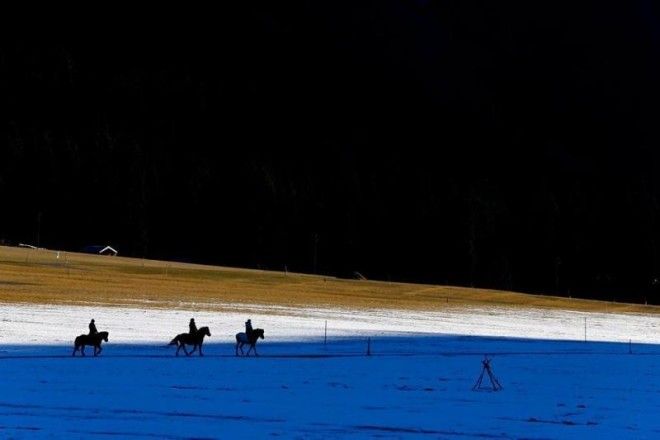 People on horses make their way over snow covered meadows near Haller, Austria, Wednesday, December 30, 2015. The weather forecast predicts cold weather with rain for the upcoming days.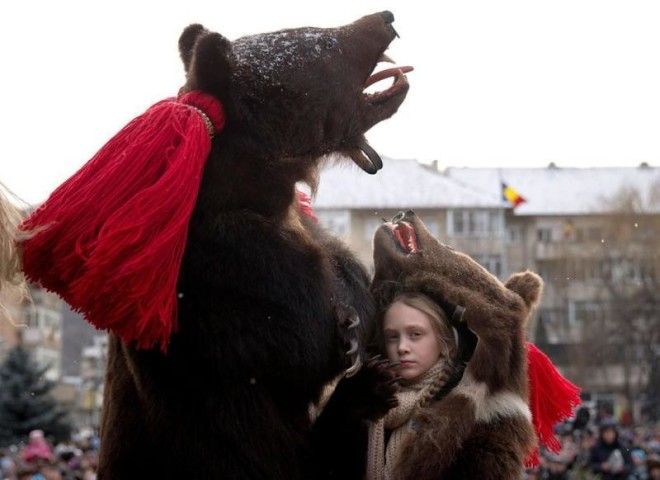 People wearing bear furs perform during a festival of New Year ritual dances attended by hundreds in Comanesti, northern Romania, Wednesday, December 30 2015. In pre-Christian rural traditions, dancers wearing colored costumes or animal furs, toured from house to house in villages singing and dancing to ward off evil, in the present the tradition has moved to Romania's cities too, where dancers travel to perform the ritual for money.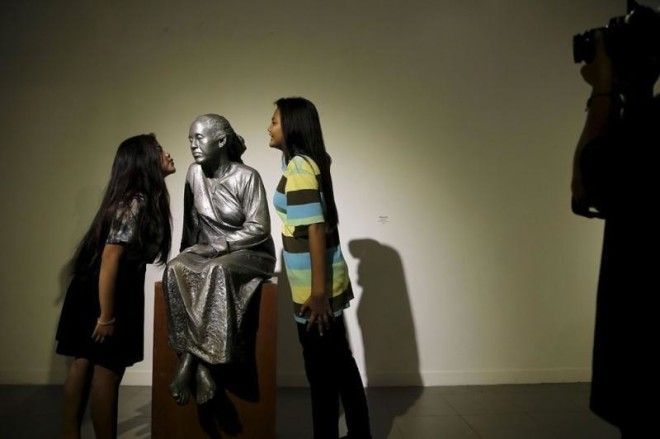 Students pose near a sculpture by Indonesian artist Purjito at National Gallery in Jakarta, Indonesia during Christmas holiday on December 29, 2015.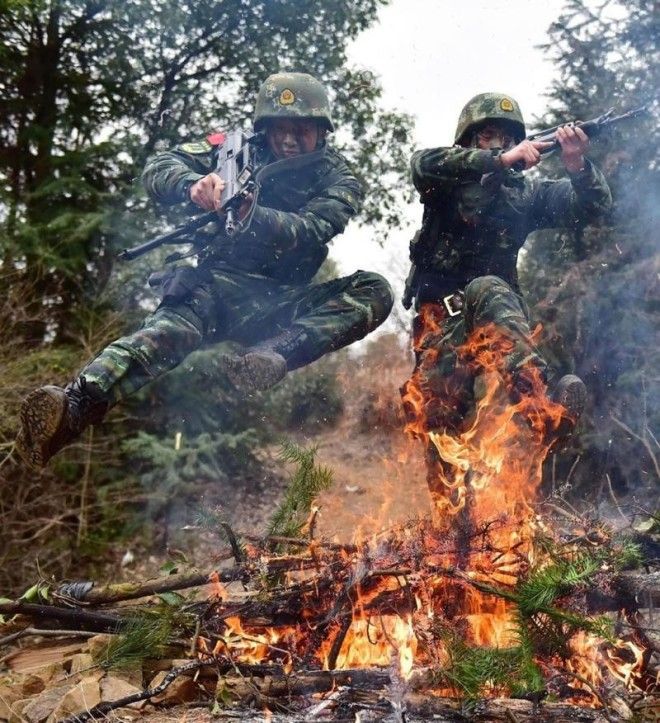 Paramilitary policemen take part in a training in Chaohu, Anhui province, China December 28, 2015.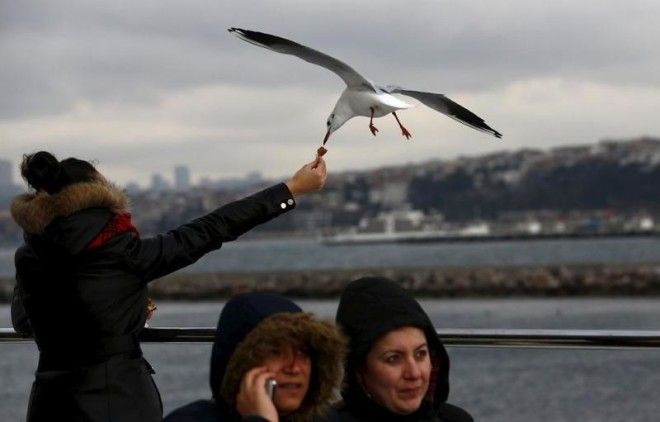 A woman feeds a seagull as she travels on a ferry over the Bosphorus in Istanbul, Turkey December 29, 2015.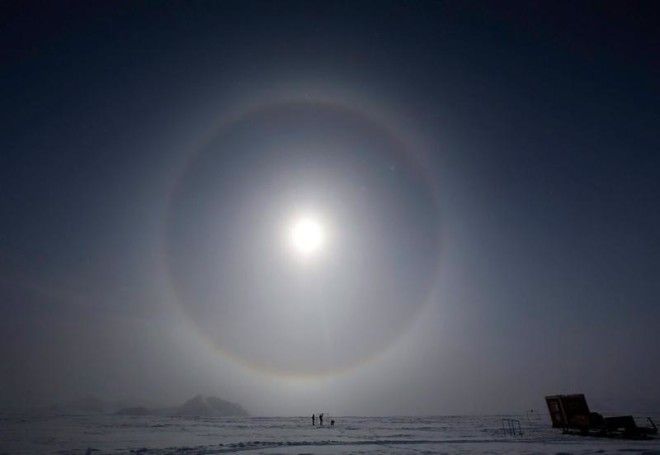 A picture made available 29 December 2015 shows Scientists measuring the solar radiation, at the Glaciar Union camp in the Antarctica, 18 November 2015. The ozone hole has reached a record size with 10 squared kilometers in December 2015, more than the double of the average of the season, according to data published on 28 December 2015 by the University of Santiago de Chile (Usach).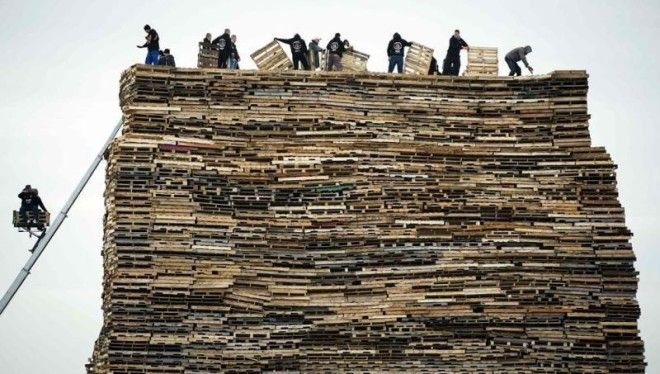 People pile up wooden pallets prior to the traditional bonfire of New Year eve, on december 29, 2015 in Scheveningen.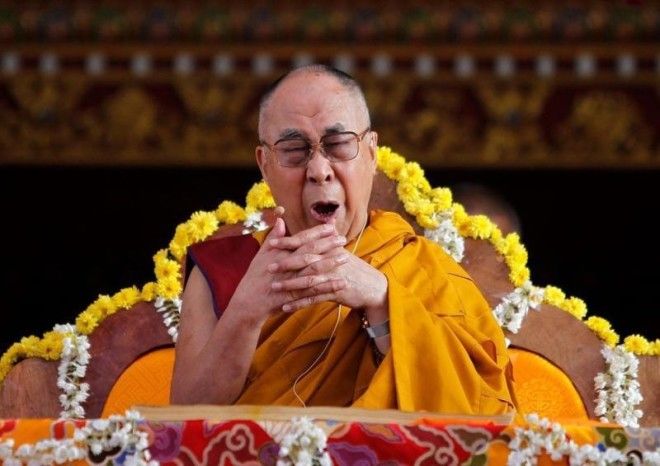 Tibetan spiritual leader the Dalai Lama yawns as he delivers the Jangchup Lamrim teachings at the Tashi Lhunpo Monastery in Bylakuppe in the southern state of Karnataka, India, December 28, 2015.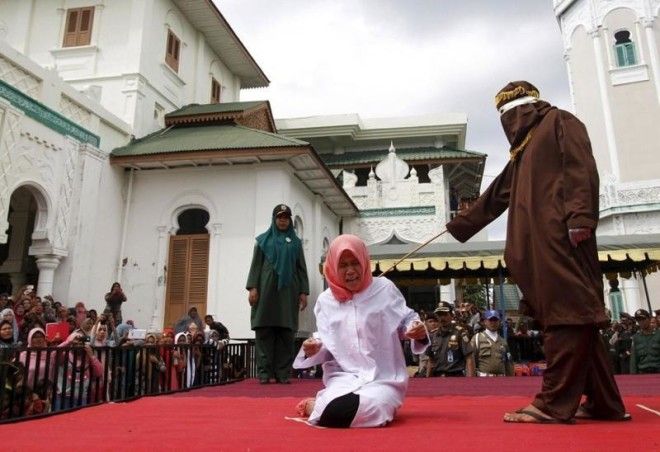 Nur Elita, an Acehnese woman, screams during caning as part of her sentence in the courtyard of Baiturrahman mosque in Banda Aceh, Indonesia's Aceh province December 28, 2015. Nur Elita received five strokes of the cane for having pre-marital s*x with her boyfriend, according to local media. Aceh is the only province in Indonesia, the world's most populous Muslim country, where Islamic law is implemented, according to local media.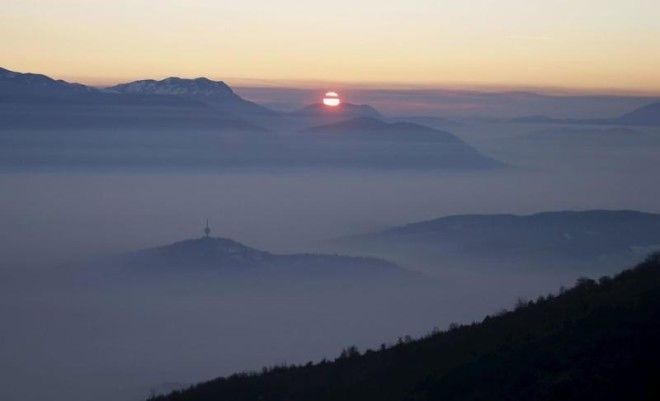 A Sarajevo TV tower is seen as smog blankets Sarajevo, Bosnia and Herzegovina, December 28, 2015. According to local media, the smog had cleared enough for the sun to be spotted for the first time in a month on Monday.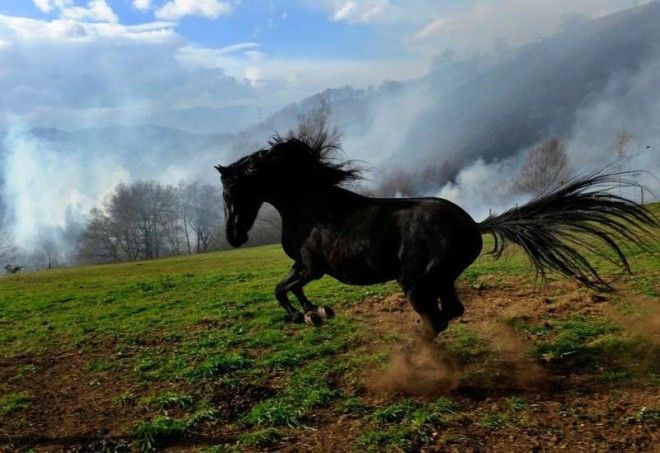 A horse reacts to the smoke from a forest fire in the village of Andarujo, near Oviedo, northern Spain, December 28, 2015.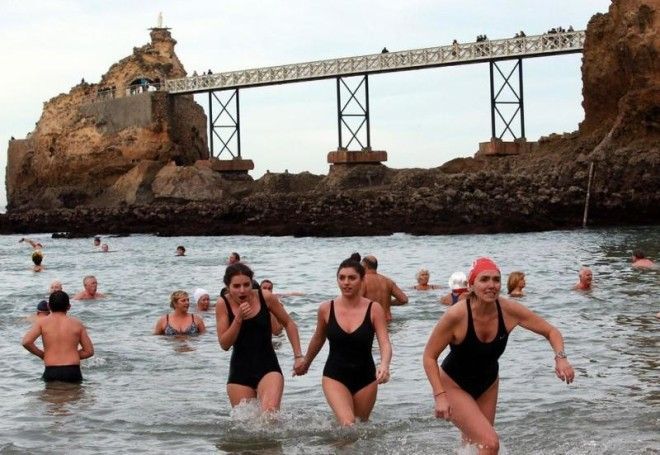 Enthusiasts from the long-established swimming club Les Ours Blancs (The Polar Bears), paddle during an annual swim in Biarritz, southwestern France, with the Virgin Rock in the background, Sunday, December 27, 2015. Most people were dressed in red, white and blue colors following the latest attacks in France.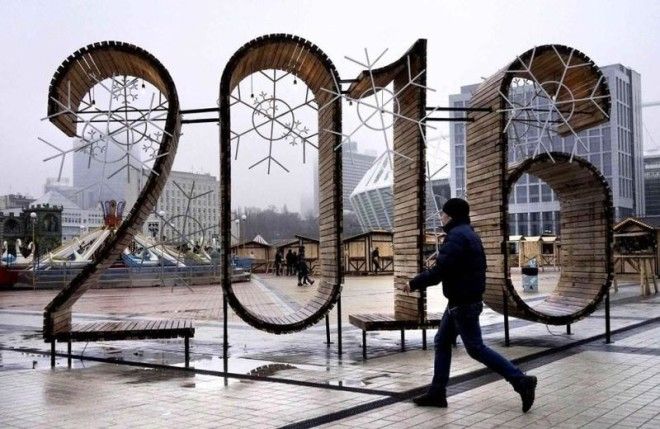 A man walks by a 2016 decoration, in Kiev, Ukraine, Monday, December 28, 2015. Ukraine's GDP has dropped by 9 percent over the year 2015, according to the IMF forecast. President Petro Poroshenko said close to 9,000 person, including servicemen and civilians, have died in the country's east – the area of the war conflict against pro-Russian separatists; close to 1.5 million Ukrainian refugees, have seek shelter as they escape from the zone of the conflict.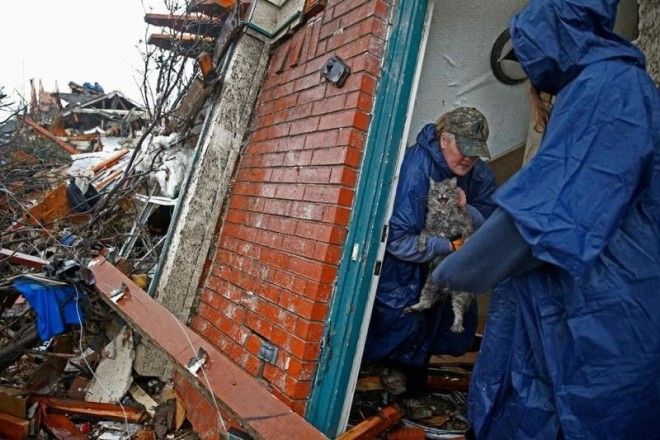 Pam Russell, left, rescues her cat, Larue, from her damaged home on Delta Drive a day after a tornado hit in Rowlett, Texas, Sunday, December 27, 2015. At least 11 people died and dozens were injured in apparently strong tornadoes that swept through the Dallas area and caused substantial damage this weekend.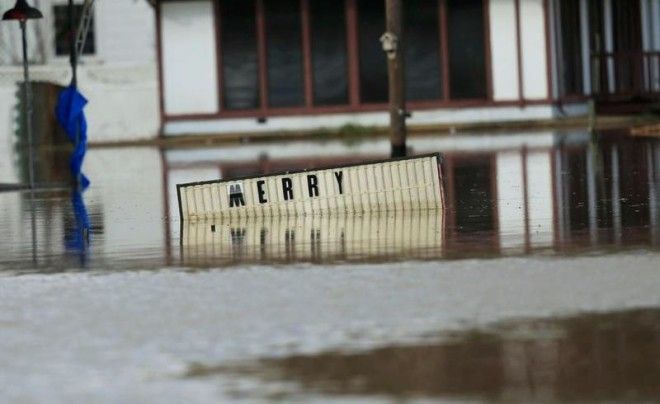 A sign sits underwater located in the downtown area of Elba, Alabama, December 26, 2015. Alabama has been hit with storms and heavy rain since Wednesday, and the Weather Service issued flash flood warnings around the region for Friday.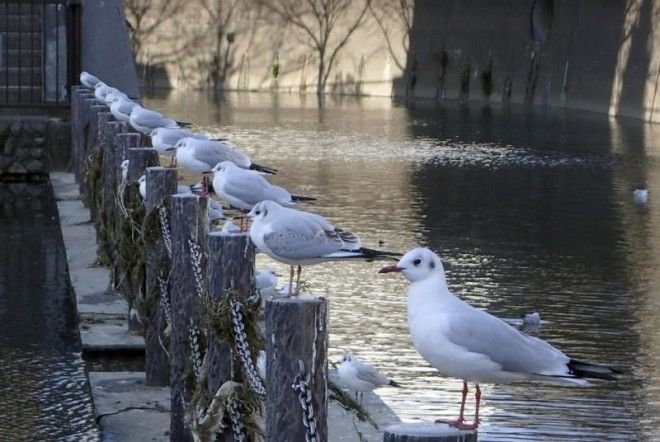 Black-headed gulls sit on pickets at a riverside in Tokyo, Japan, December 27, 2015.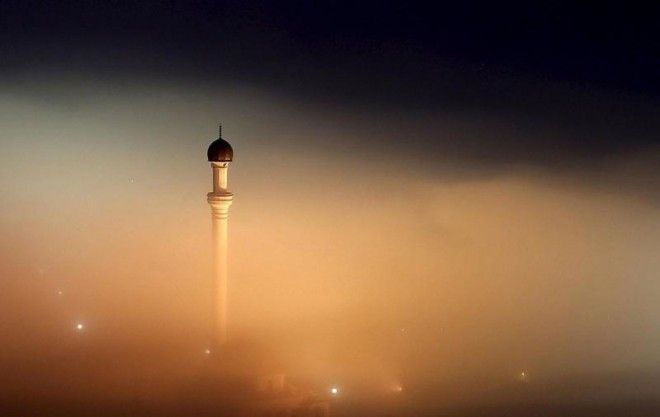 The minaret of a mosque is seen as smog blankets the village of Ponijeri, Bosnia and Herzegovina, December 26, 2015. With severe air pollution affecting the cities nestled among the mountains, the authorities have declared the first level of preparedness, advising the segment of the population that is at health risk to reduce movement in the mornings and evenings, appealing to drivers to use motor vehicles less and ordering heating utilities to lower the emission of harmful gases.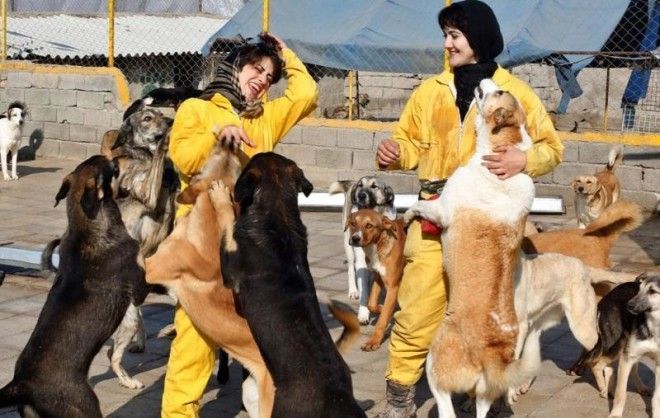 Volunteers play with dogs at the Vafa Animal Shelter in Hashtgerd, Alborz Province, Iran, 25 December 2015. According to reports more than 700 dogs are cared for at the Vafa Animal Shelter, established through an endowment in 2004, receiving no Government funding and relying on volunteers, and is the country's only licensed animal refuge.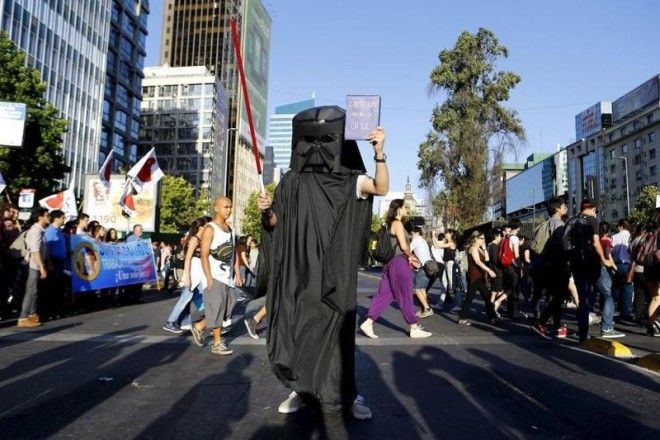 A student dressed as a character from the movie Star Wars holds up a representation of Chile's constitution during a protest against the government to demand universal free education and changes in the education system in Santiago, Chile, December 22, 2015. The words on the book read "Chile's Imperial Constitution".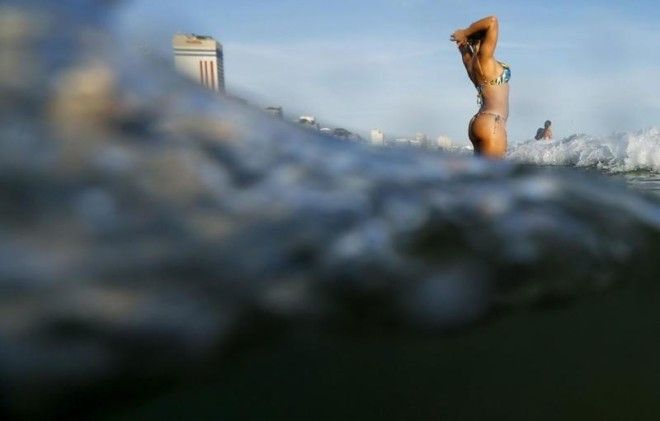 A woman gets into the waters on Leblon beach at Rio de Janeiro, Brazil, December 22, 2015. With the arrival of summer in the southern hemisphere, average daytime temperatures in Rio have reached into the mid-to-upper 38's Celsius (upper 100's Fahrenheit), local media reported.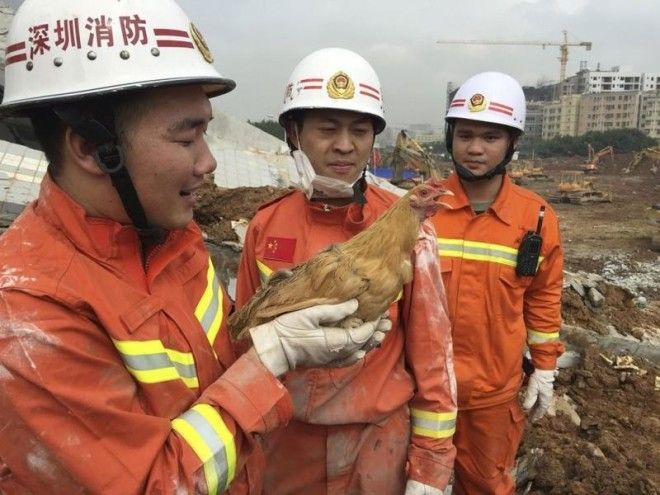 Firefighters look at a hen which was rescued from the debris of a collapsed building after a landslide hit an industrial park on Sunday, in Shenzhen, Guangdong province, China, December 23, 2015.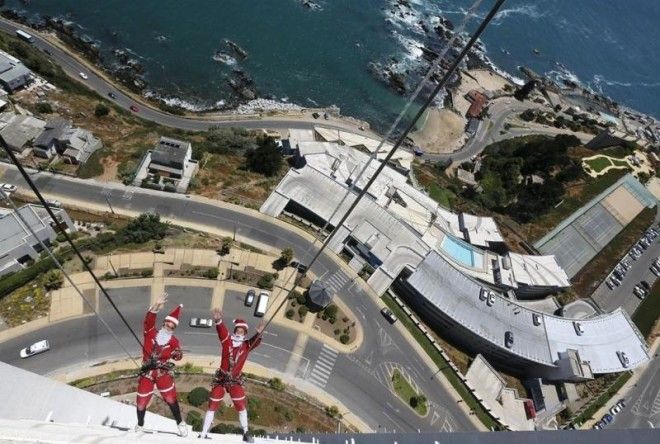 Workers wave as they clean the windows of a building dressed of Santa Claus in Vina del Mar city, Chile December 23, 2015.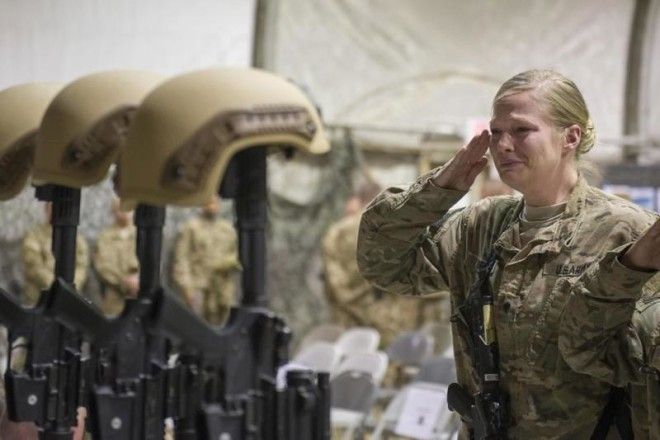 A U.S. service member salutes her fallen comrades during a memorial ceremony for six Airmen killed in a suicide attack, at Bagram Air Field, Afghanistan on Wednesday, December 23, 2015. The deadliest attack in Afghanistan since 2013 killed six U.S. troops on Monday, including a family man from Long Island, New York; a South Texan; a New York City police detective; a Georgia high school and college athlete; an expectant father from Philadelphia; and a major from suburban Minneapolis with ties to the military's LGBT community. They were killed when their patrol was attacked by a suicide bomber on a motorcycle near Bagram Air Base, the Defense Department said.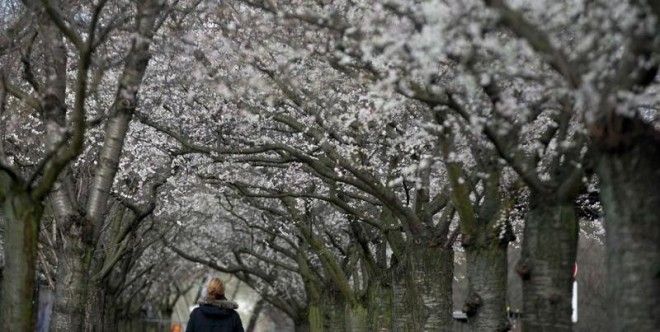 A woman walks under blooming cherry trees during winter time in Berlin, Germany, December 22, 2015.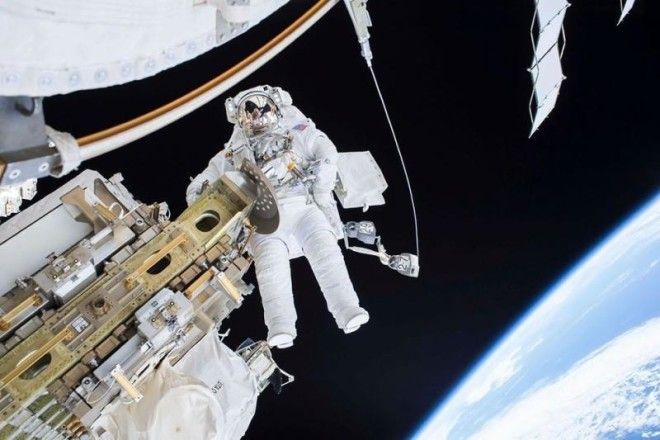 Expedition 46 Flight Engineer Tim Kopra performs a spacewalk outside the International Space Station in this December 21, 2015 NASA handout photo. Kopra and Expedition 46 Commander Scott Kelly successfully moved the International Space Station's mobile transporter rail car ahead of the December 23, 2015 docking of a Russian cargo supply spacecraft.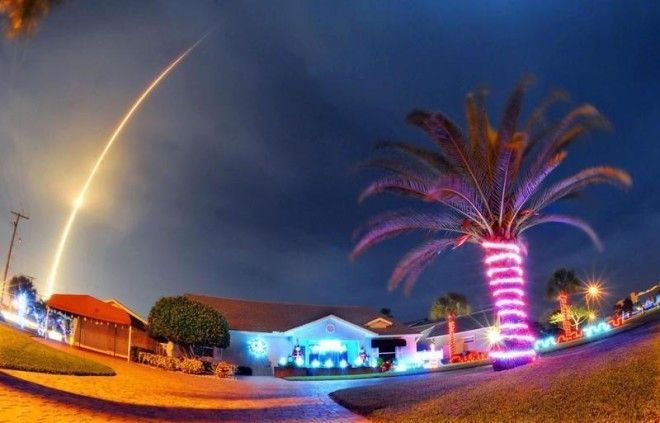 The SpaceX Falcon 9 rocket lifts off over Cocoa Beach, Fla., at Cape Canaveral Air Force Station, Monday, December 21, 2015. The rocket, carrying several communications satellites for Orbcomm, Inc., is the first launch of the rocket since a failed mission to the International Space Station in June.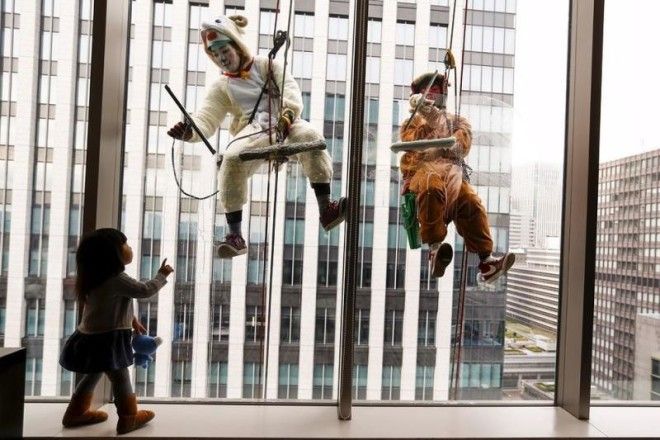 A child looks at window cleaners work while dressed in sheep (C) and monkey costumes, denoting animal signs of the Chinese zodiac calendar, during an event marking the upcoming end of the year at a hotel in Tokyo, Japan, December 21, 2015. According to the zodiac calendar, 2015 is the year of the sheep and 2016 is the year of the monkey.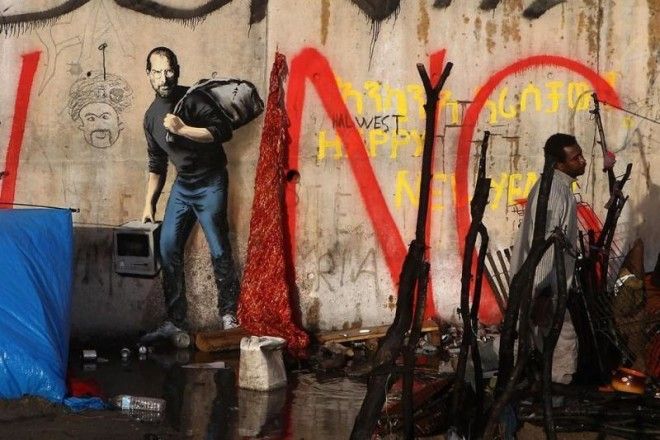 A painting by English graffiti artist Banksy is seen at the entrance of the Calais refugee camp in France, in Calais, northern France, Monday, December 21, 2015. The elusive graffiti artist has depicted the late Apple guru Steve Jobs – whose biological father was from Syria – carrying a black garbage bag and an early model of the Macintosh computer.