DETROIT — Utility and luxury were both on display in full force in Detroit for the North American International Auto Show this week. So, too, were vehicles that dared to reshape and reimagine their brands.
Alongside the likes of the tech-savvy Mercedes-Benz E-Class and versatile Honda Ridgeline pickup, there were some companies keen to remake themselves in the Motor City with attention-grabbing concepts and a few daring production cars as well.
Given the fact that the automotive industry is on the threshold of a series of revolutions (Bill Ford Jr.'s words — not ours), it feels like a bad time to feel the need to shake things up and redefine your brand. That said, coming from another angle, maybe it's the perfect time. Either way, here were the cars that stood out to us as real game-changers for their makers.
Buick Avista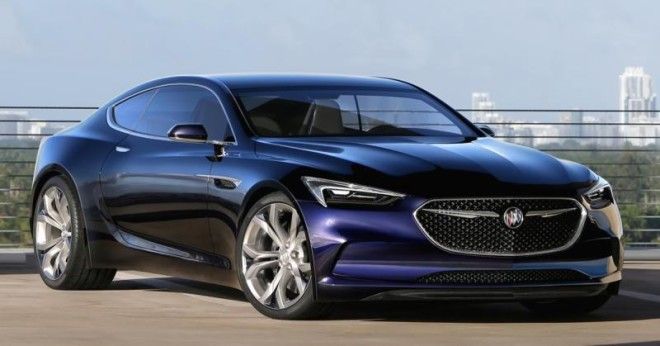 Buick Avista concept
The Buick Avista concept, as we learned from a bit of digging, was championed by two young maverick designers. Moreover, it's a vision of what Buick wants to be, as it heads into the second half of the decade.
The brand has the fortunate misfortune of being an unknown entity to virtually everyone under the age of 30. That opportunity has allowed Buick to be a bit daring with the Avista. With 400 horsepower and a body that would make a Jaguar envious, the Avista is a youthful reimagining of the Buick brand.
I absolutely love the attention to detail from the custom-designed human-machine interface (HMI) in the dash's curved touchscreens and the 3D-printed elements inspired by the pattern created by water crossing over sand. Hopefully, given its warm public reception and its incredible attention to detail, the Avista is a look at Buicks to come.
Acura Precision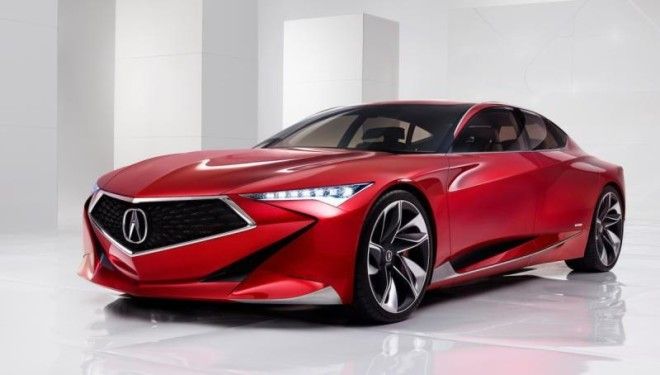 Acrua Precision Concept
Acuras have long been known as reliable, luxurious cars. They've never been that much to look at, however. The Precision concept aims to change that. More than just a head-turner the Precision conceptis designed to show where Acura is going in the next few years — both from a visual but also a conceptual standpoint.
The long-bodied sedan (complete with rear suicide doors) embraces a design theme Acura is calling "quantum continuum." Granted, that might sound like marketing nonsense, but the result is actually pretty compelling. The "jewel constellation" headlights, for example, which look like they could have come of the alien ship in
Independence Day
, have been constructed with organically arranged elements that don't at all look man-made.
The interior includes race-inspired elements as well as handcrafted details. The steering wheel looks cribbed from the brand's NSX supercar, while the speaker covers in the door panels have been carved from exotic wood. Arguably, you might not see either of those in a flagship Acura sedan. It shows the Japanese automaker has plans to darlingly reinvent itself with some choice designs.
Volkswagen Tiguan GTE Active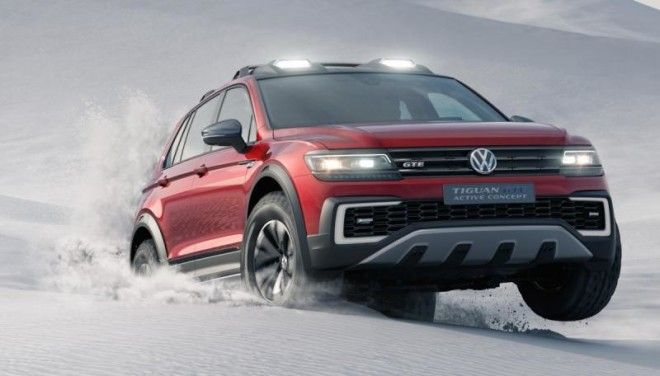 Volkswagen Tiguan GTE Active Concept
Volkswagen really, really wants you to forget about dieselgate. And, I must say, the rugged, handsome and eco-friendly Tiguan GTE Active concept does a good job.
Riding on the production platform of the next-gen Tiguan, the GTE Active demos a plug-in hybrid all-wheel drive powertrain that is capable of not only kissing the icecaps but also trampling them as well. That's because with two electric motors onboard (one sandwiched between the gasoline engine and the transmission and the other powering the rear wheels) the GTE Active can rock-crawl in EV mode.
A wilderness-taming electric powertrain isn't the only intriguing feature of the GTE Active, however. It also shows a near-production version of VW's next-gen infotainment system. Complete with a 9.2-inch screen as well as gesture control, the tech in the dash rivals that of VW's luxury brand Audi.
So, does the Tiguan GTE Active make me forget dieselgate? No. Does it endear me to VW anyhow? You bet.
Kia Telluride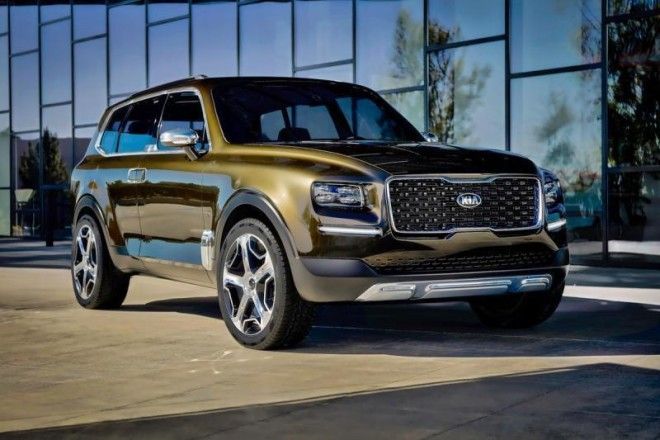 Kia Telluride concept
Arguably, Kia doesn't need to remake itself; it's doing quite well as it is. However, the Telluride concept moves the brand a bit further up the luxury scale. That's because the Telluride appears to go after the likes of the Infiniti QX80 and the Lexus LX570. And I'm not saying that just because of its tall, broad body; it's technically compelling on the seven-seater interior as well.
Notably, the rear seat passengers have access to "Swipe Command," a thin, touch-sensitive strip mounted to the second row center console. It woks like a touchscreen without actually having the screen within reach to touch. Rear-seat passengers can quickly scroll and select desired media by simply swiping their hand on the strip.
Moreover, the Telluride shows where Kia is headed. More than just the cool, hip Korean brand, it seems Kia wants to be an affordable but youthful luxury option for families as well. And based upon what I am seeing of the Telluride, it's a very believable aspiration.
Lincoln Continental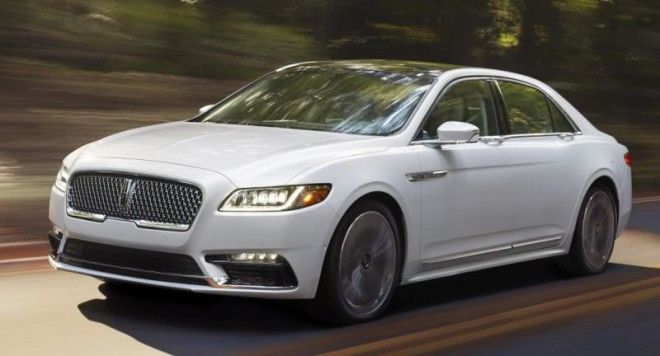 2017 Lincoln Continental
Granted, we already saw the new Continental nose on the Lincoln MKZ at the LA Auto Show late in 2015. Despite that, however, the 2017 Continental is decidedly a new way forward for Ford's luxury brand. Not only does it inspire new shapes and attitudes for the American carmaker, it also harkens back to its finer days — back when a Lincoln was a luxury force to be reckoned with.
Behind that chromed grille is a new 3.0-liter turbocharged V6 that produces 400 horsepower and 400 pound-feet of torque. It's a lot of power but not too much power — it's just right — especially given its newfangled seats.
They're called "perfect position seats" and they're virtually infinitely adjustable from the center console touchscreen. While they're certainly cool and likely very comfy, I worry the interior misses the mark. I really wanted Lincoln to embrace its retro appeal in more than just with a nameplate. However, it didn't.
Regardless, the message is clear. Lincoln will not go gentle into that good night. Instead, it's buckling down and coming back hard with the best of what it knows how to do: Make big, round-y luxury sedans.
FordPass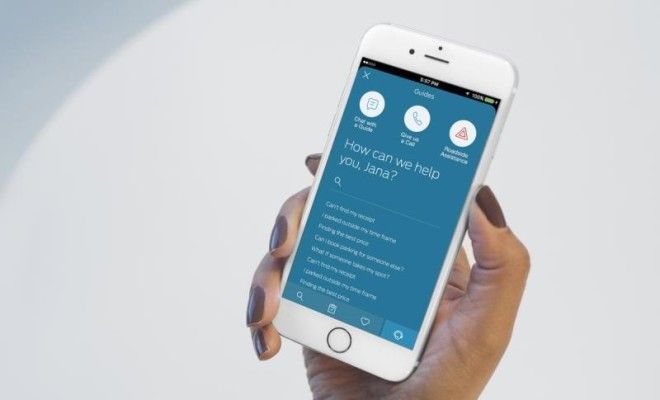 Ford Pass Guides Park
Lastly, we come to the FordPass app. It's not a car and it's not a concept but it is certainly going to reshape Ford. Recently, Ford rebranded itself as a mobility company — not just a carmaker. FordPass allows users — Ford owners or otherwise — free access to several Ford systems, including FordGuides, FordPay and FlightCar.
FordGuides is like Ford's answer to GM's OnStar that utilizes live people to help with customer requests. FordPay is an in-app way to pay for in-app options (the app is free, not its services) and FlightCar is a way for people to access cars when they travel. More importantly, however, in the future, FlightCar will be Ford's car-sharing platform.
Essentially, you can see FordPass as the beginning of the end of car ownership. Just like the Apple Watch, the first generation of FordPass isn't too terribly exciting or earth-shattering. A fewer iterations down the line when some more functions come online, it could have a huge impact on how we get around.