One of the most beautiful and impressive bridges of the world is nearing completion. The Yavuz Sultan Selim Bridge, otherwise known as the 3rd Bosphorus Bridge, will be named the
world's widest bridge
, among many other titles. The project sits just north of two other bridges in Istanbul, Turkey, giving the bridge its name. The roadway will span the gap between Europe and Asia over the natural Bosphorus Strait. Engineers have designed the bridge to carry
4 lanes of motorway traffic
and as well as a
high speed rail line
in each direction. Construction began in May 2013 with an estimated budget of
$2.5 Billion
USD.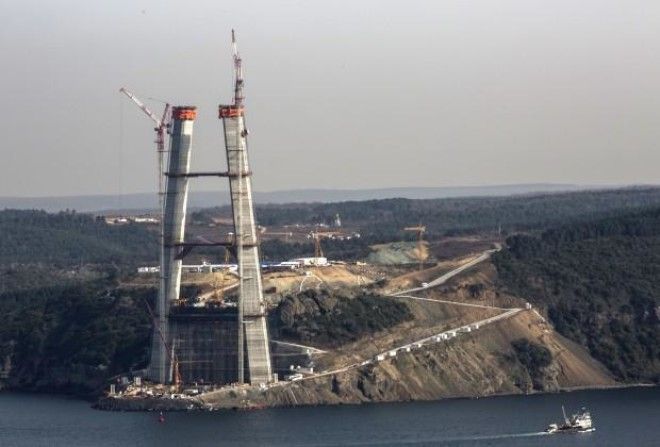 Construction of the main supporting towers
The bridge will also be the
8th longest
suspension bridge in the world, spanning a total length of
2164 meters
and the
longest suspension bridge carrying a railway
. However, the width of the bridge is the most impressive feature of this megastructure. As it turns out, 4 lanes of traffic and 2 rail lines require a lot of space,
58.4 meters
to be exact. This may not sound like a lot but to put it into perspective, the Golden Gate Bridge comes in at roughly half the size, 28 meters. The Marmara Motorway will connect to this bridge extending the roadway's length to 260 km.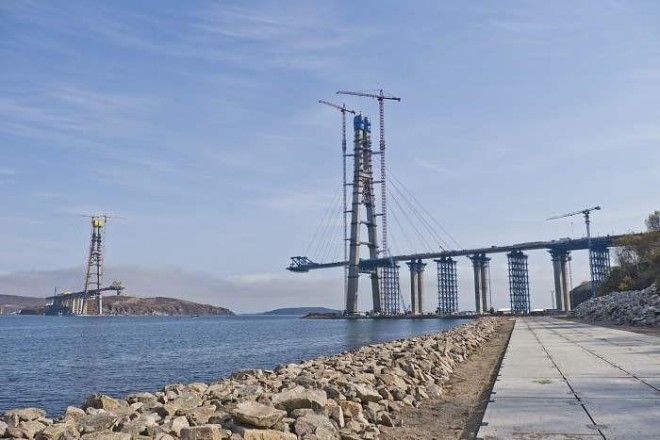 Originally the project had a completion date of late 2015 but due to unforeseen problems, the deadline has been pushed back to the
first half of 2016
. It is rumored that workers are able to walk across the bridge deck structure, while the rest of the supports are being finished. The scaffolding used by workers to create the two towers on both the European and Asian sides is still being deconstructed. On April 5, 2014, this scaffolding caused a deadly accident,
killing 3 and injuring one
. Despite this tragic occurrence, construction continued along the updated project timeline. An in-depth video timeline of the construction process can be seen below.
SEE ALSO: World's most impressive bridgesEach of the concrete towers reach just above
300 meters (990 ft)
with the European side being slightly taller at 322 meters (1050 ft). Perhaps the most astounding features of the bridge are not its engineering, but rather its architecture. Many are acclaiming the new structure as one of the most beautiful bridges of all time.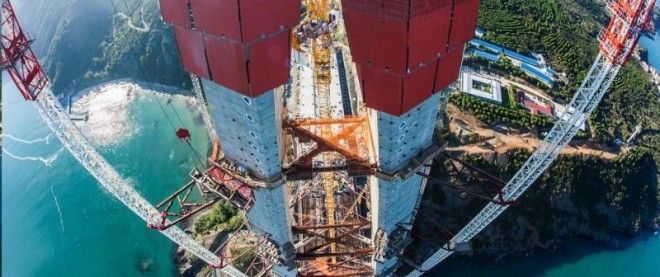 Scaffolding on the main tower during constuction
Thousands of employees from both Europe and Asia are working around the clock to finish construction on this magnificent bridge. Upon completion, the increased traffic flow capabilities of the Yavuz Sultan Selim Bridge will relieve congestion of the other two bridges crossing the Bosphorus. The most recent updates from the construction of the bridge show the last of the decking being raised into place as well as final work on the main suspension cable.