Looking for professional contacts in your industry? Unemployed? Or maybe you're just interested in searching for job prospects?
Look no further than the Web. Nowadays, most employers and clients prefer people who are tech-savvy enough to look for opportunities online. Don't limit yourself to LinkedIn though – especially if you own a niche business or are working for one.
Aside from the popular professional social media platform, here are four other job sites to set up your profile on:
1. Indeed.com
Indeed.com is one of the best meta-search engines that can help you scour the Web for jobs that will best fit your skills. The familiar Google-style results page makes it easy for any user. Simply enter a search term and wait for the results. Then just scan the list to find a good match for you.

On the home page, you can explore available work in your state OR go over the various categories for vacancies. For best results, type the specific job title or the company name you would like to get into. Then insert the name of the city, state, and/or ZIP code that you prefer.
Pros
Recent Job Search Display – Indeed displays your recent job searches, so you can easily re-click it instead of going over to your history tab or typing it again.
Email Updates – Indeed sends you an email for your ongoing search results. This keeps you updated about recent employment postings based on your search.
Easy To Use – provides a fast and simple service, which is very similar to Google's interface.
Cons
Redundancy – Some positions appear more than once on the search pages.
Irrelevant Jobs – Jobs unrelated to your desired position may sometimes appear on the search page.
Cost: Free
2. SimplyHired.com
SimplyHired has a massive database that aggregates jobs from around the Web. It lists an impressive collection of available work, while keeping the user constantly updated about the changes in the employment industry.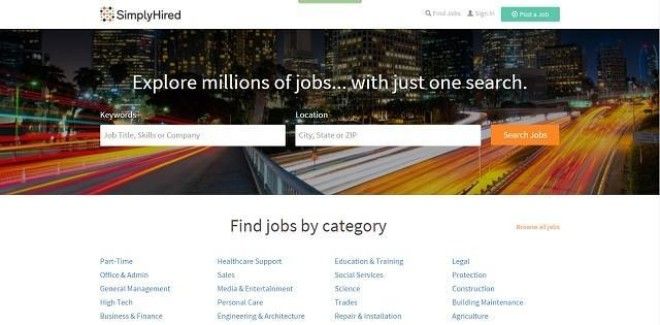 SimplyHired uses information found on search sites, social media, and company websites. It gives users a wider selection with every search, and also keeps people updated about the firms they are interested in joining.
Pros
Mobile App – SimplyHired has a mobile app that allows users to search for work on the go.
Career and Advice Blog – they have a blog that helps people in their job searching journey. It also offers advice for working professionals who may be thinking of switching careers.
Salary Calculator – SimplyHired has a salary calculator that lets you compare income from folks in the same field, both locally and internationally.
Cons
Limited – Caters to the U.S. Market only.
Resume Issues – Users complain about not being able to post their resume directly to the site.
Cost: Free
3. Monster.com
Created in 1999, Monster is one of the most visited job site in the United States. It is primarily used to find a company that matches your skills within your preferred location. With Monster, you can do a general search for popular job titles or industries like "journalism", "accounting" or "finance".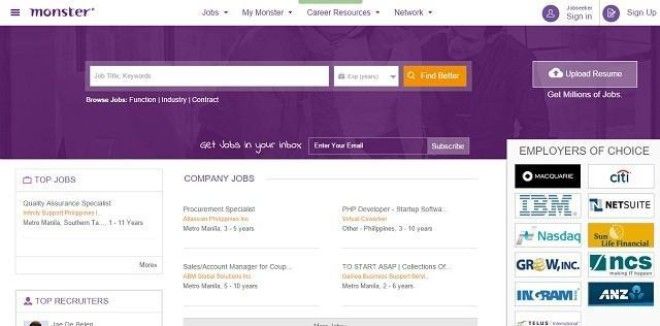 Monster won't just help you find a good job: it also helps you further your career by providing valuable advice, articles, as well as a professionally-written resume. The service also makes your application process easier by letting you add you LinkedIn account, so that any updates you make instantly reflects on your profile.
Pros
LinkedIn Connect – this job site allows you to link to your LinkedIn profile page. This makes it easier to update your information on both accounts.
Mobile App – The service offers a mobile app to let you follow recruiters, save jobs, and build a network. It also allows you to upload your resume and browse jobs whenever you're on the go.
Cons
Junk Job Postings – results of scam ads that aren't real jobs can sometimes be seen in the search. There's currently no option to filter this out.
Cost: Free
4. Glassdoor.com
Glassdoor is a community that helps people look for the right work, search for companies, or get a sneak peek of the workplace. Members can find opportunities through the latest listings. Opening a specific company's page will allow them to effortlessly connect through the firm's Facebook account, read user reviews, and see its ratings.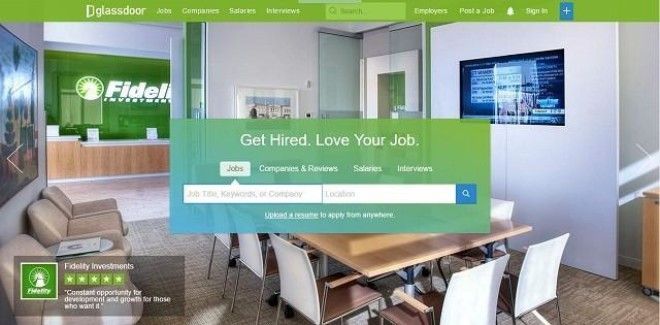 If you want a more in-depth look into the company you want to work for, the service lets you learn more about the job in detail thanks to current and past employee reviews. This should help you get a sense of how things would be should you decide to work there one day.
Pros
Employee Opinions – Users can review their current or past employers based on their real experience in the company. It helps those who want to apply better weigh their decision and form a critical impression about the firm they wish to join.
Cons
Possible Bias – Users have complained about unfavorable reviews disappearing in the site.
Cost: Free
5. LinkedIn.com
Every working professional now has a LinkedIn account. It's one of the most popular job sites for displaying your skills, your experience, and your achievements as an expert in your field. With LinkedIn, you can be found by recruiting managers, headhunters, or just like-minded professionals who can help you work towards success.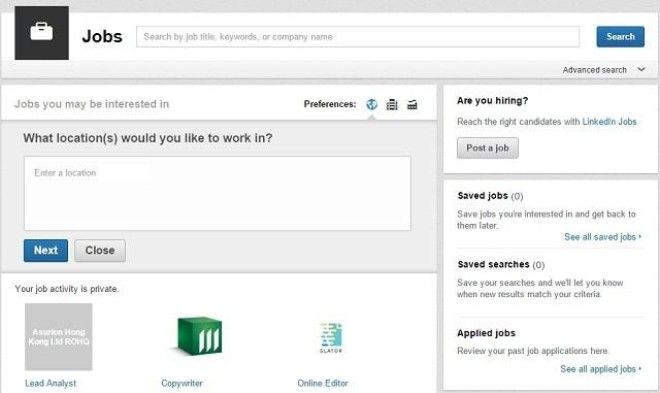 LinkedIn also has a large database that can help you with your job hunting strategy. By setting up your LinkedIn public profile the right way, you can also improve visibility to employers. If you want to learn more about a certain company, or you're interested in a certain person and their skills, simply go over to their LinkedIn account and evaluate the information on their profile.
Pros
Detailed Profile and Backgrounds – LinkedIn accounts provide employers and job seekers complete information about people and companies. With this feature, employers can easily find candidates that could be a great match for their company.
Connections – LinkedIn has a connect button that allows you to follow a person, a company, or a group to help you remain updated about their professional life.
Cons
Not Suitable For Advertising – Advertising options are not as highly targeted as on other job sites. LinkedIn offers are best used for Business to Business sales (B2B).
Cost: Free, Paid Subscription Available
Ready To Connect?Being in a career that best matches your skills can help you make the most of your abilities and grow professionally.
It may not happen today, but once you land that "dream job", you can uncover your true potential and experience what it's like to feel true work satisfaction.