Mattel made waves today when it unveiled three new Barbie body types that come a good deal closer to reflecting the realities, and diversity, of the female form. Like it or not, the doll's exaggerated proportions have shaped popular conceptions of physical beauty for decades, leading some to go to extreme lengths to bear a strong resemblance to the doll: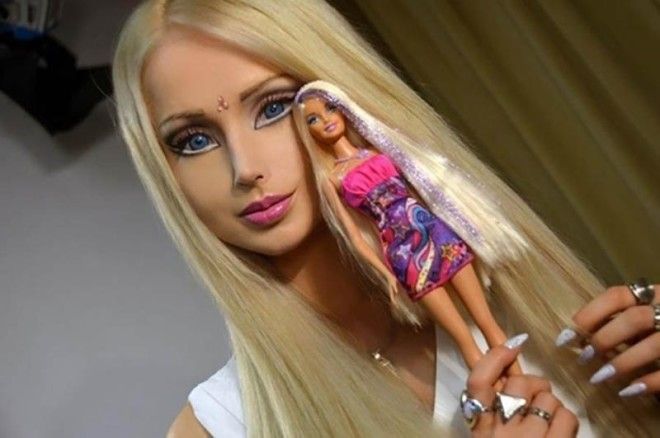 30 year old Valeria Lukyanova is a Ukrainian model. Lukyanova, whom most recognize as the "Human Barbie," is alleged to have spent $800,000 to achieve her other-worldly appearance.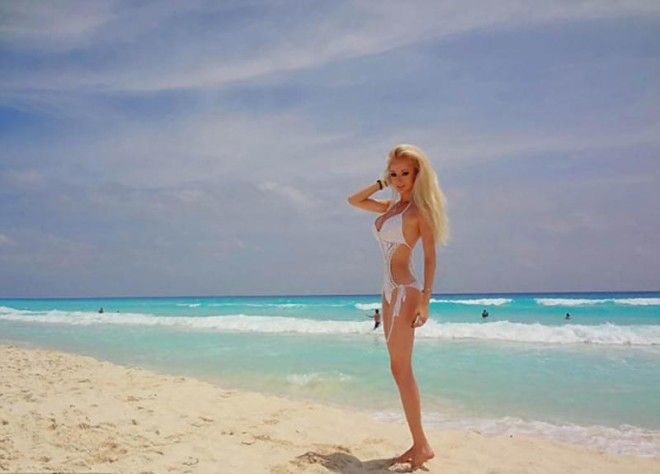 The 5'7" model weighs 93 pounds, according to French magazine L'Express. Her proportions — 34-18-34 — are quite close to what an actual Barbie's would be: 39-18-33.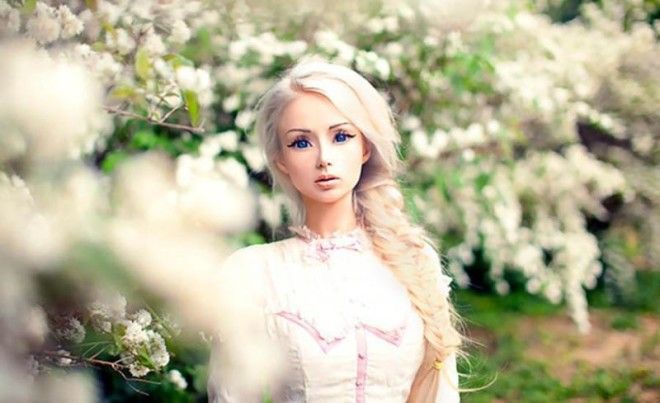 Critics have suggested that in order to achieve her 18-inch waist, Lukyanova would have had to have some ribs removed. Lukyanova has denied that: "Don't believe any stories about me having rib removing surgeries," she said. "They aren't true. The only surgery I had was breast surgery. My mother's waist is as narrow as mine — I inherited that from her."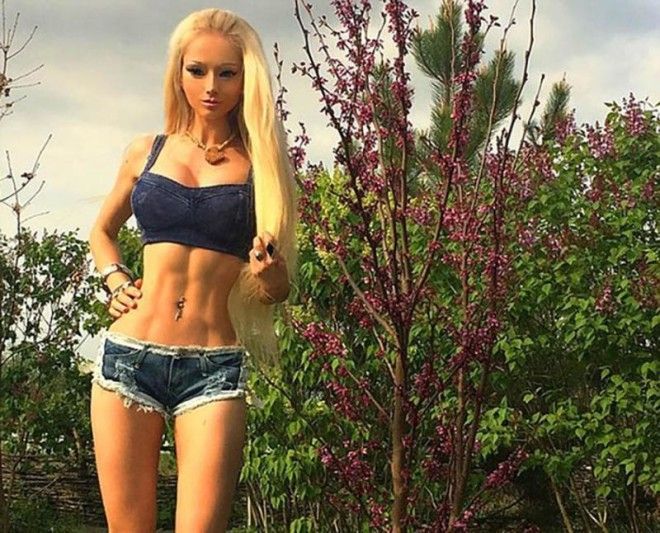 Some have said that Lukyanova's figure is more the magic of Photoshop than it is surgery alone, and in May 2015, Lukyanova gave credence to such a claim. The Ukrainian model admitted the she 'shopped images of herself in jean shorts (seen above) to "smooth" the overall photo.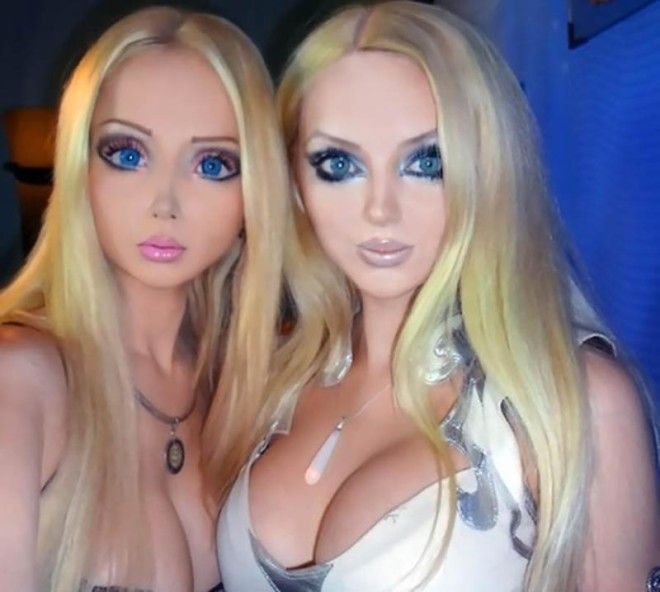 In the past, Lukyanova has told papers that in order to stay trim, she hopes to live on "air and light alone," in what is known as the extreme 'Breatharian' diet.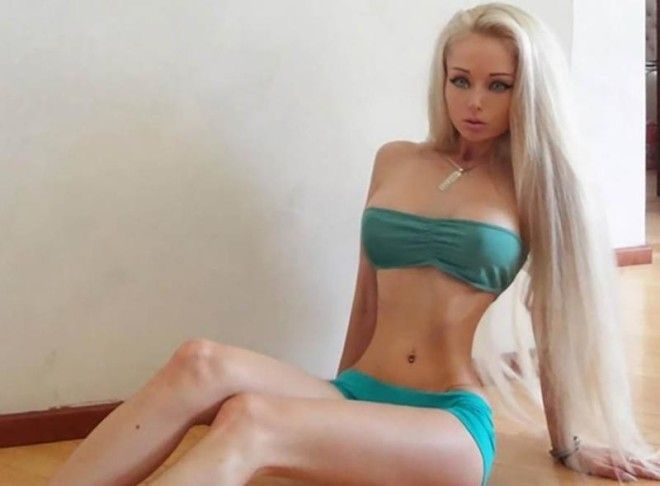 As for exercise, she told
Cosmo
that she works out for five to six hours a day to maintain her figure.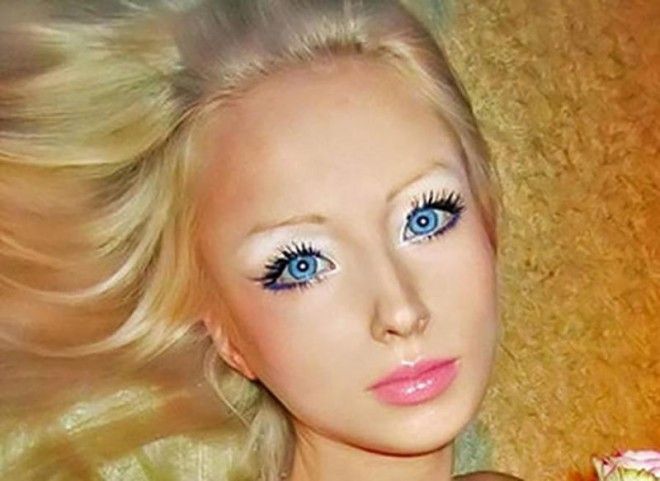 Behind the beauty regimen and obsessive manicuring is a desire to appear like a doll. "Look," she said in an interview. "To me the Barbie doll looks perfect; it was created as a human idol. When I adopted her image, it felt very positive."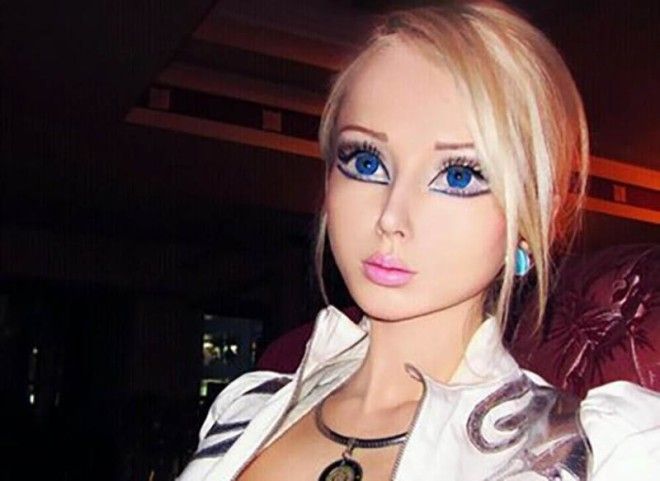 Today, however, Lukyanova takes umbrage with her nickname as "Human Barbie." As she told
Cosmopolitan
during an interview, "It's a little degrading and insulting, but I'm used to it now....it's the image most fans request, so I have to comply with it because it's become part of my aesthetic image, but I don't like it. I don't like it when people think I am imitating a doll."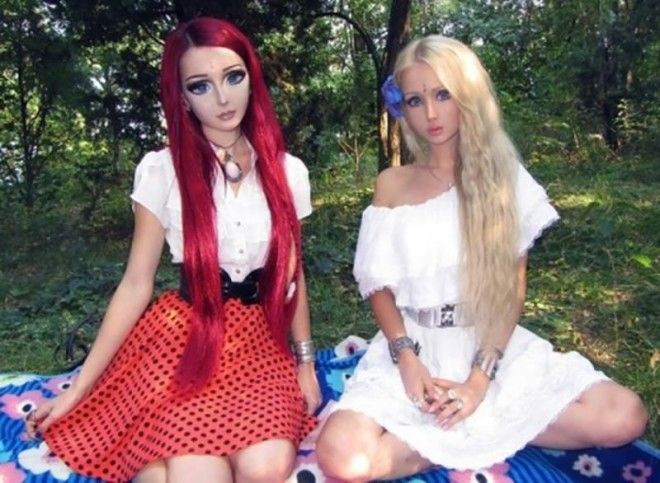 Instead of "Human Barbie," Lukyanova has said she'd rather be known as a spiritual leader called Amatue. "Valeria is my earthly name and more for people who don't really know me or aren't absorbed with esoterics; they don't understand this. But all the people who are close to me, they call me Amatue."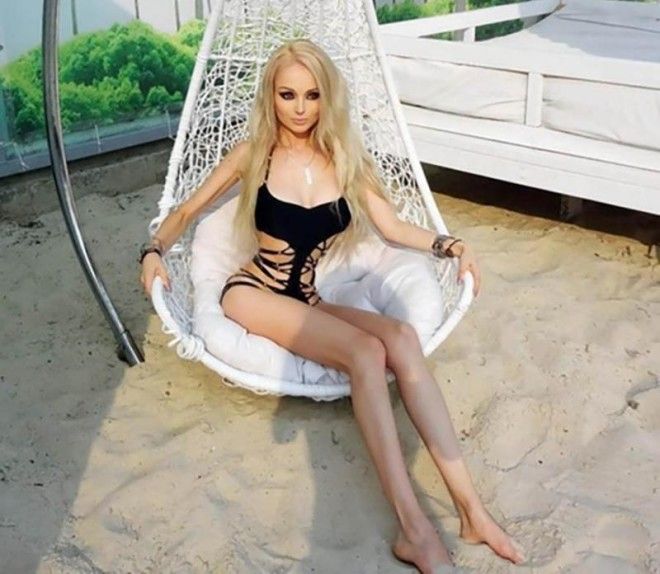 Lukyanova likewise believes she can communicate with aliens, and travel to other planets. "My communication with aliens is not verbal," she said. "We speak the language of light. I have learned a lot from them...and also that humans are the least sophisticated civilization."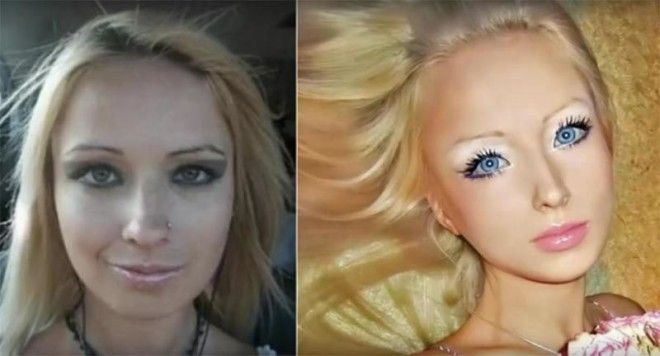 A before and after photo of Lukyanova. While Lukyanova is married, she has said she doesn't want children. "I am never going to have my own children. Once when I traveled outside my body, I remembered that I was not a human and my spirit is not a human spirit — I should not have children in this world."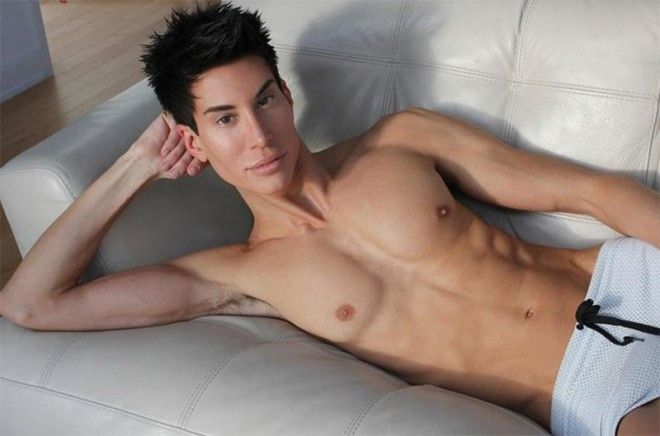 Justin Jedlica, 35, made it his endeavor to become the human Ken, having spent at least $200,000 on his procedures, and enduring over 100 cosmetic surgeries.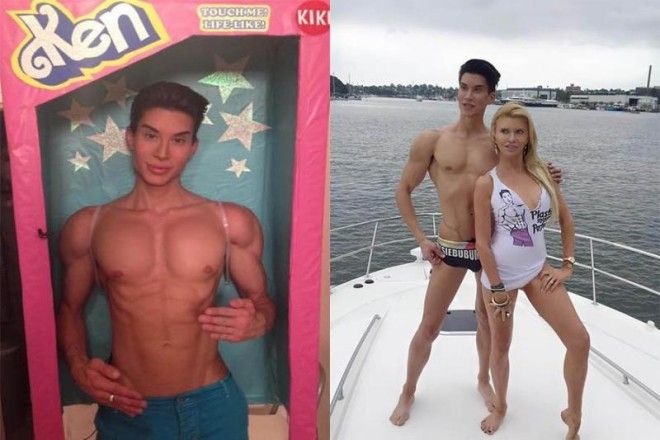 To date, Jedlica has undergone 102 surgeries, some of which are female-specific body procedures. In addition to nose jobs, muscle implants and leg lengthening, Jedlica has received breast implants, toe straightening, foot narrowing and umbilicoplasty (belly button surgery).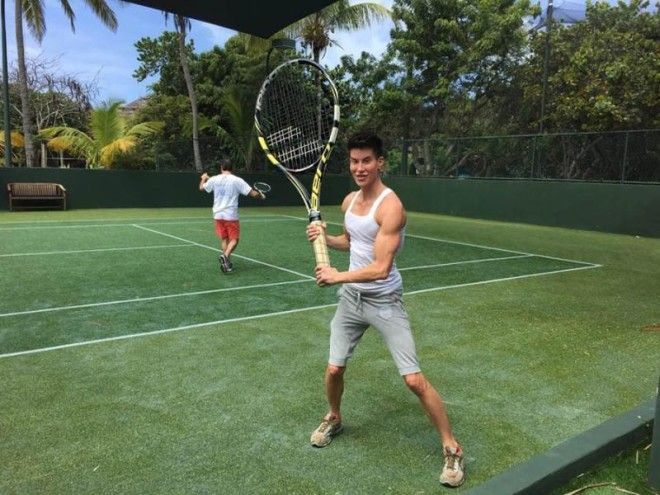 On his site, Jedlica explains that his childhood shaped his decision to become a human Ken. "I was anything but what [my father] had expected. Instead of sports and cars, I was drawn to the arts and had an affinity for the "finer things in life...My community, my family, and my friends didn't seem to understand me or my interests."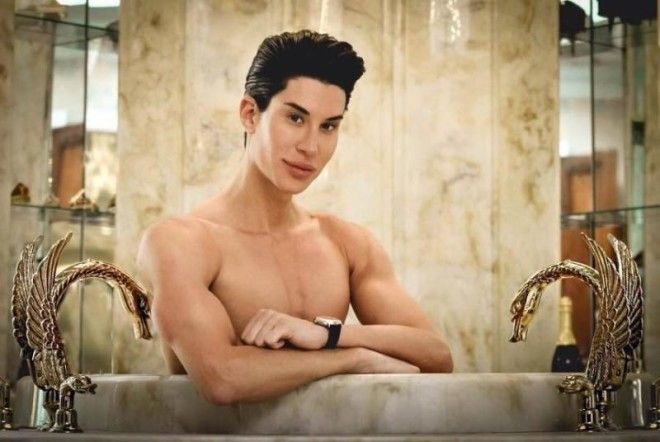 It also had to do with popular culture. Says Jedlica on his site, "the lives of famous figures like Michael Jackson, Elvis Presley, Andy Warhol, and Donald Trump fascinated me. These interests were instrumental to the formation of my personal view of beauty, the lifestyle I wanted and the notoriety I sought. Thus, the Justin Jedlica rendition of the 'Ken Doll' was born."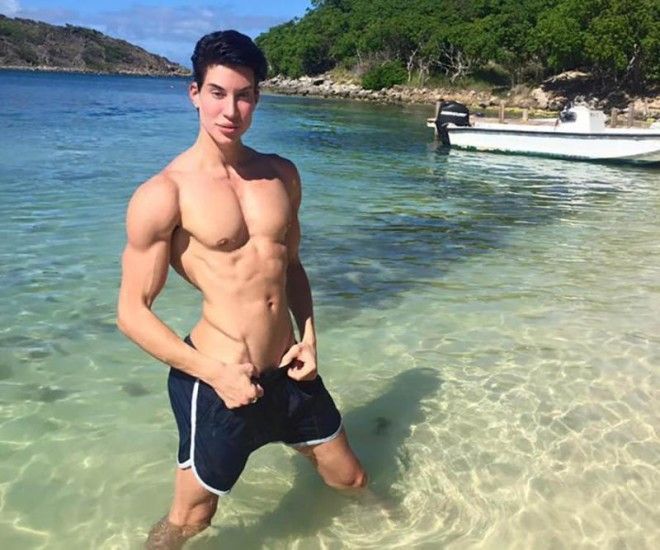 Jedlica's trasnformation began at age 18, when he received his first nose job.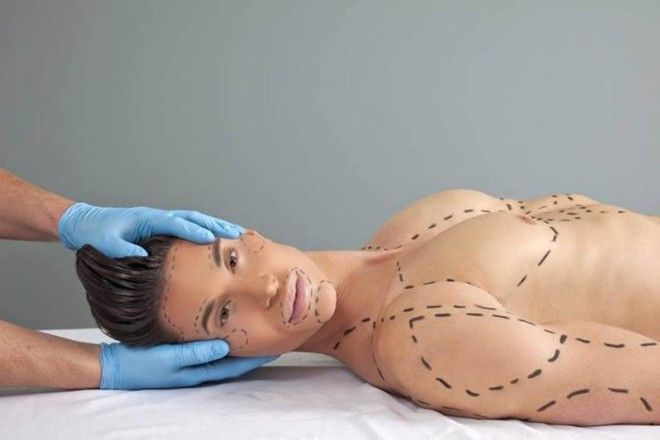 Jedlica describes his modification and its constitutive procedures as "cathartic," and says that the "restructuring of the contours of my face and body in an effort to customize myself perseveres as I grow as an individual."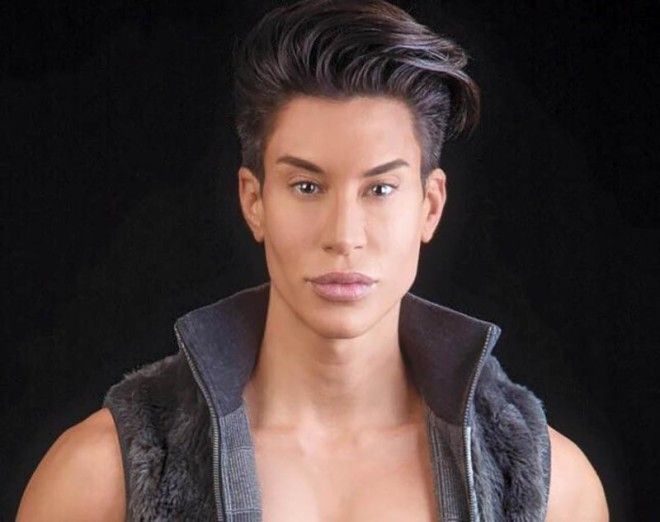 It apparently helps that Jedlica always sees ways that he can improve his body. "As a very detail oriented person I always find something new to critique and fix," Jedlica told the
Daily Mail
. "Most recently I had three veins in my forehead stripped and ablated as every time I would smile or laugh they would pop out...I called them my 'Julia Roberts' veins."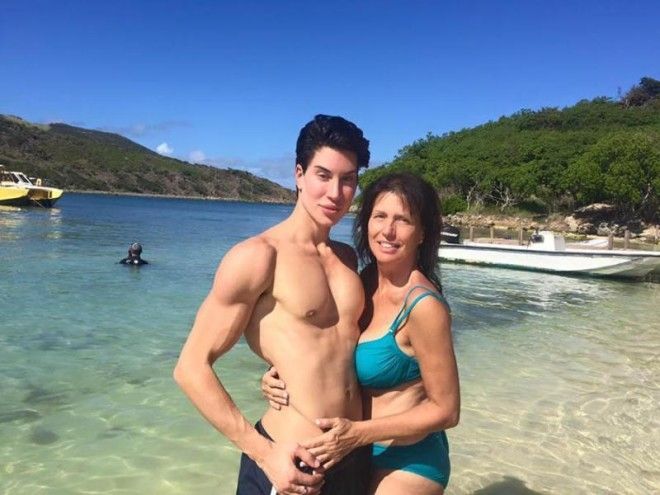 As for Jedlica's thoughts on Lukyanova? As he told the
Huffington Post
, "I do find her beautiful...[but] it appears to me that much of her look is added makeup, fake hair and 'slimming' corsets...drag queens have put on the same illusions with makeup and costumes for years."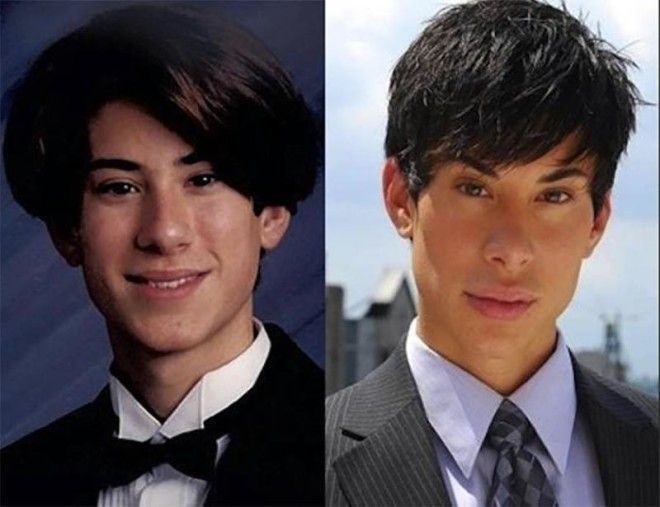 A before and after shot of Jedlica.