The Super Bowl can keep its 114.4 million worldwide viewers and $5 million ad buys. Because the Puppy Bowl, which celebrates its 12th year this Sunday on Animal Planet, has got something much better: puppies! More than 80 of them—and all of them adoptable. There are kittens, too (they provide the halftime entertainment), and Meep the tweeting cockatiel (follow him at @meepthebird) plus a host of other species.
With the help of Dan Schachner, who'll be donning the black and white stripes for his fourth go as the "Rufferee," we've uncovered 15 things you might not have known about Puppy Bowl.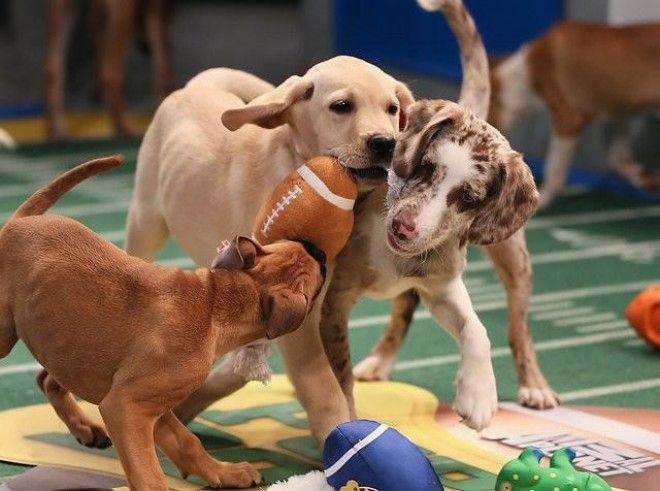 1. IT WAS INSPIRED BY THE YULE LOG.
Yes, that long-running holiday television special that featured nothing more than the image of a log burning in a fireplace with Christmas music playing in the background is what inspired the Puppy Bowl. And its broadcast debut, back in 2005, was a much less elaborate affair, comprised mainly of copious amounts of footage of puppies playing. But it did feature the game's very first Unsportsmanlike Delay of Game penalty, issued to a pup named Riley for, in the announcer's words, deciding to "use the field as his own personal bathroom."
2. SAFETY IS THE TOP PRIORITY.
Puppies will be puppies. And puppies don't always play fair. In addition to a veterinarian, who is on the set throughout the program's production, representatives from the Humane Societyand each of the shelters whose dogs are being featured are on hand to ensure the safety of the competitors. This includes giving the puppies a break from the lights, camera and action every 30 minutes.
3. GAME DAY OCCURS IN OCTOBER.
Puppy Bowl is not a live broadcast. It's shot over the course of two days in October. "That element takes people aback," admits Schachner. But the reason why is totally understandable. "It's three months of preparation because it's two full days of shooting," continues Schachner. "Plus it's 21 cameras on the field. So that's a lot of footage to edit and turn into a two-hour show."
4. PEANUT BUTTER IS THE PRODUCTION TEAM'S BEST FRIEND.
Just how does the production team manage to get all those adorable up-close images? Easy: Peanut butter. Of the 21 cameras used to capture all the on-field action, one is mounted beneath a glass-bottom water bowl while others are hidden in the dogs' chew toys, but not before they're smeared with peanut butter to attract the competing canines.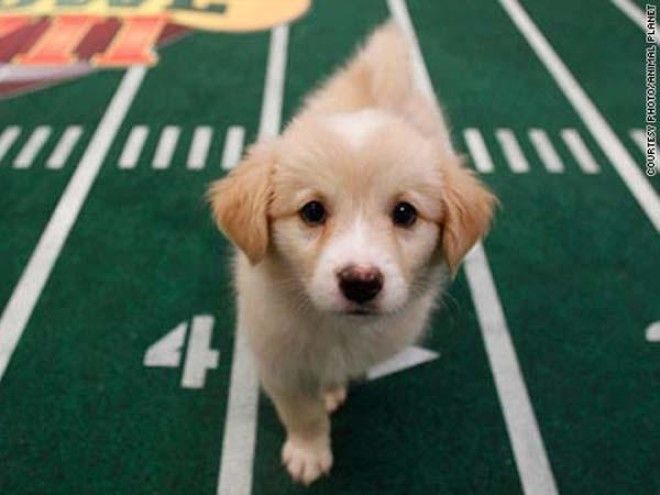 5. THE CHEERLEADERS ARE ALWAYS CHANGING.
In 2010, the Puppy Bowl added a bit of ra-ra-ra to the production when it included a team of bunny cheerleaders. In 2011, chickens were the animals cheering on the sidelines. In 2012, the chicks were replaced by a Piggy Pep Squad, followed by a team of hedgehogs in 2013, a group of peppy penguins direct from the Columbus Zoo in 2014, and five Nigerian dwarf goats in 2015. For 2016, Animal Planet has enlisted "five big-haired silkie chickens."
6. LACK OF ENERGY IS CAUSE FOR DISQUALIFICATION.
"We've had penalties when puppies are too rambunctious, but also when they're too lazy," says Schachner of the behaviors that can disqualify a pup from competition. "That's called 'illegal napping' or 'excessive napping.'"
7. "PANCAKING" IS ALSO NOT ALLOWED.
When asked about the oddest penalty he has ever had to heap on a competitor, Schachner recalls "one puppy that was literally flattening other puppies. Puppies will shove and bite and sniff and tackle. But there was one puppy that was literally jumping up and landing on the backs of the other puppies. So we made up a foul then called 'pancaking.' We sent her back 15 yards."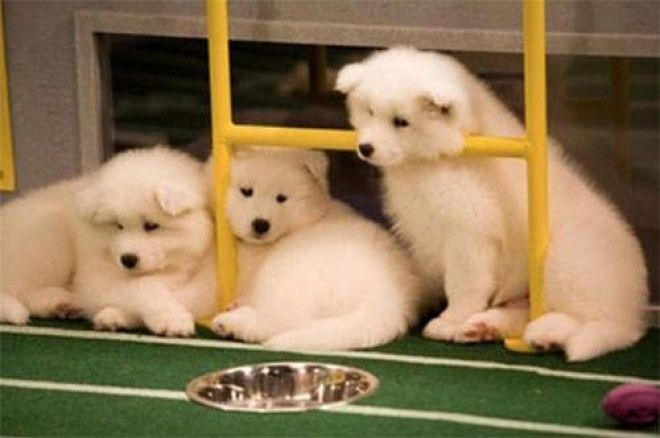 8. JACK RUSSELLS RULE.
Of the Puppy Bowl's 11 (and counting) MVPs, Jack Russell Terriers have won two of the honors. In Puppy Bowl I it was a boy named Max; three years later, fellow Jack Russell Abigail took the title.
9. THERE'S A LOT MORE POOP THAT YOU DON'T SEE.
Cleaning up after the game's not-always-housebroken competitors is part of the ref's job. But Schachner says that the biggest misconception about his role is that "I'm picking up poop and pee all the time. [People] forget that there's an amazing grounds crew here on staff. They're like little elves who come in and magically erase all the pet poop that's left on the field so that when the game is actually playing and those cameras are rolling, you're not going to see too many fouls. You'll see a couple, but you're not going to see too much of puppies doing what comes naturally to them!"
10. PUPPY BOWL VIII FEATURED A DOUBLE TOUCHDOWN.
"We're very open-minded as far as our rules go," says Schachner, "but four years ago we had a simultaneous touchdown and that had never happened before. Two puppies dragged two chew toys into the end zone at the same exact time. I didn't know what to do, so I talked to our control room. We did an instant replay and determined that it counted. Each puppy was then awarded one touchdown point."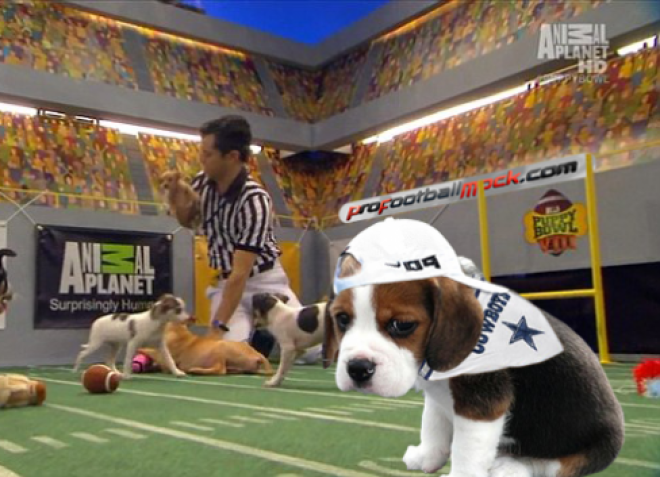 11. PUPPY BOWL LANDED AN OLYMPIC SPINOFF.
In 2008, a Puppy Bowl spinoff—Puppy Games—aired opposite the opening ceremonies of the Summer Olympics. While the setup was the same as Puppy Bowl, the competitions were all new and included swimming, boxing, soccer, and gymnastics events.
12. YES THE PUPPIES ARE ADOPTABLE, BUT GOOD LUCK ADOPTING ONE.
Yes, all of Puppy Bowl's competitors are shelter dogs. (So are the cats.) But because of the show's October production versus February airing, "by the time the Puppy Bowl actually airs, most of these puppies have already found their forever homes," says Schachner. "We encourage everyone to go on to AnimalPlanet.com during the airing and if you see a puppy that you fall in love with, check him out. They may be adoptable. And if not that shelter will have other puppies who are equally adorable, maybe even from the same litter."
13. A RECORD NUMBER OF VIEWERS TUNED IN FOR THE 2014 EVENT.
Puppy Bowl X scored huge ratings; a total of 13.5 million tuned in throughout the 12-hour canine extravaganza, making Puppy Bowl the most watched cable program during 2014's Super Bowl Sunday and the second most watched show in all of television that night (second only to some football game playing on Fox). Though the total number of viewers dipped to 10.4 million in 2015, it was still enough to make last year's Puppy Bowl the most watched cable show that night, and the second highest rated show after the Super Bowl itself.
14. IT'S GOT SOME MORE "BOWL" COMPETITORS THIS YEAR.
The Puppy Bowl's popularity has not gone unnoticed by other networks. Hallmark Channel will cater to the cat crowd with the third edition of its Kitten Bowl, while Nat Geo Wild will broadcastFish Bowl XXL.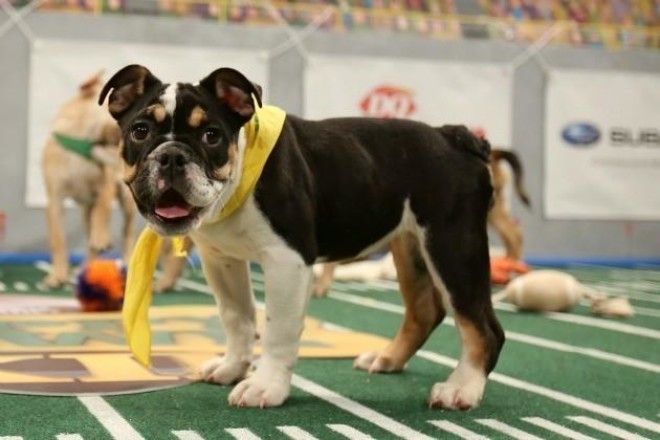 15. THIS YEAR'S PUPPY BOWL WILL HAVE A VIRTUAL REALITY COMPONENT.
For the first time ever, this year's Puppy Bowl is being formatted for VR headsets. Using the Discovery VR iOS and Android apps, Samsung Milk VR, or on Animal Planet's YouTube page, dog lovers can get a unique view on all the action.