Celebrity singer-songwriter John Mayer and the crusty road warriors of the Grateful Dead will continue their unlikely collaboration this year with a summer tour across the United States.
Their team-up, known as Dead and Company, announced 18 concerts dates Monday morning, stretching from the Bonnaroo Festival in Tennessee to Folsom Field in Boulder and finally to Fenway Park in Boston.
The band will play two shows in New York's CitiField, on June 25 and 26.
The marriage between Mayer and surviving members of the Grateful Dead arose after the Dead completed their three-day Fare Thee Well "final" concerts in Chicago last July. Although bassist Phil Lesh chose not to participate this time around, founding members Bob Weir, Billy Kreutzmann and Mickey Hart will continue touring as "Dead and Company," with Mayer handling Jerry Garcia's vocal and guitar roles.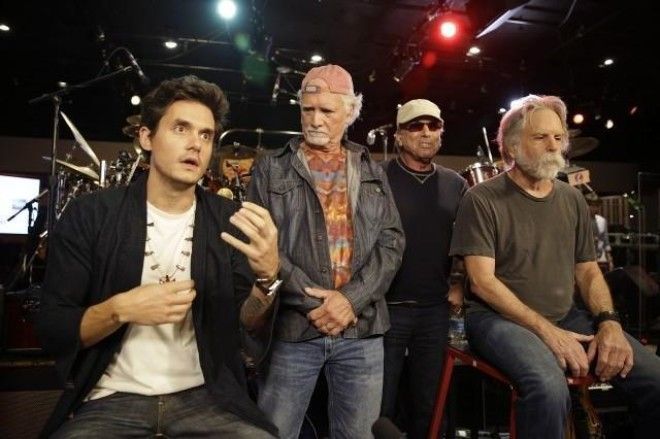 John Mayer with Billy Kreutzmann, Mickey Hart and Bobby Weir.
While Mayer's radio-friendly track record and much-publicized love life initially provoked skepticism among Deadheads, critics and fans gave him positive if not ecstatic reviews for injecting new life into the 50-year-old rock institution.
Dead and Company also features longtime Allman Brothers bassist Oteil Burbridge and keyboardist Jeff Cheminti, who has toured extensively with Bob Weir and with the Weir and Lesh offshoot, Furthur.
Bonnaroo tickets are on sale now. Presale for some of the other shows begins on Tuesday.
Jun. 9 Bonnaroo Festival Manchester, TN
Jun. 10 PNC Music Pavillion Charlotte, NC
Jun. 16 Riverbend Music Center Cincinnati, OH
Jun. 17 Klipsch Music Center Noblesville, IN
Jun. 20 BB&T Pavillion Camden, NJ
Jun. 21 Saratoga Performing Arts Center Saratoga Springs, NY
Jun. 23 Jiffy Lube Live Bristow, VA
Jun. 25 Citi Field New York, NY
Jun. 26 Citi Field New York, NY
Jun. 28 Xfinity Theatre Hartford, CT
Jul. 2 Folsom Field Boulder, CO
Jul. 3 Folsom Field Boulder, CO
Jul. 7 DTE Energy Music Theatre Clarkston, MI
Jul. 9 Alpine Valley Music Theatre Elkhorn, WI
Jul. 10 Alpine Valley Music Theatre Elkhorn, WI
Jul. 13 First Niagara Pavilion Pittsburgh, PA
Jul. 15 Fenway Park Boston, MA
Jul. 16 Fenway Park Boston, MA