An average individual spends 40 hours a week at work. Nevertheless, recent surveys suggest that people are now juggling to head for a perfect work-life balance which is nearly becoming impossible these days. It's easy to blame it on the work pressure or less productivity, after all, you do spend quite a number of hours at work every day. But how many of us actually consider making these hours a bit more fun and engaging? All it takes is a quick revamp of your workspace. Make it more enriched in design and functionality and watch the change yourself. Here are 15 amazing furniture (in no particular order) you can try incorporating at your workplace for better functionality and productivity at the same time.
Shift Tech Table – Designed to Suit Your Living and Office Space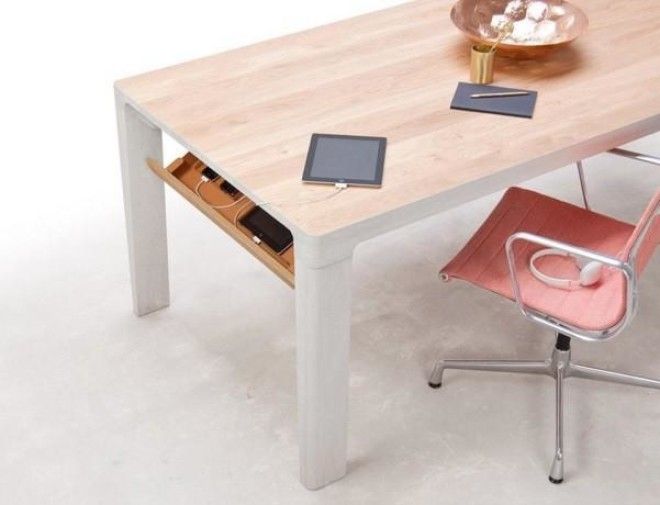 Price: $2498 USD
You won't just get a handy workspace to operate on with the Shift Tech Table. Instead, what you'll receive is a perfect blend of a living and office space. The design conceals the digital clutter from your everyday life and brings a furniture which will make a perfect work desk for any modern professional.
Endo Fold Flat Vertical Bike Storage System by Cycloc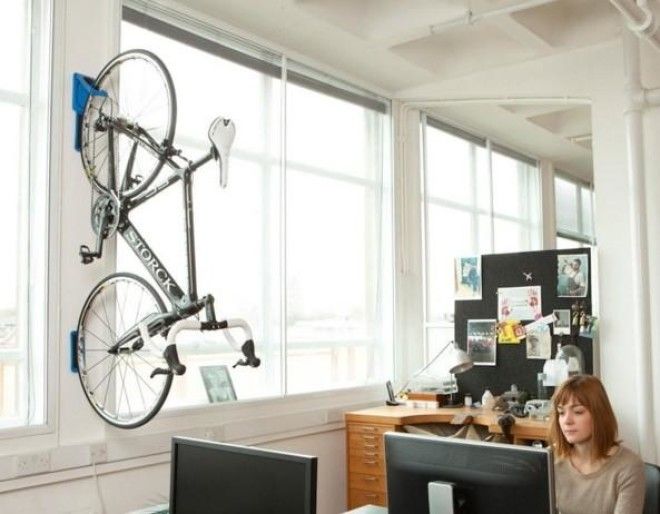 Price: $65 USD
An efficient vertical storage system for your bike. Be it for home or office, the Endo Bike Storage by Cycloc will work as an attractive storage for your bike anywhere. With secure four point fixing, this bike storage is ideal for high density installations having little space. The storage ensures to keep your bike wheel and wall protected from unwanted damage by including wide rubber contact points. There's also a hollow hinge for accommodating a conventional bike lock.
LEVIT8 – The Flat Folding Portable Standing Desk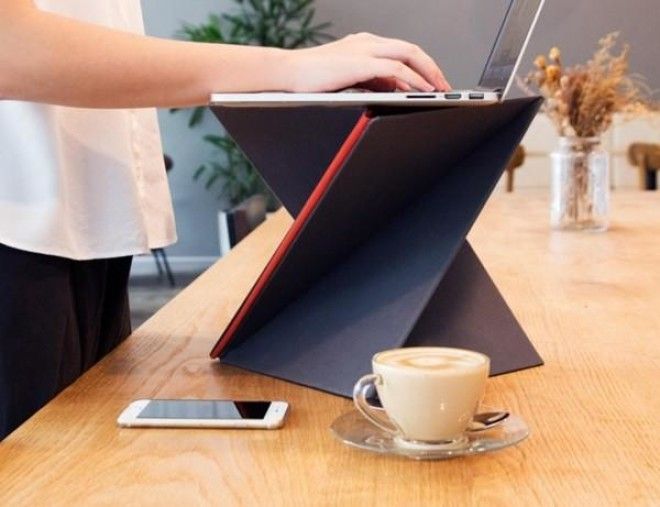 Price: $32 USD
Have a height-perfect desk anywhere you'd like with LEVIT8, the flat folding portable standing desk. With the recent studies proving that sitting at our desks for eight hours a day doesn't help our health, it's crucial to get up and stand when and where you can. LEVIT8, which looks more like a folder, gives you the option to stand at a moment's notice and the freedom to stand and work at a comfortable height anywhere.
Vespa BV-12 Chair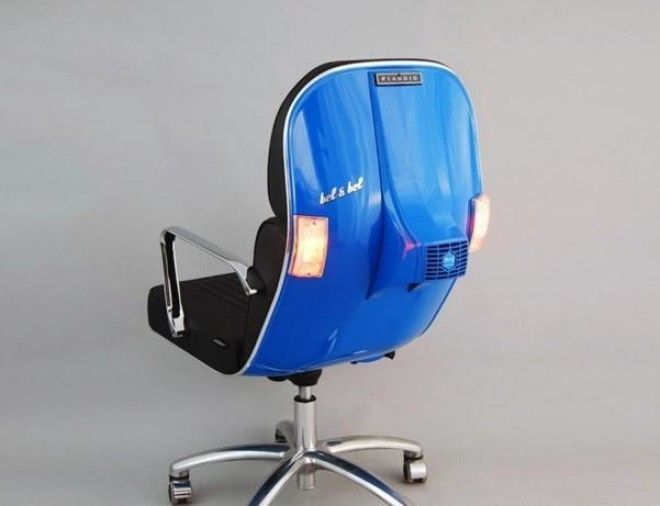 Price: $2015 USD
Bel & Bel Chair is made from original parts of the legendary Italian scooter from the 80's. Re-using the chassis we have created an original and unique model of swivel chair. Our Scooter Chair is manufactured, customized and handmade in full by Bel & Bel. It is a numbered series what makes each piece unique. All come with a Bel & Bel certificate of authenticity.
Artifox Standing Desk 01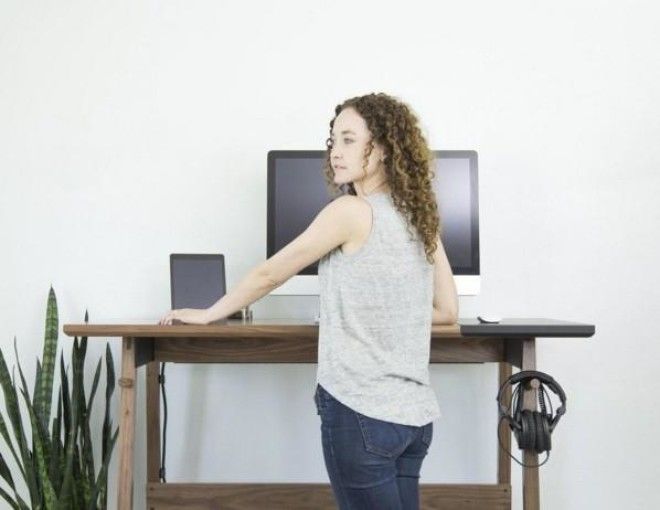 Price: $2200 USD
If you're going to take on the challenge of a standing desk, it might as well be easy on the eyes. Introducing the Artifox Standing Desk 01, the first from the brand. Available in your choice of solid walnut or maple, the Standing Desk 01 is modelled after a traditional writing desk but has been updated with modern flair.
LIFT Adjustable Smart Desk by iSkelter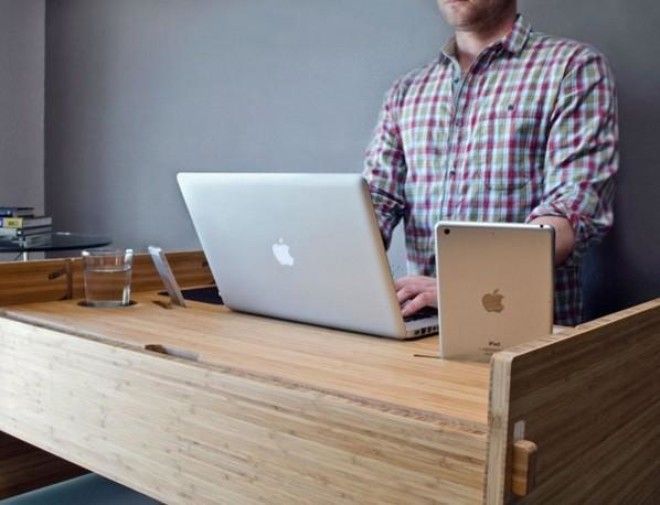 Price: $349 USD
Introducing the LIFT Adjustable Smart Desk by iSkelter, the most affordable height adjustable desk on the market. This desk serves as a place for everything, including you. With no mechanical parts, the surface of the LIFT Desk can be slightly lifted at an angle and slid up or down to adjust the height safely. Made from pure, durable bamboo, the LIFT Desk features a dock for your phone or tablet, a dry erase board, a recessed drink holder, a recessed space for a mouse pad, storage trays for your valuables, and three cable management clips to keep it all tidy.
VARIDESK Cube Corner Height Adjustable Desk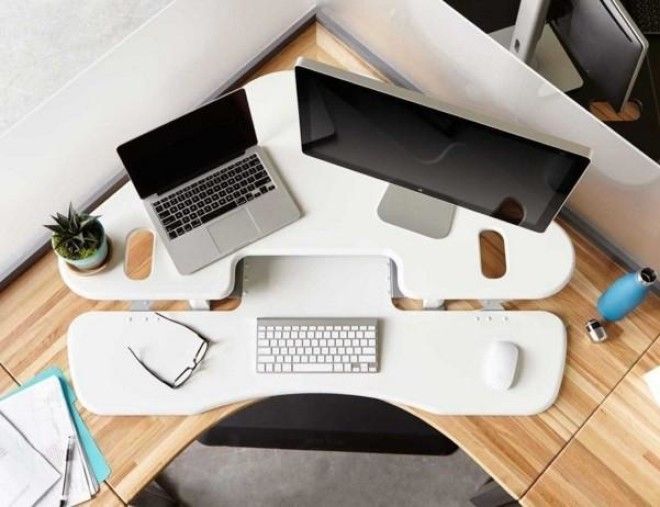 Price: $495 USD
Configure your workstation to any position throughout the day with the VARIDESK Cube Corner Height Adjustable Desk. This desk is designed to fit in your cubicle and give you a more comfortable work space. There are two tiers in the VARIDESK Cube Corner. The lower is a deck for your mouse and keyboard with plenty of room for writing and notes. The top tier has plenty of room for multiple monitors and speakers. In just three seconds, you can go from sitting to standing with the same secure and stable desk thanks to the spring loaded mechanism.
Variable balans Ergonomic Desk Chair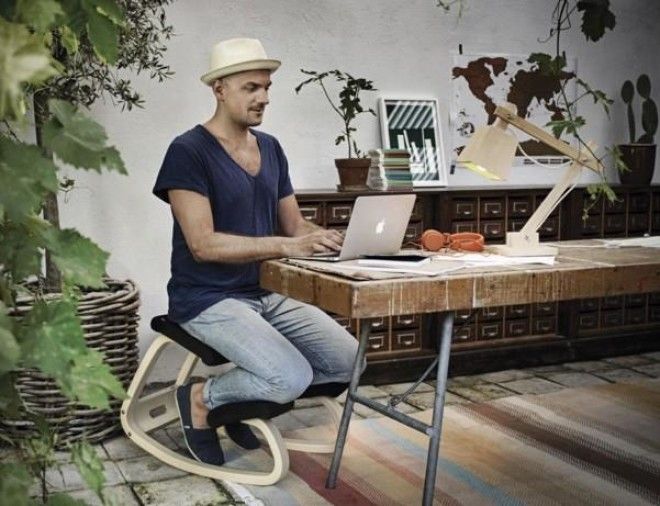 Price: $369 USD
Give your body a break with the Variable balans Ergonomic Desk Chair. Available with a black frame and a black fabric seat, this chair is designed to let your body move and flow as it naturally should. The Variable balans has slightly curved legs, similar to a rocking chair, to allow you to sit and stretch however you need while at your desk. The seat is a backless bench that is tilted slightly to the front, forcing you to ideally align your posture no matter how you sit.
Rebel Treadmill and Desk Combination
Price: $1400 USD
Remain active and get in shape while you work with the Rebel Treadmill and Desk Combination. Including a height adjustable desk and a treadmill with different speeds, you can easily power through your workday and workout. The Rebel Up 2000 desk has a large top surface for your computer and documents as well as a sliding tray underneath for your keyboard and mouse. The Rebel Treadmill 1000 is ideal for walking with your choice of speed from .5 mph to 2 mph.
Stand Desk – Affordable Sit to Stand Desk For Urban Professionals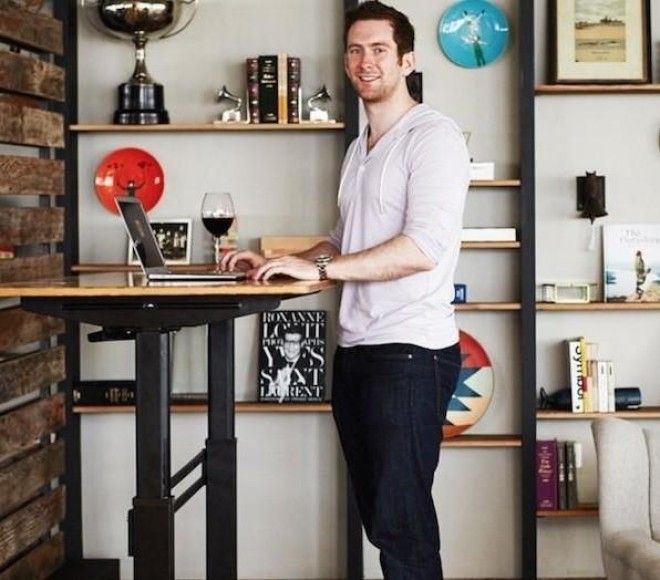 Price: $538 USD
Sitting is a necessity for urban professionals. But not anymore if you have the Stand Desk. The purpose of this affordable sit to stand desk is to help you come out from a sedentary posture while you're at work and live a healthy life that way. It uses only one-third the parts most traditional sit to stand desks use which is what reduced the cost but without losing out on any of the benefits. Standing leads to 10% higher productivity and relieves those with back pain. So using such a desk is definitely going to help you maintain a better work-life balance.
Customize-It Project Trestle Desk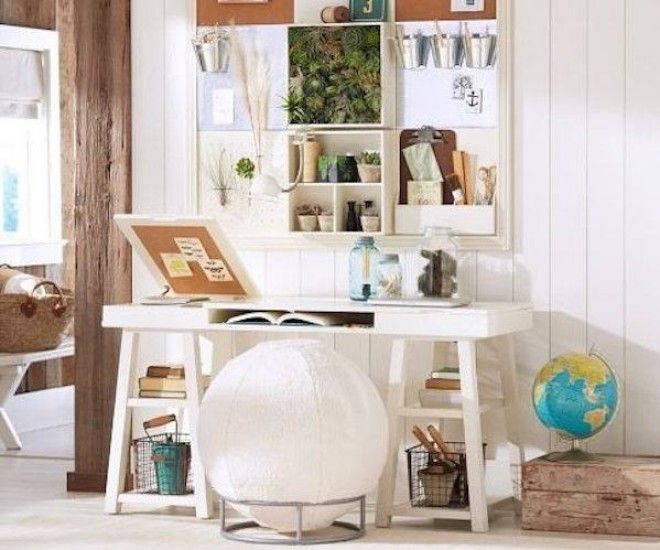 Price: $759 USD
You can now store your everyday belongings you require at your desk on this very useful Customize-It Project Trestle Desk. It is a spacious design which has space to organize all your stuff. There are two lift-up tops which reveal cork boards as well as multiple compartments for your essentials. The desk is set up on a sturdy trestle base so as to create a setup you can use for projects, crafts and more. The desktop is made of a kiln-dried wooden frame and has been finished beautifully in antique white.
Uprite Ergo Sit2Stand Workstation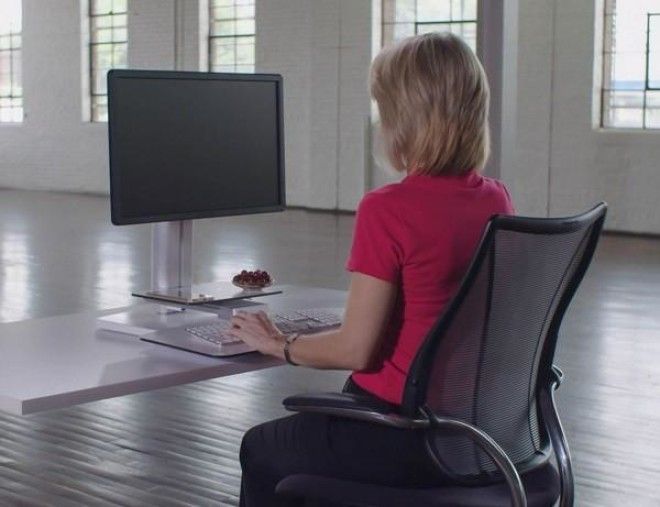 Price: $225 USD
Transform an existing desk or table into a high-quality and affordable sit to stand workstation. The Uprite Ergo Sit2Stand Workstation is a durable, affordable, aesthetically pleasing height adjustable workstation that occupies a small footprint on an existing desk or table. The Sit2Stand Workstation moves easily from a lowered to a raised position allowing a quick transition from sitting to standing while working. A combination of durable and scratch resistant anodized aluminum and phenolic components available in silver/white and black/black ensures a tough yet sleek and attractive design.
Minimal Float Wall Desk by Orange22 – Multi Use Workstation or Display Shelf
Price: $600 USD
With the Minimal Float Wall Desk by Orange22, you won't have to compromise on the amount of floor space at your home or studio for an office desk anymore. This wall desk is easy to install and comes in two different sizes and five colors to choose from. You can either choose to use it as a laptop station, full desktop station or even as a simple display shelf. The clever design eliminates legs and provides a full surface slide out tray and a wire management slot if required.
Origami Desk from Ethnicraft – Plenty of Storage Space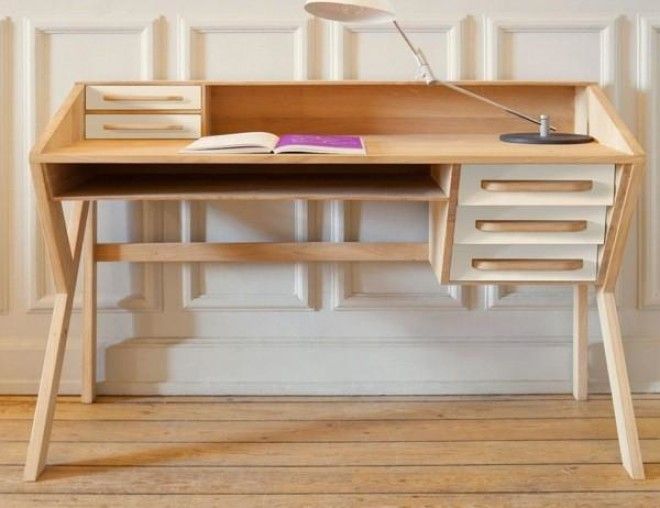 Price: $1059 USD
From your home office to your kid's bedroom, the Origami desk from Ethnicraft will blend well with any modern home interiors. The purpose of this design was to make your desk more compact without losing out on storage space. The fine art of origami has been highlighted beautifully in the overall design which makes it look even more beautiful as an otherwise simple work or study desk. The desk comes with 5 drawers and has plenty of storage space for your everyday necessities.
Altwork Station – The New Way to Work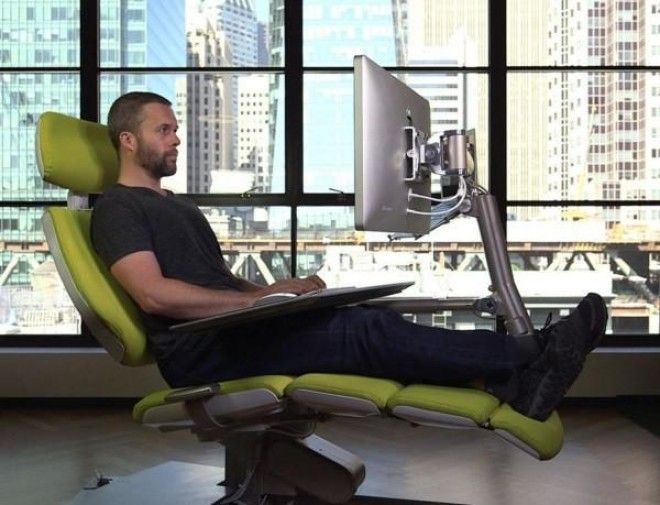 Price: $3900 USD
Redefine how you sit at your desk and access your computer with the Altwork Station, the new way to work. Encouraging productivity with a comfortable and health-conscious work station, Altwork is a mechanical desk. The entire work station is flexible and moves fluidly through four key positions, such as standing, sitting, and reclining, for continuous comfort. Rather than hunching over to reach your laptop, Altwork brings it to you with a push of a button.