We don't often understand high fashion. Those weird-looking runway models on fashion shows, concept clothing that we never ever meet on streets as casual wear… Unless you're a fashion designer, of course, then it's a big difference. But if you're not, there's no change you would like to hit the streets or social events wearing clothes from the latest fashion show. Wait, are you sure? Don't hurry to give up on the world of high fashion and look at these stunning dress designs, paired with natural wonders and human creations. This photo series is something extremely new and refreshing. You won't have a hard time understanding what the designer was trying to say, because these combined masterpieces speak for themselves. Enjoy the gallery!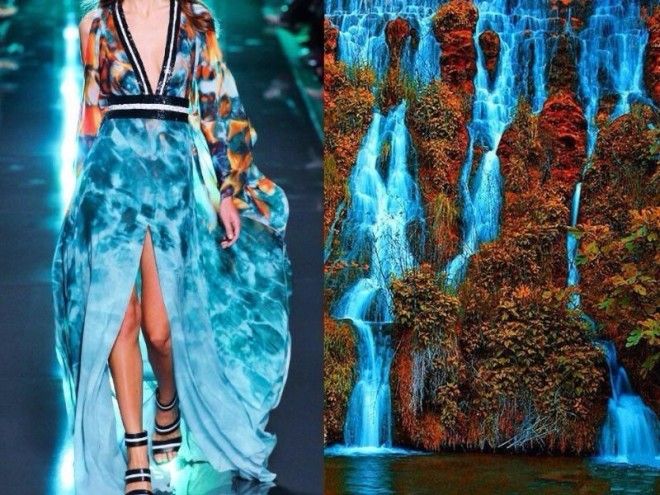 Fashion designers usually find their inspiration in the natural world: flowers, plants, a variety of colors and shades, animals etc., creating different patterns, elements and shapes for their clothing. We don't actually know the true sources of inspiration designers found when creating these dresses. But look how awesome this Russian artist Lilia Hudyakova paired the most beautiful ones with masterpieces created by nature and humanity!
Elie Saab S/S 2014 • & • Pink sunset (author unknown)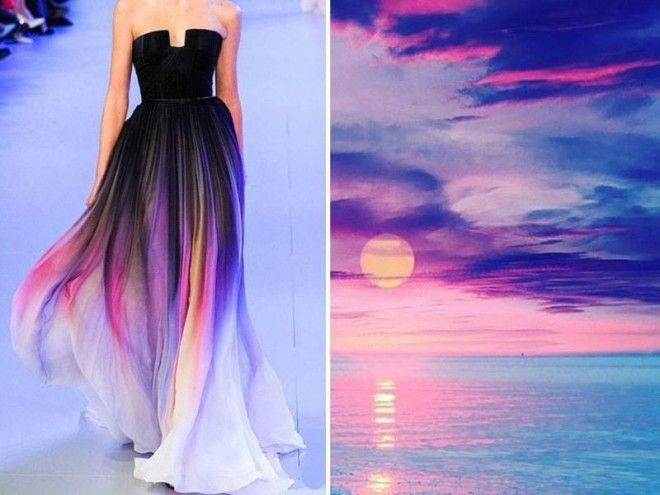 Naeem Khan S/S 2009 • & • Volcanic eruption Eyjafjallajokull, Iceland (2010)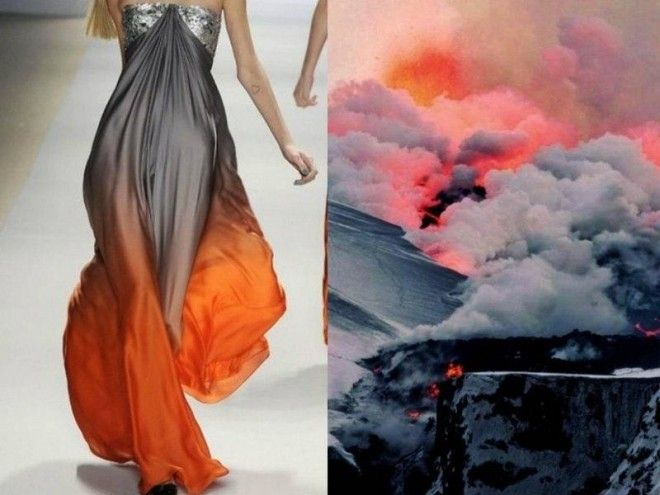 ?Her project is called «1+1» and as you can see, it represents two images, where one of them is a dress made by a certain famous designer, and the second part is a natural view that Lilia imagines inspired the designer of a dress. And the resemblance is just breathtaking.
Monique Lhuillier S/S 2014 & Fire In The Sky in California by Aydin Palabiyikoglu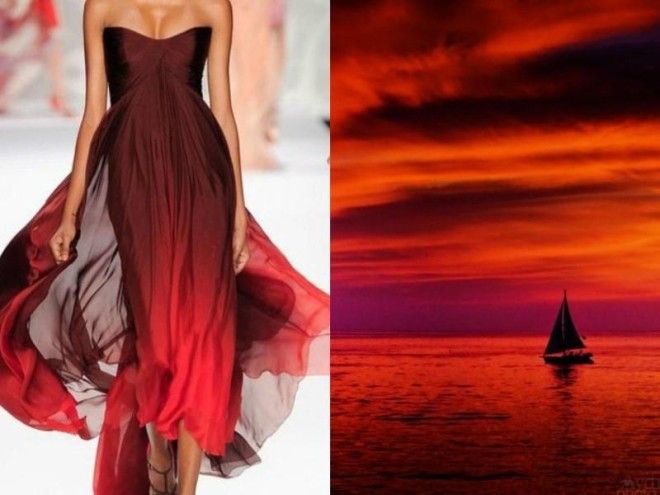 Jason Wu S/S 2013 & Starry Night "Silhouettes" by Harry Finde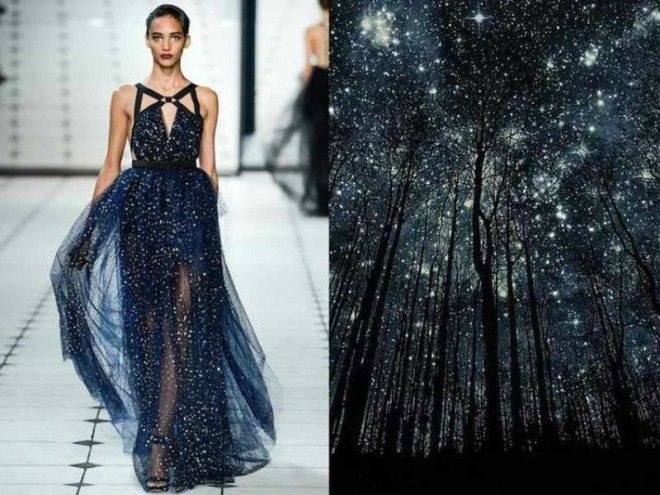 ?Lilia works comparing different stuff, creating an impression that the designs of dresses from the runway are based on these photos and sketches. Not only natural views are involved in her works. Lilia also creates her collages finding parallels between fashion design and architectural masterpieces.
Jean Paul Gaultier Fall 2014 • & • "Vault of Gold", Westminster Cathedral, London (England).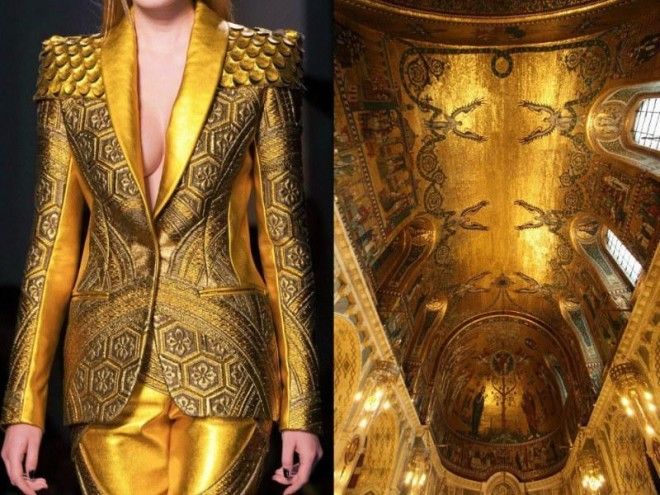 Zuhair Murad S/S 2007 • & • Mihrad, Yesil Tomb, Bursa (Turkey).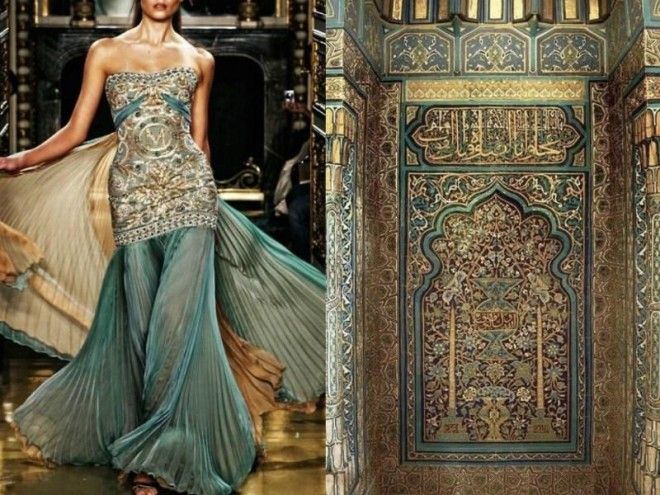 ?It is hard to ignore how the artist defines the uncanny connection between fashion items and various forms of architecture designs. For instance, this dress from Alberta Ferretti 2015 collection matches perfectly with wall details of Chambre à Coucher de la Reine.
Alberta Ferretti S/S 2016 • & • Marie Antoinette's Bed in Palace of Versailles, France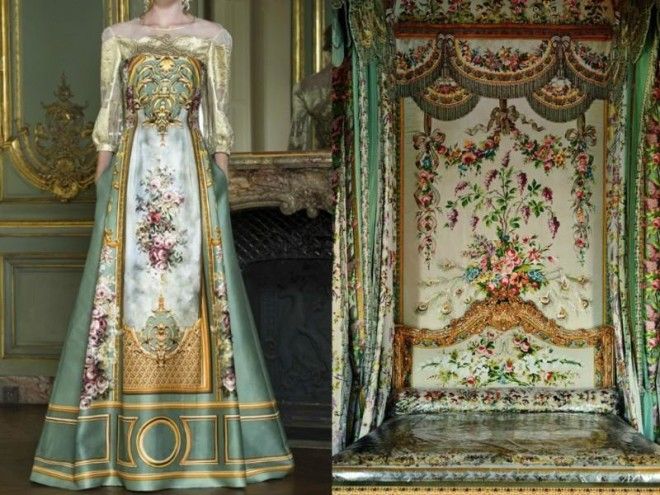 Zuhair Murad S/S 2013 • & • The Catherine Palace in Tsarskoe Selo, Saint Petersburg (Russia)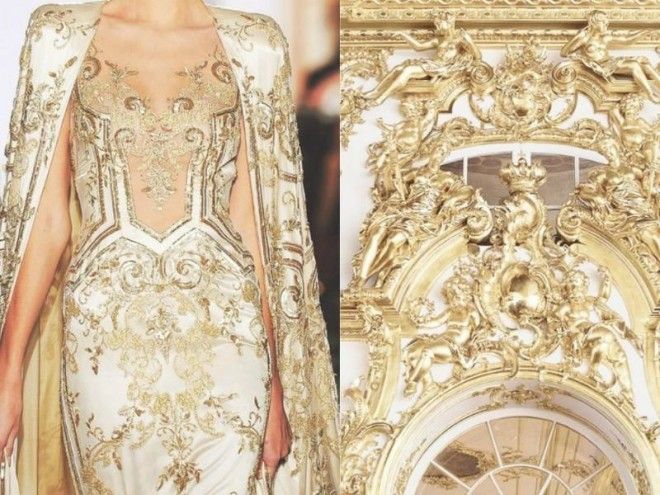 ?In her works, Lilia Hudyakova shows how anyone can easily choose and transfer breathtaking nature wonders or incredible human creations into fabulous dresses.
The Blonds F/W 2012 & Mountains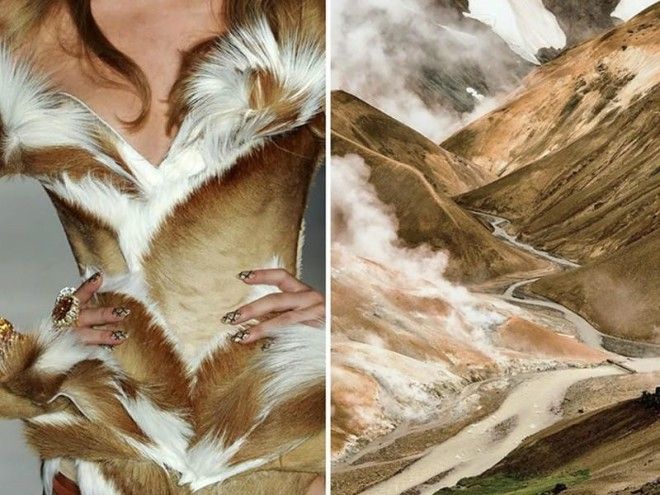 Christian Siriano S/S 2013 • & •.Sand Dunes, Cervantes, WA by Christian Fletcher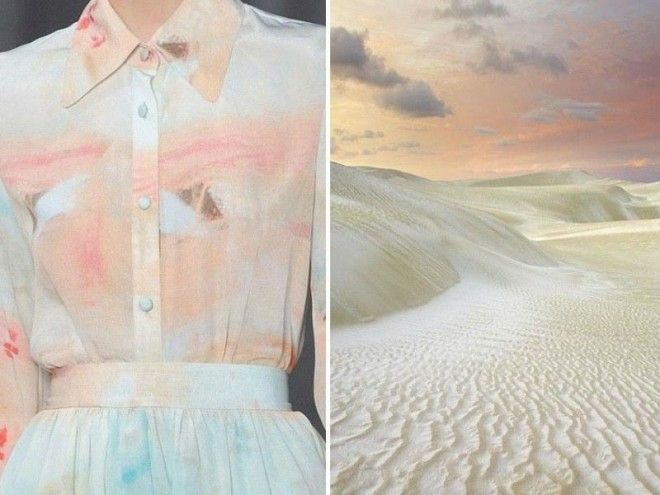 ?