Max Azria, the legendary fashion designer who founded women's clothing brand BCBG, is selling his Los Angeles estate for an eye-watering $88 million.
The 60-room California mansion, called "Maison du Soleil", has it all: 17 bedrooms, a pristine pool and pool house, tennis court, huge living spaces, a 6,000-square-foot movie theater, fitness center, greenhouses, and entertaining patios and gardens galore.
"The house is off the charts," listing agent Alla Furman told Business Insider. Furman and Branden and Rayni Williams of Hilton & Hyland have the listing.
Originally built in the 1930s by the classic California architect Paul Revere Williams, the three-acre property is set on iconic Sunset Boulevard in Holmby Hills, an exclusive Los Angeles neighborhood bordering Beverly Hills and populated by bold names. It's about a five-minute walk to the infamous Playboy Mansion, which is also currently on the market.
According to public records, Azria and his wife purchased the house in 2005 and spent $30 million on renovations, the Wall Street Journal reports. The 30,000-square-foot manse is filled with unique touches, from a domed gold-leaf ceiling in one room to a "frozen waterfall" chandelier made up of 150,000 individual crystals.
Last year, it was put on the market for $85 million, but it failed to sell and was delisted. The new $88 million price tag is a "lucky number," Furman said. "If you're there, it's worth every penny."
The three-acre property is situated in the uber-rich enclave of Holmby Hills, with downtown Los Angeles and the Pacific Coast visible in the distance.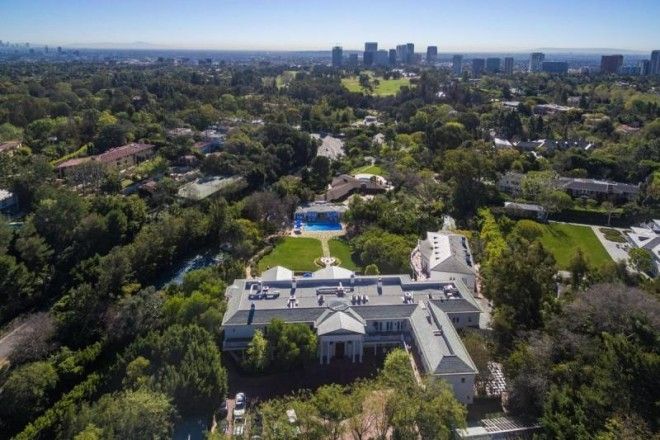 A private gated entrance ensures security.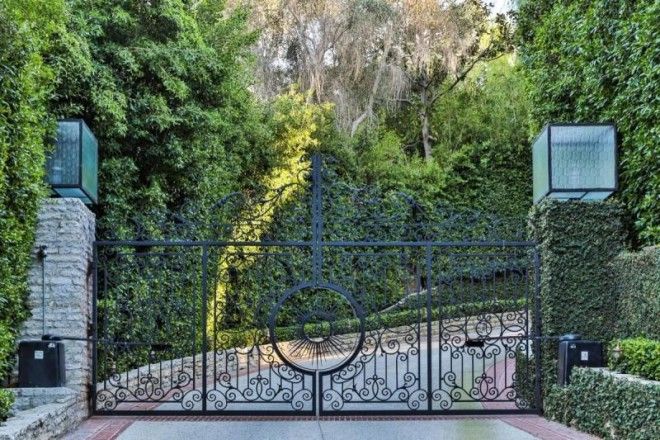 The 1930s two-story house sprawls across the property.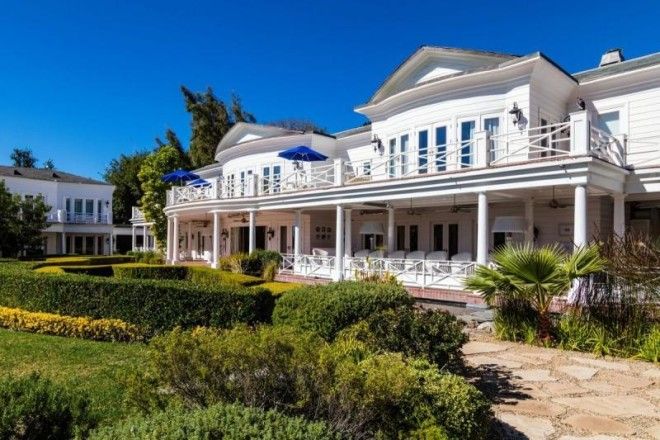 Through the front doors, you'll find a "frozen waterfall" chandelier in the center of the entrance hall. It's made up of individual crystals.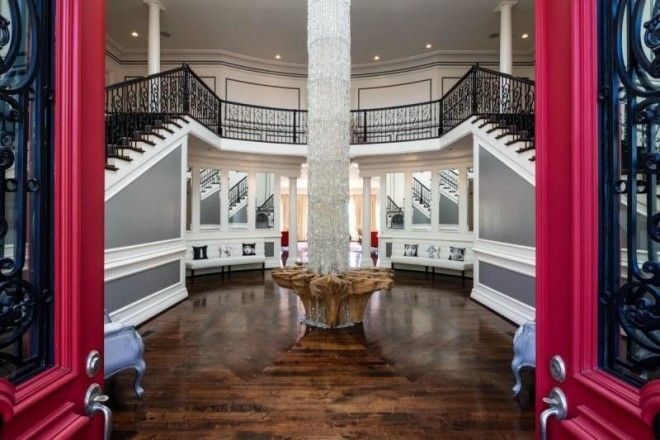 Every room has been decked out in a decadent, quirky style.
The dining room's dark floors and polished silver ceiling make a dramatic statement.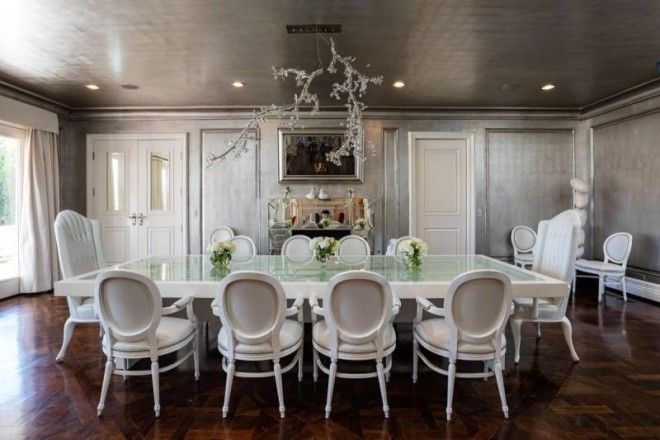 But at night, it's the sculptural blue hanging light that draws attention.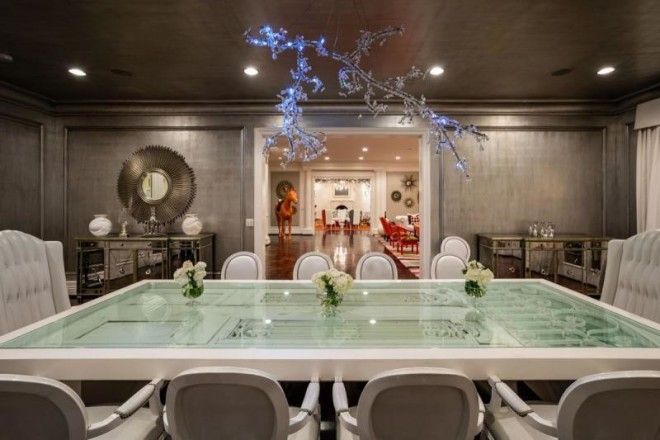 Unusual ceilings are a theme throughout the house: this sitting room has wild metallic decorations all over.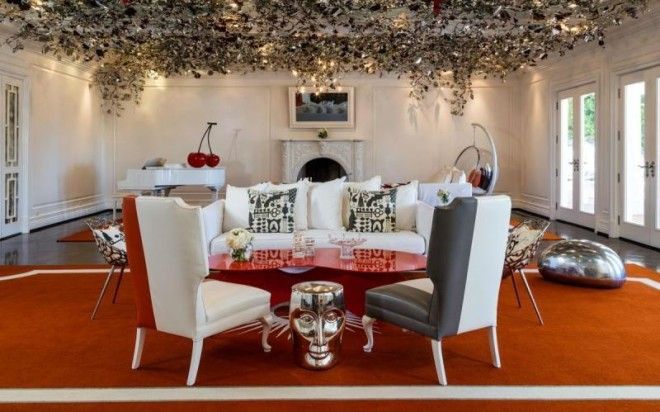 Outdoor seating is plentiful, giving the home lots of possibilities for entertaining.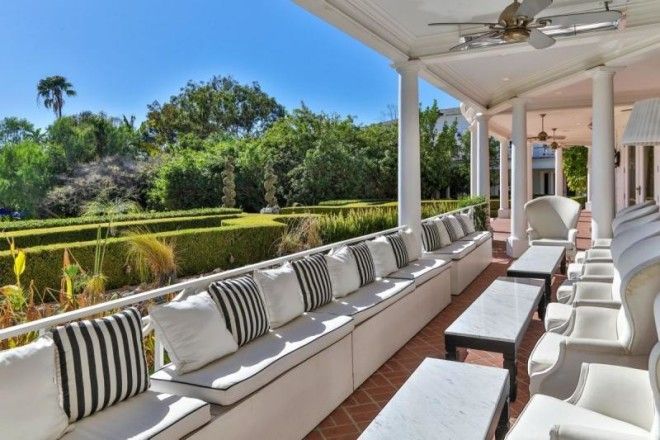 The pool is bordered by trees and accompanied by a pool house.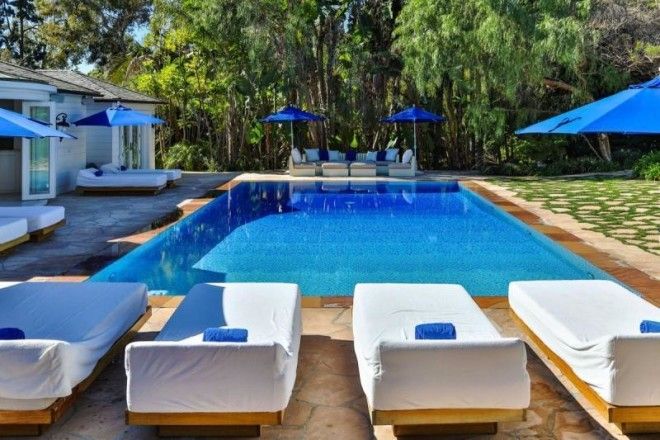 The tennis court has an elevated viewing box of its own.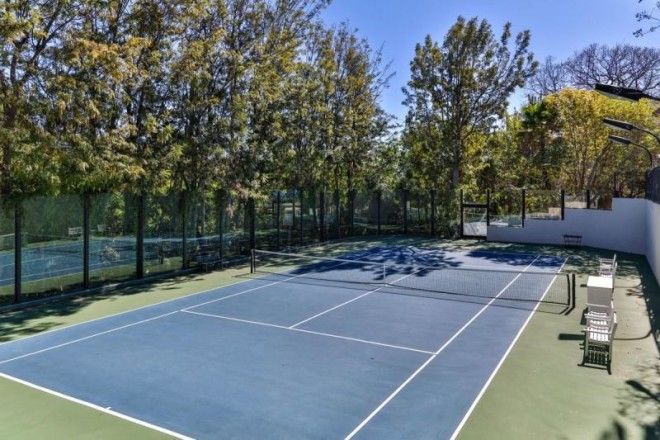 Another unique overhead light is the focal point of this living room. Bold, graphic design elements are a theme throughout — what you might expect from a fashion mogul.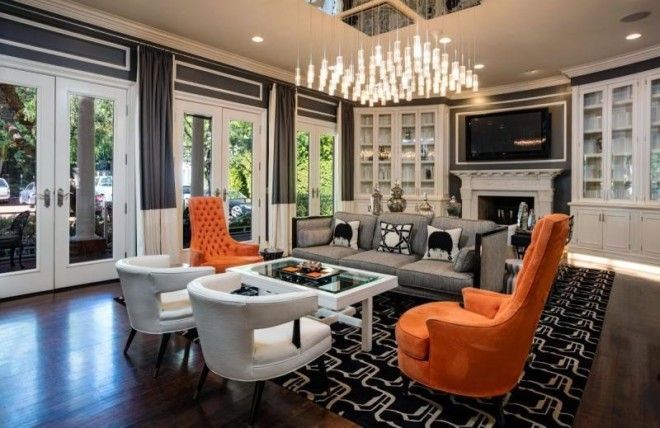 The spacious kitchen has a walk-in refrigerator.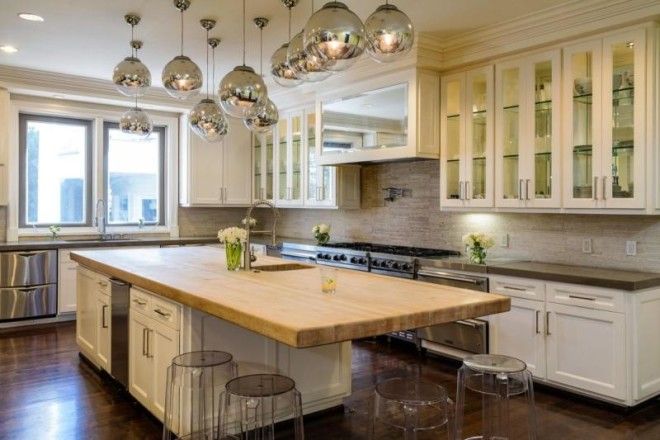 This large bedroom — only one of 17 — has a whole wall of doors to take advantage of the natural light.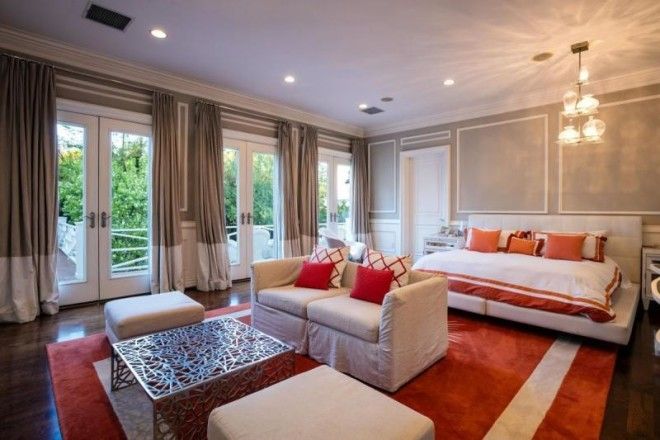 A massive bathroom includes a free-standing tub.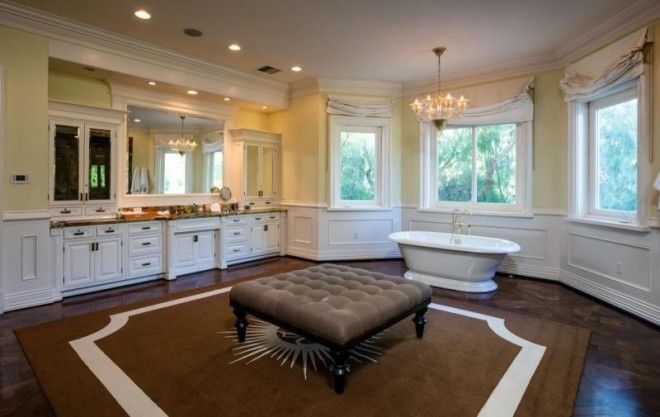 This walk-in closet is the size of most New York City apartments.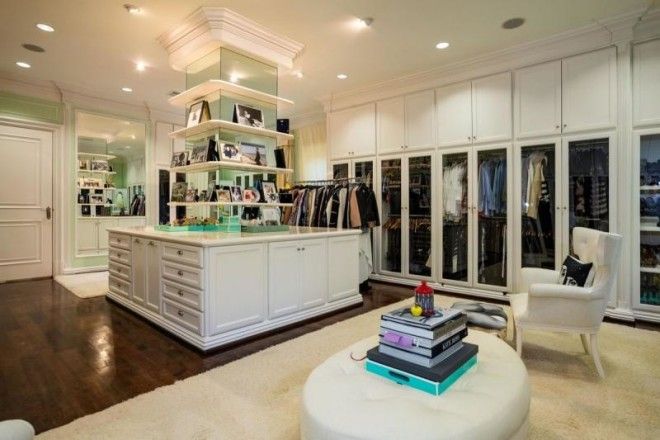 Here's another view of that huge closet — a fitting use of space for a fashion-forward couple.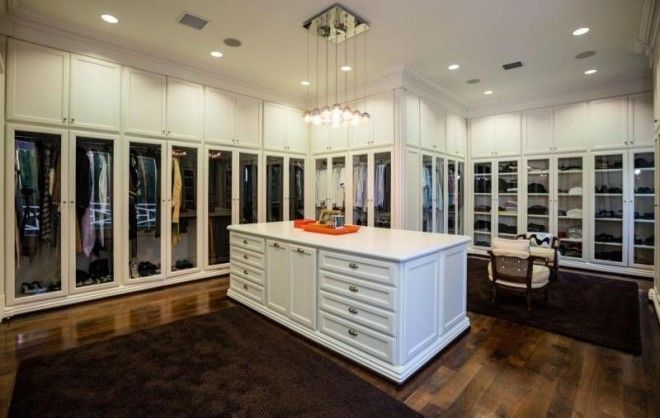 Another bedroom. The house doesn't shy away from bright colors.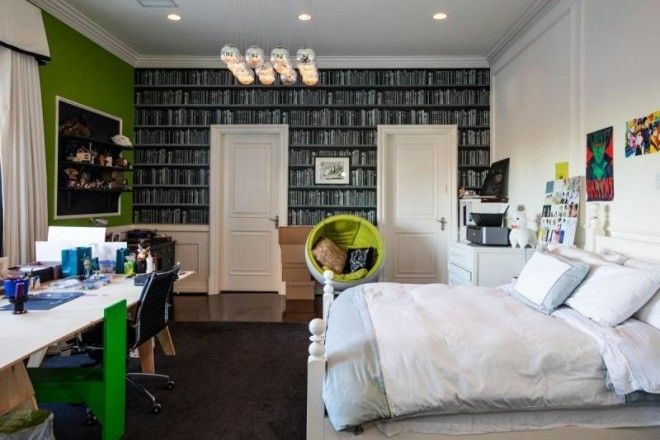 An unusual design on the shower's glass adds intrigue to an otherwise simple bathroom.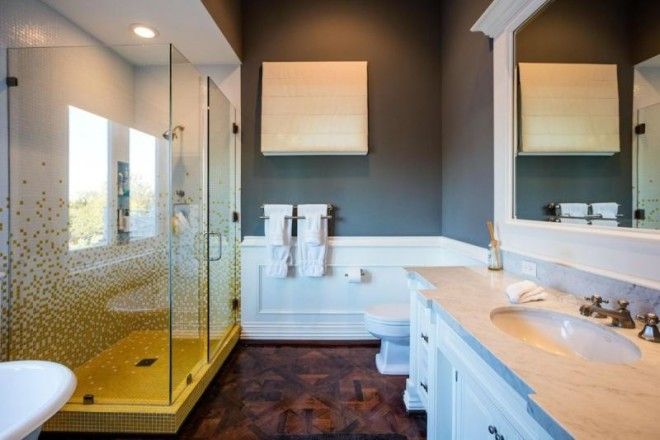 This bedroom, done in serene neutral shades, is gigantic.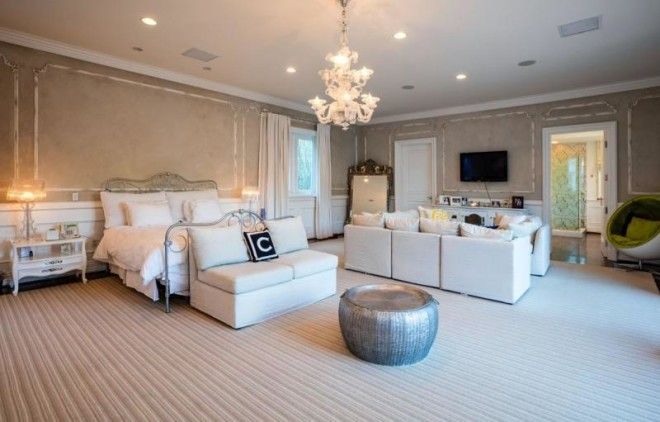 A recreation room has a full set of drums.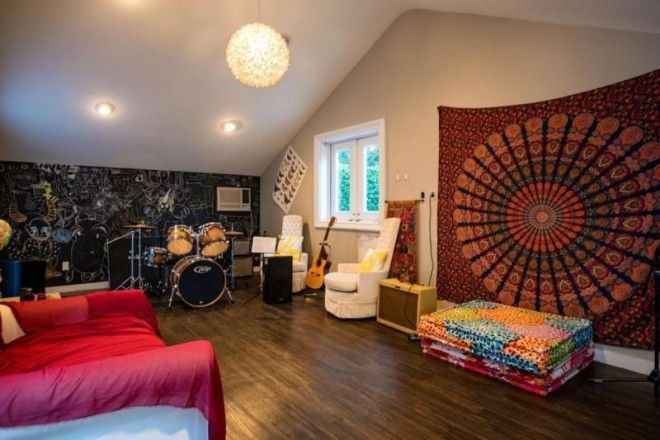 This greenhouse functions as a fully-stocked gym.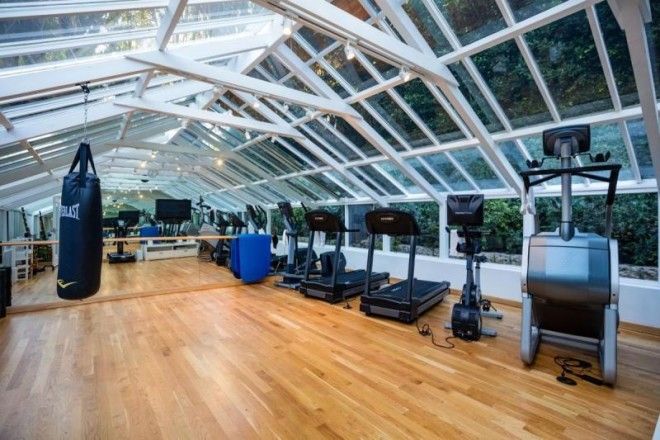 The pool house has a spa and sauna.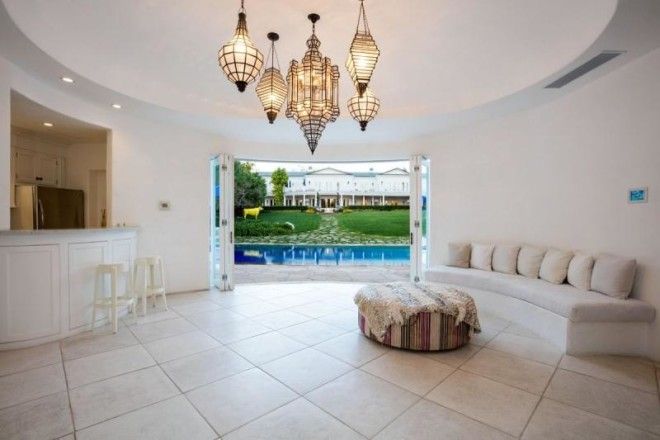 Another view from the pool house, which has an indoor tub.
The property has many hidden gardens and pathways, including this forested area.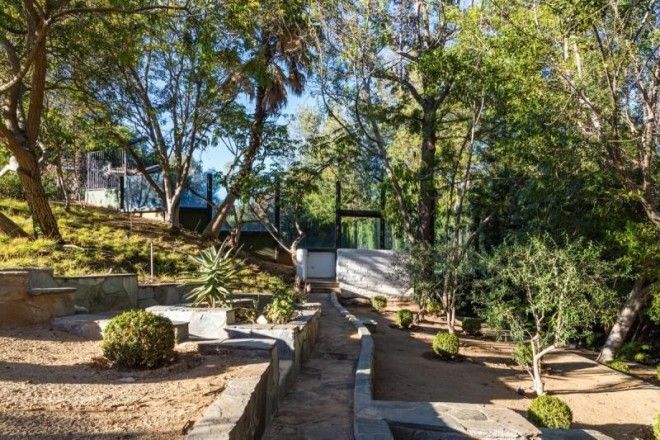 An entertaining niche includes inset seating on a stone patio.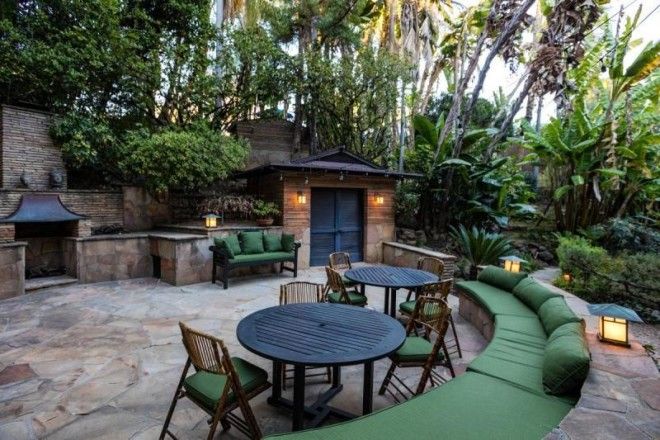 Every room is bathed in bright California light.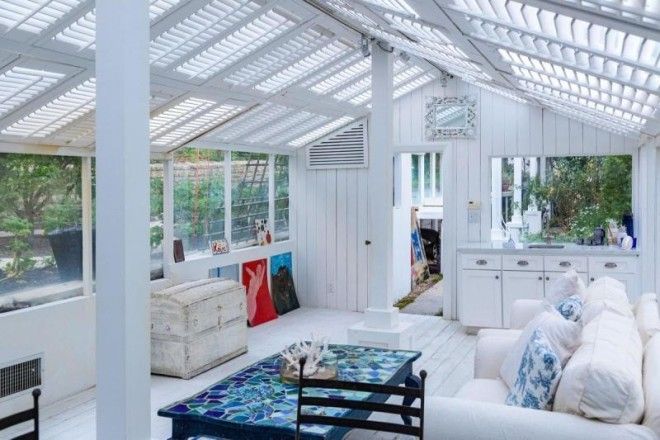 This quirky patio has an unusual feature: a freestanding fireplace encased in glass.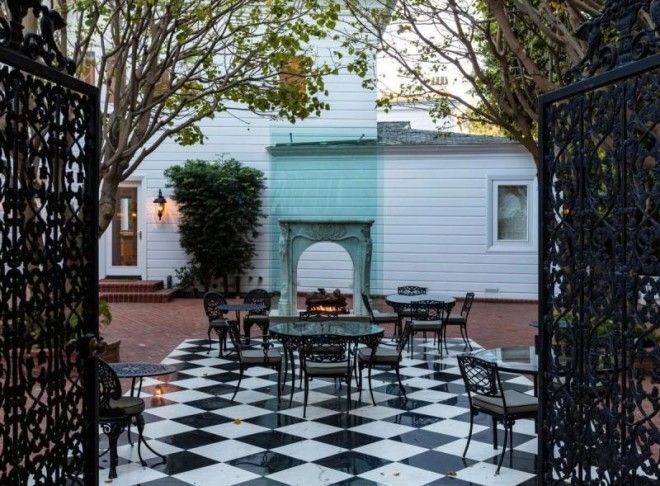 At night, the trees are lit in red, giving the whole area a warm glow.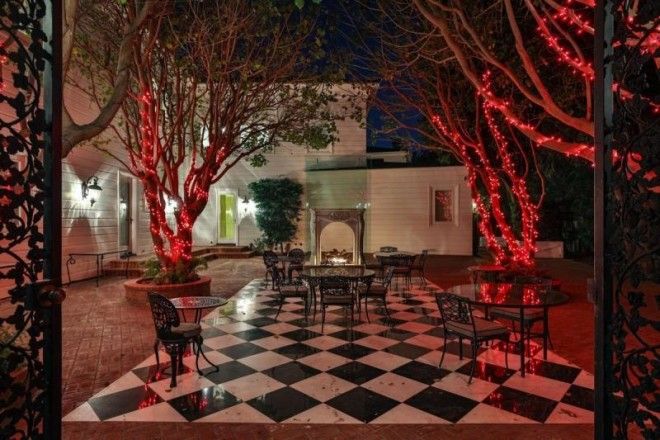 The domed gold-leaf ceiling in this study is decadence defined.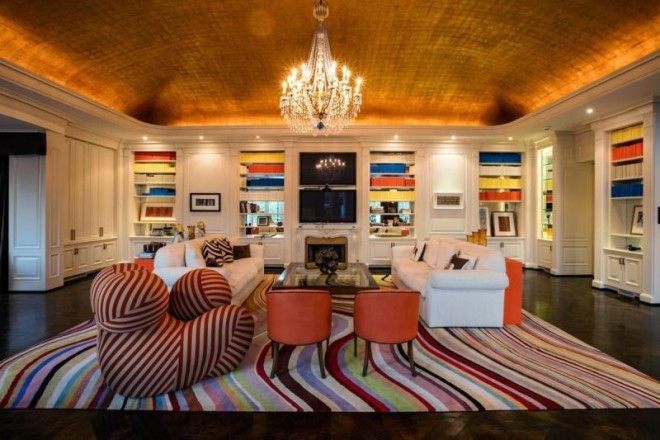 The 6,000-square-foot movie theater will satisfy any cinema fan.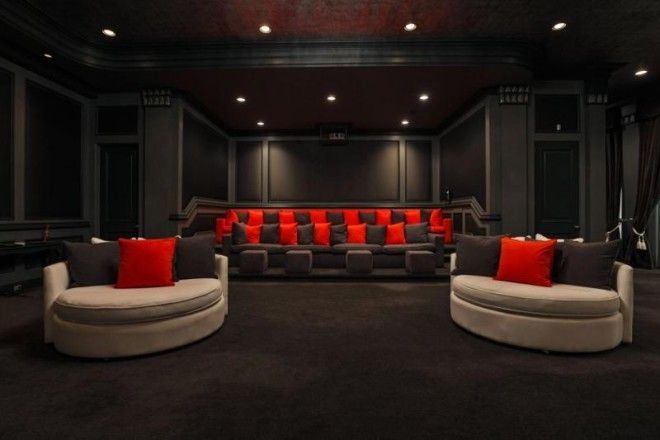 The sprawling front lawn is broken up by manicured hedges and even more seating.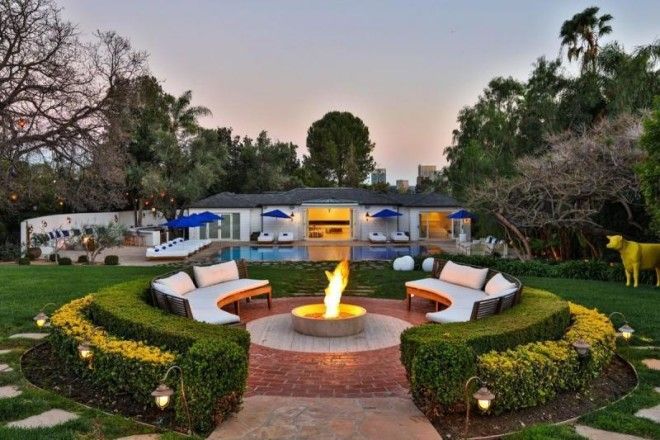 Another view of the pristine pool.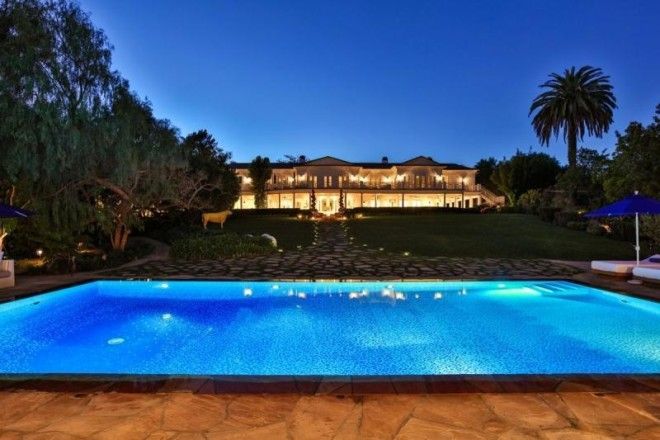 This looks like a perfect place for a party.