Street art is, by nature, controversial. To some, it's vandalism and an eyesore. To others, it's a great backdrop for their next Instagram shot. But to the artists themselves, it's their way to broadcast the social and political currents running through a city.
"The street is the common denominator, the bell curve and the barometer of all things," street artists Enzo & Nio write in the new book "Outdoor Gallery - New York City". "You go to the street when there is nowhere else to go. You go to the street to shout at the world... The streets serve as a mirror on society."
"Outdoor Gallery" author Yoav Litvin is a photographer, writer, and doctor of psychology and behavioral neuroscience who has made it his mission to document this ever-shifting conversation in New York's streets.
"There's a raw character to NYC that is unique," Litvin said to Business Insider. "After all, it is the mecca of graffiti and street art and has an interesting and troubling history." In fact, New York City is the birthplace of the graffiti "writing" movement of the 1960s, which evolved into the image-driven street art we see today.
But despite the city's rich past with graffiti, its not a street art free-for-all; Litvin says the authorities are "very strict" compared to other places, and artists caught in the act can be fined up to $350.
Below, a selection of the most noteworthy, provocative, and eye-catching works currently on display in the city, as Litvin sees it. Go now, before they're gone.
Thanks to the radical (and often illegal) nature of the medium, street artists tend to be enigmatic characters with provocative perspectives and political messages. This chimney in Long Island City is decorated with an austere, pensive piece by brothers and artists Icy and Sot.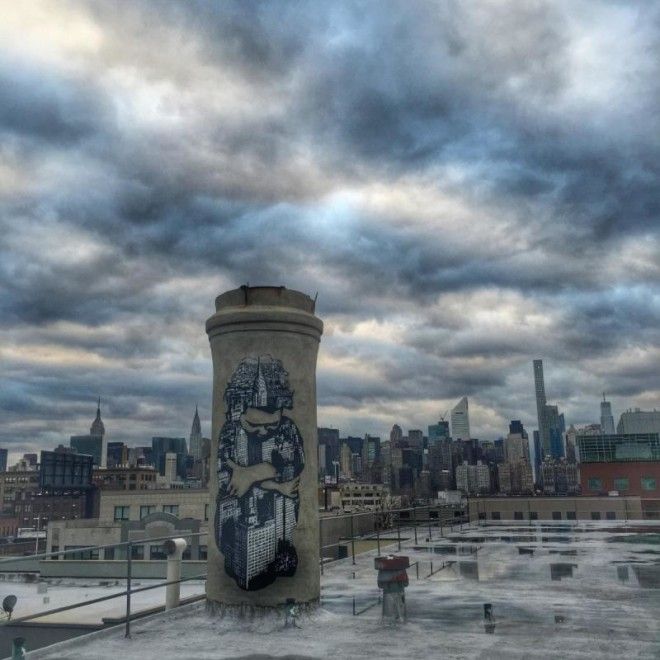 Yoav Litvin
Location:
Long Island City, Queens
Artists: Icy and Sot
Story:
Since 2006, the two Iranian brothers and stencil artists have contributed to Iranian and international urban art culture through their stencil work, usually depicting human rights, ecological justice, and social and political issues.
Buff Monster's eerie creations, like this eyeball-filled wall, are both creepy and striking. "As the empire city, New York City attracts the best of the best and all eyes are directed here," Litvin said.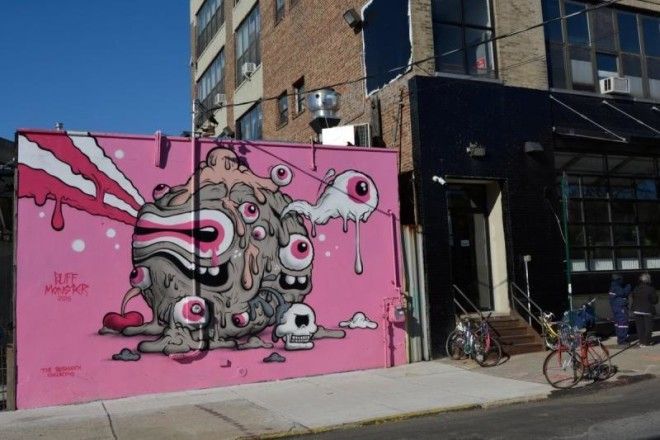 Yoav Litvin
Location:
Bushwick, Brooklyn
Artist: Buff Monster
Story:
Buff Monster is a popular artist famous for his signature use of the color pink. Over the last 15 years, he's crossed over as both a street artist and gallery artist, and his meticulously executed paintings have been shown in galleries around the world.
Brazilian artist Alexandre Keto puts up stylized murals like this one in Long Island City, drawing attention to race and class issues.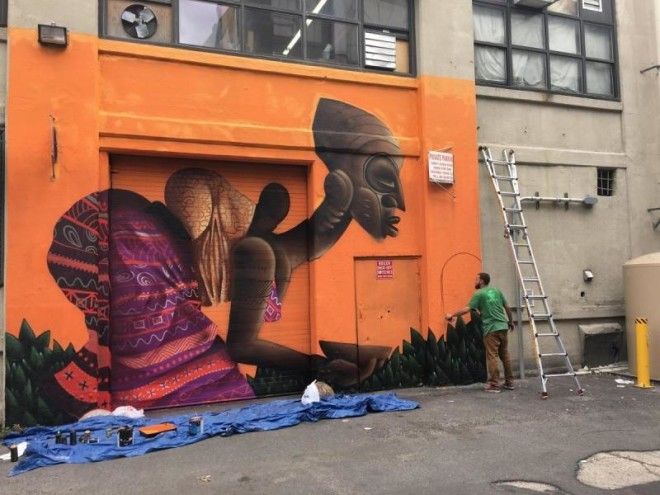 Yoav Litvin
Location:
Long Island City, Queens
Artist: Alexandre Keto
Story:
As an artist and educator, Alexandre Keto uses bold, stylized portraits to highlight contemporary social issues.
Jerkface is a master of cartoon characters. See: this East Village wall, plastered in an army of faceless Charlie Browns.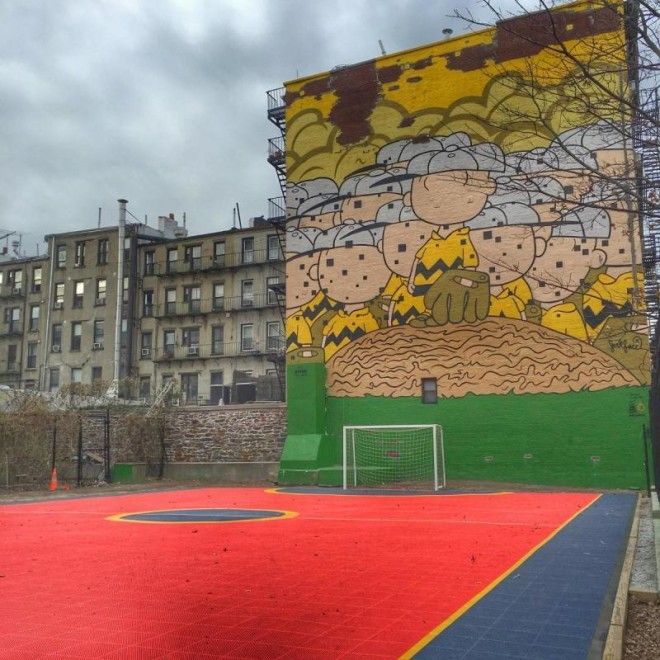 Yoav Litvin
Location:
East Village, Manhattan
Artist: Jerkface
Story:
Cartoonish characters are the subject of the prolific artist Jerkface, and you can find his work all over the city.
This striking graphic piece by Chilean and Swedish artists plays hide-and-seek with viewers. "At its ideal, street art is an unfiltered and non-curated art genre that breaks boundaries of context that are imposed on traditional art by the authorities and by the structure of the art establishment itself," Litvin said.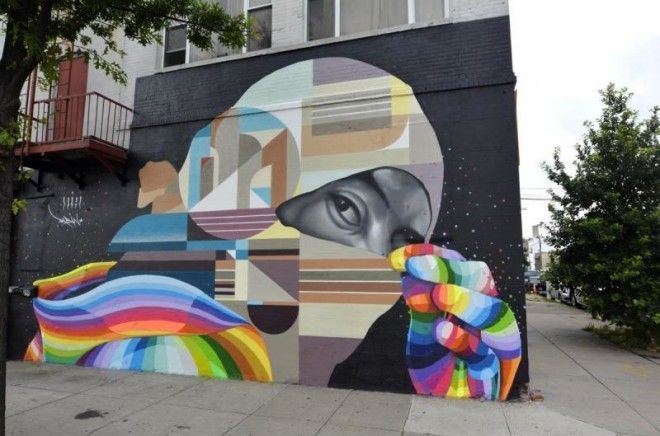 Yoav Litvin
Location:
Greenpoint, Brooklyn
Artists: Dasic Fernández
and
Rubin415
Story:
Dasic Fernández is a Chilean artist — now a native New Yorker — whose works are often bold and colorful. Swedish Rubin415 is a master at painting graffiti characterized by geometrical and abstract shapes; he has painted around the world.
The Lower East Side has a high concentration of street art worth a visit; this wall boasts works by pun master Hanksy (left) and muralist Magda Love (right). At left, Hanksy's social media sensation "Dump Trump."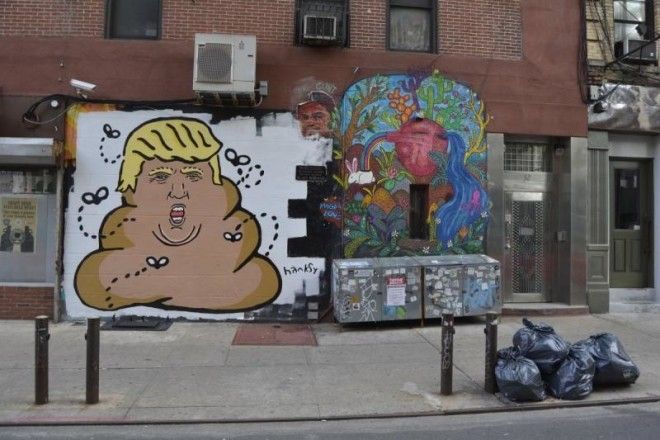 Yoav Litvin
Location:
Lower East Side, Manhattan
Artists: Hanksy
and
Magda Love
Story:
Satirical artist Hanksy uses humor to lampoon popular culture and politics. Magda Love, meanwhile, is an Argentinian artist known for her colorful street art and big public works with colorful narratives.
This Harlem building has been given the Lunar New Year treatment, decorated with a striking mash-up of birds all joined into an avian composition.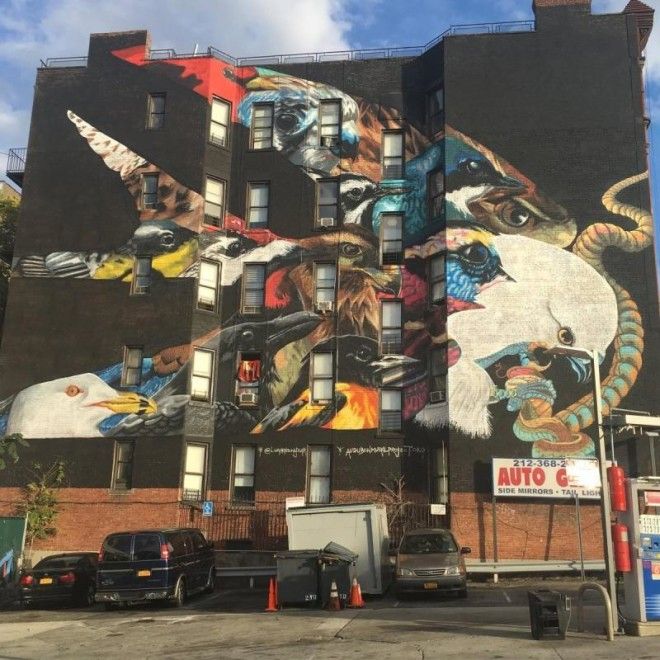 Yoav Litvin
Location:
Harlem, Manhattan
Artist: Lunar New Year
Story:
Lunar New Year's artwork and murals make statements by referencing politics, injustice, and cultural identity, turning invisible stories visible.
If you've seen the iconic Banksy-focused documentary "Exit Through the Gift Shop", then you've heard of Invader, who puts up pixelated tile compositions in cities around the world. This one is on 14th Street in Manhattan.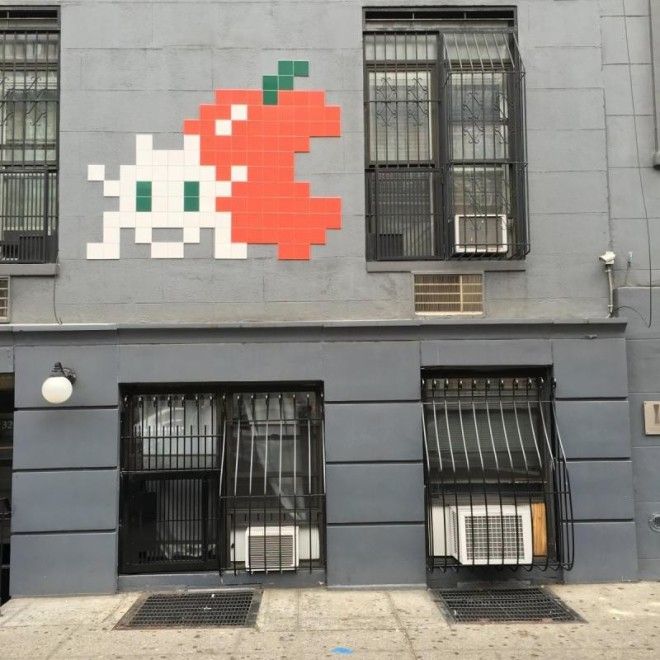 Yoav Litvin
Location:
Artist: Invader
Story:
Invader, who is French, always appears behind a mask. Since 1998, he has developed a large-scale project that involves depositing these "Space Invader" characters around the world.
Zeso's distinct style is on display all over the city. Here, a many-headed, many-armed angel with skulls as faces breaks it down on a complex turntable.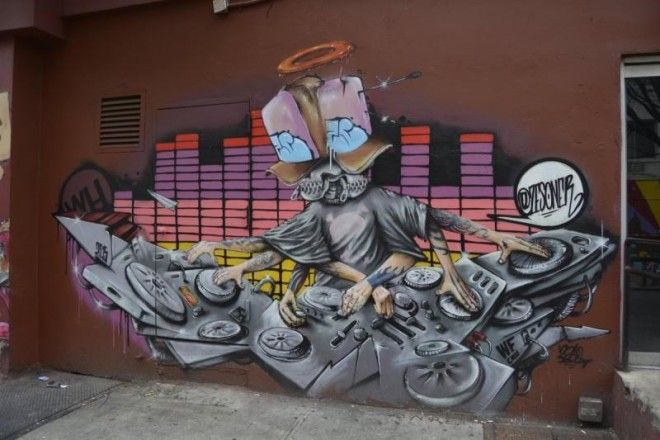 Yoav Litvin
Location:
East Village, Manhattan
Artist: Zeso
Story:
Zeso is a street and graffiti artist whose explosive, colorful, and often macabre works can be found throughout New York City.
Here, a truck decorated by artist Cern cruises through the city.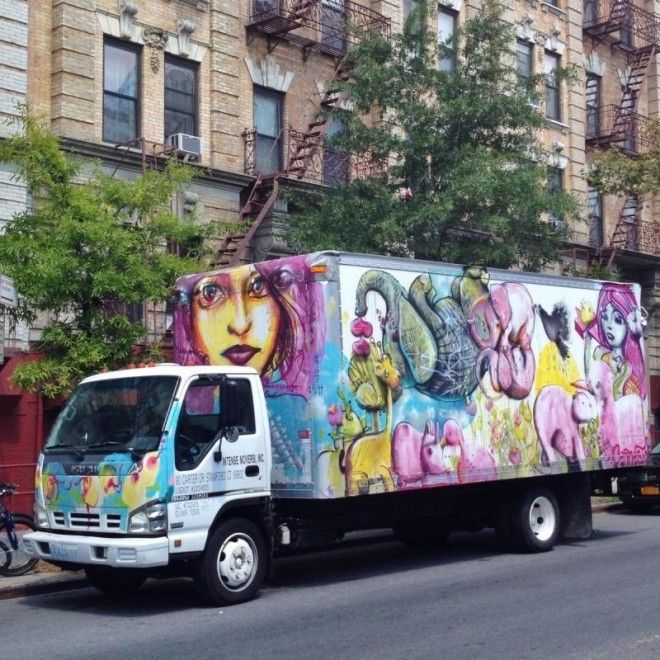 Yoav Litvin
Location:
Unspecified
Artist: Cern
Story:
Cern is a native New Yorker, born and raised in Queens, who got his start writing graffiti in the early '90s and has been involved in the street art scene ever since.
bunnyM's intricate fine art work can be seen all over the city, including on this doorway in SoHo.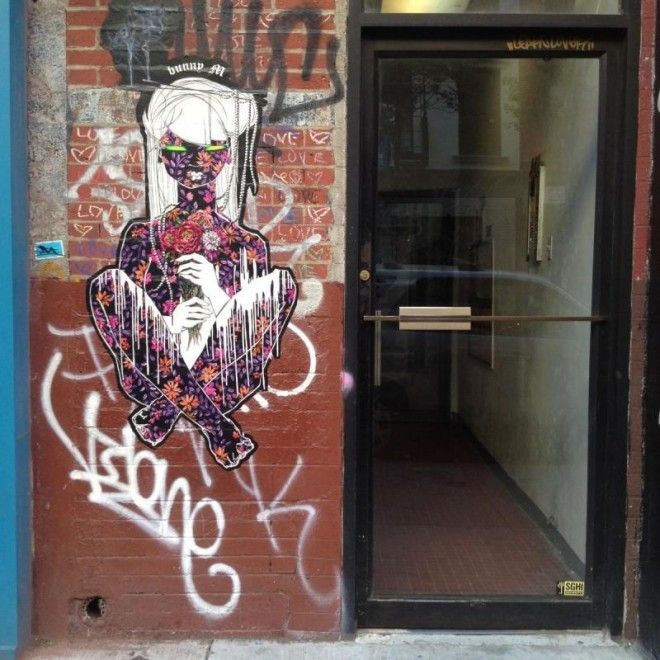 Yoav Litvin
Location:
SoHo, Manhattan
Artist: bunnyM
Story:
bunnyM is a fine artist and painter. Her works range in size from small stickers to large-scale murals. They're incredibly intricate in detail, appealing to both the casual viewer and hardcore art fans.
If you ride the subway, keep a look out for this tongue-in-cheek work by Al Diaz and Jilly Ballistic.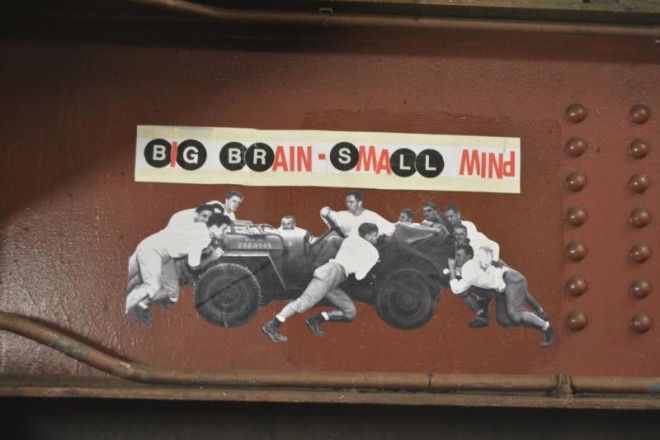 Yoav Litvin
Location:
Unspecified
Artists: Al Diaz
and
Jilly Ballistic
Story:
Al Diaz is best known for working with famous artist Jean Michel Basquiat on lower Manhattan graffiti in the 1970s. A prolific first-generation NYC subway graffiti artist, he later became a text-oriented street artist and now works with "wet paint" signs you can see around the New York City subway. Jilly Ballistic, meanwhile, is a paste-up artist who tags subway platforms and train cars with witty images and text.
Toofly has an easily-recognizable, colorful style featuring highly stylized female portraits.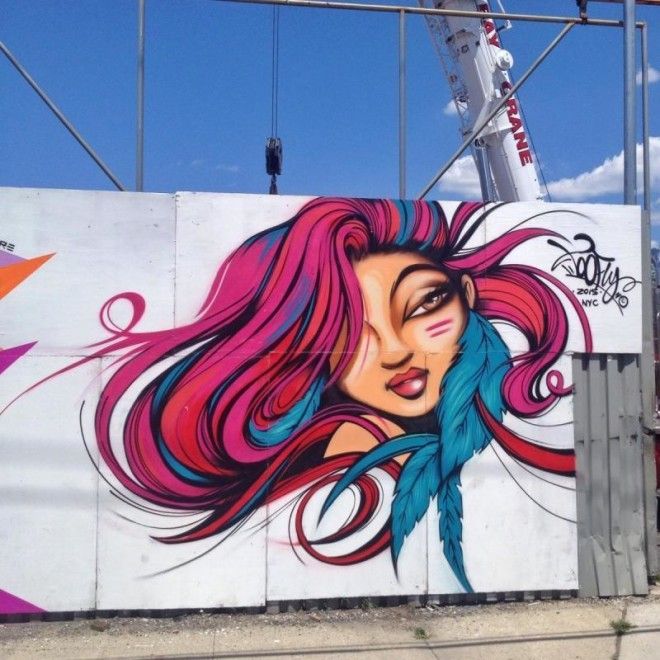 Yoav Litvin
Location:
Bushwick, Brooklyn
Artist: Toofly
Story:
The bright works of the Ecuadorean muralist Toofly are almost always portraits of powerful, inspirational women, which turn humdrum city walls into colorful homages to female beauty. She's painted large-scale works around the world.
Bright colors and a glossy finish give the energetic work of TATS CRU a comic-book feel, like this action scene featuring the Statue of Liberty in distress.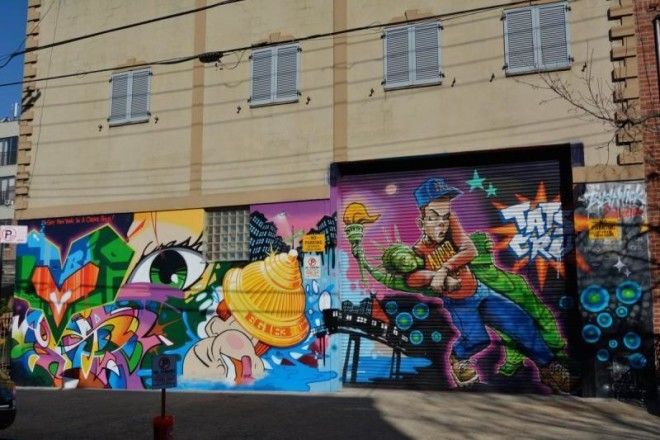 Yoav Litvin
Location:
Bushwick, Brooklyn
Artist: TATS CRU
Story:
A Bronx-based, iconic veteran graffiti crew, TATS CRU works in a classic graffiti style and has inspired generations of graffiti and street artists who've followed in their irreverent, cartoonish footsteps.
New York is notoriously fast-paced, making this "Keep moving backward" sign by Russell King all the more ironic.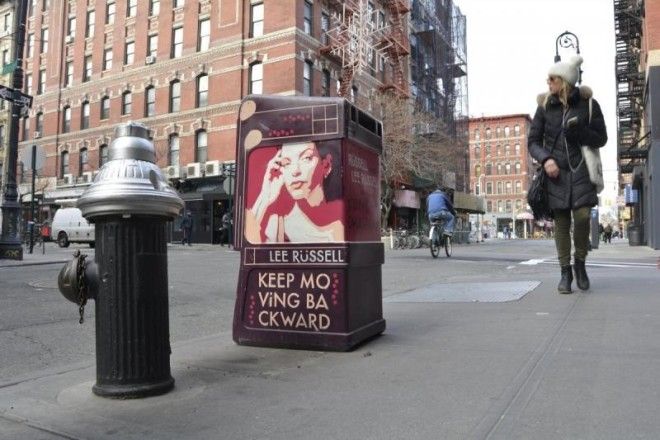 Yoav Litvin
Location:
Lower East Side, Manhattan
Artist: Russell King
Story:
Russell King is a self-described "uncommissioned urban art philosopher." His works can be found on anything from newspaper dispensary boxes to bolt-up signs.
Two artists teamed up to create a psychedelic, "Avatar"-like dreamscape on this wall in Bushwick.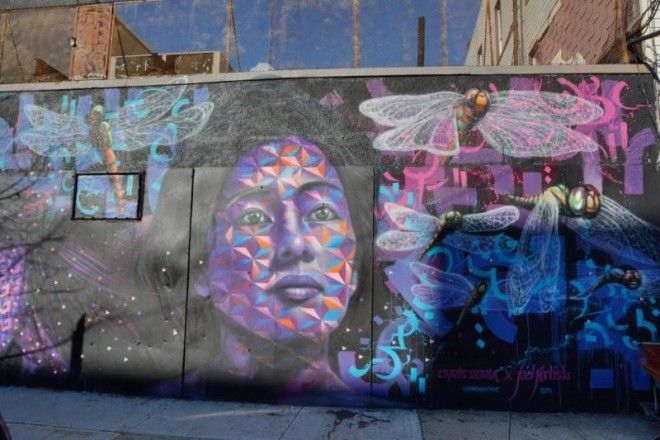 Yoav Litvin
Location:
Bushwick, Brooklyn
Artists: Joel Bergner
and
Chris Soria
Story:
Joel Bergner is an artist who has exhibited and painted throughout the world. His trademark is an eclectic mix of colors and intense imagery, exploring stories of marginalized people. Chris Soria uses complex geometrical shapes and colors in his works to produce unexpected patterns.
This three-eyed monster on a shop front in Bushwick is a classic of the artist Steiner.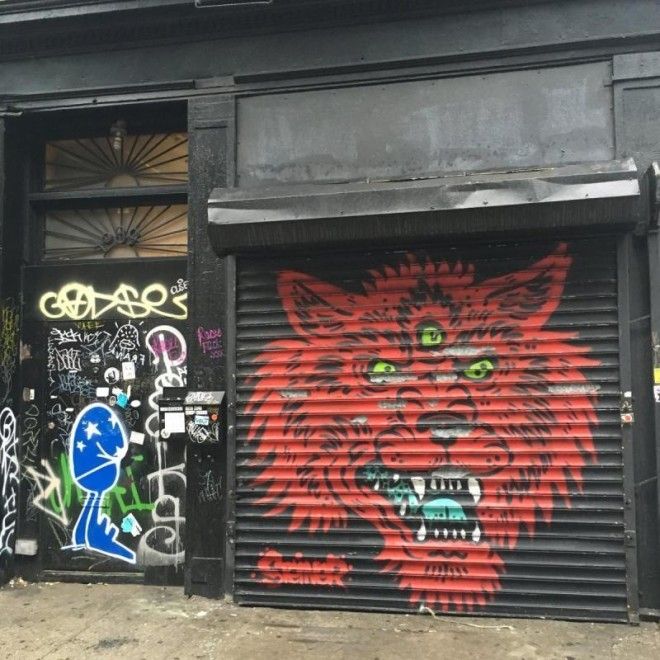 Yoav Litvin
Location:
Bushwick, Brooklyn
Artist: Steiner
Story:
Steiner is known for his beautiful, colorful — and often scary — larger-than-life monsters.
A graffiti portrait by LMNOPI on a wooden surface has a more subtle approach, the colors blending seamlessly into the wall.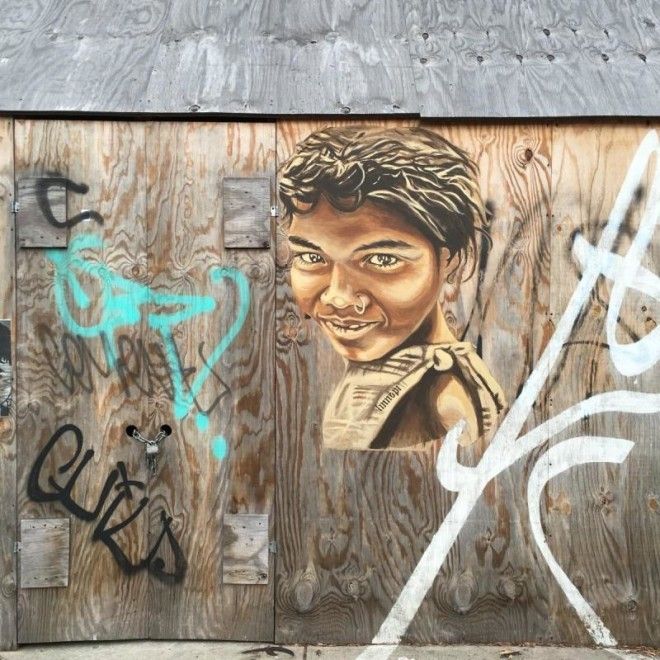 Yoav Litvin
Location:
Crown Heights, Brooklyn
Artist: LMNOPI
Story:
Artist and activist LMNOPI addresses social and political issues through her work. Her subjects are often portraits of overlooked communities — women, immigrants, people of color — in earth-toned compositions.
In Bushwick, this wall mural of two girls by Chris Stain and Billy Mode is a reflection of the community's own residents.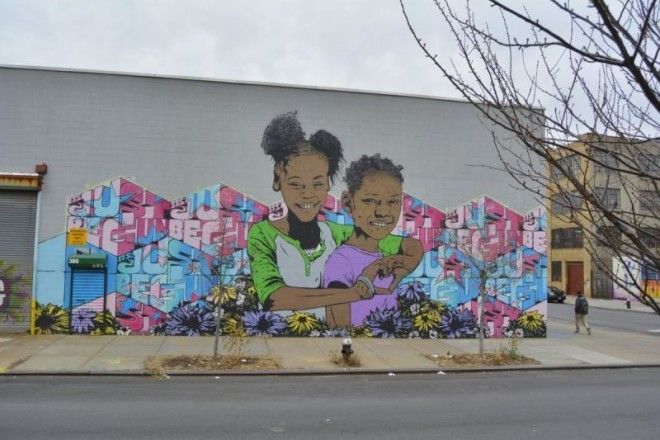 Yoav Litvin
Location:
Bushwick, Brooklyn
Artists: Chris Stain
and
Billy Mode
Story:
Chris Stain seeks to illustrate "the triumph of the human spirit" as experienced by those in underrepresented urban and rural environments. Baltimore-based Billy Mode specializes in abstract, graffiti-inspired art and complex murals.
This red-headed pinup woman is the signature work of C3; keep a look out for her around the city.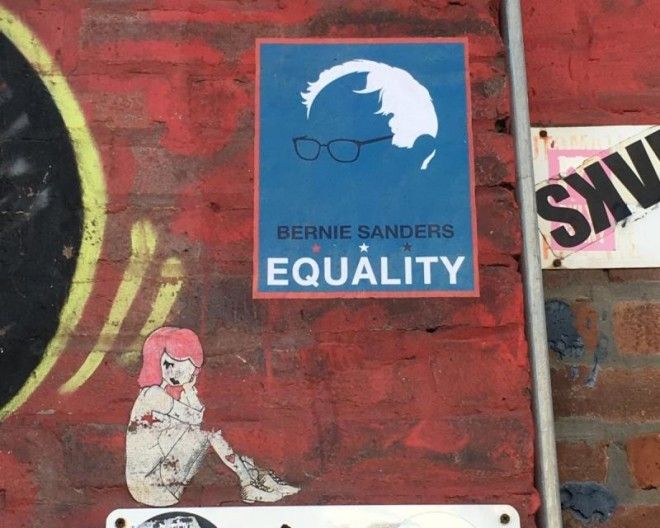 Yoav Litvin
Location:
Bushwick, Brooklyn
Artist: C3
Story:
Look for the subtle pin-ups of the UK artist C3, whose stickers and paste-ups can be found decorating walls in unexpected spots.